25+ Easy Low Carb Chicken Recipes
A collection of the best low carb chicken recipes from amazing cooks around the web. Get quick and easy family friendly chicken recipes in this amazing roundup
Winner winner low-carb chicken dinner!
One of the most affordable keto ingredients is chicken. Getting the right cut of chicken makes all the difference to your health.
My family is a chicken loving family. I have chicken recipes for breakfast, lunch, dinner and snacks because we just love everything about it.
So, I decided to bring you some of my all time favorite low-carb chicken recipes. If my family loves them, then your family will love them too.
These are low carb chicken recipes you can make for dinner anytime of the week.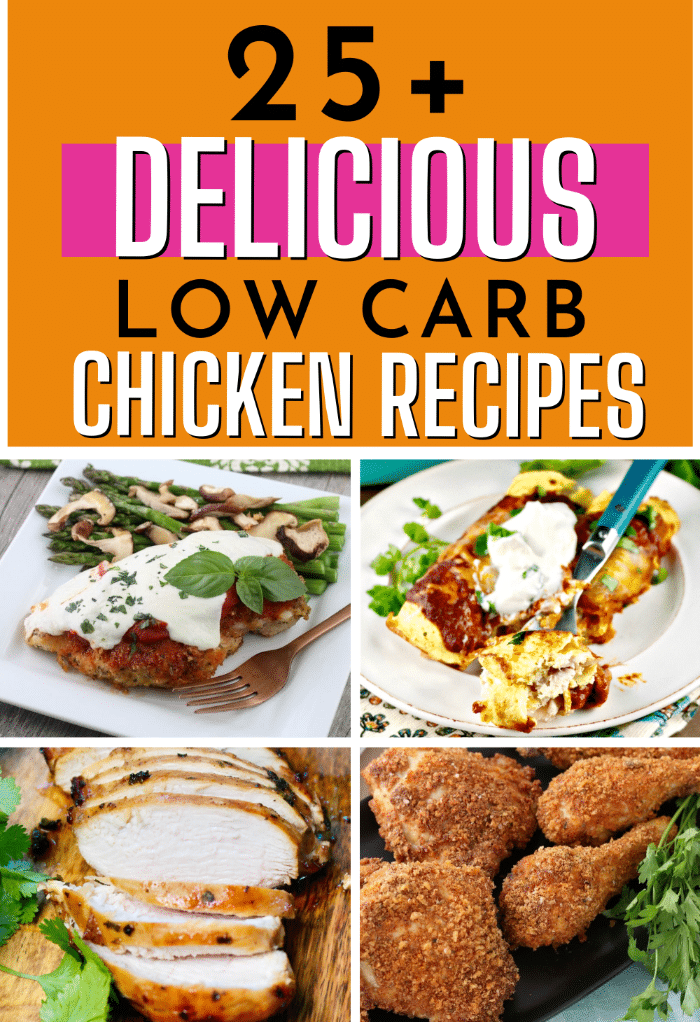 Low Carb Chicken Recipes
Not sure what to cook while keeping your meal low carb? I have you covered with recipes that your whole family will love. First, let's dive into some common questions when cooking low carb.
What cut of chicken is low-carb?
Chicken thighs and chicken wings have the lowest carbs. They are high in good fats too, so, that makes the healthier parts of the chicken.
Chicken breasts, on the other hand, are very lean. They have lower fat and tend to be more expensive.
Will cooking with oil make the chicken not be low carb?
It all depends on what kind of oil you are using. Using Avocado oil and extra virgin olive oil are the best oils to keep the recipe low carb.
Canola oils, sunflower oil and sesame oils are higher in carbs and other not-so-good-for-you ingredients. So, avoid cooking chicken with those oils.
How many carbs are in chicken?
Chicken has zero carbs in it. It doesn't matter what cut of chicken you are using because chicken has no carbs.
So, what is low carb and keto? Are they the same thing? They are 2 very different diets and it can get confusing. So, I created a post which shows the differences between low carb and keto.
Should low carb chicken recipes be frozen or refrigerated?
For most recipes, it is better to refrigerate the recipe after the chicken has been cooked. It retains more of its texture and cell structure.
---
30-Minute Low Carb Chicken Recipes
Who wants to spend hours to making chicken dinners, right? These recipes are made in 30 minutes or less!! Keep these recipes on hand for when you are having a busy day and don't have a lot of time to put food on the table.
Quick and easy chicken recipes are not hard to make! Let these bloggers show you how to have the best chicken dinners.
Healthy chicken dinners don't have to take hours to make. Instead, have a delicious low carb chicken recipe ready in just 26 minutes!
This grilled chicken has been a fan favorite since 2014. This meal is easy to make, using very simple ingredients. It's also the perfect Mediterranean-style chicken dinner.
You'll love the tangy, sweet flavors of this low-carb dish! That is an irresistible combination.
---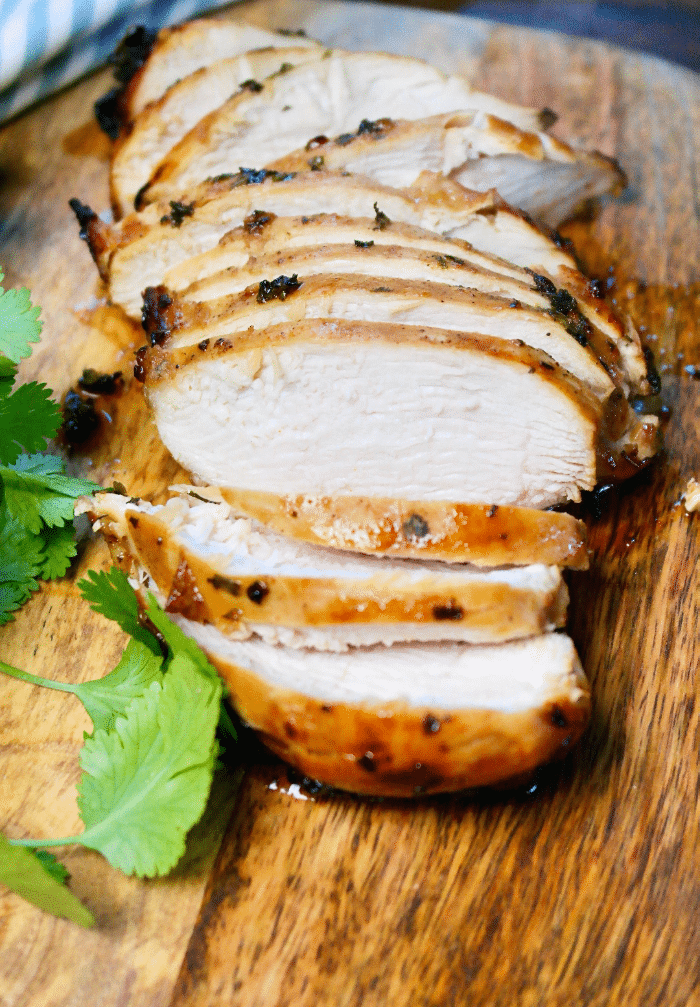 Can you cook chicken in the air fryer? Yes, it is super easy to do so and it doesn't have all the extra greasy texture.
This chicken can be used as a protein base or in any of your meal prep recipes. I also use a homemade sugar-free Worcestershire sauce that is low-carb favorite in our home.
---
Who isn't looking for Indian recipes that are keto-friendly? Indian food happens to have some amazing keto friendly recipes.
Maple and Mango has made an delicious grilled chicken kebabs recipe that will never make you miss Indian food!
If you like marinating chicken, check out my favorite herb and spice chicken marinade.
---
The aromas wafting from your kitchen when you make this lemon orzo chicken soup will be intoxicating!
The orzo soup is a a healthy chicken recipe that everyone will love. Just one bowl full of this low-carb chicken soup and it will warm everyone down to their toes.
It's my family's favorite soup recipe, so, I am sure your family will love it too.
---
Do you what I love the most about this chicken dinner from MomFoodie.com? It needs just 8 ingredients to make!
The salsa adds so much vibrancy and color to the meal! I can't wait to serve it to my family and see their reaction to it.
---
You are not going to miss tortillas on a low carb diet. These enchilada recipe by The Short Order Cook uses egg-thins made with cauliflower!
The enchiladas are filled with seasoned shredded chicken and topped with cheese! I love it!!
Try making these enchiladas with my homemade red enchilada sauce.
---
Bring the flavors of the Caribbean to your dinner table by making my creamy coconut lime chicken.
These chicken has exotic flavors but it is very easy to make. Best part is that it is a one-pot chicken dinner. You don't need extra pots and pans. Plus, cleanup is a breeze!
---
Low carb chicken casseroles
Casseroles are fun way to feed the whole family by making a big batch at once. These casserole dishes are focused on making healthy chicken dinners, yet, they taste delicious!
This list has amazingly easy healthy chicken recipes with just a few ingredients
Talk about comfort food!
What could be better than chicken and melted cheese! Add broccoli and you have the best low-carb chicken casserole for dinner.
This meal will take you only 30 minutes to make using 8 everyday ingredients.
---
This chicken dinner is packed with protein and happens to be low-carb. It's packed with veggies, cheese and shredded chicken on top of a bed of cauliflower!
Diabetes Strong makes this colorful recipe so easy to make any day of the week!
---
This is definitely an incredible treat! Joy Filled Eats makes this chicken relleno casserole using just 5 ingredients!
There is the perfect amount of spice and tang in it. I know I am never going to order it from take-out again! It's so easy to make at home.
---
Everything you love about fajitas is in this delicious casserole! The bell peppers add flavors and texture to the chicken that makes me drool!
Little Sunny Chicken makes this a quick dinner recipe to make for dinner on days when you are super busy. This meal is heartier and more delicious than any pizza recipe!
---
Skillet low carb dinners
Who has time to clean pots and pans every night? I know I don't have time for it. I would rather spend time with my family instead. So, these skillet low carb dinners come in handy during a busy weeknight dinner.
Chicken thighs are one of the best sources of protein on a low-carb or keto diet. I simplify your life by making them using simple spices that you have in your kitchen.
You won't find oil dripping from these chicken thighs, because they are not fried! Instead, I cook them stove top and then, bake them in the oven for that perfectly crispy low-carb chicken.
---
You don't need pizza dough to have pizza! That's what I love about this recipe from The View From The Great Island!
The base is made of healthy chicken breasts! Then, top it with your favorite supreme pizza ingredients like peppers, olives, mushrooms and cheese! It's the extra cheese that really makes me want to make it for dinner tonight!
---
Being busy is no excuse not to make a healthy chicken dinners! Healthy Kitchen 101 shows us how to have an aromatic dinner ready in just 35 minutes!
---
This recipe is made using just 3 ingredients! And, it's made in just 20 Minutes in one skillet!
This is definitely the easiest Cuban recipe ever made! Mom Foodie made this recipe as easy as possible, so, you are not spending hours in the kitchen.
---
Mediterranean low carb chicken
Low carb chicken dinners are a must-have for those on a Mediterranean diet! These chicken dinners are not only healthy, they are also packed with so much flavor!
"This chicken came together so quickly and everyone loved the lemony flavor. Will definitely be keeping in the dinner rotation now!" – Erica
This chicken piccata recipe is made in using capers and lemon! It is a Mediterranean twist on a classic Italian dish.
The best thing about this recipe is that it is made in one skillet and ready in just 27 minutes.
---
Marinate boneless, skinless chicken breasts and then bake it in the oven! After that, top it with a colorful olives salsa!
This is the best Mediterranean chicken bake I have seen! Plus, it is so easy to make! Dizzy, Busy and Hungry makes this chicken dinner in just 45 minutes using just 8 simple ingredients.
---
Not only is this a healthy low carb chicken dinner, it also happens to be a very budget friendly. It's made with just 6 ingredients and that includes fresh basil!
Fresh basil with olive oil brings out the best flavors of the chicken. Cook At Home Mom knows exactly how to bring out all the wonderful tastes in this recipe.
---
Low carb chicken and bacon recipes
Aren't you glad that bacon is highly recommended on a low carb lifestyle? Together with chicken, this is the perfect comfort food that also happens to be very satisfying.
Who needs carbs when you have bacon!
Chicken breasts will never be boring or bland again. The Salty Side Dish shows you how to flavor it with a cream cheese center and wrap it with BACON!
Yeah, I don't blame you if your mouth is drooling! Just looking at that image is making me drool too.
---
Don't you just love serving low-carb, healthier appetizers at your game day parties or gatherings? Best part is that your guests will enjoy them so much!
Officially Gluten Free shows you how easy it is to serve these skewers at your next gathering. They will be a huge hit with your guests.
---
This is a hearty and healthy squash dinner that you will make over and over again. I know I will!
Cook at Home Mom shows us how to cook the spaghetti squash and then top it with a cheesy chicken and bacon topping. It's packed with nutrition and is low carb!
---
Low carb chicken recipes from around the world
There are so many chicken recipes from around the world and many of them happen to be low carb! From the shores of Mexico to the hills of Italy! Here are some of my favorites! Which one is your favorite?
---
This classic chicken parm is exactly like what you love eating at your favorite Italian restaurant, but with a few notable exceptions.
The chicken parm is gluten-free, sugar free and low carb! No one will be able to tell the difference, except you!
Plus, it is topped with a sinful amount of mozzarella! How can anyone resist it!
---
Want to make chicken parm without breaking a sweat! Then, you will love this recipe because your slow cooker will do all the heavy lifting!
Then, serve it with Miracle noodles which are the perfect stand-in for pasta! They taste so good and are very satisfying.
---
You can still enjoy taco Tuesday on a low carb diet. Tortillas have come a long way and now, they happen to have low-carb versions of it.
The chicken is cooked with a salsa verde, so, you know it will be delicious! Top it with avocado and you have the best low-carb, good-fats taco dinner.
---
Everything about this recipe is homemade! The teriyaki sauce is homemade too, so, you know it's going to be healthy!
This better-than-takeout Asian classic food is the brain child of Cassidy's Craveable Creations. She makes this in one pan, so, no messy cleanups to worry about.
And, she serves it over a bed of cauliflower rice!
---
This enchilada filling made with chicken is a low-carb, jack-of-all-recipes type of filling. I love using it in my enchiladas and I use low-carb tortillas.
But, it can be great filing for tacos, taco pie, burritos, tostadas and even empanadas.
---
Who knew that French food can be low-carb friendly? Dizzy, Busy and Hungry shows us how to make this elaborate dish with so much ease! No fancy cooking techniques required!
Everything is made in one pan using some of our favorite low carb ingredients.
---
Classic American dishes made low carb
Fried chicken! Chicken Soup! Broccoli Caserole!
All our favorite chicken recipes can now be enjoyed on a low-carb lifestyle without sacrificing taste!
Don't you hate that one of the things we have to give up when going low-carb is fried food! But, that is not a bad thing at all.
This is "fried" chicken that is baked in the oven, but, you won't know it when biting into this crispy chicken! The chicken tastes just as good (if not better) than the fried version.
This is now my go-to dinner recipe or when I have hungry sports fans watching the game!
---
Chicken soup can be delicious without pasta and grains. This chicken soup is the classic comfort soup made with all healthy fats and healthy vegetables.
If you happen to have a cold or feel under the weather, this is your go-to soup. Easy to make in 45 minutes right in the Dutch oven, this will heal you quickly.
---
This Chicken salad is my go-to lunch recipe. It's packed with protein and healthy fats which fill me up until dinner time.
Sometimes, I serve them over tomato slices or sometimes I stuff them in mini peppers! Either way, this is a very healthy lunch meal.
---
Whole chicken doesn't have to be deep fried to be enjoyed, right? Sloooow cooking it in the crock pot can make it taste just as delicious!
This whole chicken is crispy and moist at the same time. Recipes From A Pantry shows us the best practices for working with whole chicken, cooking it, chopping it and storing the leftovers!
I don't think I will cook whole chicken any other way!
---
This list of easy low carb chicken recipes is only the beginning. Explore the wide world of low-carb eating using all our favorite ingredients.
Here are a few low-carb recipes you will love: