Egg Muffin cups baked with your favorite veggies and sausage! Make these in advance and enjoy all week long for a quick and nutritious meal to go!
I usually eat my breakfast at work unless I'm lucky enough to start my morning with a smoothie. In that case, I'll sip my breakfast in a cup as I drive. You see, I love to sleep. Sometimes more than I love to eat, so I push the sleep limit EVERY single morning. Ahhh, just ONE more minute and I'll get up… My procrastination and love for zzzz's leaves me seconds to pack a breakfast and lunch for my day.
These Egg Muffin Cups are an attempt to get me organized, well fed, and an extra minute of sleep. It's good plan don't you think? My strategy is simple. Make the Egg Muffin Cups during the weekend, partake and share, then have the remaining egg cups ready to go during my work week. It worked well and was brilliantly executed through Tuesday, then they were all gone!
My next plan is to make more, freeze some, and not share?!
Egg Breakfast Muffins Cups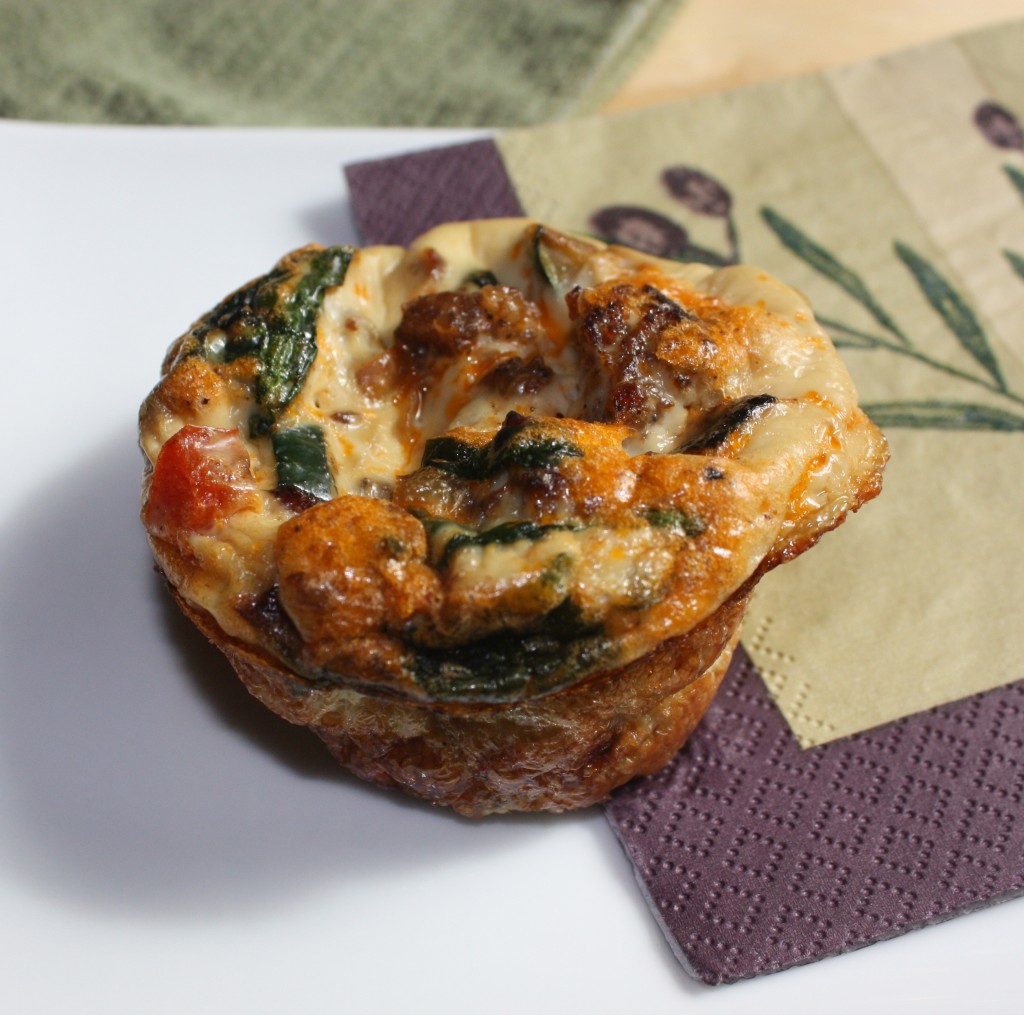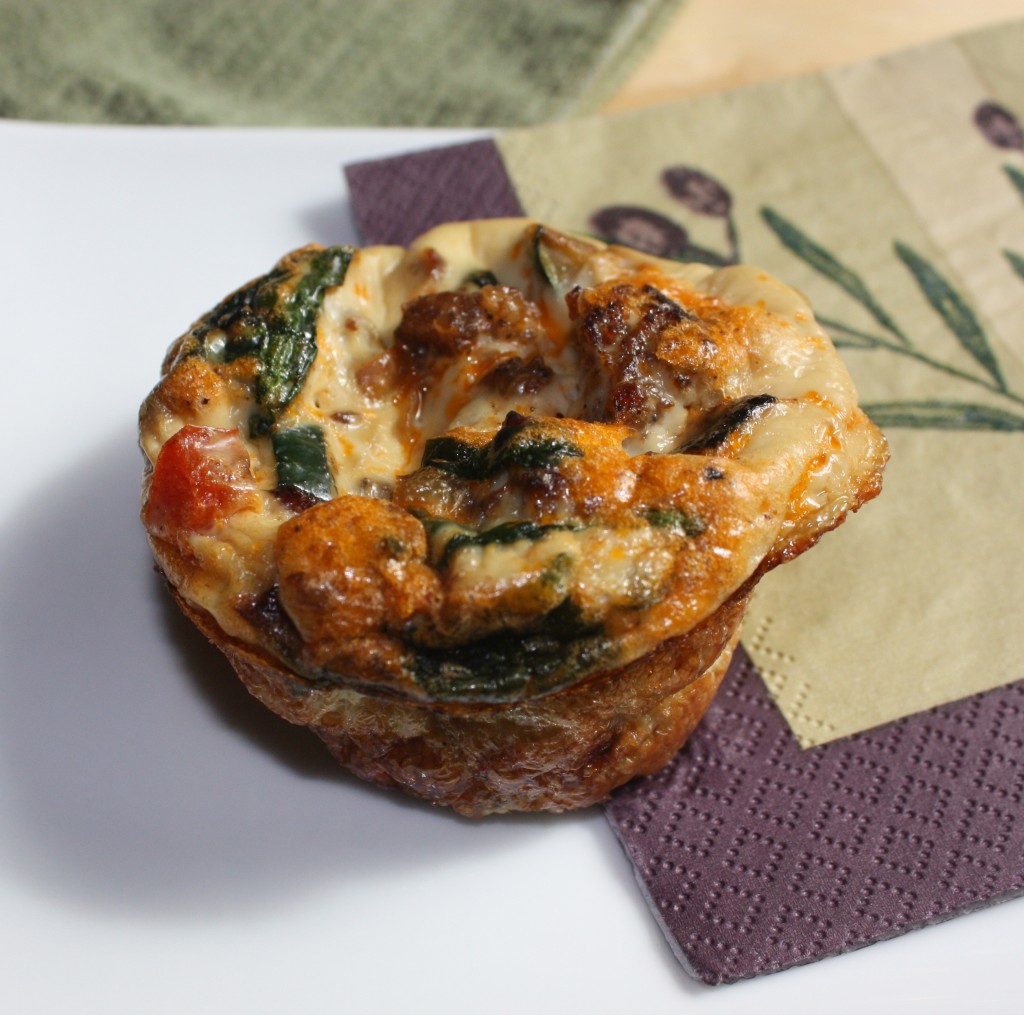 Ingredients
6 eggs, beaten
1 carton (16 oz.) egg whites
salt and pepper to taste
1 teaspoon italian seasoning
3- 3 1/2 cups of filling, sautéed (I used 1 cup chopped zucchini, 1/2 cup chopped onion, 1/2 cup red pepper, 1/2 cup baby spinach, 1 cup cooked sausage.
Directions
Preheat oven to 350 degrees
Spray tin muffin pan with cooking spray
In a medium sized bowl, beat eggs. Add seasoning, salt and pepper.
Add filling
Cook for 20 minutes or until egg is fully set
Recipe Notes
Divide egg mixture into two bowls if you want different flavored egg muffins. I put sausage in one half and all vegetable in the other half.
The base is eggs and egg whites. Don't go shopping for the filling for these egg muffin cups, root through your refrigerator and add about three cups of whatever you have. I had zucchini, onion, spinach and red peppers. I also had about a cup of cooked sausage, so I divided my egg mixture in half adding vegetables to part, and the remaining with sausage and vegetables.
These "muffins" are all over Pinterest (I still haven't created a Foodie Affair account) and the internet. I based my recipe from Men's Health Magazine and I can't find the exact link! They used something like 12 eggs and lined the tin muffin with bacon. Yeah, I might have to go wild and add some bacon to my next batch. Oh, cheese too, and diced green chili!!
You know those runs that I do a few times a week that get me up before 5:00 a.m. a few times a week? I think I'm still asleep. I have to be, because who gets up when it's dark and foggy and runs 4 or 5 miles before a full work day? Yep, I'm sleep running and so are my girlfriends, except for Michele. She leads the pack, so she has to be awake 🙂
Have a great weekend! Oh, and won't you join The Foodie Affair on Facebook? Like my page for sneak peeks of the recipes that I'm working on!