Easy Hard Boiled Eggs In An Egg Cooker
Who doesn't love a hard boiled egg? They're the perfect on-the-go snack, and they're a great source of protein. But who has time to stand over a pot of boiling water, monitoring the eggs until they're done? That's where this egg cooker hard boiled eggs recipe comes in.
Simply pop your eggs into the cooker, set the timer, and walk away! Plus, there's no need to worry about undercooked or overcooked eggs – with the egg cooker, you can't go wrong. Whether you're looking for an easy way to make your morning breakfast or want a quick snack option that you can take with you on the go, the egg cooker is the perfect tool for the job.
For other methods to make hard boiled eggs try this Perfect Hard Boiled Eggs on the Stove, this Instant Pot Hard Boiled Eggs or this Easy Air Fryer Hard Boiled Eggs Recipe.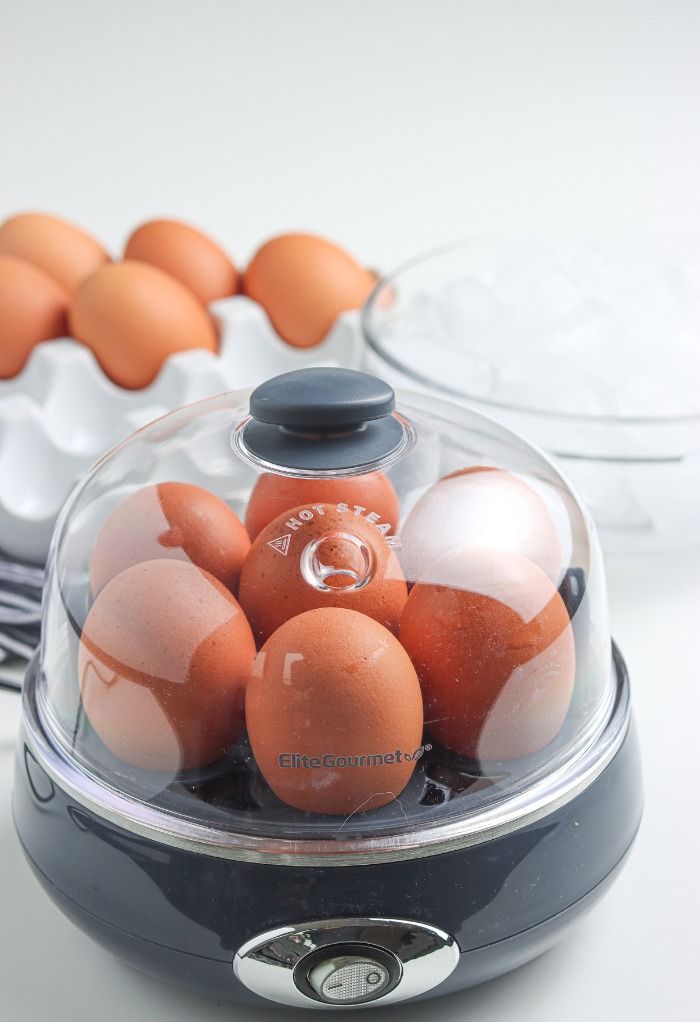 WHY YOU'LL LOVE THIS RECIPE
Do you have a love/hate relationship with hard boiled eggs? It's so easy to make them perfectly, but then they're so frustrating to peel. With an egg cooker though, you can make perfect hard boiled eggs every time without any of the hassle. Plus, the egg cooker is a great way to make multiple eggs at once – perfect for a breakfast or lunch party.
With the egg cooker, you can cook hard-boiled eggs with relative ease and just the touch of a button.
This foolproof method will boil the eggs perfectly every single time with minimal effort and takes less time than the traditional way of boiling them on the stove.
And cleanup is a breeze – just remove the cooking tray and give it a quick rinse with soapy water.
Hard boiled eggs are great for meals and snacks when you are on a low carb diet.
This method is also a great tool for dorm life when you don't access to a full kitchen.
Plus, this method makes for easy peeling every time.
EQUIPMENT NEEDED
You only need a few helpful kitchen tools to help you make this simple snack! So, grab this popular kitchen gadget and get ready to hard boil eggs in no time at all with the easiest way possible.
electric egg cooker
large bowl for ice water
tongs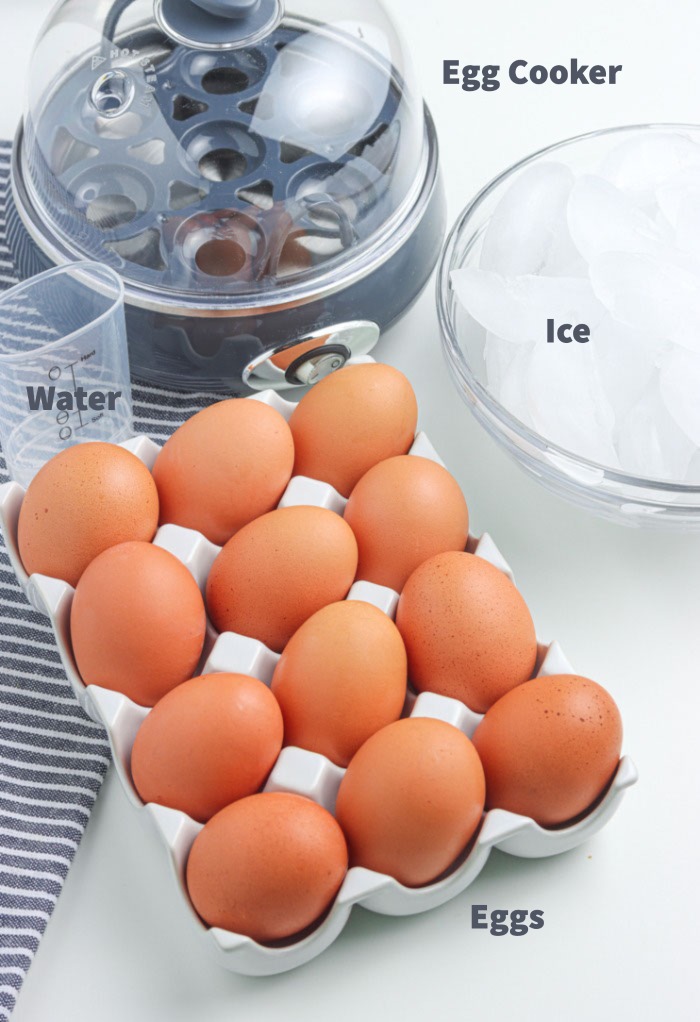 INGREDIENTS
The hard boiled egg is one of the most delightful snacks to enjoy on a hot day. But, if you're not in the mood for cooking there are devices out now that will make them quickly and easily- without any hassle at all! The device below takes all guesswork away so it's super easy. And, the plus side is that you don't need any fancy ingredients to make this delicious snack.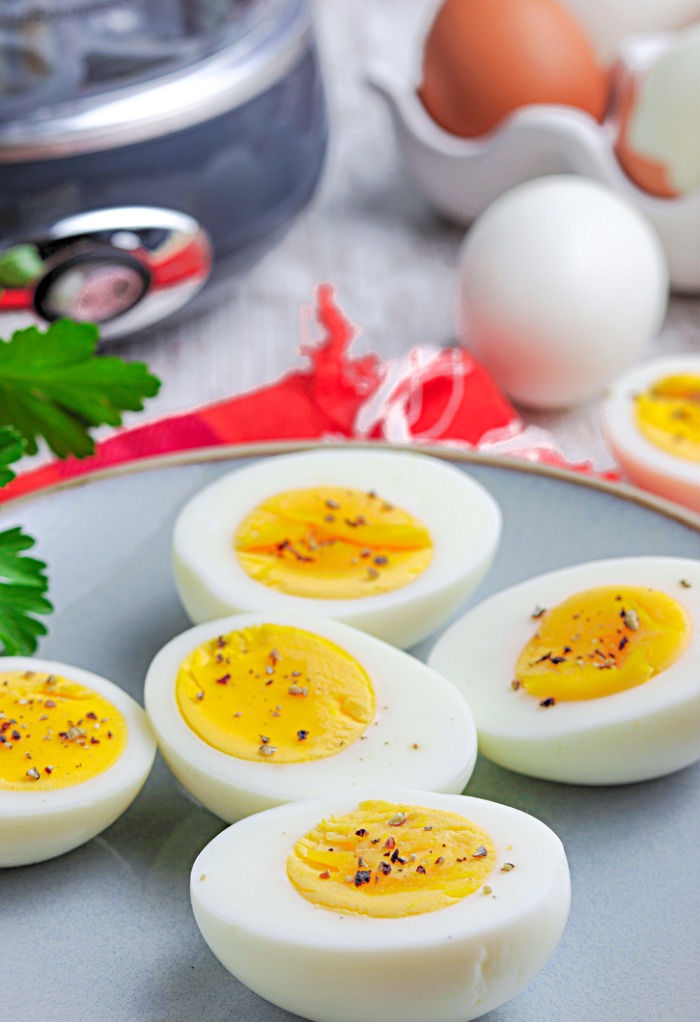 HOW TO MAKE EGG COOKER HARD BOILED EGGS
Hard boiled eggs are a delicious and versatile dish, but they can be tricky to make. Luckily there's an easy way around it: The Egg cooker! Follow these steps below and you'll have perfect hard-boiled eggs every time. If you ask me, I think the egg cooker is the best way to make hard boiled eggs, so give this method a try the next time you make.
I'm sharing the most two popular egg cooker brands, Dash and Elite Gourmet. However, every egg cooker has the same steaming method.
STEP 1: THE FIRST THING YOU NEED TO DO IS PLUG IN THE EGG COOKER
Plug the egg cooker into the power source with the switch in the OFF position.
STEP 2: FILL THE MEASURING CUP WITH WATER
Remove the lid. Then fill the included measuring cup to the appropriate line according to your preferred doneness with cold water and pour onto the heating plate.
DON'T lose your measuring cup! However, if you misplace the measuring cup then use the below chart as a guide to how much water to use in the egg cooker. The below measurements are for small compact egg cookers (up to 7 eggs).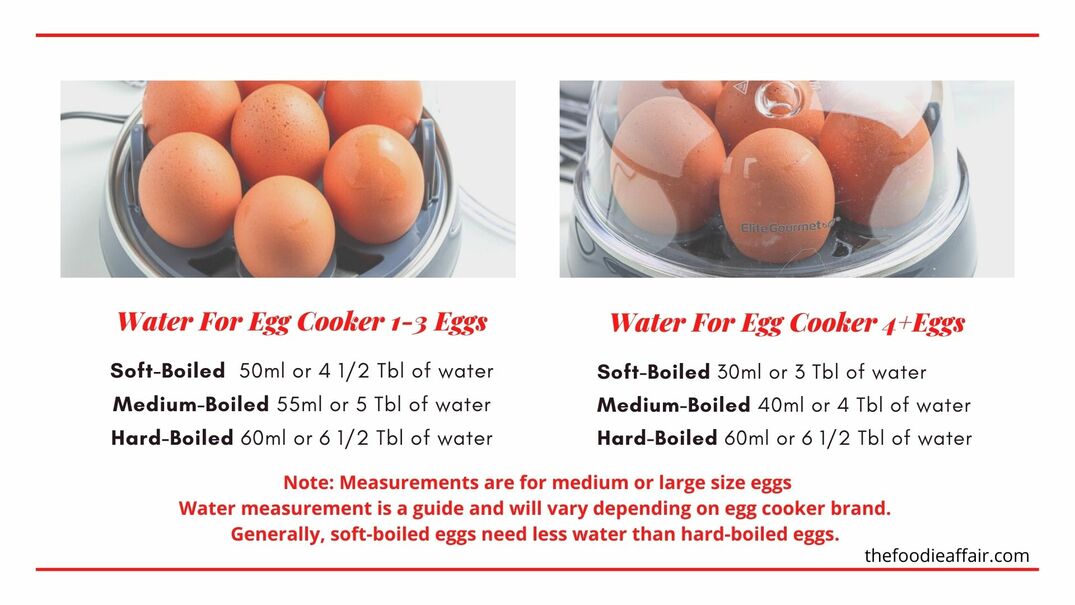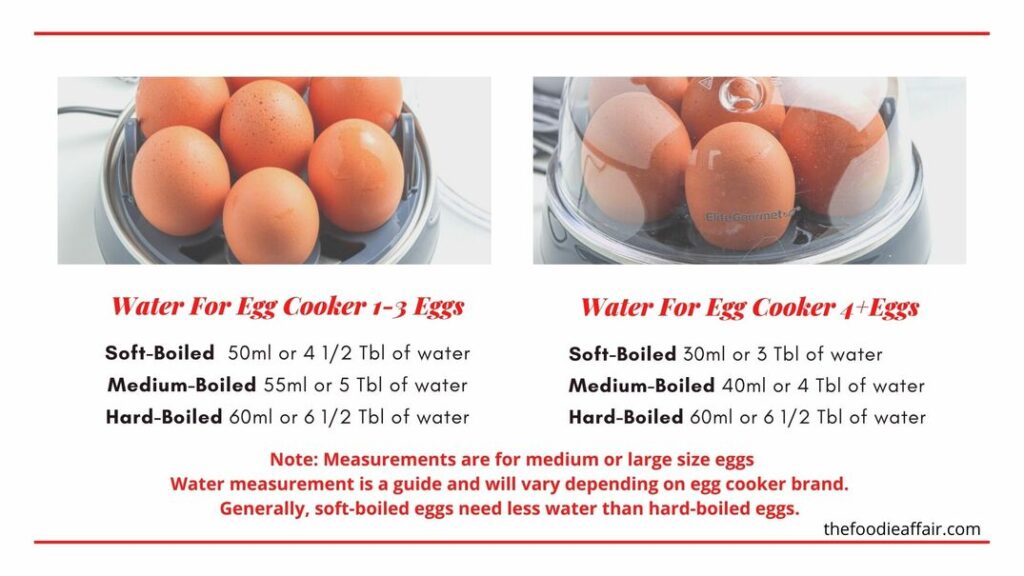 STEP 3: PLACE THE EGG RACK INTO THE EGG COOKER
Place the egg rack onto the heating plate with the handles facing up. It is not necessary to pierce each egg. However if you do pierce the egg be sure to pierce the eggs on the larger end and place the pierced side upright.
STEP 4: ADD THE EGGS TO THE EGG TRAY
Place eggs into each egg cup. Do not let the eggs touch the heat plate.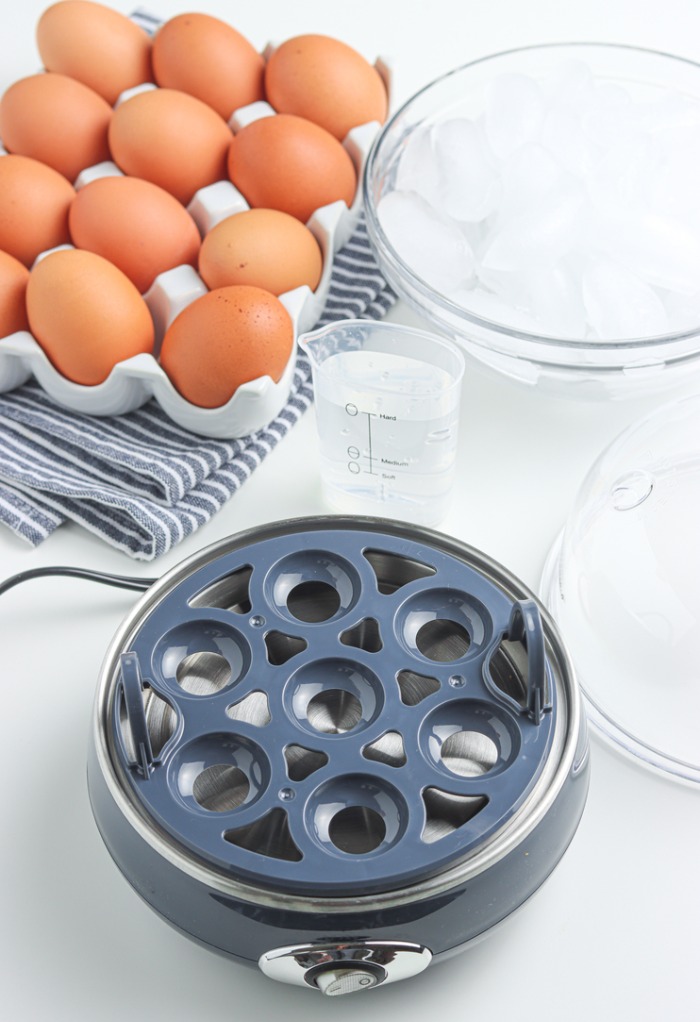 STEP 5: REPLACE THE LID AND TURN ON THE COOKER
Put the lid onto the cooker and switch ON the power button.
STEP 6: SET A TIMER FOR THE COOK TIME
The Egg cooker will automatically chime when the water has evaporated. You can also set a timer to the desired time, which can be from 7-17 minutes. Cooking time will depend on the number of eggs and desired doneness. See the below for cooking times guide.
STEP 7: ADD THE WATER TO AN ICE BATH
When cooking is complete, switch the power off and remove eggs to a bowl of cold water and let them cool for 10 minutes.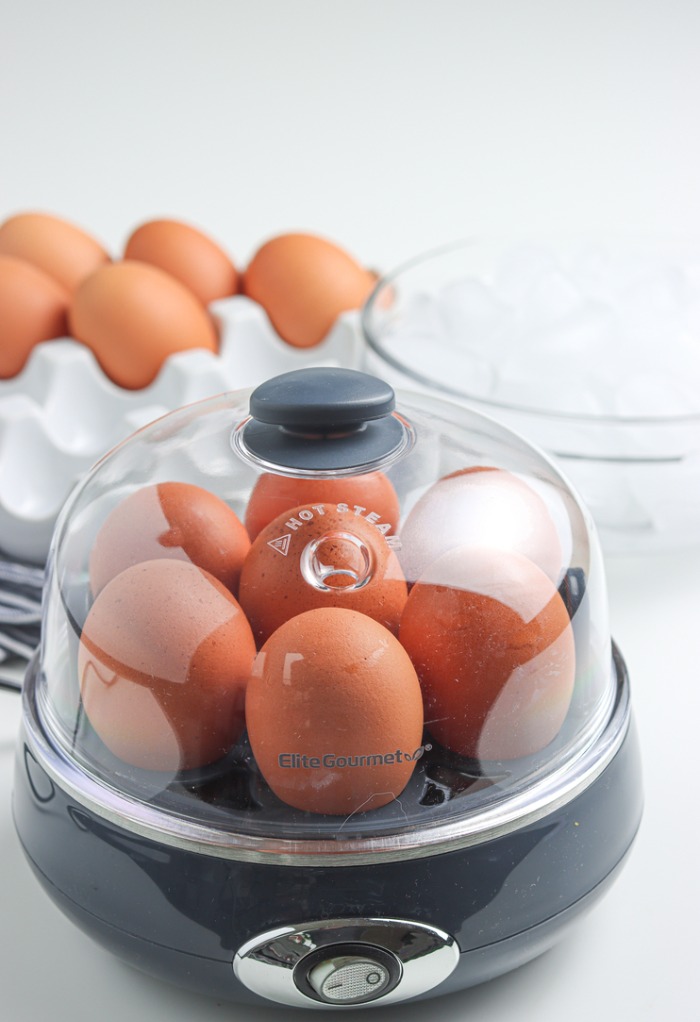 STEP 8: PEEL AND STORE THE EGGS
Peel and serve or store in a sealed container for up to 1 week in the refrigerator.
Note: These instructions are specific to the Elite Gourmet Brand Cooker and Dash Brand Egg cooker. Different models will have have different instructions. So, please follow the directions for your specific brand of egg cooker.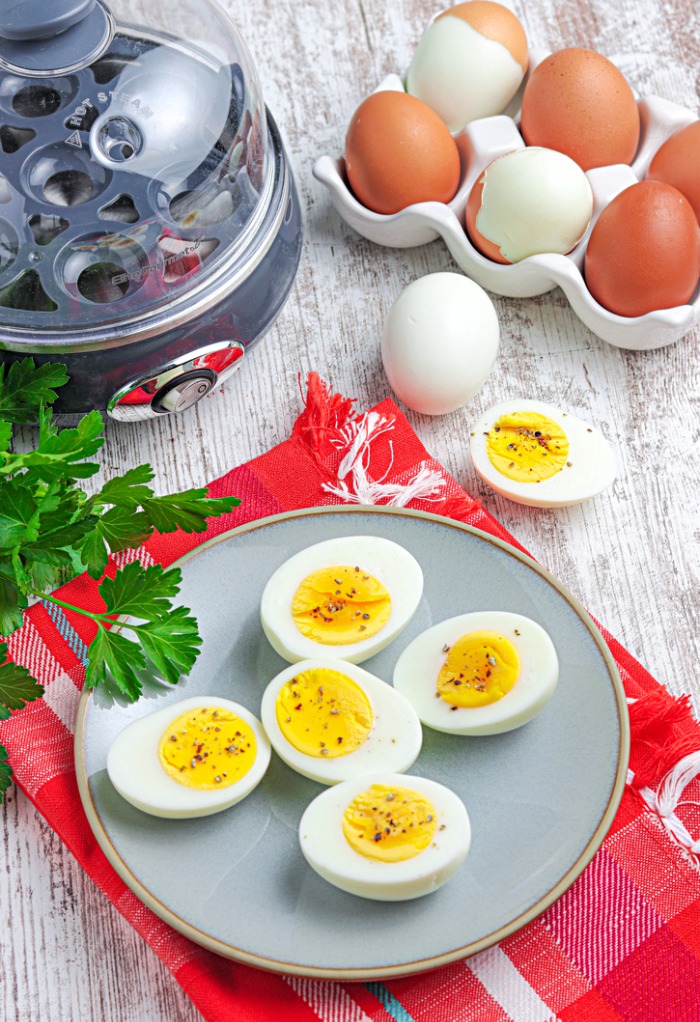 COOK TIMES FOR EGG COOKER HARD BOILED EGGS
Want to make sure that your eggs turn out perfect every time? Check the cook times below for hard boiled eggs that are just the way you like them. Generally, the following times will give you perfect eggs.
The below time chart is recommended for Elite Gourmet brand, which is the time chart I follow when hard boiling 7 eggs. I like my yolks to be firmer and set and find the longer times turn out perfect.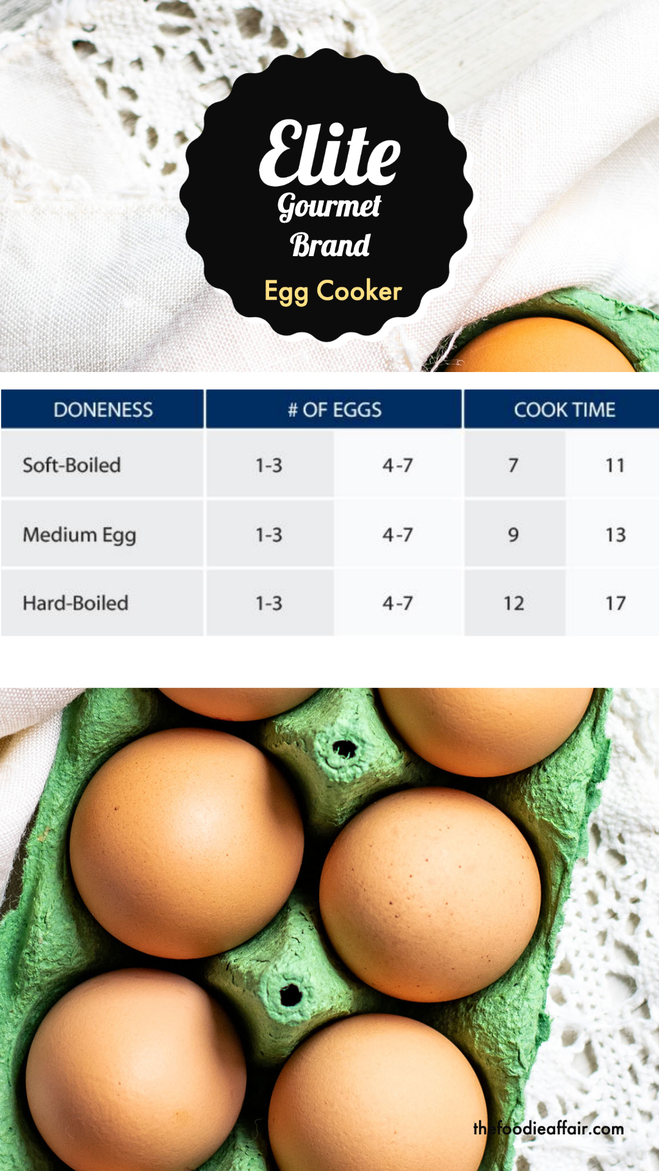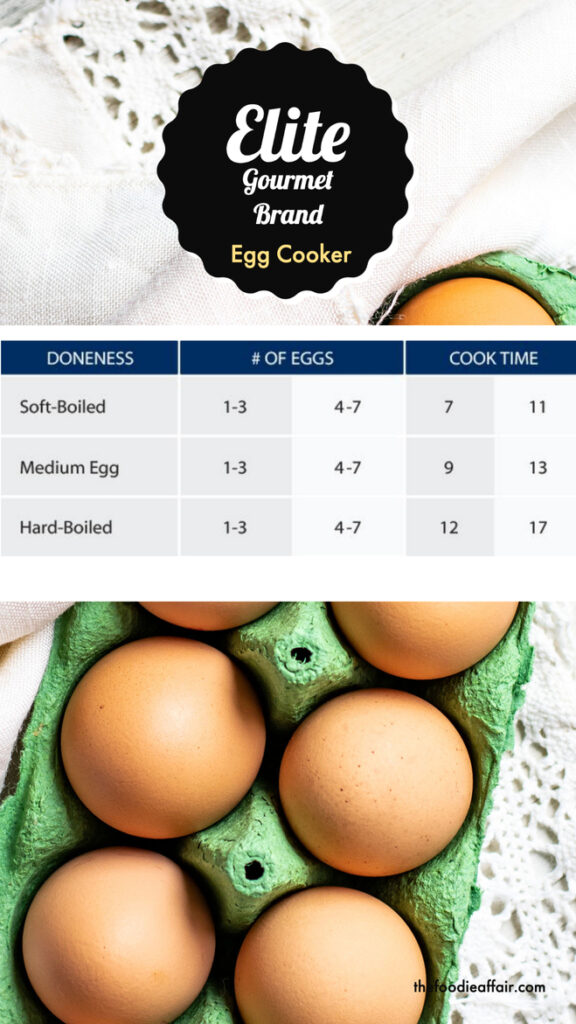 DASH EGG COOKER
The Dash Brand, Everyday Egg Cooker, is very similar to the Elite Gourmet, Rapid Egg Cooker. Both versions will hold up to 7 eggs. Both brands also have a piercer on the bottom of the water cup. Piercing the egg can help steam distribute and can give you a more uniform shaped egg white if that is important to you.
However, it's not necessary to pierce the egg. In fact, sometimes piercing the eggs causes small hairline cracks which will will cause the egg whites to ooze out of the egg.
If you do pierce the eggs make sure the hole us upright so the egg whites don't drip out onto the heating element of the egg cooker.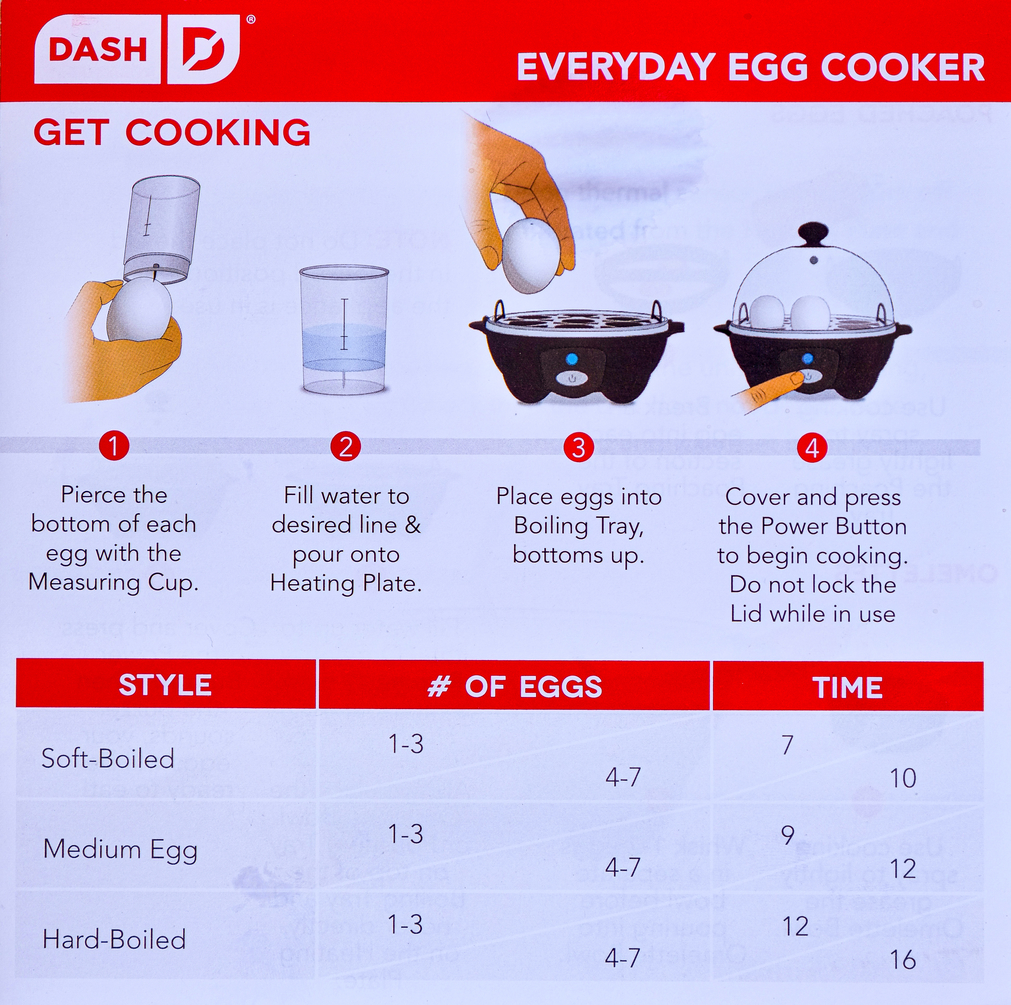 The Difference Between the Style of Eggs
Soft boiled will have a runny yolk and partially raw. This is good for dipping in toast soaking up the egg.
Medium boiled eggs have a soft yolk with the white set, but not firm enough that it will cut nicely when chopped.
Hard boiled eggs is creamy with a set yolk and whites. These hold their shape and are best used in salads: green, potato egg and tuna.
The below photo is cooked according to the Dash brand recommended time chart. The egg cooker has a tone that notified me that the time was complete for 7, 9, and 12 minutes.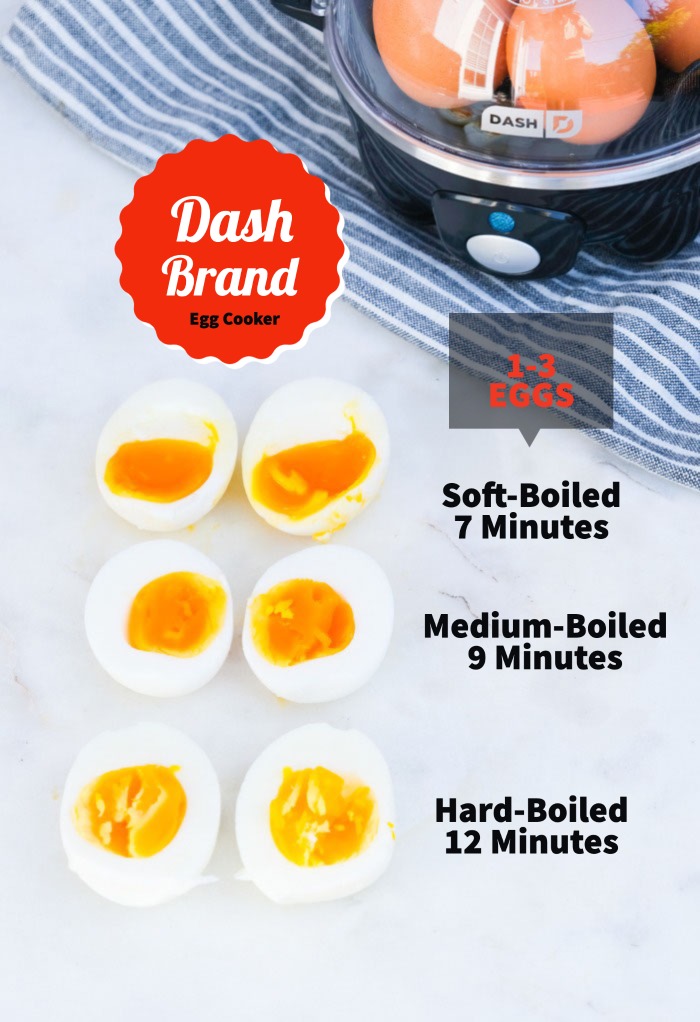 WAYS TO USE EGG COOKER HARD BOILED EGGS
There are endless possibilities when it comes to recipes that include cooked eggs. No matter what you use these eggs for, you will delicious meals every time you use them.
Salad Topper – Add hard boiled eggs to your favorite salad for a filling and nutritious meal.
Deviled Eggs – These classic party appetizers are always a hit. Simply mash the cooked yolk with your favorite ingredients and pipe back into the egg white.
Egg Salad Sandwiches – Soften up some bread with a little mayo, chop up your boiled eggs, and add in some crunchy veggies for a delicious sandwich.
Omelet – Nothing beats a classic omelet filled with your favorite ingredients. Try adding hard boiled eggs for a new twist.
Potato Salad – Mix up your typical potato salad recipe by adding in some boiled eggs. It's a great way to add some extra protein and nutrients to the dish.
There you have it! A few easy recipes to get you started with your egg cooker hard boiled eggs. So, grab your egg cooker and get cooking!
HOW TO STORE
Place the egg cooker hard boiled eggs in an airtight container and store in the fridge for up to 1 week.
FAQS
Do you have questions about egg cooker hard boiled eggs? Here are the answers to the most commonly asked questions about this easy snack.
Do you have to puncture eggs in the egg cooker?
No. You do not have to puncture eggs in the egg cooker. Some cookers have a built-in piercer, and others do not. Check the manual for your specific model.
Do egg cookers really work?
Yes, egg cookers work very well for hard boiled eggs. The timer and temperature settings are usually very accurate, resulting in perfect eggs every time.
Can you overcook eggs in an egg cooker?
Yes, it is possible to overcook eggs in an egg cooker. Make sure to check the timer and follow the cooking instructions closely to avoid overcooking.
OTHER DELICIOUS EGG RECIPES YOU MAY ENJOY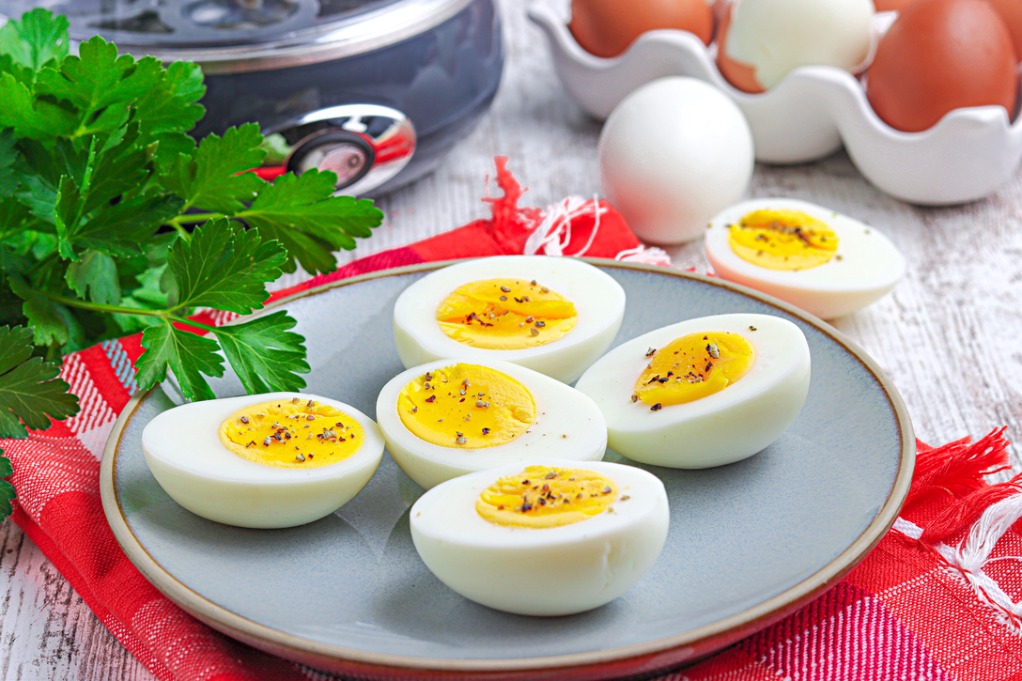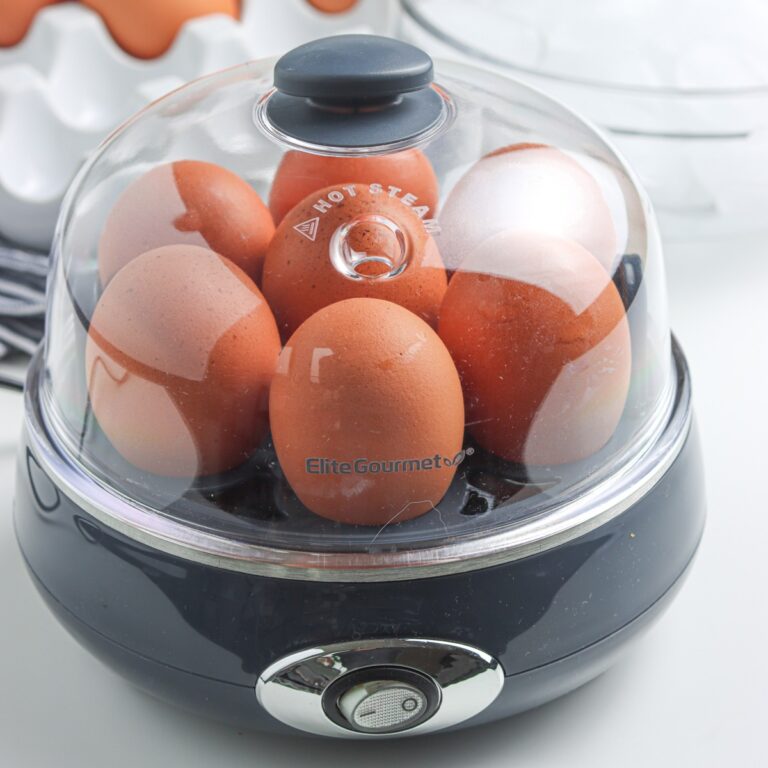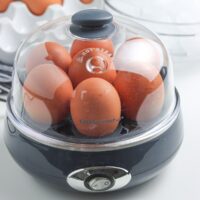 Easy Hard Boiled Eggs In An Egg Cooker
Perfectly cooked hard boiled eggs in an egg cooker. This no fuss method will give you soft-boiled, medium-boiled or hard-boiled eggs in under 15 minutes. Enjoy right after cooked or us in a variety of recipes.
Print
Pin
Rate
Instructions
Plug in the egg cooker into an electric socket.

Remove lid and egg holder add water according to desired doneness recommended amount on the measuring cup that comes with the egg cooker.

Pierce the larger end of the egg (if your cooker recommends this) and place the pierced end right side up.

Place lid over the eggs and secure. Turn on egg cooker.

A chime will go off when the water has evaporated and the eggs are done according to your preferred doneness. This will take from 7 – 17 minutes.

While eggs are cooking add water and ice to a large bowl.

Gently remove the lid from the egg cooker and with tongs place each egg in the prepared ice water.

Let sit for 10 minutes before drying and storing or peeling.
Notes
Use eggs right out of the refrigerator. It's not necessary to bring the eggs to room temperature.
Instructions are for medium or large eggs. Extra large or jumbo eggs will need additional cooking time as well as more water to steam the eggs.
If you lost your measuring cup you will use from 4 1/2 to 6 1/2 Tablespoons of water for soft boiled or hard boiled eggs. See chart for a guideline.
Nutrition
Serving:
1
g
|
Calories:
63
kcal
|
Protein:
6
g
|
Fat:
4
g
|
Saturated Fat:
1
g
|
Polyunsaturated Fat:
2
g
|
Cholesterol:
164
mg
|
Sodium:
64
mg
Disclaimer
Please note that the nutritional information provided are guidelines and may vary based on the brand of products used. For your specific nutritional goals use My Fitness Pal or Verywell Fit recipe calculators. All content within this site is not intended as medical diagnosis or treatment and should not be considered a substitute for professional medical expertise.