How to Make Roasted Beets -Super Easy and Delicious
Oh the yummy beet. This root vegetable is often overlooked and replaced by easier to cook veggies but today I'm going to show you how easy roasting beets really is. I'm confident you'll be rushing to the market to buy some after reading this!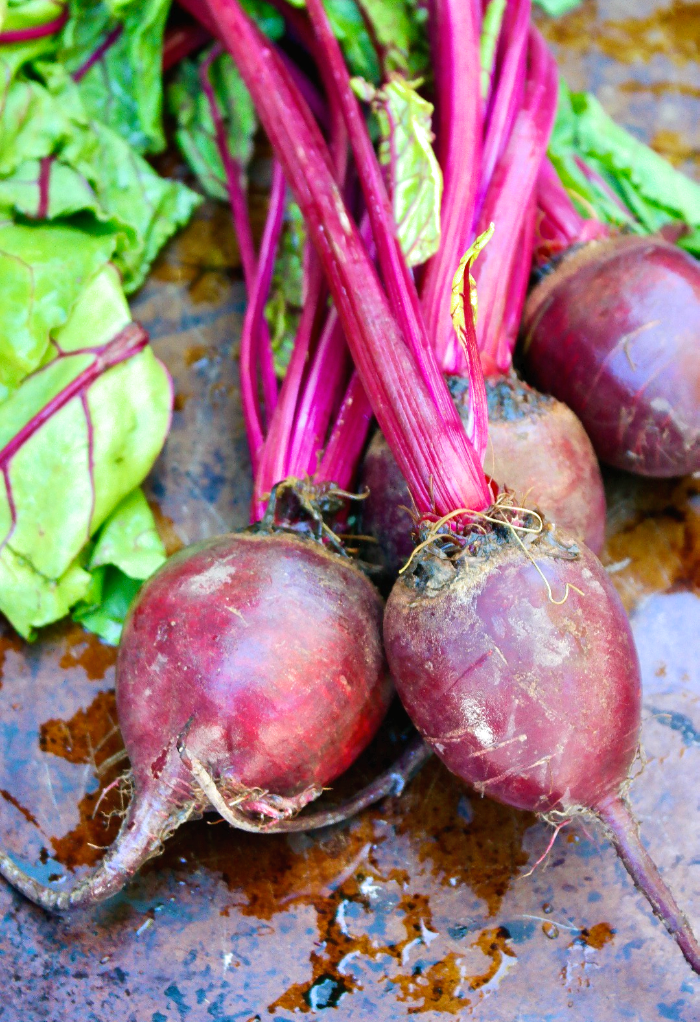 Beets are a bit of a mystery to us. You see them in the produce section and have no clue what on earth to do with them.
It's just so much simpler to buy them already prepared in a jar, amirite?
Sure it is but if you choose that option make sure you read the label.
As healthy and delicious these prepared jarred beets are, they can also be high in sugar.
So what's the next best thing?
Roasting beets!
How about we just roast them ourselves? Roasting beets isn't rocket science.
It's actually so ridiculously easy you'll wonder why you haven't done it sooner. This recipe will show you just how simple it really is.
And now we move on to roasting beets, the best part of the whole article! Word of warning before you even start, make sure you aren't wearing white! LOL.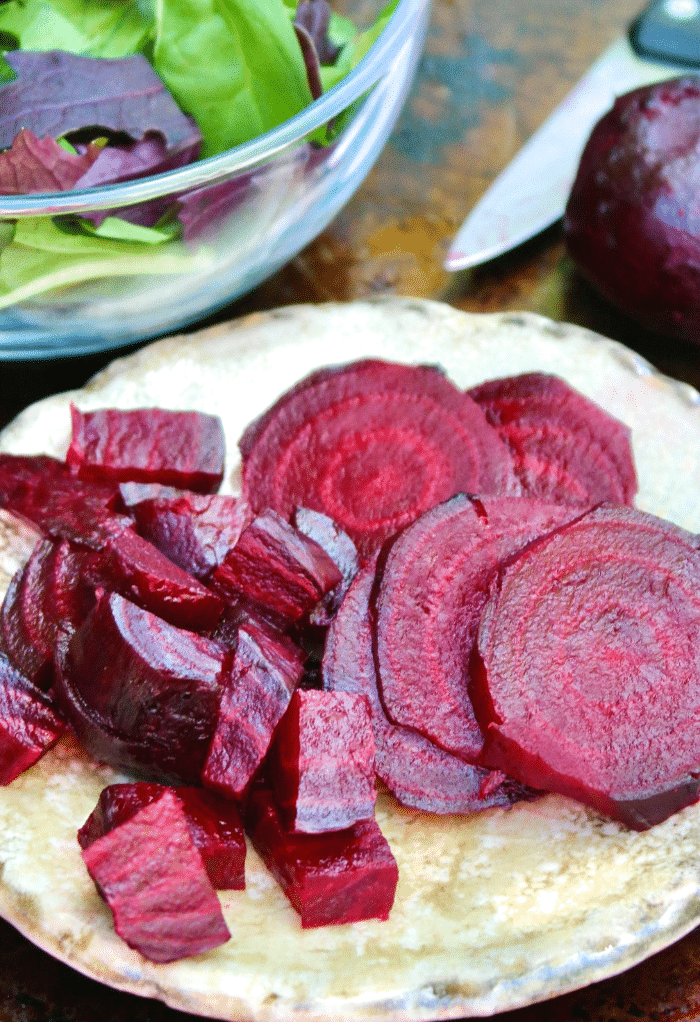 How to roast beets
I have found this to be the easiest and best way to roast beets. The preparation literally takes under 5 minutes!
Roasting beets is probably the simplest and cleanest way to cook them. No fuss, no mess, clean them and pop 'em in the oven. Yum.
Step 1 – Clean Beets
Take a vegetable brush and clean the beets under cool water. Gently dry and slice the green tops off leaving a couple on inches intact.
This will keep the juice in the beet, so there is not a juicy mess, and no need to wrap individually in foil packets.
Step 2 – Pierce Beets
Pierce the beet with the tongs of a fork, then lightly coat the bulbs with olive oil.
Step 3 – Roast
Next, you will roast the beets until tender. Once tender, cool before taking a paper towel to remove the skin. Slice, dice or chop and enjoy!
Don't forget when cutting off the green tops, you can eat those too! No need to throw them in the compost.
Cook those leafy tops up like you would spinach or kale, and serve them as a side as well.
Whole roasted beets are good to eat as a snack on their own, in a salad or pair them with a scrumptious chicken dinner!.
These oven roasted beets will keep in the refrigerator for up to 5 days but seriously, they won't last that long.
Is it better to drink beet juice or eat beets?
The beet, like most other veggies (and fruits too) can be juiced or eaten whole. But what's the difference? Is it better to drink the beet juice or eat beets?
According to registered dietician Katherine Zeratsky R.D., L.D.:
Juicing is no healthier than eating whole fruits and vegetables. Juicing extracts the juice from fresh fruits or vegetables. The liquid contains most of the vitamins, minerals and plant chemicals (phytonutrients) found in the fruit.
Source:mayoclinic.com
Plain and simple. When you eat the whole veggie or fruit you're drinking the juice at the same time so either way, you're still getting all the health benefits from it.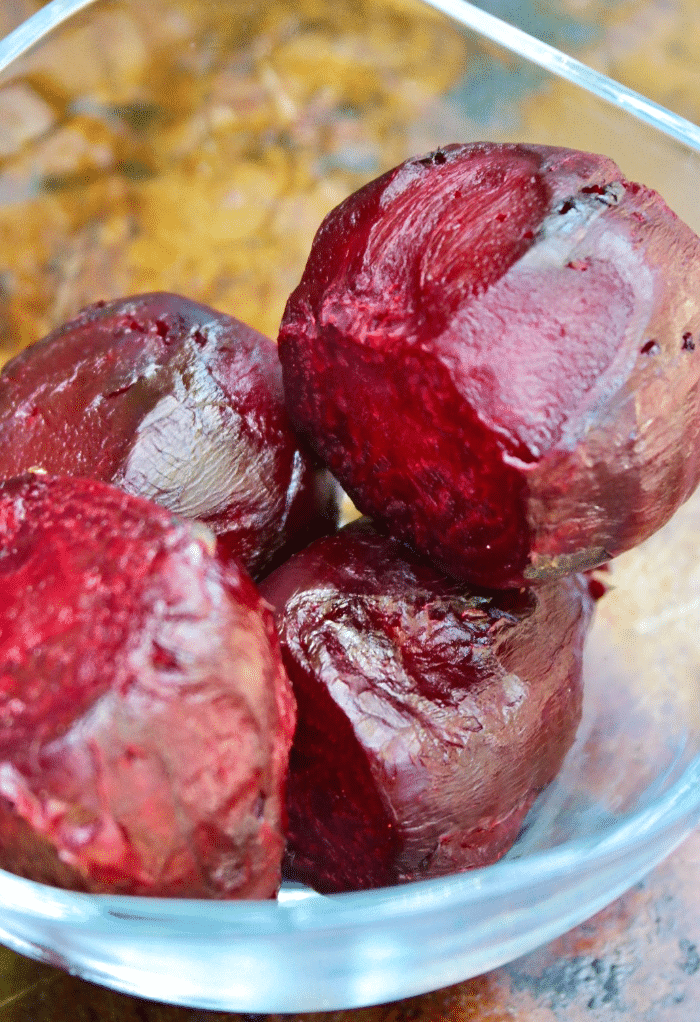 Can you eat the green tops of beets?
You'll be happy to know that you can totally eat the green tops of beets and they are super yummy and slightly sweet too!
You can cut these babies off and cook them like you would any other leafy green. Honestly, you can prepare them any way you want!
A little bit of nutritional info for you on these leafy guys. They are rich in:
Vitamin K,
Copper,
Manganese,
Iron, and
Calcium
Can't go wrong there!
How to store beets
These red gems are pretty hardy. Keep them stored in the refrigerator or a cold storage room for up to 3 months in a sealed baggie.
You can leave them out in room temperature for a few days but they stay fresher longer if kept in a cooler location.
If you want to freeze roasted beets, first you must peel them (once done roasting) and then either chop, grate or shred (basically cut it up anyway you want) and then freeze.
Now we have a wee bit more knowledge of beets, let's dig into the nutritional information of these root veggies.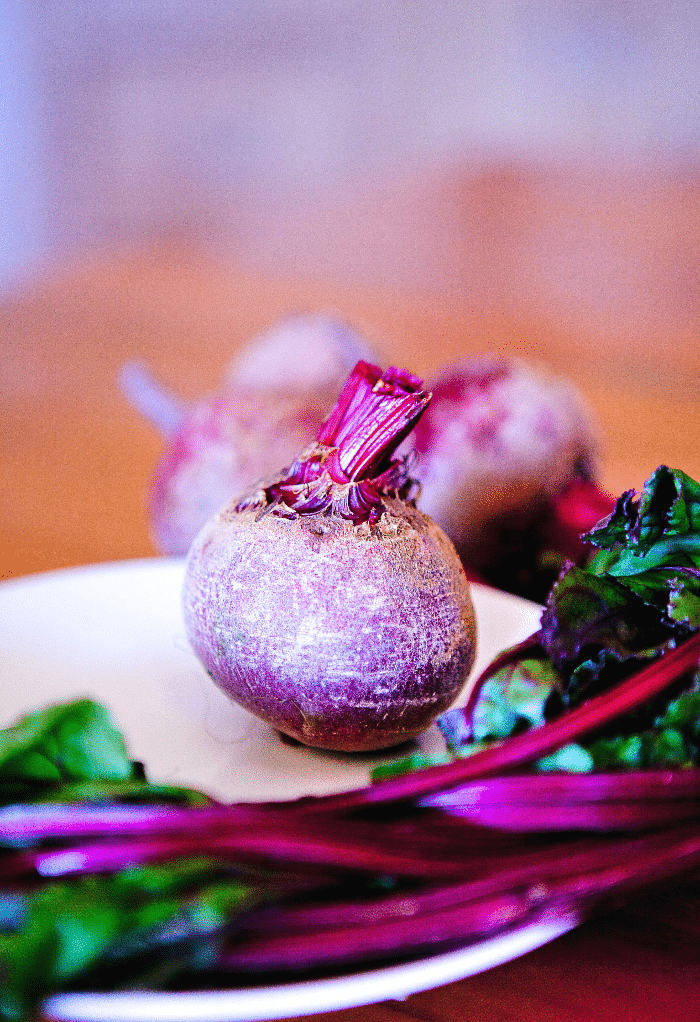 Nutritional benefits of beets
Oh these guys are a powerhouse of nutrients. First of all, according to the USDA, it's good to know they contain so few calories and are great for those on the a low carb diet.
The carbohydrates from beets come naturally from the sugars in beets. 1 cup has about 9.2 grams of carbs with the fiber just under 4 grams.
If you are closely watching your macros, beets can fit nicely in your diet coming in at 7-8 carbs per cup.
Besides being a great source of fibre, potassium, iron and Vitamin C, here are a few health benefits of beets:
Help lower blood pressure
Help improve blood flow
Increase performance in exercise
Excellent for weight management/loss
The too often forgotten beet should definitely find its way into your refrigerator more often.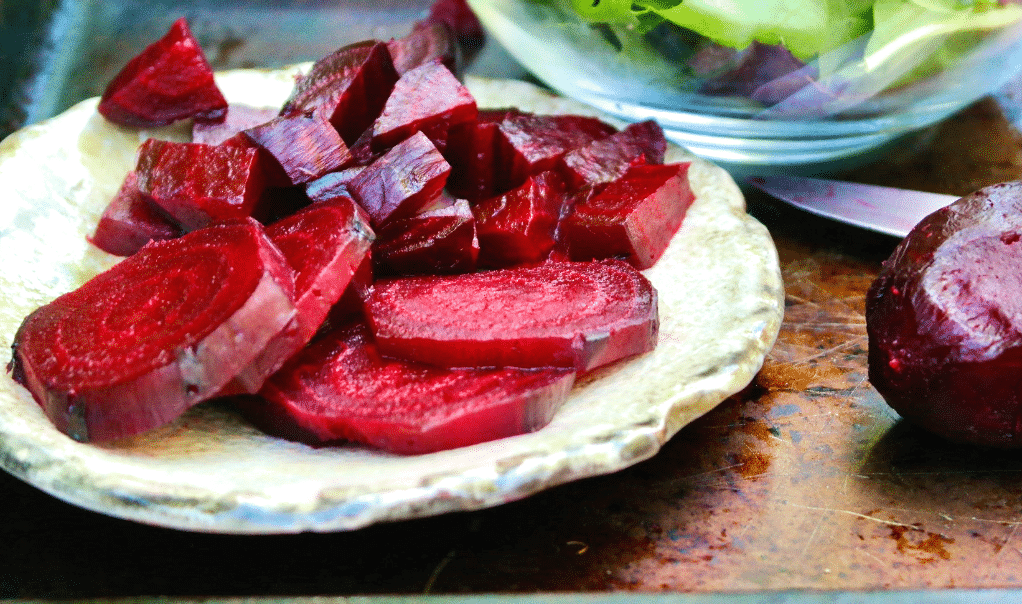 Roasting beets-simple and delicious
You can see now how easy it is to make oven roasted beets. Bring these red gems to your dining room table and enjoy, not only for the amazing flavor but for all the great health benefits too!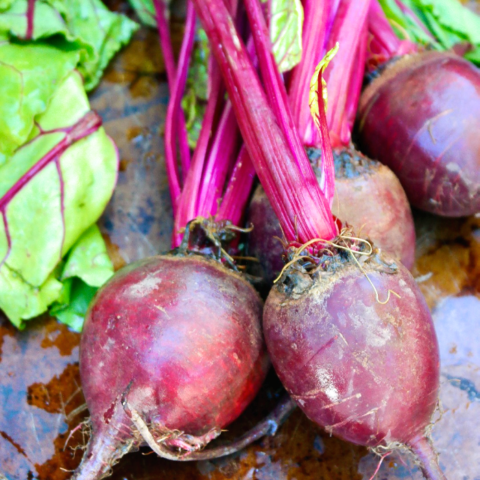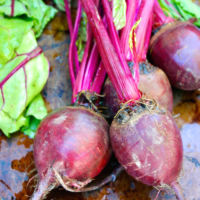 How to Make Roasted Beets -Super Easy and Delicious
Roasting your own beets whole and unpeeled is simple. Follow these simple steps for tender beets. Slice, dice or chop to add to any recipe or enjoy as they are.
Print
Pin
Rate
Ingredients
Beetroots

olive oil

Salt and Pepper to taste
Instructions
Preheat the oven to 400 degrees

Clean beet bulbs with a vegetable brush removing any dirt. Gently dry.

Cut green tops off leaving 1-2 inches of the stem intact to the bulb.

With a fork pierce the beets like you would if it was a potato.

Brush the beet bulb with olive oil and place on a baking sheet.

Bake for 45-60 minutes or until a knife inserted in the middle of the beet penetrates easily.

Remove from oven and let cool.

Peel the skin off by placing the beet on a paper towel and gently remove the skin or use a paring knife to peel the skin off.

Slice, dice or shred.
Notes
Leaving 2-3 inches of the stem on the beetroot will prevent the juice from bleeding.
Nutrition
Serving:
1
g
|
Calories:
36
kcal
|
Carbohydrates:
1
g
|
Fat:
3
g
|
Polyunsaturated Fat:
3
g
|
Sodium:
84
mg
|
Sugar:
1
g
Disclaimer
Please note that the nutritional information provided are guidelines and may vary based on the brand of products used. For your specific nutritional goals use My Fitness Pal or Verywell Fit recipe calculators. All content within this site is not intended as medical diagnosis or treatment and should not be considered a substitute for professional medical expertise.
PIN TO YOUR VEGETABLE, SIDE DISH AND DIY BOARDS