Grilled chicken and avocado salsa is a simple low carb healthy meal that is packed with flavor, and can be made in under 30 minutes!
This recipe first appeared on the blog in 2014.  This post has been updated with new photos!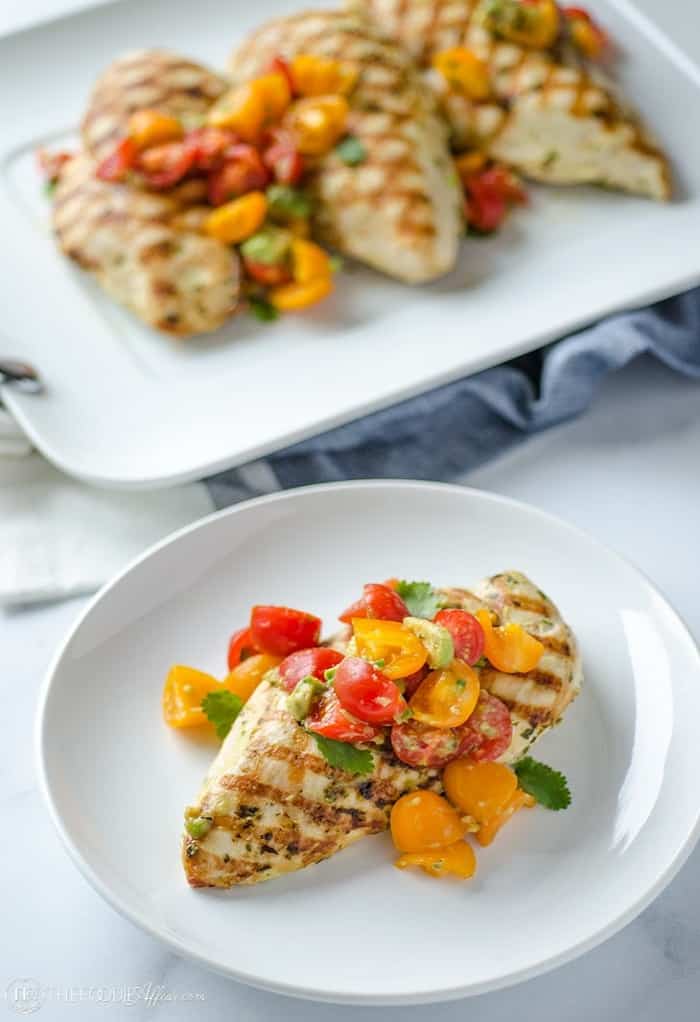 Grilled Chicken and Avocado Salsa
This recipe was created during the summer months.  When you live in California and other parts of the country grilled foods can be made year round.  If breaking out the grill isn't in the cards where you live right now, then you will want to use an indoor grill pan for this recipe.
---
Hold on now!  I'm starting hear rumblings about summer ending and the school year starting. Really? Already??
When you are in school it always seemed like such a long time from when school lets out for the year to when you went back.
I recall that being a good feeling, but in reality kids are only "free" for a couple of months.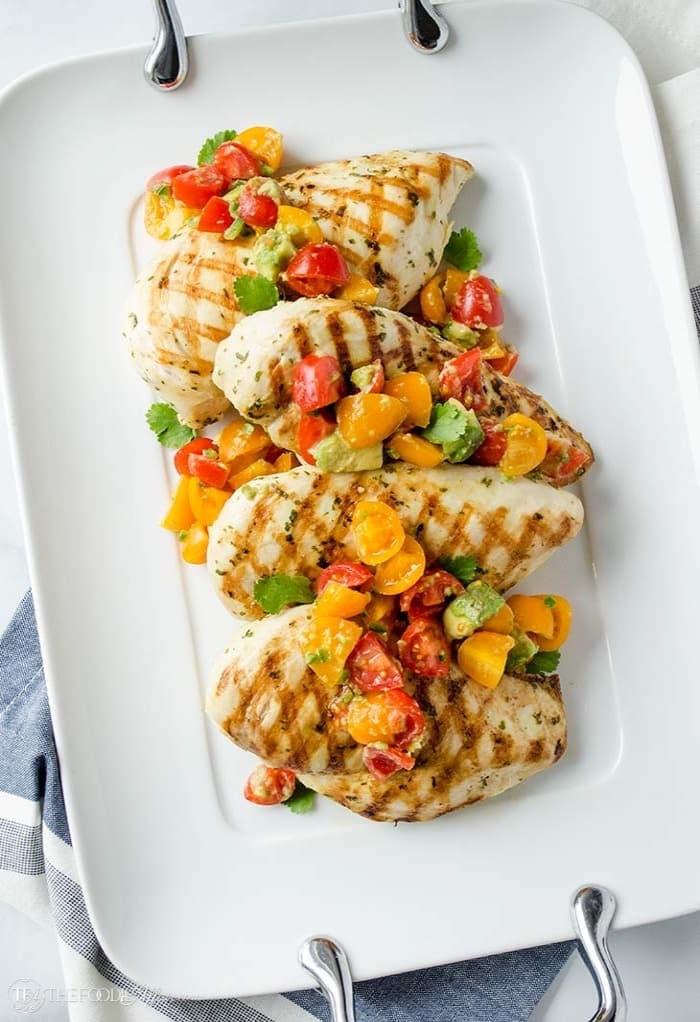 What I don't remember is when the awareness of how speedy life passes by sets in, but dang I'm right in the middle of hurry and rush, and I think our kids are too!
The kids around here start going back in the next two weeks, which seems sooo early to me. The Labor Day holiday used to be the official marker for final summer activities!
Now the school year has been changed to longer winter breaks and shorter summers. So wrong.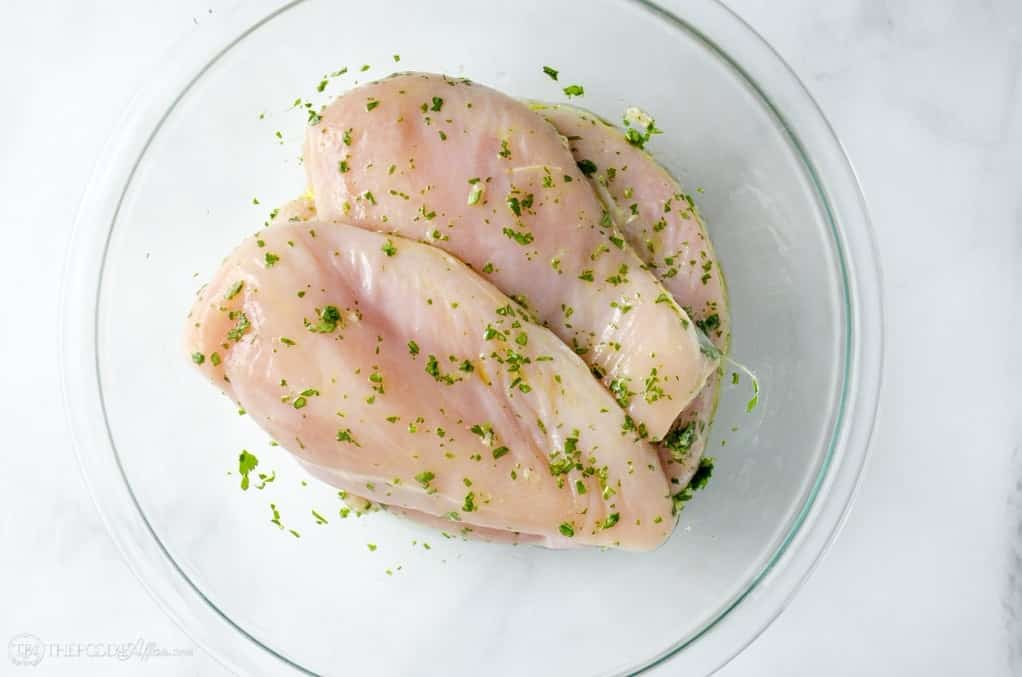 Marinade the chicken while preparing the salsa
So I hope you have had some relaxing summer days because it won't be long before the activity level picks up with a full calendar!
In perpetration for what it to come, you are going to need some tasty meals that can be on the table in a hurry.
I've made this chicken and avocado salsa a couple of times this past month and it has become a quick favorite.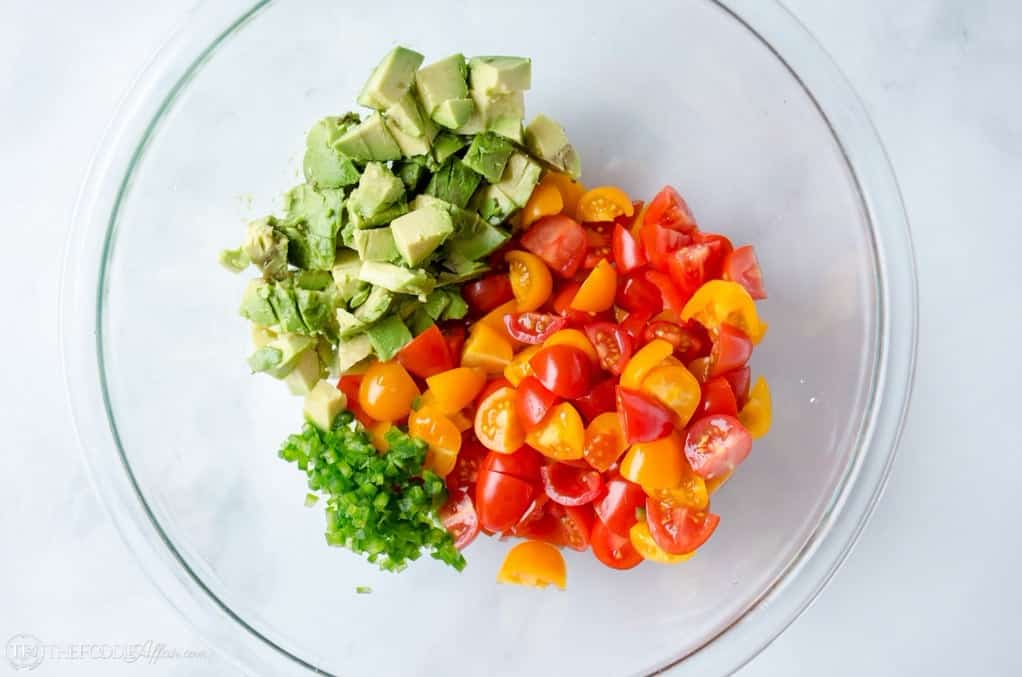 Avocado Salsa Recipe
I like it because of the fresh and simple ingredients along with the fact that grilling means no extra dishes need to be washed.
Alan and Sam like the heat from the jalapeño.  Include pitch if you want it extra spicy because that is where the capsaicin (fiery spice) is concentrated in, not the seeds.
Although this salsa is delicious with chicken don't limit this to just poultry!  This salsa recipe is wonderful over fish or as a filling for beef tacos.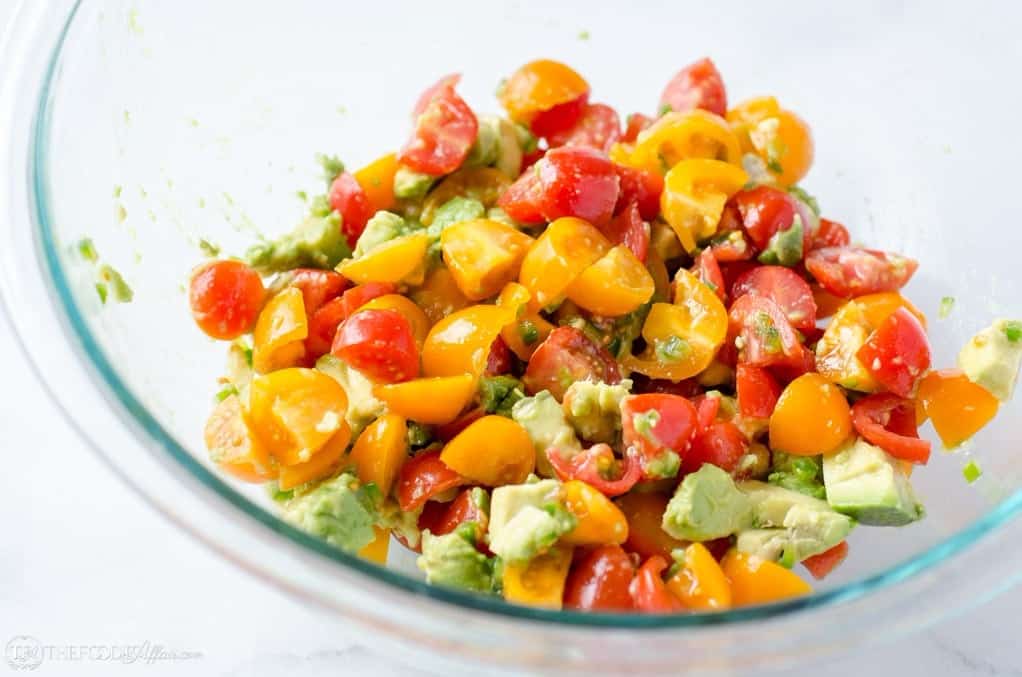 Mix up the ingredients in this avocado salsa!
There is also a lot of room for flexibility to kick up the heat by adding more jalapeños or it can be left out completely.
Also consider doubling the salsa recipe or add extra avocado chunks and eat as an appetizer with bake tortilla chips!
This grilled chicken and avocado salsa recipe presents well when plated up. Enjoy as a quick family meal or serve for guests.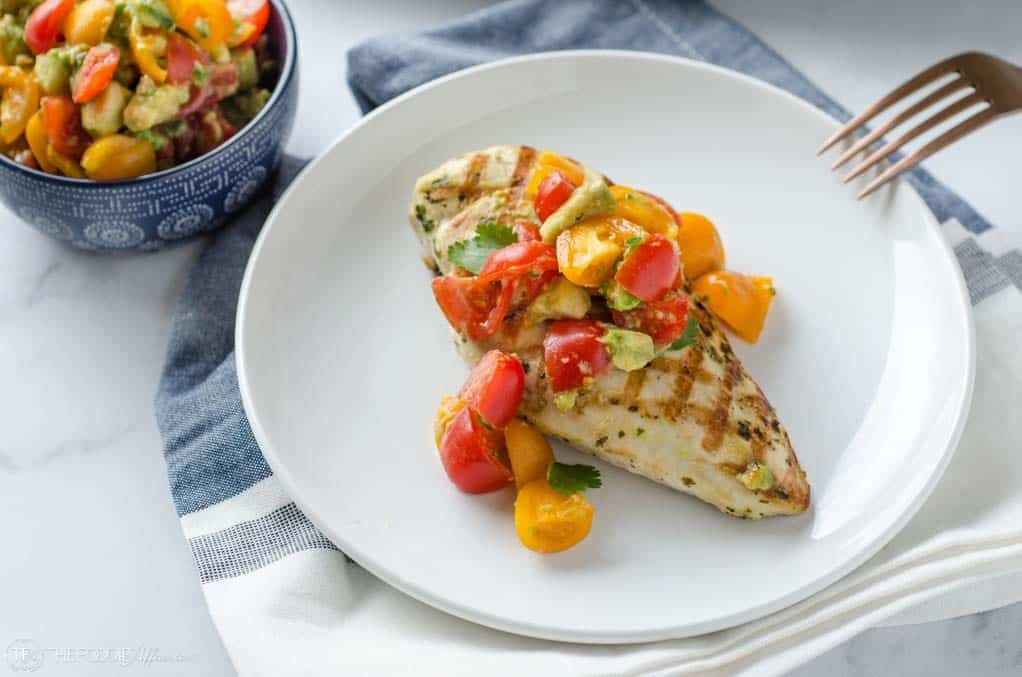 Yield: 4
Grilled Chicken with Avocado Salsa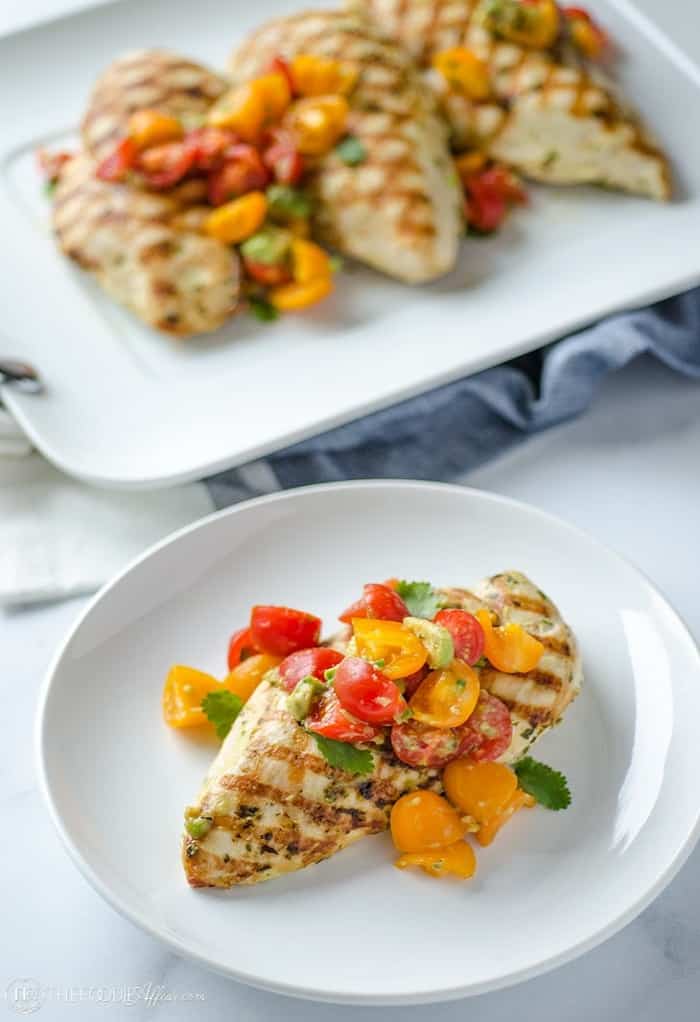 Ingredients
4 chicken breasts, skinless, boneless
2 limes juiced (1 1/2 for chicken and 1/2 for salsa)
2 tablespoons cilantro, chopped
1 1/2 tablespoons olive oil
1/4 teaspoon salt
Avocado Salsa
1 cup sliced cherry tomatoes (I used a variety)
1 avocado, peeled, pitted, and diced
1 jalapeno, diced
1/4 teaspoon salt
1/8 teaspoon pepper
Instructions
In a large bowl mix the juice from 1 1/2 limes together with cilantro and olive oil. Marinade chicken while preparing salsa.
For salsa in a medium bowl combine tomatoes, avocado, jalapeno, salt and pepper together.
Remove chicken from marinade and sprinkle 1/4 teaspoon of salt; discard marinade.
Heat greased barbecue to medium heat. Grill chicken 6 to 8 minutes on each side or until done (170ºF)
Top cooked chicken with avocado salsa.
Notes
The acid in the lime breaks down the proteins fairly quick, so you don't need to marinade the meat for long. 30 minutes is more than enough time.



This recipe was adapted from this Cooking Light recipe.