Low Carb Enchiladas are made with grain free tortilla-like wraps and filled with a cheesy chicken filling! Serve these delicious enchiladas at your fiesta!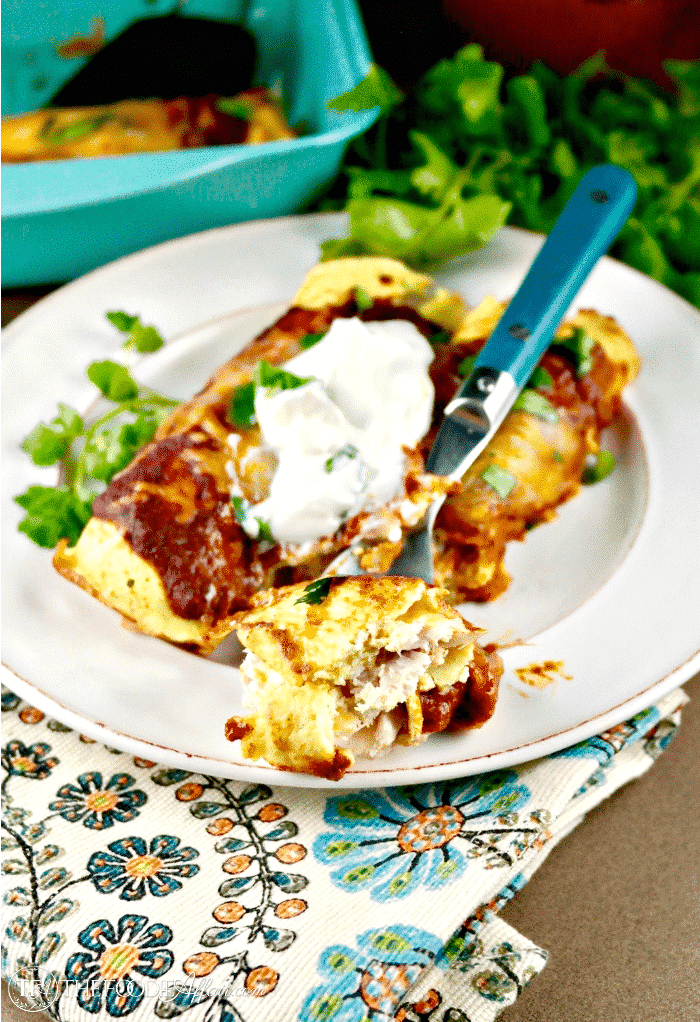 Low carb enchiladas with chicken
Last week I shared these Low-Carb Crepes with Ricotta Cream and mentioned that the crepe wraps can also be used for savory fillings too.  Well, it didn't take me long to realize that crepes can make a great tortilla-like wrap for enchiladas!
These low carb enchiladas are so good and even if you aren't watching your grain or carb intake, you'll love all the flavors in this dish!
Remember that healthy red enchilada sauce I shared?  You need about a cup and a half of it for this recipe.  Now you see why I didn't have any leftover sauce to freeze!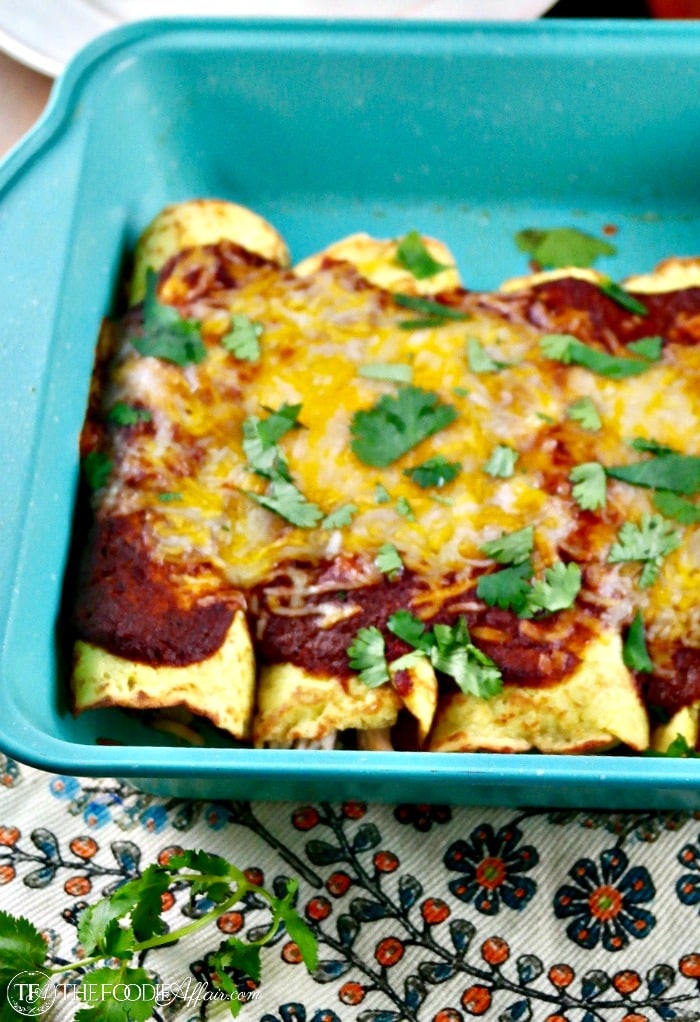 I usually make enchiladas with corn tortillas, but this recipe is perfect for when I want to keep my carb intake super low.  Corn tortillas have about 13 grams of carbs each, and I don't know anyone that will eat just one enchilada, so the carbs start to add up pretty quickly.
When you use these tortilla-like crepes instead of corn tortillas each enchilada is just under 3 carbs each!  How awesome is that?
Easy chicken enchilada recipe shortcuts
If you are in a hurry, Mission and La Tortilla Factory both carry lower carb tortillas now, which is super convenient to have on hand.
Although, the homemade enchilada sauce is highly recommended, La Victoria makes a sugar free ready made sauce for your convenience.
I baked my chicken for this dish, but you can also purchase a pre-made chicken, which always seems to speed the assemble process up!
The filling in this recipe is a little different from what I usually make.  Instead of using basic chicken with shredded cheese, I beefed up the filling by adding a creamy cheese base mixed with taco seasoning.  It's scrumptious!  Top the dish with more cheese and you have a super filling meal!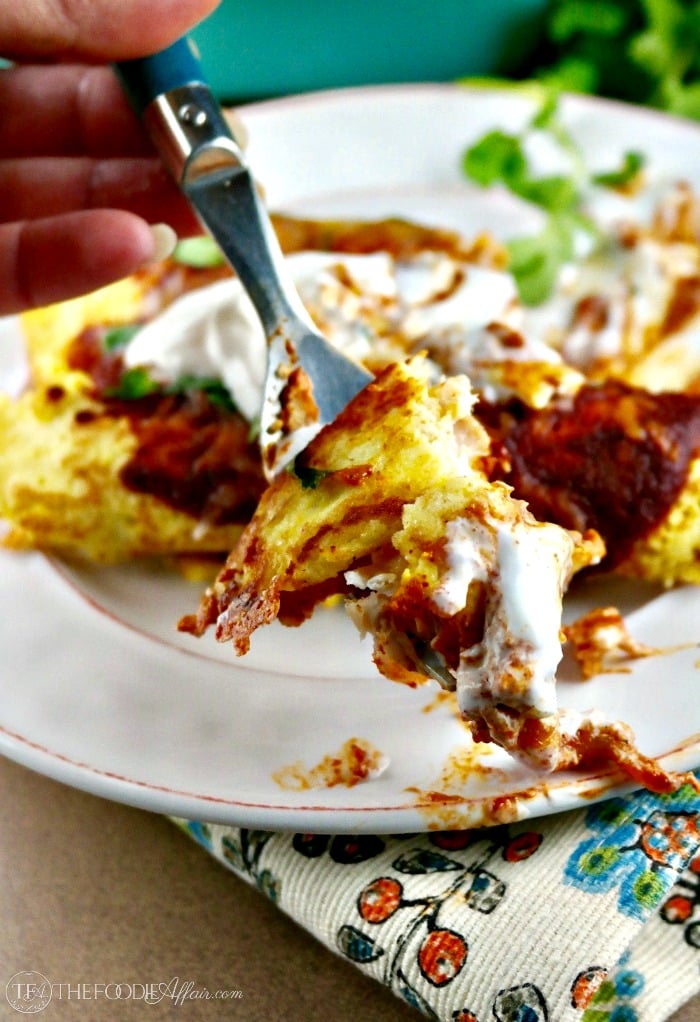 Yield: 4
Low Carb Enchiladas with Cheesy Chicken Filling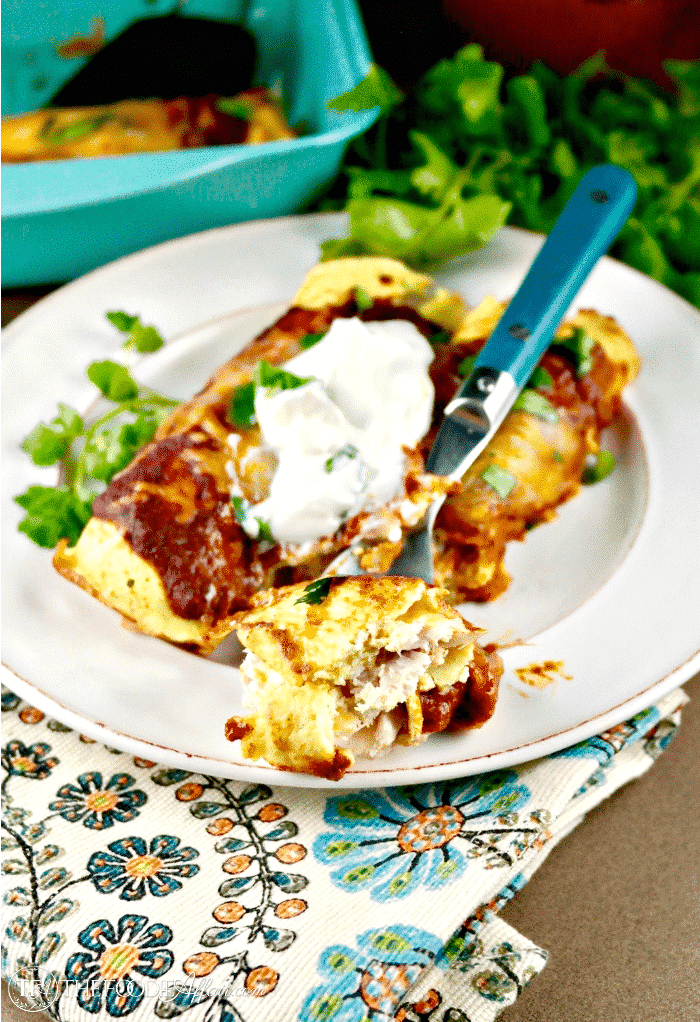 Ingredients
2 cups shredded chicken
4 ounce cream cheese, room temperature
1 3/4 cups Mexican blend shredded cheese (divided)
Optional toppings
sour cream/plain yogurt
avocado slices
salsa
Instructions
In a medium bowl mix together cream cheese with taco seasoning until well blended. fold in shredded chicken and 3/4 cup of Mexican blend cheese.
In a small baking pan. add 1/2 cup of enchilada sauce to the bottom of the plan and spread evenly.
Assemble each enchilada (8) by rolling 2 tablespoons of chicken filling to each crepe. Gently roll and place seam side down on the prepared baking pan. Top with enchilada sauce and cheese. Bake at 350 degrees for about 20 minutes or until cheese has melted. Serve with your favorite toppings.