Low carb chocolate thumbprint cookies with a low sugar caramel filling topped with a drizzle of sugar-free chocolate. Enjoy a sweet treat without affecting your insulin levels. Each cookie is approximately 7 carbs each.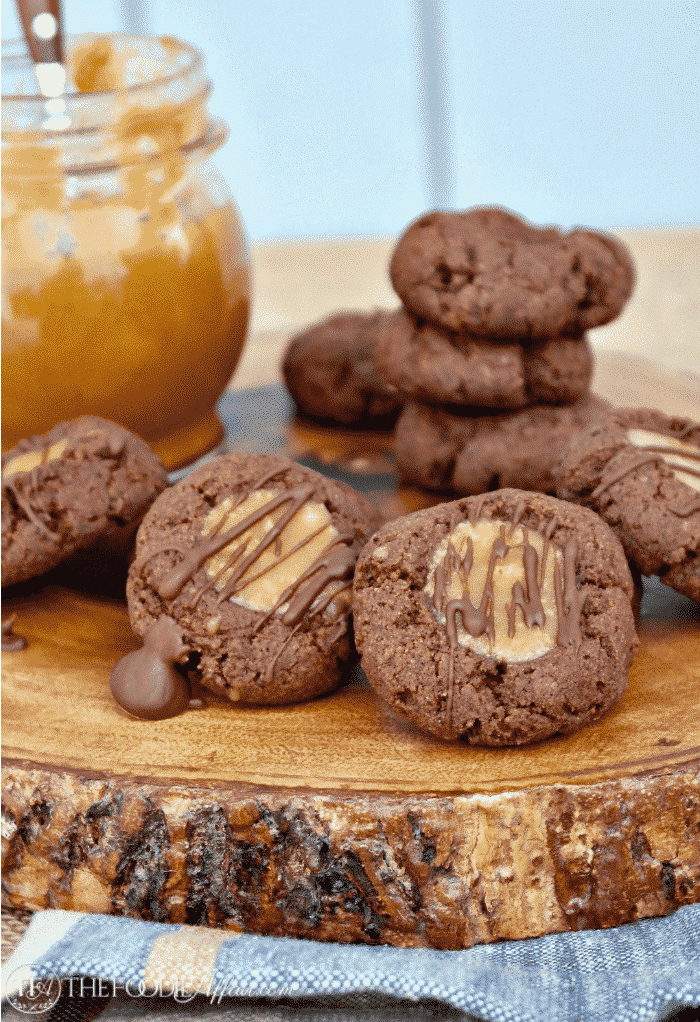 I hope you have room on your cookie platter this holiday season to add these low carb chocolate thumbprint cookies!  I've made these babies twice already tweaking the recipe the second time to get it just right!
It's hard to tell that these cookies are sugar-free and grain-free!
Although these chocolaty caramel cookies are sugar-free and grain-free they certainly don't lack in flavor.  Even the most discriminating palate will appreciate these lower carb treats!
The first time I made these my caramel sauce came out perfect, and then when I made this batch I couldn't replicate the same creamy consistency.
Sad face.  I was going nuts trying to get the caramel sauce to thicken and not separate.  It tasted delicious, but it was not smooth and pretty.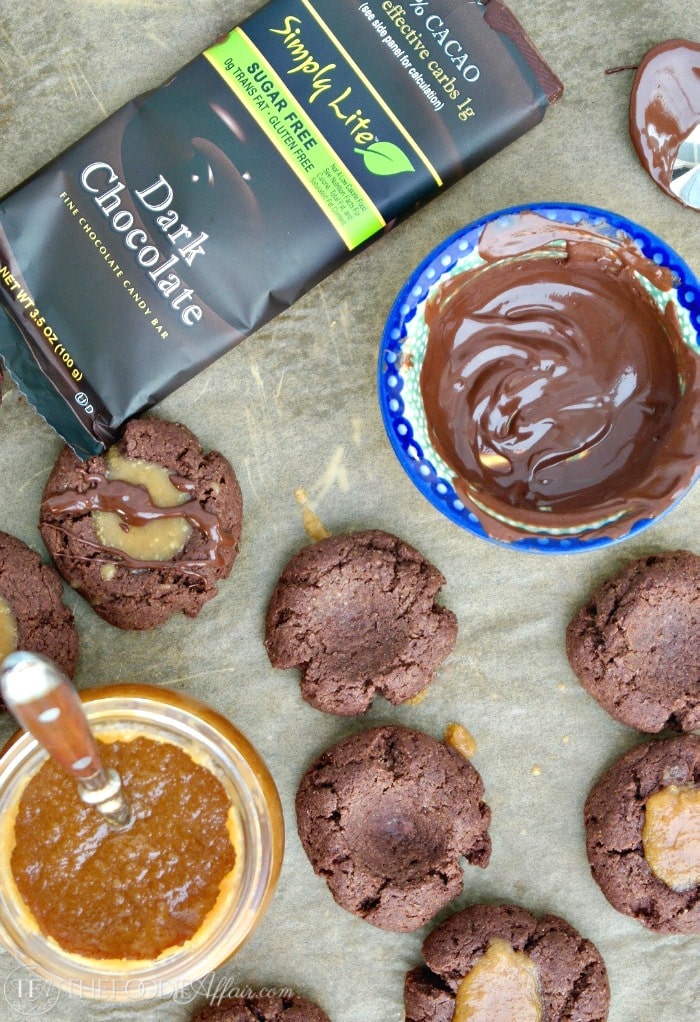 I went through a lot of butter trying to figure out what the issue was.  The only thing I can think of is that possibly using organic butter breaks down at a different melting point (?).
Low Carb Chocolate Thumbprint Cookies with a tasty sugar-free caramel sauce!
To make the caramel sauce I browned butter to get that nutty flavor, then added cream and sweetener.  That's it.  I'll be working on it again (when I get more butter!), and hopefully find the perfect combination.
In the meantime, I did find a fantastic low sugar salted caramel sauce over at Sugar-Free Mom's site.
Laughing because she had the same challenge trying to make a great tasting sugar-free caramel sauce, but she mastered it!  I halved her batch and still have plenty leftover for another treat if I don't keep sampling it!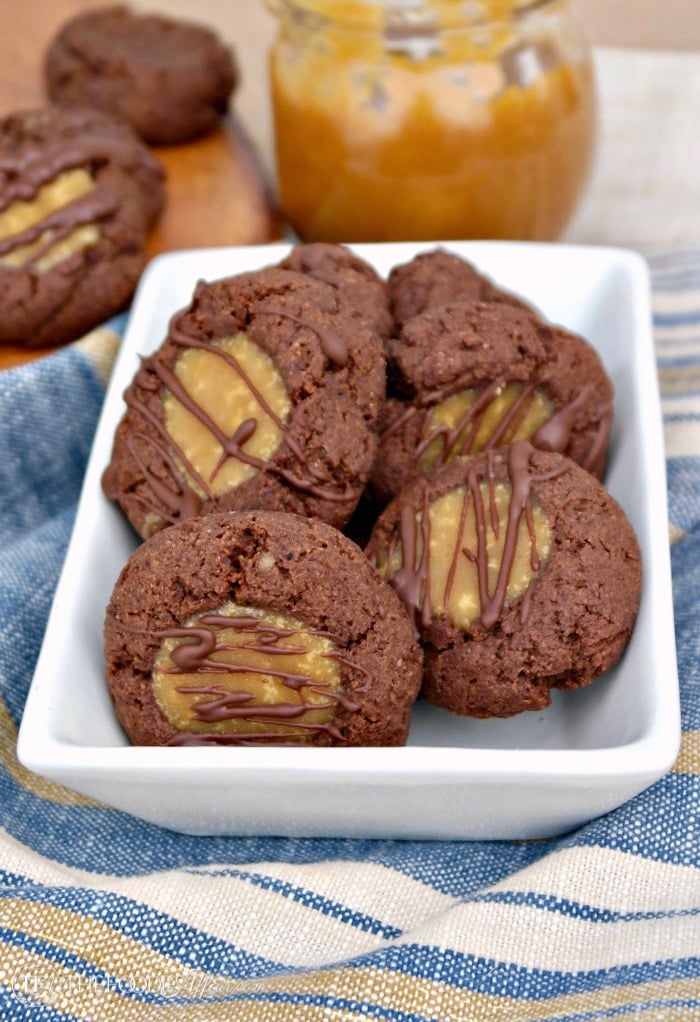 Check you the NEW sugar-free chocolate bar I used in this recipe!
Oh, I also found another sugar-free chocolate from Trader Joe's that is AWESOME!  My daughter and her boyfriend got me hooked on Simply Lite Dark Chocolate.  It melts into a nice smooth consistency without adding any fat to it and it's not a bad price either.  I think I paid $1.99 for 100 grams.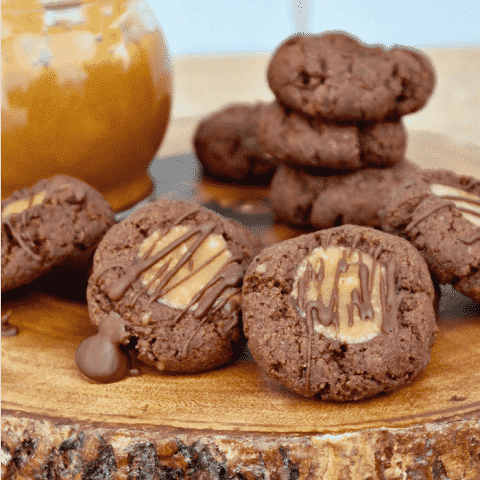 Low Carb Chocolate Thumbprint Cookies with Caramel Filling
Ingredients
COOKIE
2 large eggs
3 tablespoons coconut oil, softened
1/2 cup erythritol (Swerve)
2 teaspoons vanilla extract
1 teaspoon instant espresso powder mixed with 1 tablespoon water
1/2 teaspoon baking soda
2 1/2 cups almond flour, superfine
1/4 cup cocoa, unsweetened
3.5 ounce sugar-free dark chocolate (optional)
Instructions
Preheat oven to 325 degrees. Line two baking sheets with parchment paper and set aside.
In a medium bowl beat egg until frothy. Add coconut oil, sweetener, espresso, and vanilla extract and mix until combined.
In a separate bowl whisk together almond flour, baking soda, and cocoa powder.
Mix into wet ingredients.
Form balls and place on baking sheet. Press center with a spoon or thumb making a small indent.
Bake for 16-18 minutes or until the bottom of the cookies are set and light brown.
Remove from oven and cool. Lower oven to 170 degrees. Return cookies to oven and bake for 1 1/2 hours or until cookie is not soft on the bottom. Cool on baking racks.
Make caramel sauce (purchased sugar free caramel sauce is an option too).
Add 1/2-1 teaspoon of caramel to center of cookie. Let set.
In a microwave melt chocolate in 20 second increments until chocolate is smooth. Add to a piping bag and drizzle over each cookie (optional).