Low carb parmesan chicken with a simple gluten free crusty coating baked in the oven and then coated with cheese and a dollop of marinara sauce.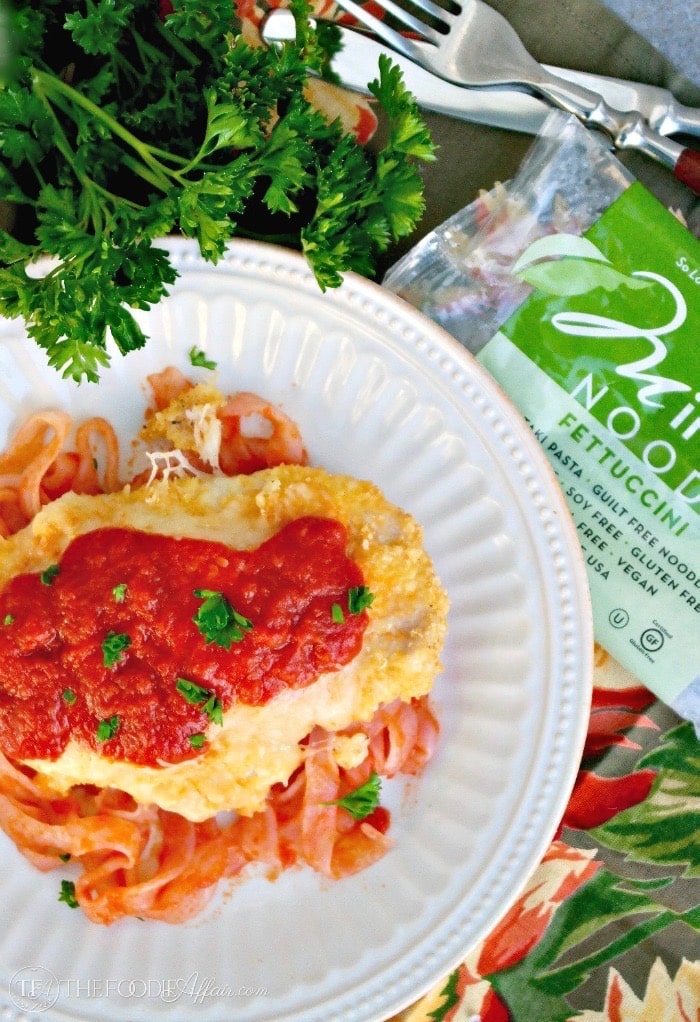 Eggplant and chicken parmesan are probably my favorite meals to order when we go to an Italian restaurant, but since I'm sticking with a very low carb diet I decided to play with The Best Parmesan Chicken recipe and make this the ultimate low carb chicken parmesan at home!
With a few tricks and tweaks, you won't miss the traditional way to coating chicken filets with breading and once you taste how delicious this dish is
This Low Carb Parmesan Chicken recipe will be a new family favorite recipe!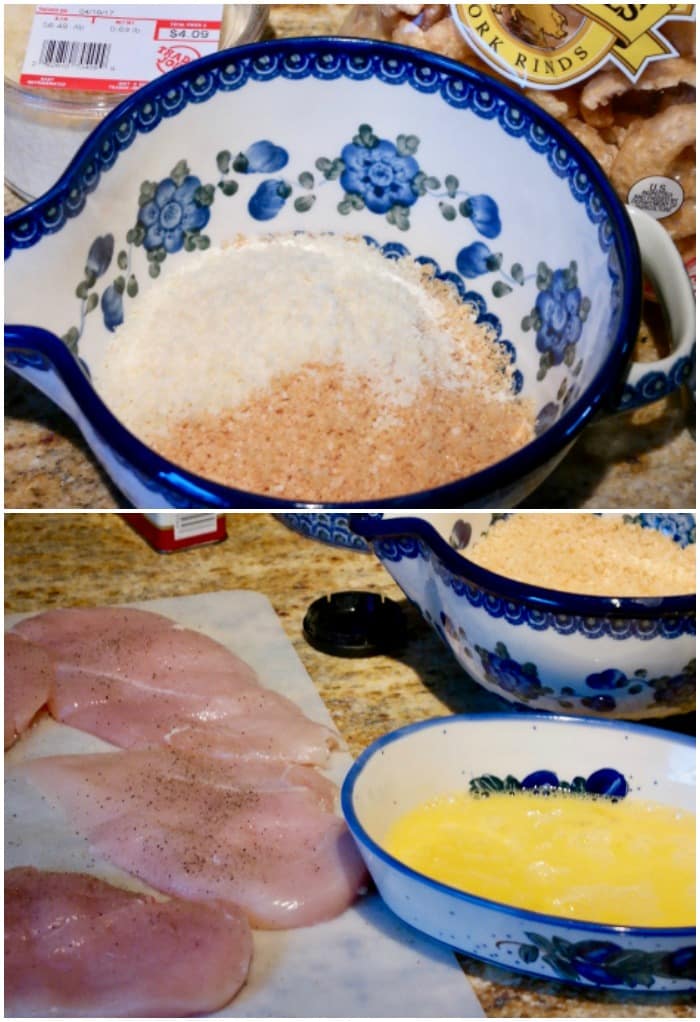 One low carb swap I've found that is common is to use as a bread-like coating is pork rinds!  Blend them up in a food processor or blender and you have instant crumbs!
Pork rinds hold up just like bread crumbs, but there is a bonus, they have zero carbs!
I cooked up traditional pasta for Alan, but for my dish I tried a gluten-free, low calorie fettuccine noodle made out of water-soluble fiber made from the Konjac plant.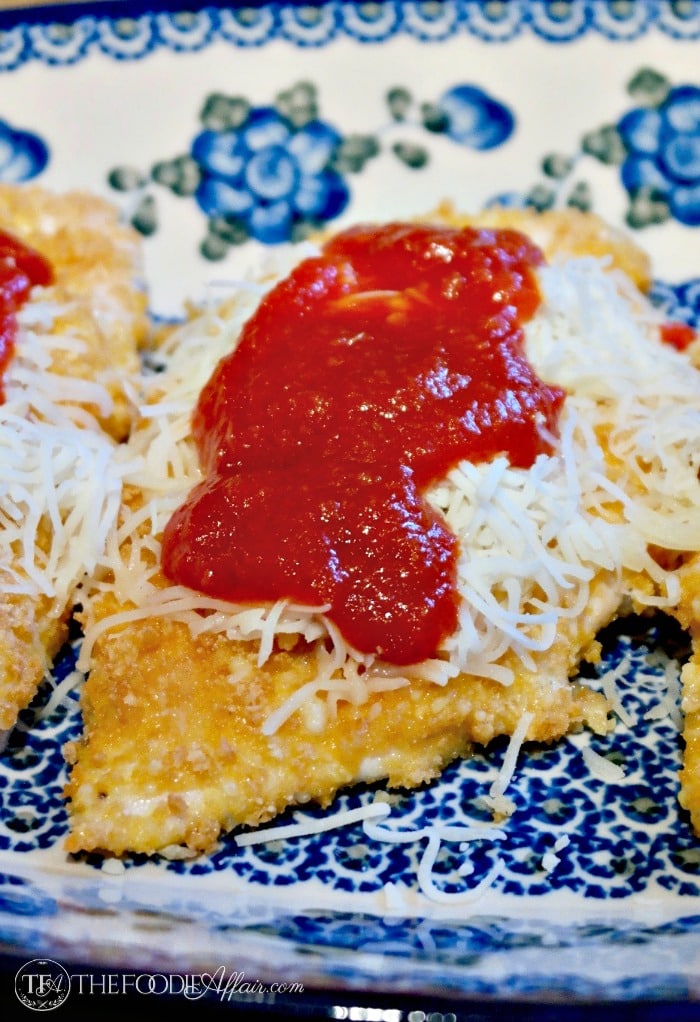 I found Miracle Noodle (not an affiliate) at my grocery store, and another delicious brand of carb-free noodle from Costco called Healthy Noodle.  Both brands are made from the same Konjac plant.
Both brands are made from the gelatinous Konjac yam, and you can just warm them up and eat them right out of the package.  No big pots of boiling water to get ready.
Try this lower carb classic recipe!  You'll love how tender the chicken cooks up.  Save your carbs for another dish!
Yield: 4-6
Low Carb Parmesan Chicken with Miracle Noodles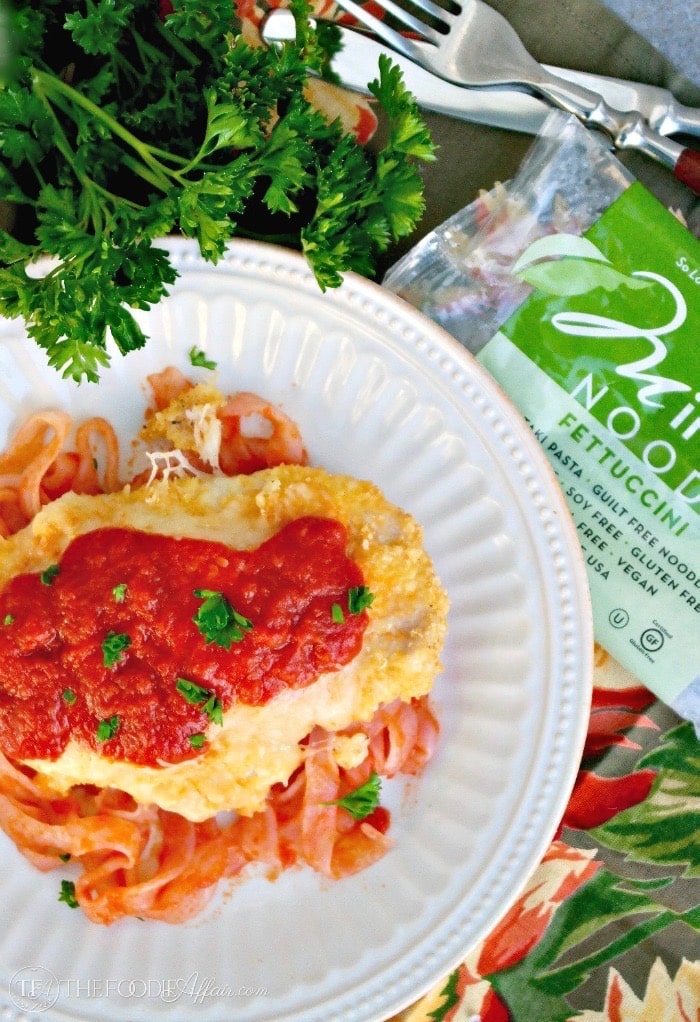 Ingredients
SAUCE:
2 tablespoons extra-virgin olive oil
2 garlic cloves, minced
3/4 teaspoon salt
1/4 teaspoon dried oregano
pinch of red pepper flakes
1 (28-ounce) can crushed tomatoes
2 tablespoons coarsely chopped fresh basil
CHICKEN:
2 (6 - 8 ounce) boneless, skinless chicken breasts, trimmed, halved horizontally and pounded 1/2 inch thick
1 teaspoon kosher salt
1/2 cup mozzarella cheese, shredded
1/2 cup Italian Three Cheese Mixture, shredded
2 large egg
1 1/2 cup (crumbs) pork rinds blended
1/2 cup parmesan cheese, grated
1/2 teaspoon garlic powder
1/4 teaspoon dried oregano
1/4 teaspoon pepper
Instructions
SAUCE:
Heat 1 tablespoon of oil in medium saucepan over medium heat. Add garlic, 3/4 teaspoon salt, oregano, and pepper flakes. Cook stirring until fragrant. Stir in tomatoes and increase heat to high. Reduce heat to medium low and simmer for about 20 minutes. Season with salt and pepper.
CHICKEN:
Sprinkle each cutlet with 1/8 teaspoon of salt and let stand at room temperature for 20 minutes. Mix cheeses together and set aside.
Whisk eggs together in a shallow dish until smooth. In a separate shallow bowl combine parmesan , pork rind crumbs, garlic powder, oregano, and pepper. Pat chicken dry with paper towels. Dredge each cutlet in egg mixture, then coat all sides in parmesan/pork rind mixture. Press lightly if needed to so crumbs stick to the chicken. Set on a lightly sprayed baking sheet or lightly spray a cooling rack that can fit on top of your baking sheet.
Place cutlets on prepared baking sheet and bake for 20-25 minutes at 350 degrees. Remove from oven and sprinkle cheese mixture evenly over each chicken piece. Broil until cheese is melted and beginning to brown, approximately 2 to 4 minutes. Transfer to serving platter and top each with a couple of tablespoons of sauce. Serve immediately.