This low carb meatloaf is flavored with all the fixings that would be in a juicy burger!  Love bacon, onion, and sharp cheddar cheese?
I bet this cheeseburger meatloaf will be a hit at your house, and I promise that you won't miss the bun!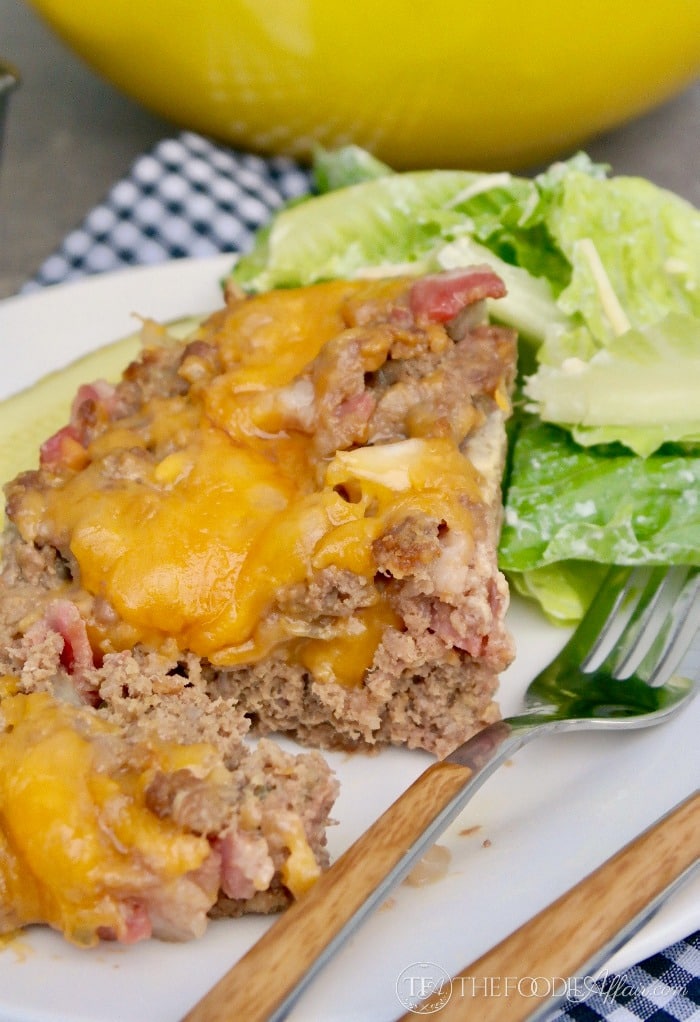 Low Carb Meatloaf
It's SUMMER and I've been in vacation mode for weeks, which is why I'm behind in sharing recipes with you all!
I actually did take a week off of work and spent about 5 days in Arizona.  It was my first time to hike the Grand Canyon National Park.
Arizona surprised me!  It's a fabulous vacation spot filled with wildlife areas, historic sites, lakes and reservoirs!
We had the best time, but holy cow was it hot!  Like super-duper sweaty hot!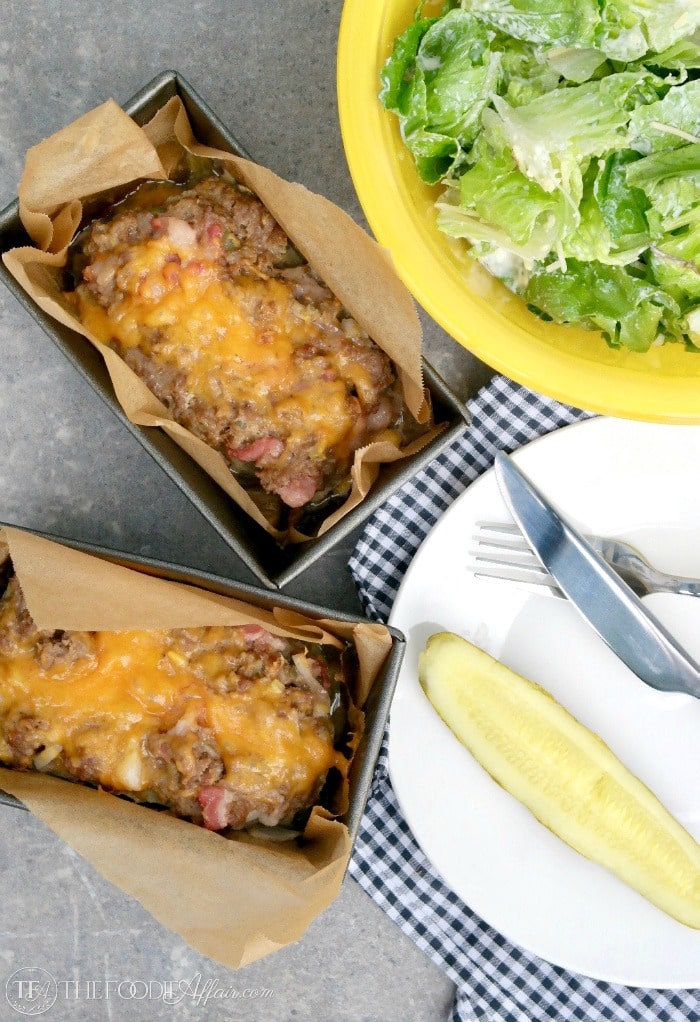 Low Carb Meatloaf With Cheddar Cheese Chunks
Since I didn't cooked in over a week while on vacation I was anxious for a home cooked meal.  Even after being out of the house, we always have the basics on hand like a pound or two of ground beef, turkey and chicken as well as CHEESE.
Luckily, If I ask Alan what he wants to eat, nine times out of ten he'll request comfort food like meatloaf and PIZZA.
Although I was tempted to make my low carb pizza since we both like cheesy foods, I made this hearty cheeseburger meatloaf instead!
What an easy and delicious meal!  Folded into the beef are chunks of cheddar cheese, chopped bacon, and onion.  The same ingredients you would find layered on burger!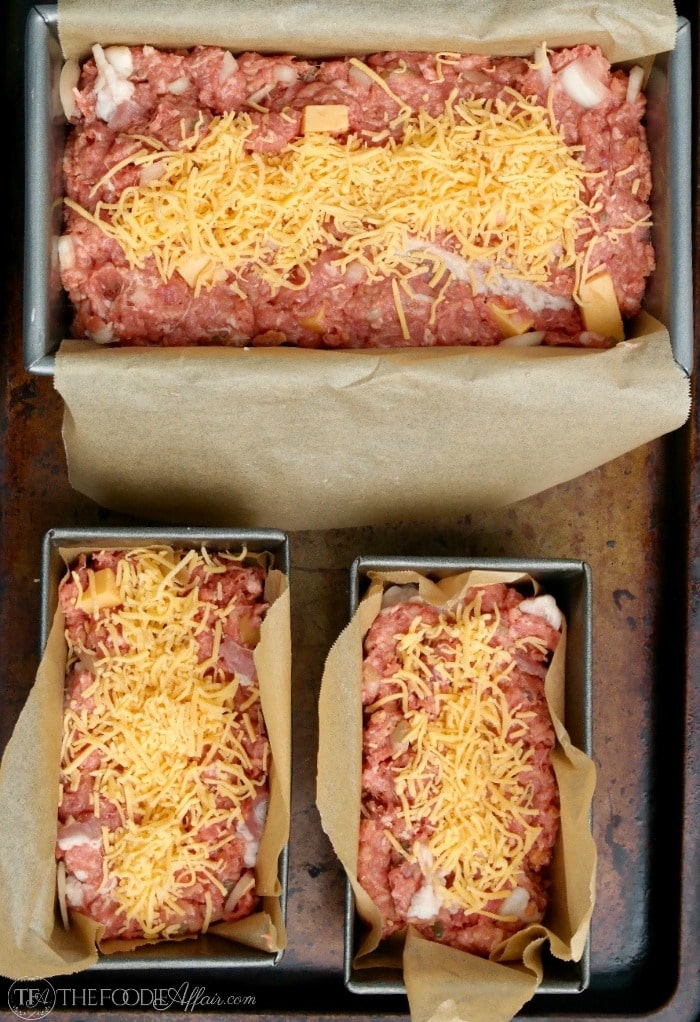 Low Carb Binder For Meatloaf
Most meatloaf recipes call for some type of a binder like tomato sauce and eggs with oats, bread or cracker crumbs or even panko flakes.
For this low carb meatloaf we used one egg and ground pork rinds as the binder.
The gooey cheese helps hold all the ingredients together as well.
This low carb meatloaf, the mother of all comfort food is just the meal to dive into after being on vacation!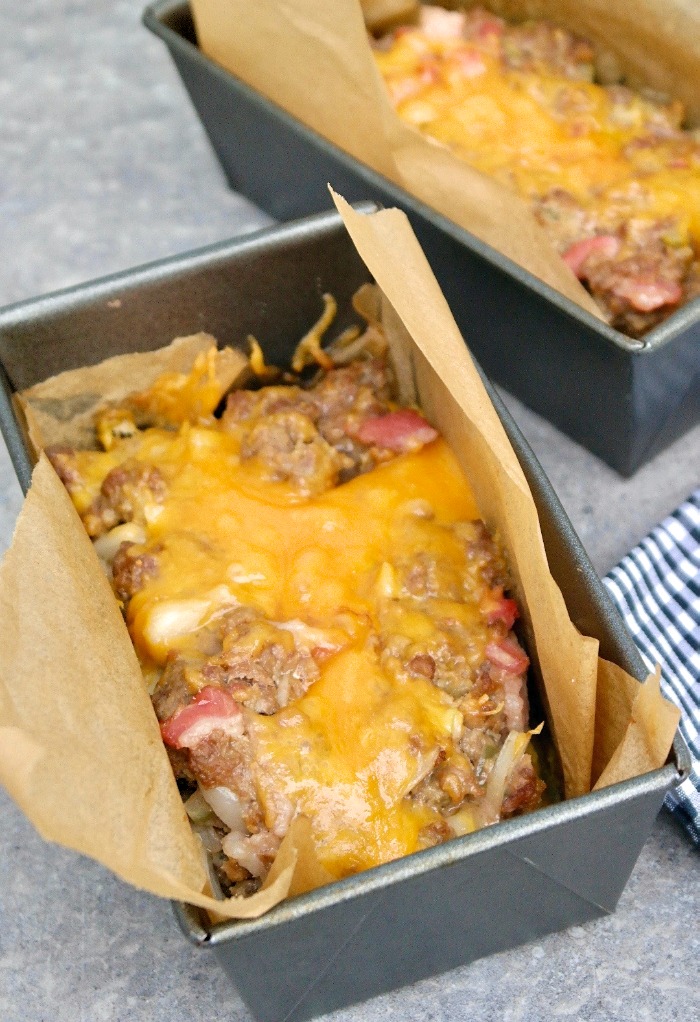 Meatloaf In Mini Loaf Pans
I divided the meat mixture into one 8 x 4 loaf pan and two mini 2 x 4 loaf pans.
The mini loaves will cook in about 25 minutes!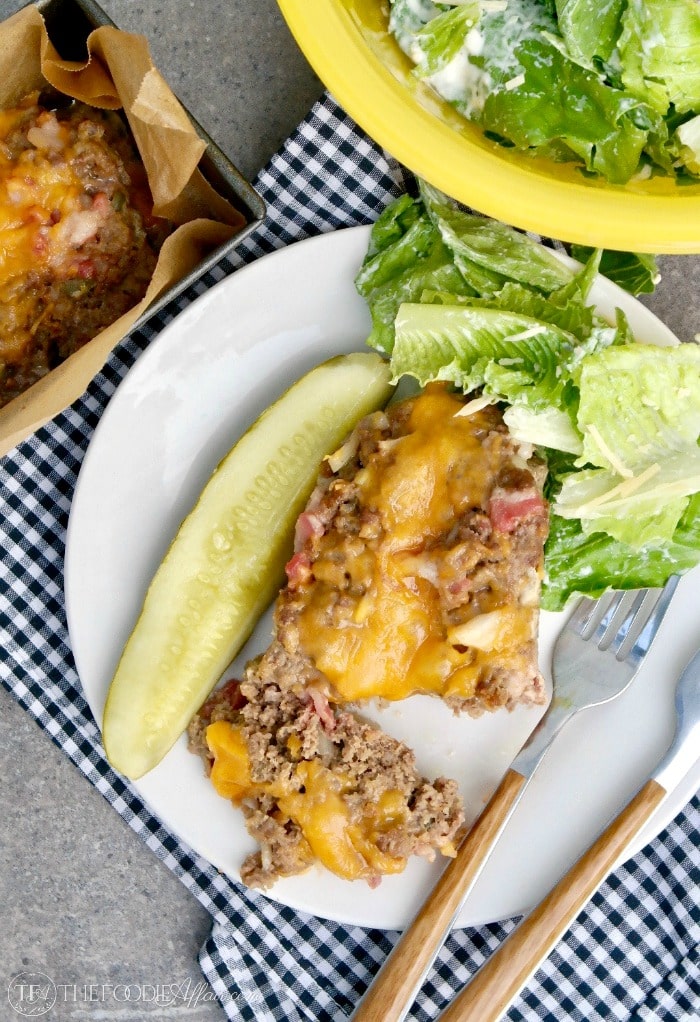 What To Serve Meatloaf With
Pair this meatloaf with some veggies or a light salad for a super simple delicious meal!
Sides
Salads
Vegetables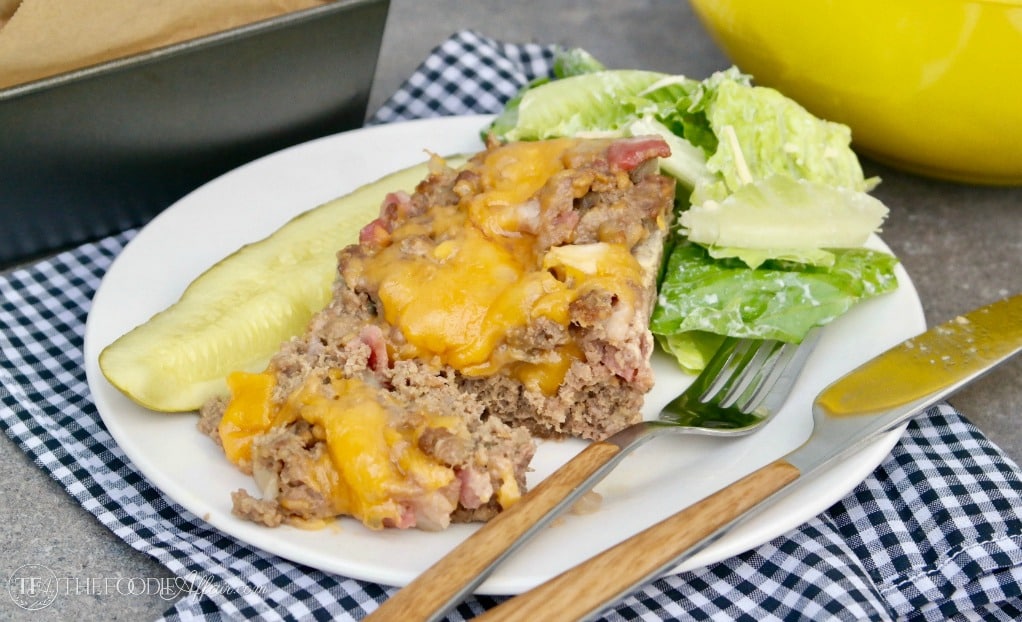 Try These Quick and Easy Dishes Too
Yield: 8
Low Carb Cheeseburger Meatloaf (Keto, Gluten Free)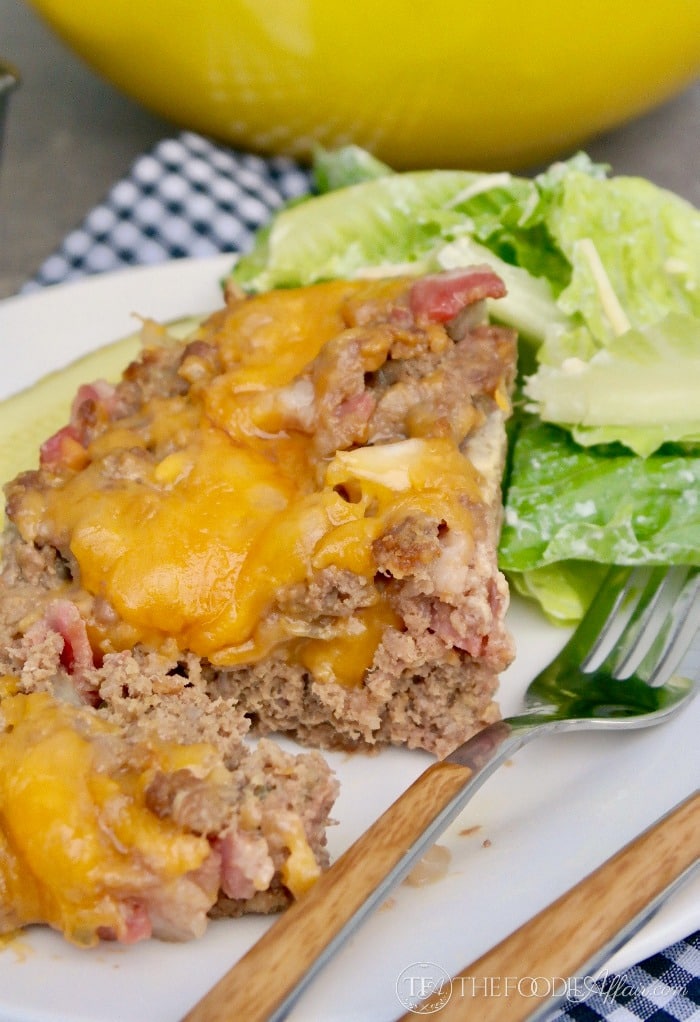 Ingredients
2 pounds ground beef (grass fed, if available)
1 large egg lightly beaten
2 tablespoons prepared yellow mustard
1/2 cup onion, chopped
1/4 cup dill relish or chopped dill pickles
1 cup pork rind crumbs
1 1/2 teaspoons kosher salt
1 1/2 teaspoons pepper
3 slices, center cut bacon diced
3 ounce sharp cheddar cheese (block style, diced in chunks)
1/4 cup shredded sharp cheddar cheese (to top meatloaf - optional)
Instructions
Preheat oven to 375 degrees. Line pans (about 8 by 4 inches, and/or mini loafs) with parchment paper, place on a baking sheet and set aside.
In a small bowl whisk together mustard egg.
In a large bowl add ground beef, onion, relish, salt, pepper, bacon, mustard/egg mix, and pork rind crumbs, diced cheddar cheese chunks and gently mix the ingredients; do not overmix. Pat the meat mixture into the prepared pans.
Form a small wedge in the middle of the loaf and add shredded cheese (optional).
Bake for 45 minutes (large loaf), 25 minutes (mini loaf) or until meat in the center is no longer pink