Low carb meatloaf is flavored with all the fixings that would be in a juicy burger like bacon, onion, and sharp cheddar cheese.  You won't miss the bun!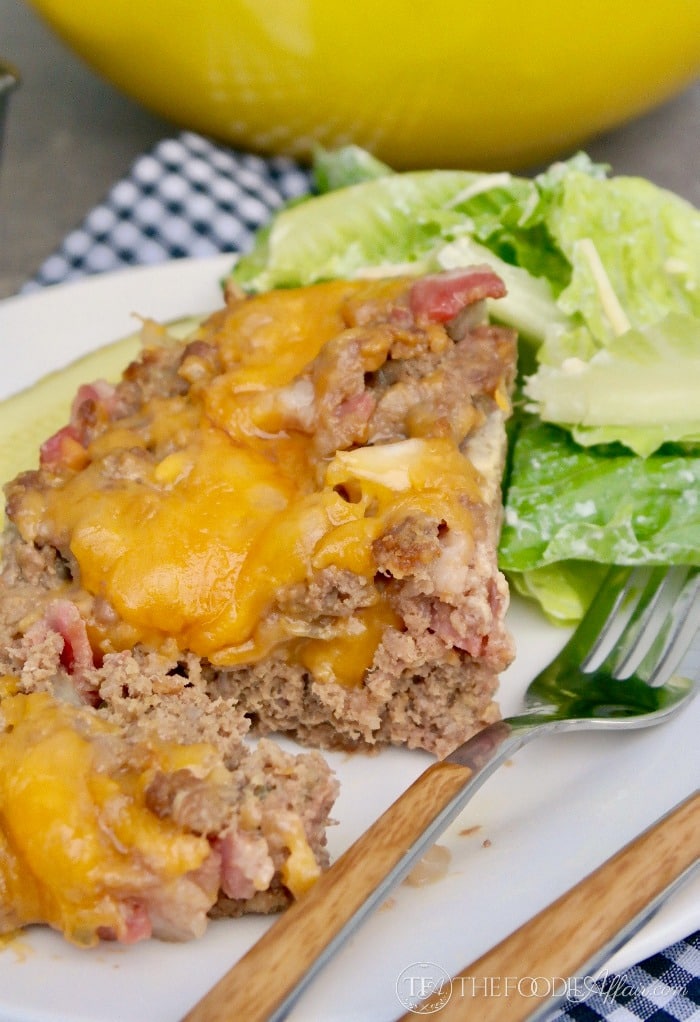 Low Carb meatloaf with bacon
It's SUMMER and I've been in vacation mode for weeks, which is why I'm behind in sharing recipes with you all!
I actually did take a week off of work and spent about 5 days in Arizona.  It was my first time to check out the Grand Canyon National Park.  Why did I wait so long to see a such an amazing scenic destination?
Family is what ultimately brought us to Arizona, so after the scenic fun we time with my in-laws.  That visit wasn't nearly long enough, but we are grateful to see that my mother-in-law is slowly bouncing back from some health issues that she has been dealing with.
We had no doubt that the temperatures in Arizona would be higher than we're used to, but who willingly leaves the beach for a 122 degree record breaking heat wave?  –> US!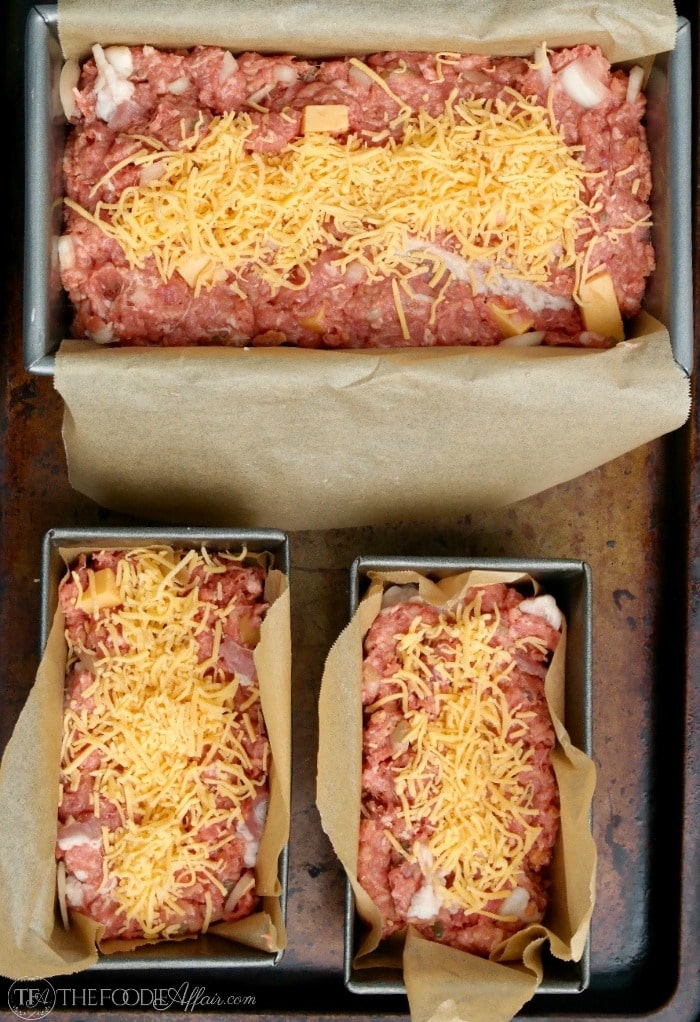 Exploring the outdoors and foods in Arizona
You don't go to Arizona and not whine about the heat.  Holy cow was it HOT, but that didn't stop us from exploring the mountains and enjoying the splendor of the Grand Canyon trails.  The views were spectacular, and I'm not sure what time of year is the best time to go hiking in Arizona, but I want to go back and tackle it again!
Besides hitting the outdoors we also stumbled into some great restaurants.  I think my favorite was the Italian food we ate at Cucina Rustica in Sedona.  The atmosphere was lovely and the food was delicious!  The fish special was on my plate and Alan tried the Cioppino over pasta.
We also went to Oak Creek Brewery and Grill and sampled the local beer.  I'm not a big beer drinker, but sure did enjoy the blend that was enhanced with a hint of vanilla!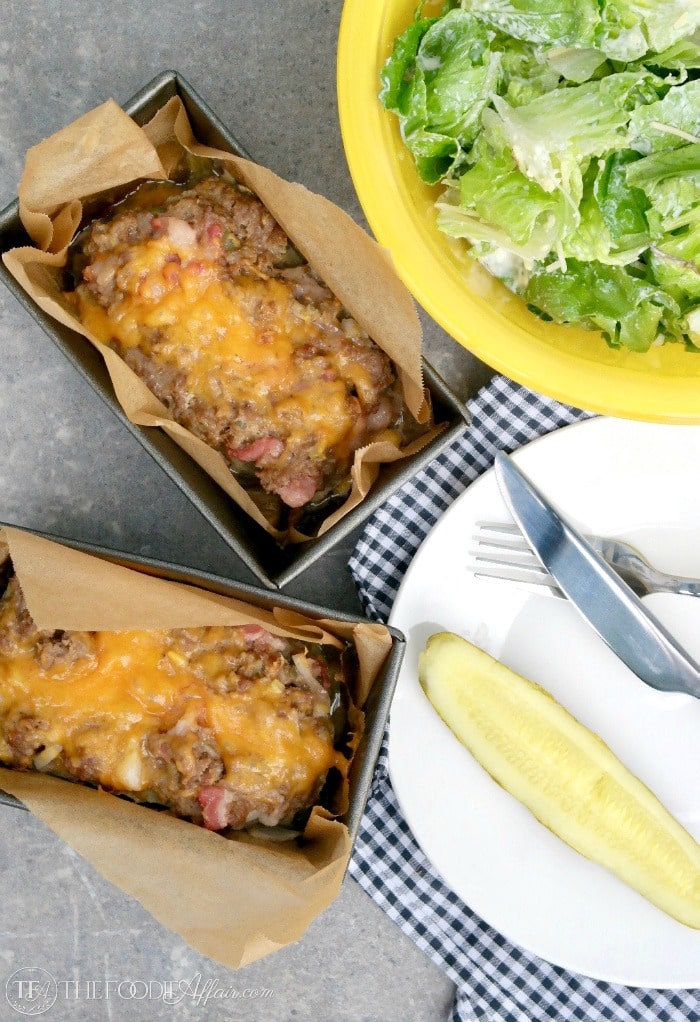 As fun as it is to try different foods and drinks while on vacation as soon as the suitcases are put away, I look forward to getting back to our routines and cooking at home!
This low carb meatloaf, the mother of all comfort food is just the meal to dive into after being on vacation!
This cheese stuffed meatloaf is made without any filler, so no bread crumbs or even Panko flakes are added.  Instead this keto meatloaf is made with plenty of tasty fats from the cheese, bacon and ground beef.
Any dish that is filled with lots of good fats will keep you satisfied for hours!
I divided the meat mixture into a 8 x 4 loaf pan and two mini 2 x 4 loaf pans.  The mini loaves cooked cooked in about 25 minutes, so dinner was complete in no time!
Serve with a Garden Salad or Wedge Salad for a super simple delicious meal!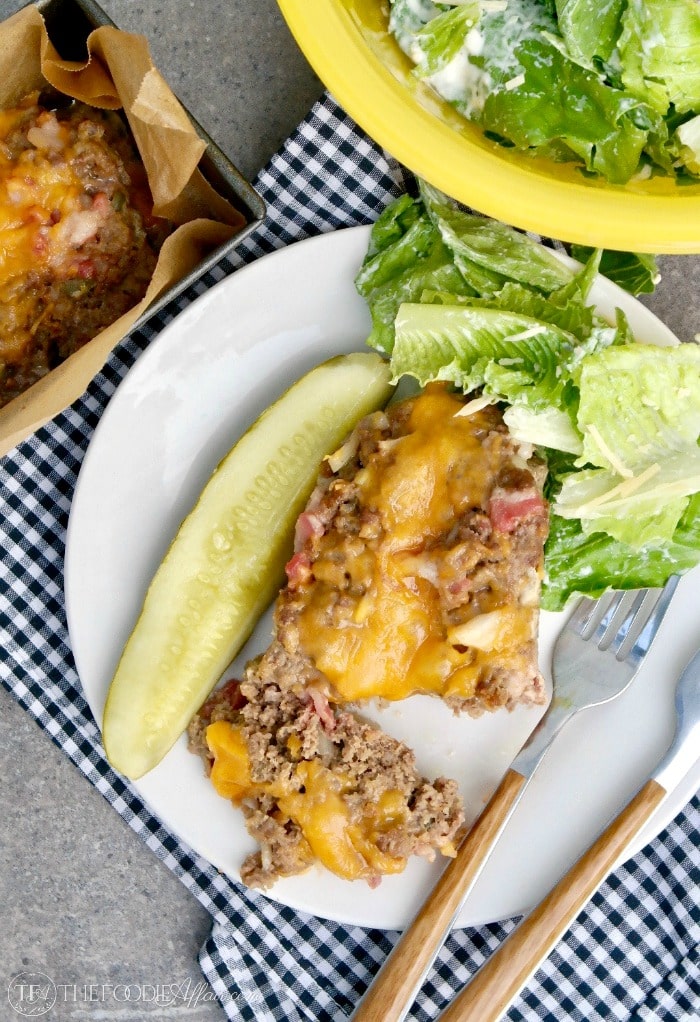 Low Carb Meatloaf | Cheeseburger Style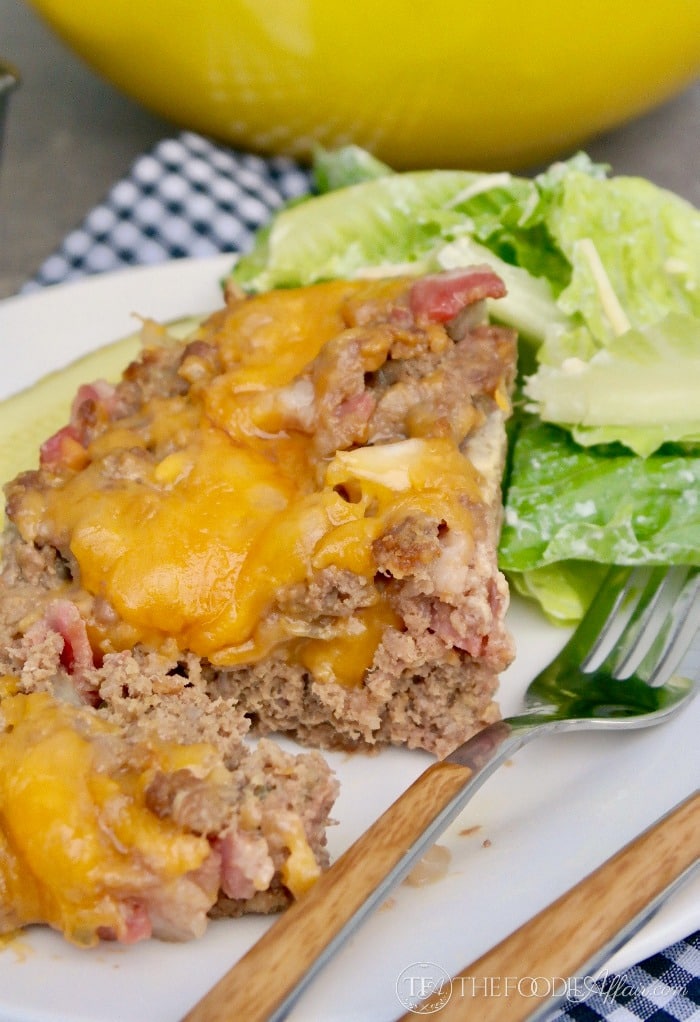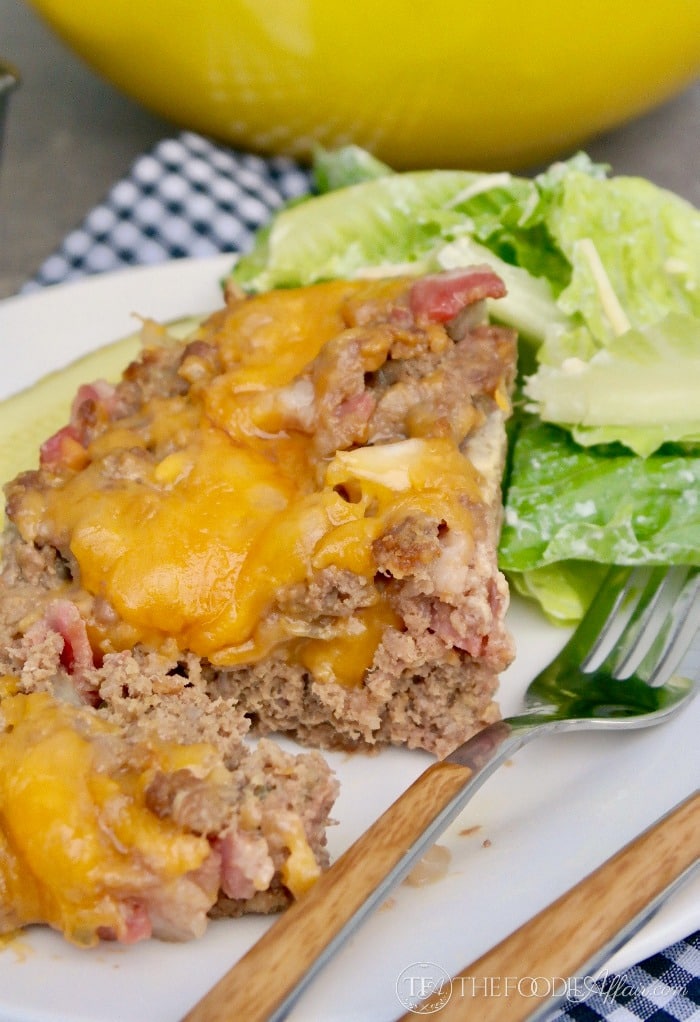 Low carb meatloaf is flavored with all the fixings that would be in a juicy burger like bacon, onion, and sharp cheddar cheese.  You won't miss the bun from this keto meatloaf
Ingredients
2 pounds ground beef (grass fed, if available)
1 large egg lightly beaten
2 tablespoons prepared yellow mustard
1/2 cup onion, chopped
1/4 cup dill relish or chopped dill pickles
1 cup pork rind crumbs
1 1/2 teaspoons kosher salt
1 1/2 teaspoons pepper
3 slices, center cut bacon diced
3 ounce sharp cheddar cheese (block style, diced in chunks)
1/4 cup shredded sharp cheddar cheese (to top meatloaf - optional)
Directions
Preheat oven to 375 degrees. Line pans (about 8 by 4 inches, and/or mini loafs) with parchment paper, place on a baking sheet and set aside.
In a small bowl whisk together mustard egg.
In a large bowl add ground beef, onion, relish, salt, pepper, bacon, mustard/egg mix, and pork rind crumbs, diced cheddar cheese chunks and gently mix the ingredients; do not overmix. Pat the meat mixture into the prepared pans.
Form a small wedge in the middle of the loaf and add shredded cheese (optional).
Bake for 45 minutes (large loaf), 25 minutes (mini loaf) or until meat in the center is no longer pink
Loading nutrition data...