Maple Glazed Brussels Sprouts Lightly Braised then Steamed
Maple Glazed Brussels Sprouts are lightly braised and then steamed giving them a crisp, dense texture and a slightly sweet fresh taste.
Maple Glazed Brussels Sprouts
This recipe first appeared on the blog in November 2013. This post has since been updated with a new photos and updated content!
I've found that people either love or loath Brussels sprouts. I'm in the L-O-V-E camp. Adorable mini cabbage look-alikes, what's not to like?? They're so darn cute!
Ok, I know cuteness only gets you so far; the real test is determined by how flavorful a dish is.
How to cook maple glazed brussels sprouts
I'm certain if you aren't a fan of Brussels sprouts it's because your brussels sprouts suffered a slow death by being boiled. Please don't cook them that way.
Not only does that method destroy all the good nutrients in this veggie, but you are left with mushy, kind of icky gray looking sprouts that taste bitter! Not to mention the really-really stinky sulfur smell that is bound to penetrate through your house!
These Maple Glazed Brussels Sprouts recipe is going to convert you to the I LOVE Brussels sprouts group!
As long as you cook these babies up the way I share in this recipe, I'm certain you'll be in the sprout loving camp!
First, caramelize these itty-bitty cuties in a couple of tablespoons of butter, and then steam them in some chicken broth, maple syrup (get the real stuff, not pancake flavoring!), and add a pinch of cayenne pepper to mellow all the flavors.
Finally, top with a couple of tablespoons of dried cherries or Craisins for another layer of delicious flavor!
What to serve brussels sprouts with
Brussels sprouts are a great addition to any main protein. Here are some recipes to try: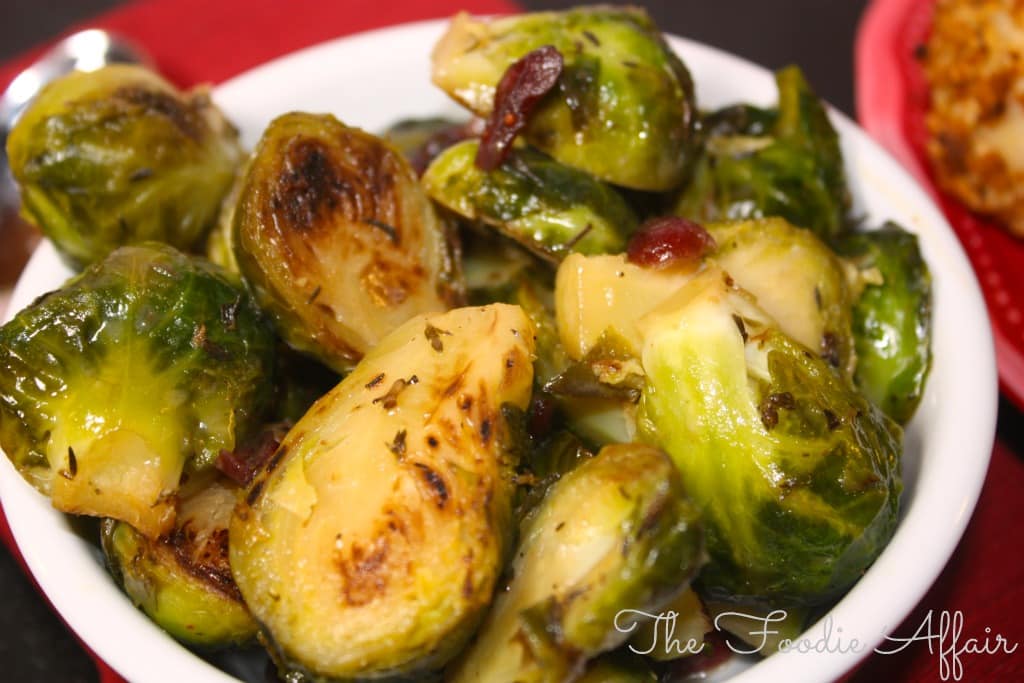 Add this veggie side dish to your menu today! The added Craisins, raisins or cherries add a festive touch to a holiday meal!
Cook's Country Magazine from America's Test Kitchens