Creamy low carb chocolate peanut butter fudge is a delicious way to satisfy your sweet tooth. This easy recipe is a tasty snack for anytime of the day!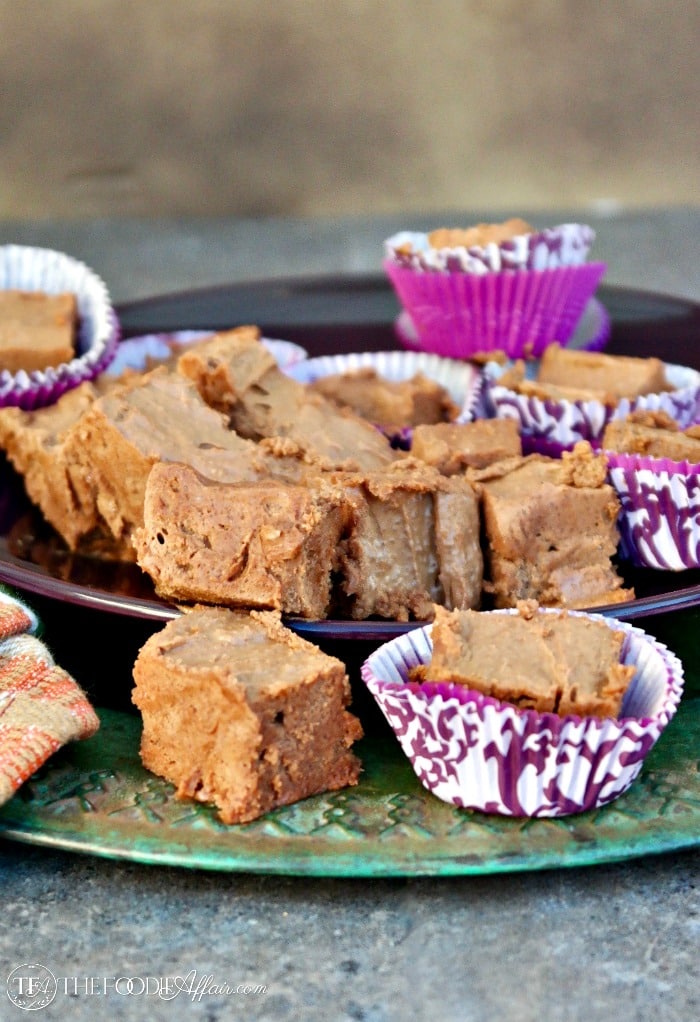 I have the ultimate low carb treat that tastes delicious, doesn't raise your insulin level like most sugary treats AND each square is only 3 carbs each!
Have you heard of the term fat bombs?  The name is often used for treats that are made with a combination of low carb, low protein, and high fat ingredients.
If you've been following me for awhile then you know that I try to eat low carb and low sugar foods.  I usually pass on starchy carbs like white rice and breads, but I never completely cut out any food group.
If I feel like eating a dinner roll, then I'll eat it with butter!  See, I'm learning to consume more good for you fats. The same fats that I would barely let touch my lips are slowly being embraced.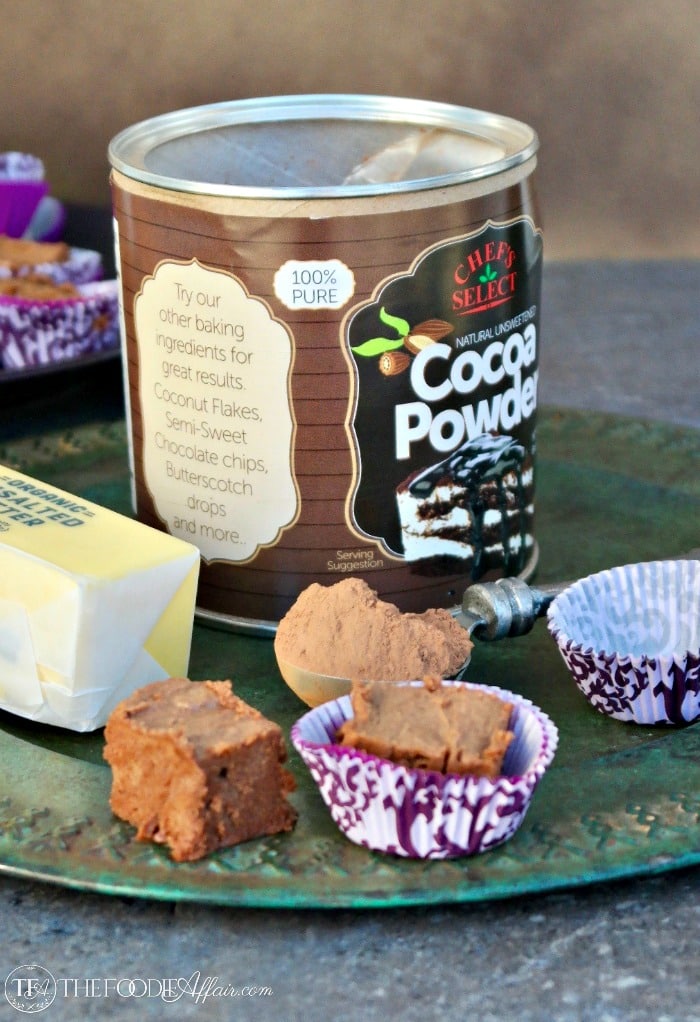 Butter, olive oil, avocado, and coconut oil are staples in my kitchen, which have taken me awhile to appreciate.
Part of my interest in adding more healthy fats in my diet stems on the research and reading I've done on the Ketogentic Diet, which is becoming more popular, but is not a new fad.  The Ketogentic Diet been used for over 90 years, but initially not used for dietary reasons.
The Keto Diet (higher fat, low carb, medium protein) was initially used by doctors as a therapeutic way to control epilepsy, and a host of other health diseases like cancer, autism, and Alzheimer. What really caught my attention was the fact that a Keto Diet manages insulin levels. This is particularly of interest to me because I have a family history of diabetes.
Yes, I want my cake (sweet treats), AND I want to be healthy!  Remember when I said that I don't cut anything out of my diet?  I should have said ESPECIALLY dessert!
I know that my health is in my control, and just a small piece of this creamy Low Carb Chocolate Peanut Butter Fudge gives me the joy, joy, dessert happiness that I deserve.  Won't you have a piece too? 🙂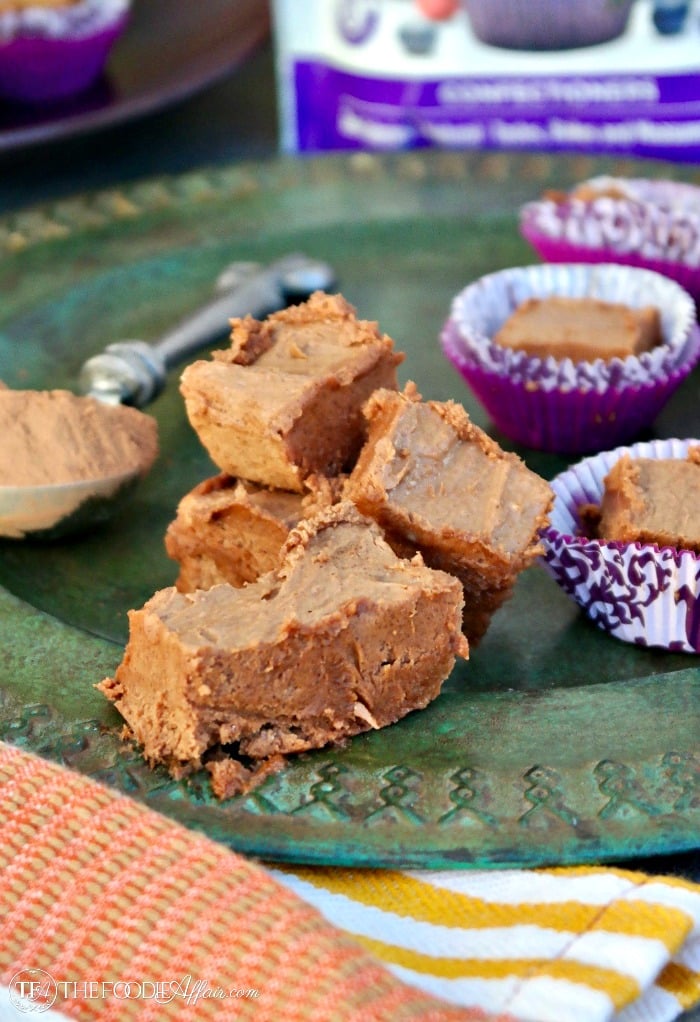 If you are interested to learn more about Ketogenics, check out The Charlie Foundation.  If lowering your insulin levels are of interest Dr. Fung is an amazing resource.  Goggle his name and you will find plenty of his lectures.  He also has a website called Intensive Dietary Management.

Yield: 49
Creamy Low Carb Chocolate Peanut Butter Fudge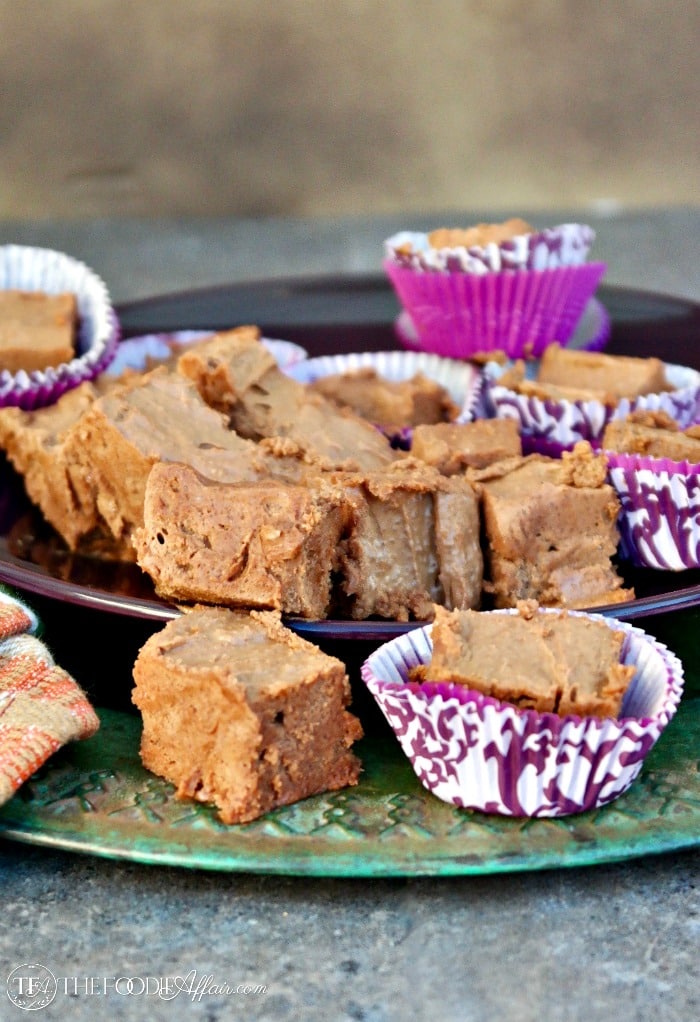 Total Time
1 hour
5 minutes
Ingredients
1 cup peanut butter, unsweetened
1 stick (4 ounces) butter, unsalted, room temperature
1/2 cup cocoa powder, unsweetened
2/3 cup Swerve confectioner's sweetener
1/4 teaspoon liquid stevia
3 teaspoons vanilla extract
Instructions
Line a 7 1/2" x 7 1/2" square baking dish with parchment or waxed paper. Set aside.
In a medium sized bowl add butter, peanut butter, cocoa, sweeteners and vanilla extract. Blend with a hand mixer until all the ingredients are smooth.
Place fudge in the prepared baking dish and spread evenly. Put in the refrigerator until hardened. Cut into 1 inch squares. Keep refrigerated or freeze.
Macronutrients are from My Fitness Pal.  Please calculate your own ingredients as each brand is different, which may change the calculations.
| | | | | | |
| --- | --- | --- | --- | --- | --- |
| Calories | Carbs | Fat | Protein | Sodium | Sugar |
| 52 | 3 | 5 | 1 | 0 | 0 |