Quick, simple, and nutritious Instant Pot Chicken Soup with chopped veggies. Mom approved belly warming soup to help beat the cold and flu season! This perfect Instant Pot soup recipe is one that will become a favorite, not just for comfort and health benefits, but for the incredible depth of flavors.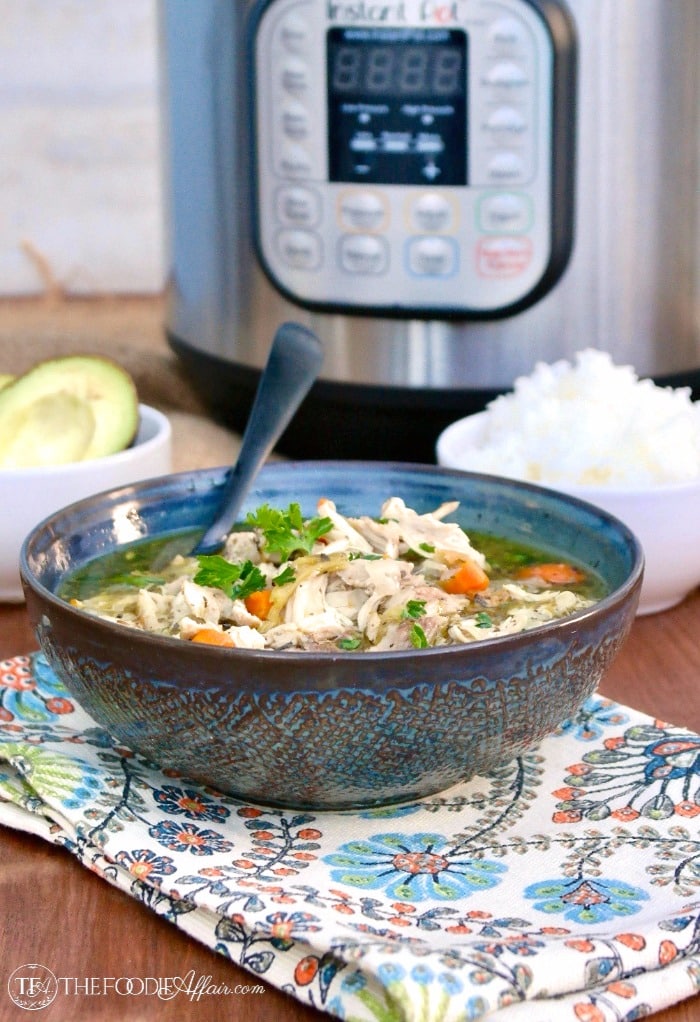 Instant Pot Chicken Soup
Whether your family has been hit with the flu, or you simply want the comforting flavors of a classic chicken soup recipe, this one is sure to hit the spot. 
This recipe is one that is truly as good as, if not better than, the classic homemade chicken soup your mom made when you were a child. 
Tender bits of carrot and celery along with shredded chicken are cooked to perfection in this rich broth. 
A few secret spices added into the mix bring out a deeper flavor that makes Instant Pot chicken soup not just a simple recipe, but one that has layers of incredible flavor.
The best part?  This recipe is just as delicious as that slowly cooked soup, but ready in a matter of minutes!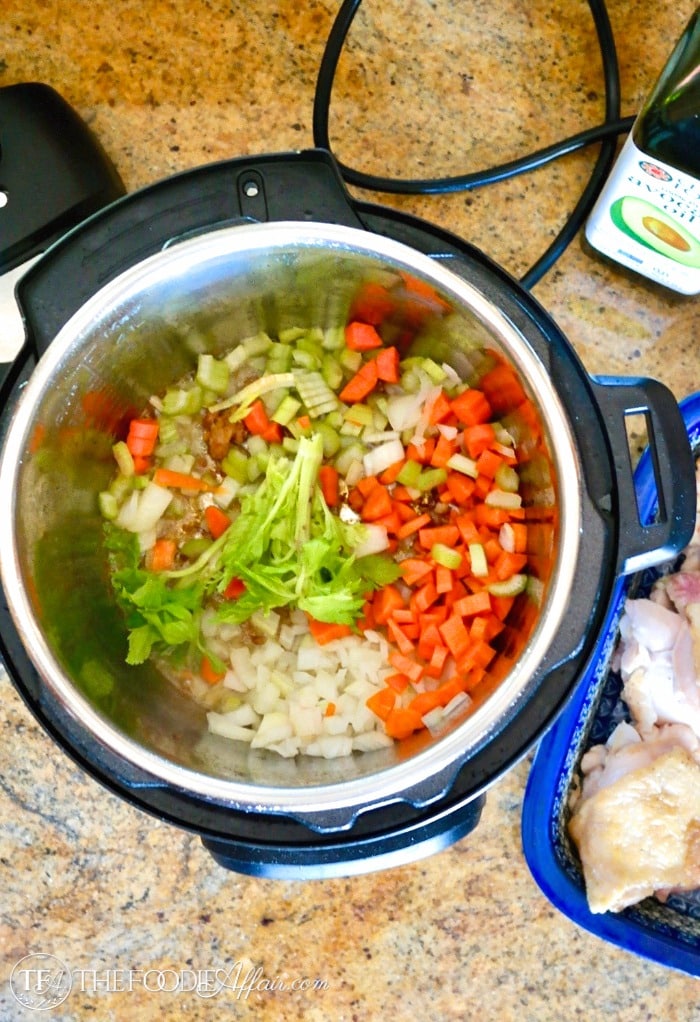 Can I Use Chicken Breasts in this Chicken Soup in the Pressure Cooker?
I used chicken thighs with the skin for this recipe.  I think the thighs have more flavor, and when you're sick and barely eating, you need the fat in your diet. 
Fat is good for us, and I am working on including more healthy fats in our diet. 
If you are someone who really doesn't like the skin or thighs, you can remove the skin, and/or use chicken breasts instead for this recipe. 
Just know that you won't have as rich a flavor in the end as you would if using chicken thighs. 
If you have extra chicken and want a different soup option, add this Slow Cooker Chicken Tortilla Soup to your meal plan.
What Other Vegetables Are Healthy in Chicken Soup?
Classically, you would add the onions, celery, and carrots to a chicken soup recipe.  Those were my go-to for this meal, but that doesn't mean those are the only veggies you can add into this soup.
For those who are looking for a keto-friendly meal and want to skip the carrots, feel free to add in things like diced broccoli or cauliflower, and maybe even some mushrooms. 
If the carbohydrates in the vegetables aren't a concern, you could add in some green peas for both color and flavor.
The only word of caution when adding alternate vegetables to this recipe is to consider their cooking time and determine if a longer pressured cooking would cause the texture to be unsavory. 
Most veggies would be fine in this recipe, but this would be a personal taste preference choice.
I have even added some of my homemade cream of mushroom soup into this chicken soup recipe to make it closer to a chowder and richer in flavor. 
That's the joy of soups – they are so easy to adapt!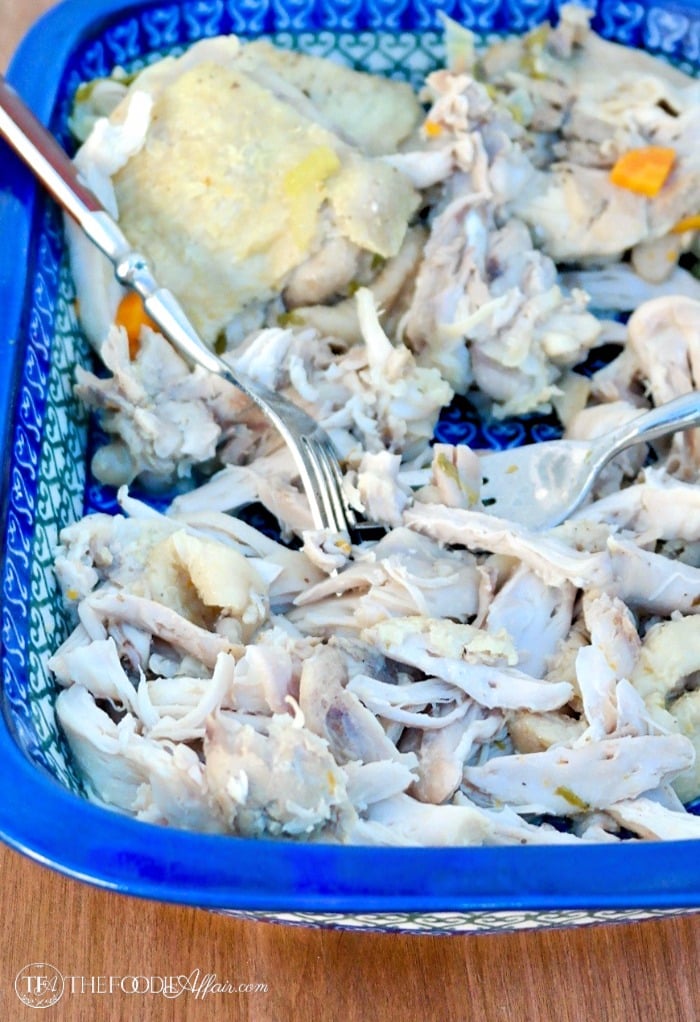 Can I Turn This Into Instant Pot Chicken Noodle Soup?
If you want to add noodles, or even rice, to this soup, feel free to do so. 
I definitely understand how chicken and rice soup or Instant Pot chicken noodle soup can be preferred by some. 
Lately, I've been leaving the added pasta and rice out as I follow a more low-carb and keto-friendly diet.
That said, you can add them into this if you wish like I did in this easy turkey rice soup, just know more liquid may be needed to keep it a brothy soup. 
Alternately, I do have a great recipe for a Keto Chicken Soup you can test out if you prefer to keep the carbs at the lowest amount possible.
Can I Use Chicken Stock Instead of Just Water?
One of my favorite ways to add a richer flavor to soups is to use broth in place of the water, or in addition to it. 
For this recipe, I love adding some rich chicken broth that I have already made, or purchased.
If you want to make your own chicken broth, you can use the same steps in my Slow Cooker Turkey Stock recipe, but use a chicken carcass instead. 
Broth freezes beautifully and is always great to have on hand in your pantry or freezer.
Breads to Serve With Soup
If you are on a strict low carb, ketogenic diet then you might enjoy a low carb cheddar biscuit or this grain free bread with your soup.
For those that have some wiggle room in your daily macronutrients will love this Cheddar Jalapeno Beer Bread or a slice of Soda Bread.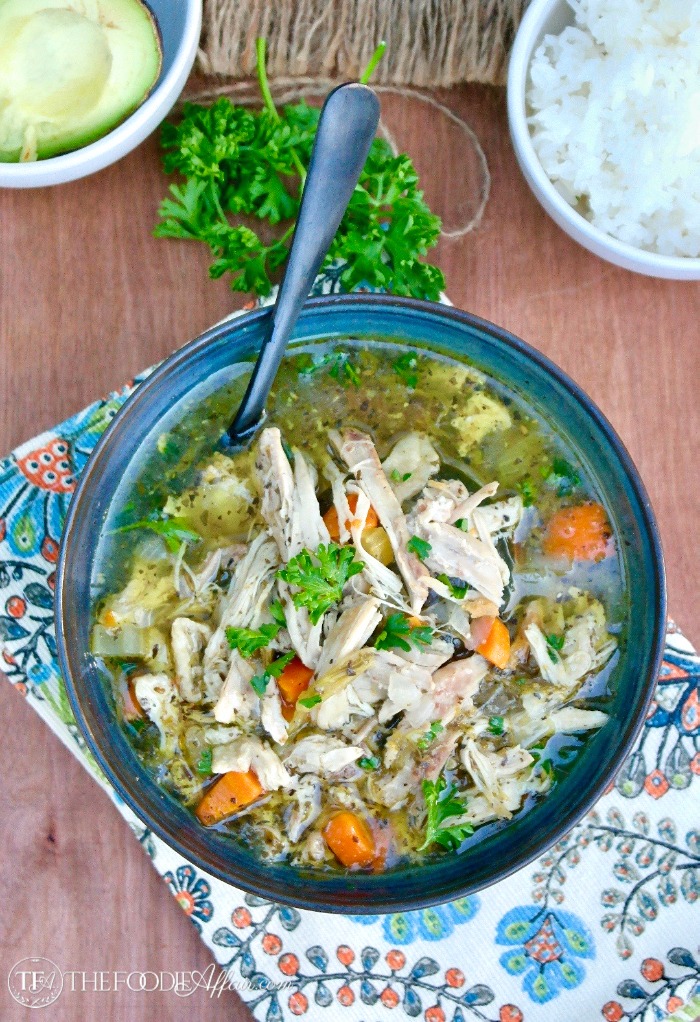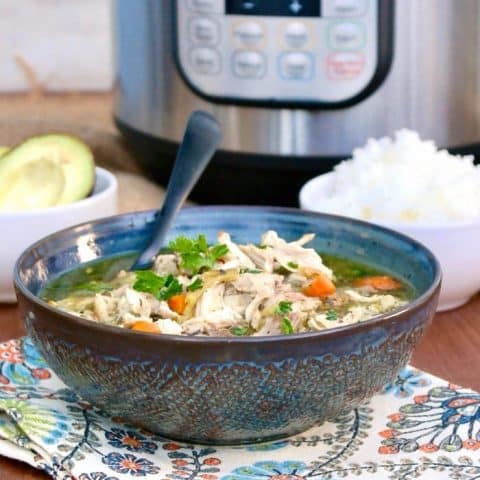 Instant Pot Chicken Soup
Quick, simple, and nutritious Instant Pot Chicken Soup with chopped veggies. Mom approved belly warming soup to help beat the cold and flu season!
Ingredients
6 chicken thighs
2 tablespoons avocado oil or butter
1 medium onion, diced
3 carrots, chopped
3 celery ribs, chopped
4 cups chicken broth
2 bay leaves, whole
2 cups water, filtered
1 teaspoon pepper
2 teaspoons kosher salt
1 teaspoon parsley, dried
2 garlic cloves, chopped
1 teaspoon thyme, dried
Instructions
Turn Instant Pot to Saute mode and add 1 tablespoon of oil or butter. In batches place chicken skin down in pot and saute rendering the fat from the skin for about 2 minutes on each side. Remove from pot and set aside.
Add additional tablespoon on oil (if needed) to pot and saute diced onion carrots, and celery just until the onion begins to soften. Add garlic.
Turn off Instant Pot and place chicken on top of vegetables. Add water and broth, salt, pepper, parsley, bay leaf and thyme. Cover soup with lid and turn the vent to closed. Turn on the Instant Pot to SOUP mode. Once the pressure builds up the soup (about 10 minutes) it will take about 20-25 minutes to cook all the ingredients. Once complete gently release pressure (vent). Remove chicken and shred and debone. Remove bay leaf. Place chicken back in pot. Soup is ready to be served.
Nutrition Information:
Yield:

6
Amount Per Serving:
Calories:

367
Total Fat:

25g
Saturated Fat:

7g
Trans Fat:

0g
Unsaturated Fat:

17g
Cholesterol:

175mg
Sodium:

1597mg
Carbohydrates:

6g
Fiber:

1g
Sugar:

3g
Protein:

32g
Please note that the nutritional information provided are guidelines and may vary based on the brand of products used. For your specific nutritional goals use My Fitness Pal or Verywell Fit recipe calculators. All content within this site is not intended as medical diagnosis or treatment and should not be considered a substitute for professional medical expertise.