Hearty old fashioned Beef Stew Pressure Cooker Recipe made with carrots, potatoes, and onion cooked in beef stock and red wine cooks in 35 minutes!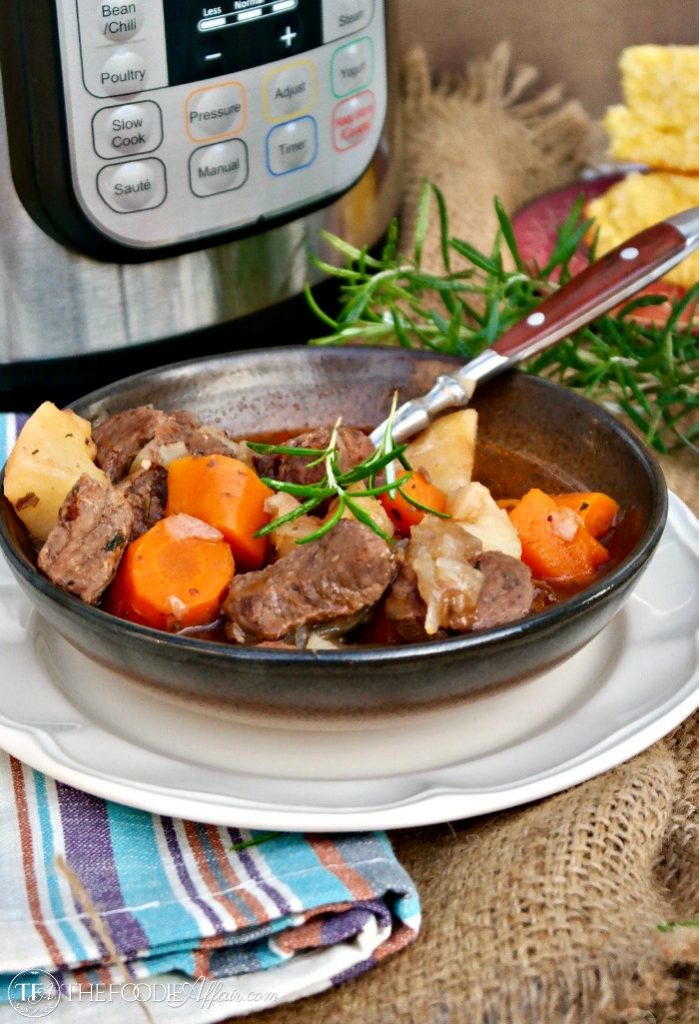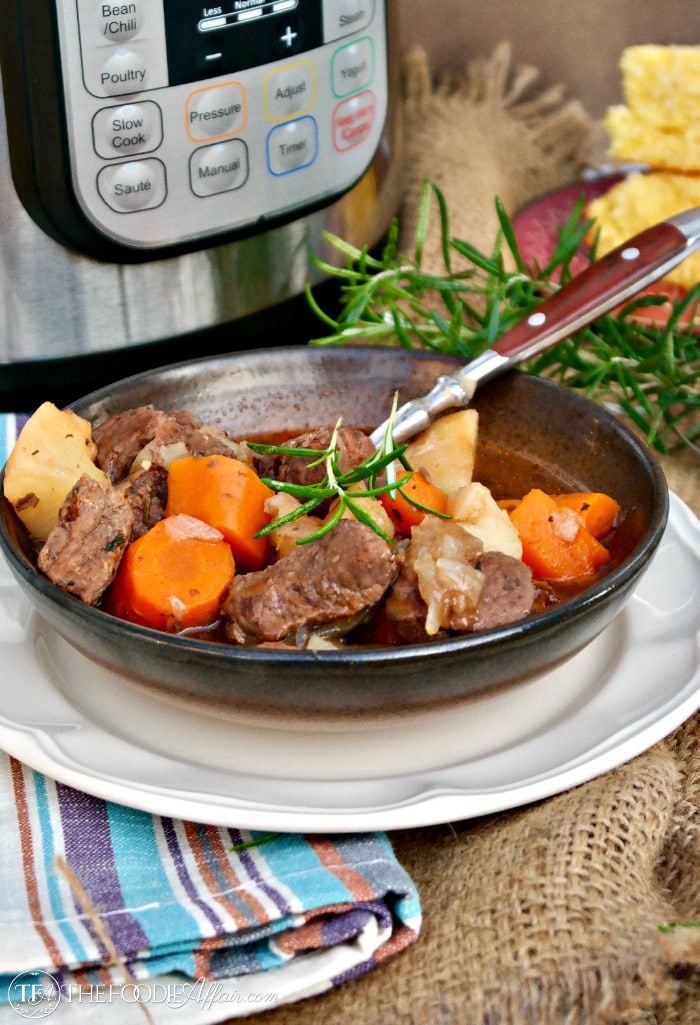 Have you jumped on the pressure cooker bandwagon?  I finally picked up an Instant Pot and I LOVE it!  It's the coolest kitchen toy EVER!
I know, I know, you already have a slow cooker, and so do I.  The difference is you will get slow cooked meal results in about a quarter of the time it takes to cook dishes in the oven, stovetop or slow cooker.
Seriously, it's so cool!  We've tested boiled eggs, which were perfectly cooked in just 10 minutes (5 minutes to pressurize and another 5 to cook).  Next, I tried my Kalua Pork Slow Cooked Recipe, a simple meal that typically takes 5-6 hours to cook.  Guess how many minutes it took to make in an Instant Pot? An hour, 60 minutes!  Unbelievable.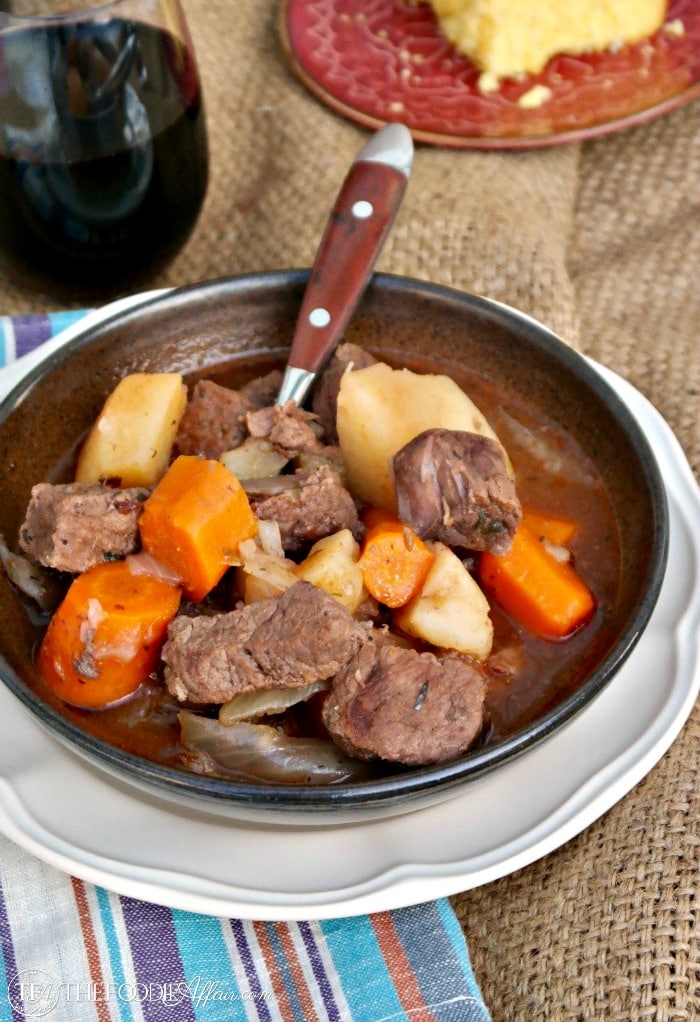 AND now we can enjoy a delicious bowl of old-fashioned beef stew pressure cooker style in 35 minutes!
There is another feature that I think is worth mentioning.  The Instant Pot has a sauté mode, so you can brown meats in the pot, truly using just one pot to cook a complete meal!
Sauté the meat, add the veggies and beef broth (I added red wine too), then press the meat/stew button, step away and go ahead and pour yourself a glass of wine.
Looking for a lower carb version?  Leave out the potatoes and serve with Mock Cauliflower Mashed Potatoes!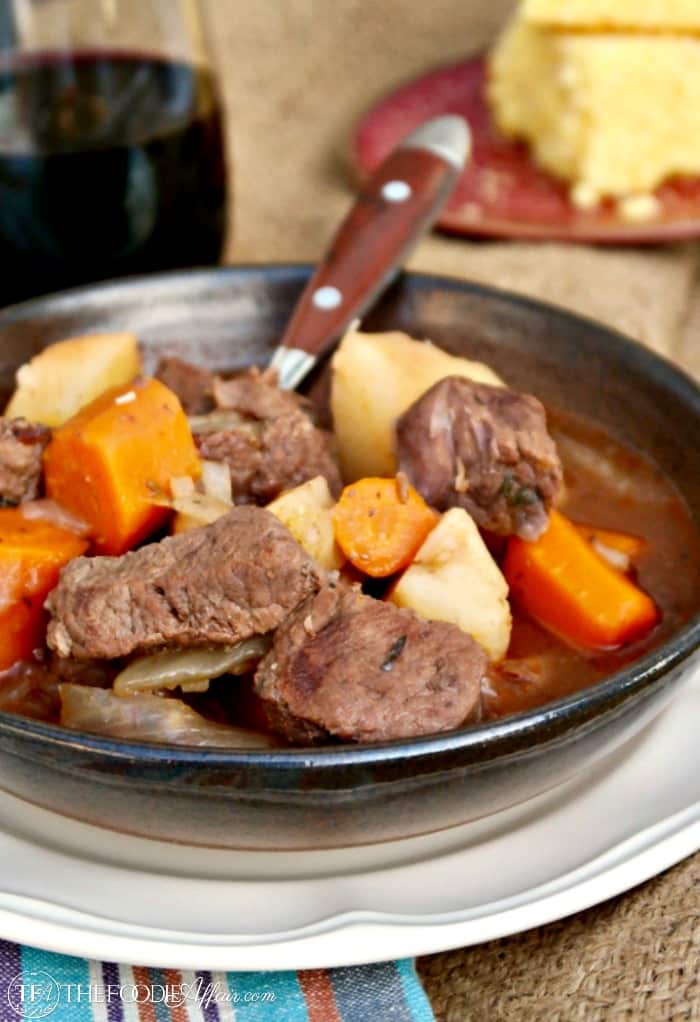 Beef Stew Pressure Cooker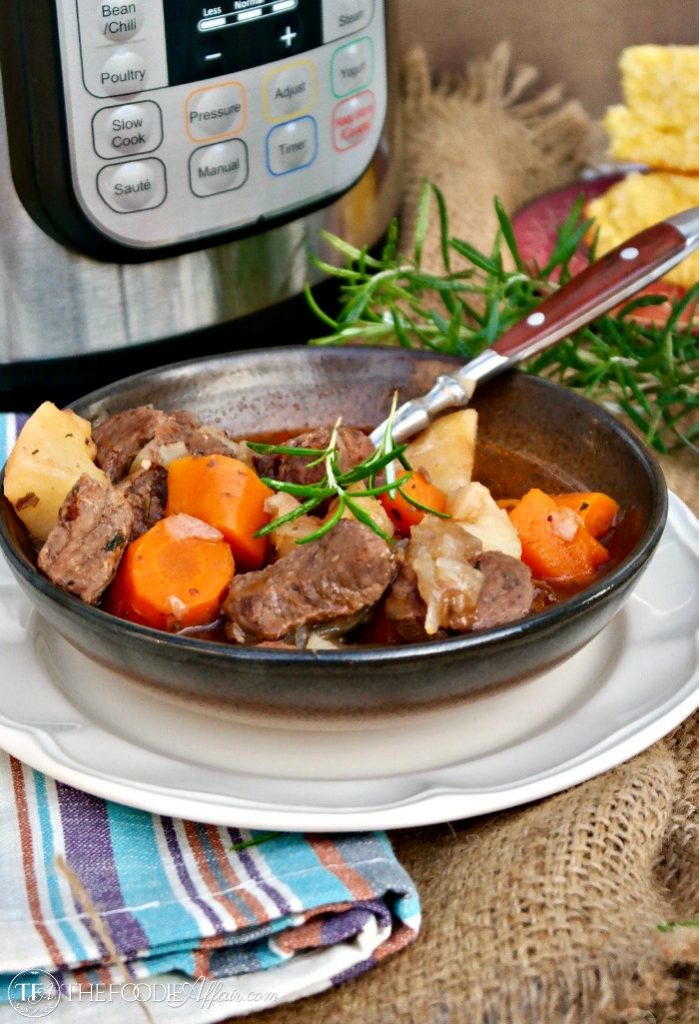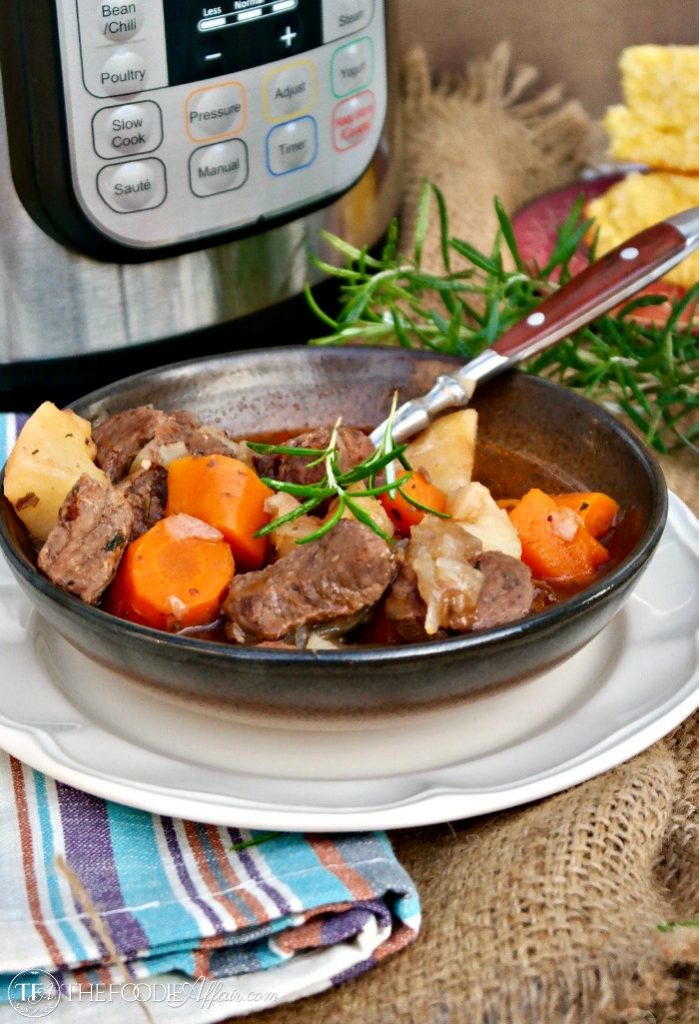 Ingredients
2 pounds beef stew meat, cut in 1 inch pieces seasoned with salt and pepper
1 tablespoon avocado oil
2 medium potatoes, peeled and diced in 1 inch pieces
1 medium onion, peeled and chopped
4 garlic gloves, minced
5 medium carrots, cut in 1 inch pieces
3 cups beef stock (or broth)
1/2 cup red wine
6 ounce tomato paste
1 tablespoon Worcestershire sauce
1 tablespoon Herbs de Provence blend
2 bay leaves
Salt and pepper
Directions
Turn Instant Pot to Saute mode. Add oil and brown meat in a single layer. Brown on all sides in batches if necessary and add more oil if needed.
Add all ingredients to the Instant Pot and gently stir. Cover, lock pot and move valve to steam. Push the meat/stew mode button. The automatic timer is set for 35 minutes. Once done, the pressure will gently release unlocking the pot. Gently remove, stir, and season with salt and pepper.