This low carb pizza dough recipe is based from the popular "Holy Grail Pizza Crust" or "Fat Head" pizza dough that has been circulating on the internet for about 5 years!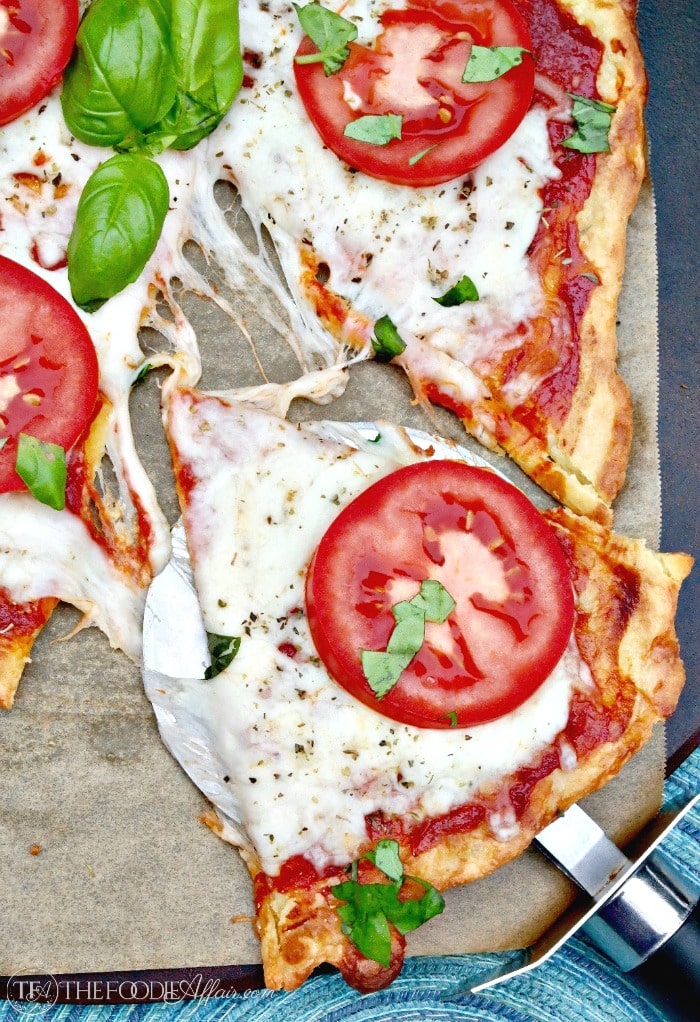 I'm late to PAR-TY and maybe you are too!  There are lots ways to improvise pizza dough recipes for low carb diets.  One of the most popular methods is to use pulverized veggies like cauliflower or broccoli as a crust, but if you miss the chewy texture of doughy pizza crust like this Easy No Rise Whole Wheat Pizza Dough, then you are going to love this low carb pizza dough recipe!
One day when I'm done testing the Ketogenic Diet on myself I'll write a whole post on what I've learned.  In the meantime, you can check out this guide to a keto diet and keep taste testing the delicious foods I'm eating.
This gluten-free, keto approved diet, cheesy Low Carb Pizza Dough Recipe is a game changer for anyone that limits grains!

I first learned about this recipe from my daughter, but like I mentioned, apparently it has been the rage for the low carb community for years.
Tom Naughton's blog, Fat Head brought this recipe to the attention of health and fitness followers, but if you take a close look at his post, the original recipe is from Cooky's Creations. Shame on Fat Head for not providing a clickable link to the original-original recipe!  Citation people!  You must cite the original source!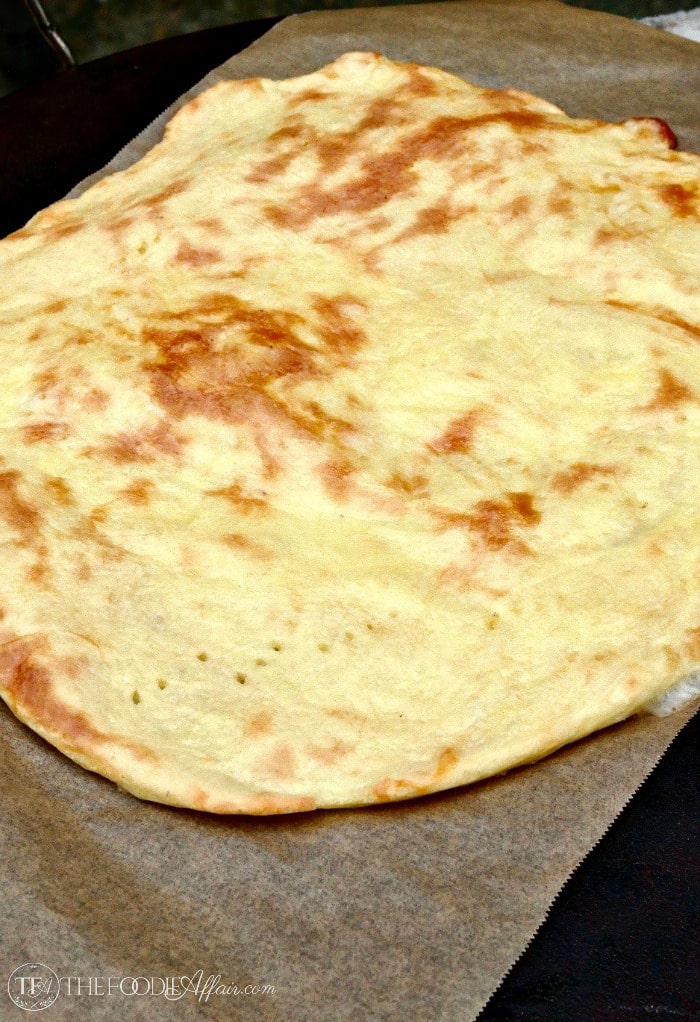 Any-who, Fat Head is a entertaining movie about debunking the film Super Size Me theory that high-fat diets lead to heart disease.  Not true, by the way!
Both films are entertaining and if you like the geeky science behind how your body responds to nutrients, then you'll enjoy reading the studies and articles on the Fat Head blog.
Back to PIZZA!  No yeast and no waiting for the dough to proof.  Mix almond flour, an egg, and cheese together and bake, then top with all your favorite ingredients. One slice will fill you up for hours!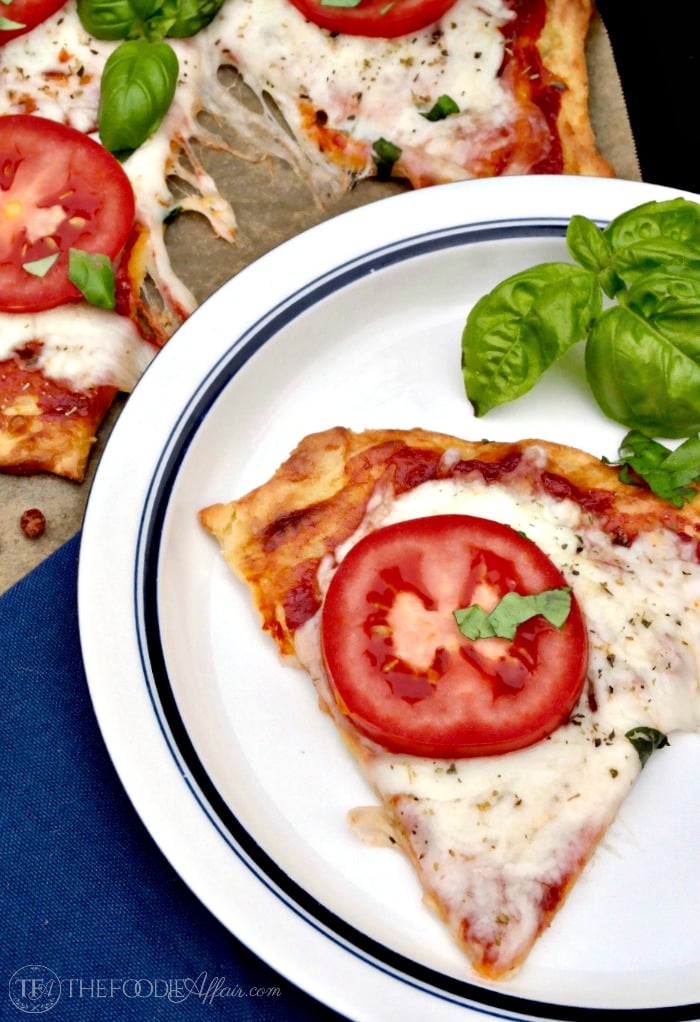 Yield: 8
Low Carb Pizza Dough Recipe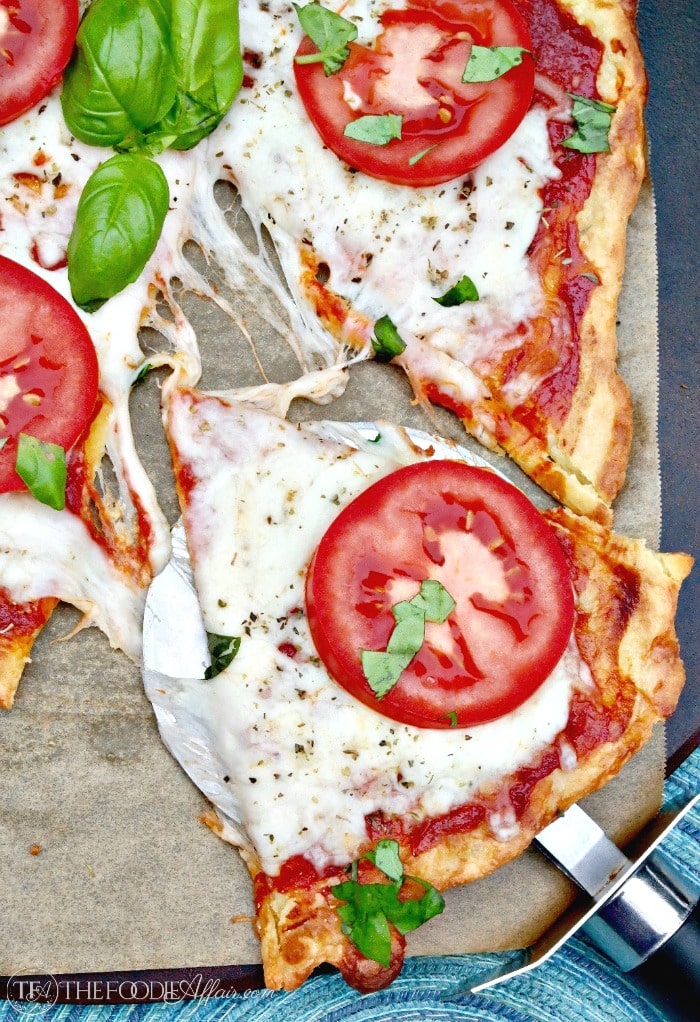 Ingredients
CRUST
1 1/2 cups cheese (mozzarella or cheddar and mozzarella)
2 tablespoons cream cheese, room temperature
3/4 cup almond flour
1 large egg
TOPPINGS
Italian seasoning
additional mozzarella cheese
fresh vegetables
cooked pepperoni
cooked sausage
Instructions
Preheat oven to 425 degrees. Cover a pizza stone or baking sheet with parchment paper and set aside.
In a medium bowl melt cheese on a stovetop on in a microwave (about 1 minute). Cool and mix in cream cheese, egg and flour. The dough will be sticky and take several minutes to incorporate all the ingredients forming a ball.
Place on parchment paper and flatten sightly with your hands.
Place a sheet of saran wrap over dough and roll into a 10 1/2" diameter. Remove wrap and place in oven. Prick dough with a fork. Cook for 12-15 minutes or until lightly browned.
Remove from oven and add homemade pizza sauce and additional cheese and your favorite toppings. Cook until cheese is melted.