Moist and flavorful Low-fat Pumpkin Scones are cut into bite-sized treats!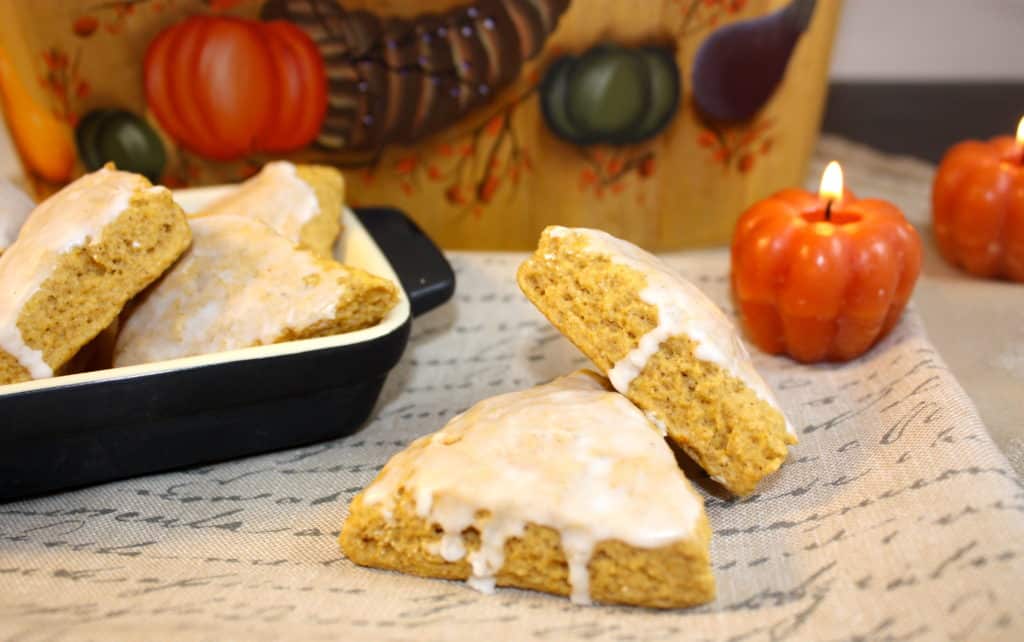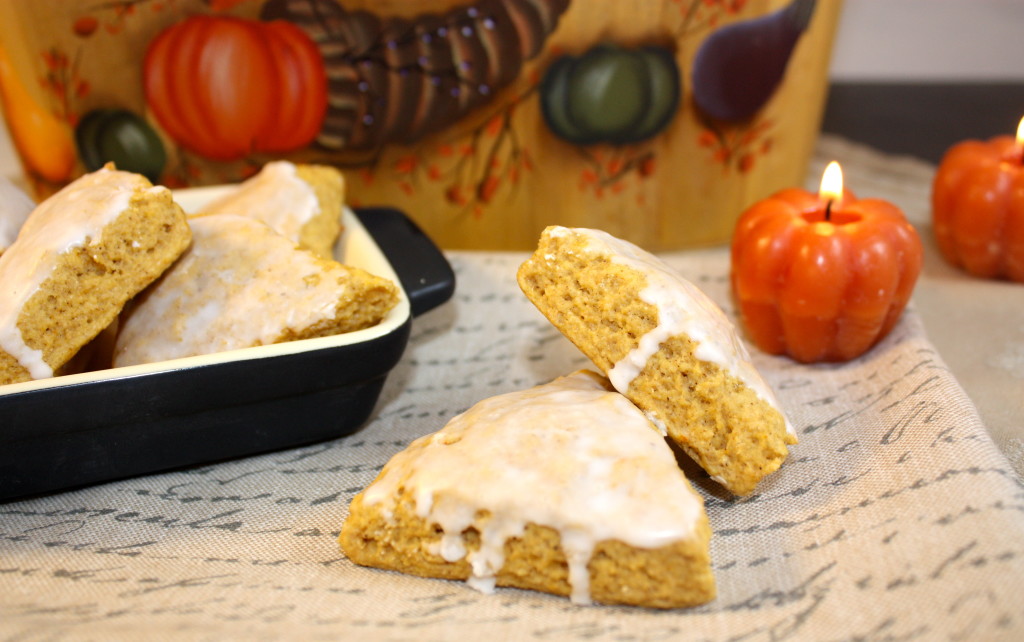 Autumn is around the corner, so no more holding back on my excitement for all things pumpkin! Pumpkin Mini Scones are on the menu today! I lowered the fat in this recipe, but kept the moisture and full pumpkin flavor! Hooray!
This recipe has a scant 1 ½ tablespoons of butter, divided among 24 mini scones, which comes to less than 1 gram of fat for each scone. That is LOW, my friends.
I tried to estimate the calories and that got mind boggling, so I did a fair guessimate at just under 100 calories each scone.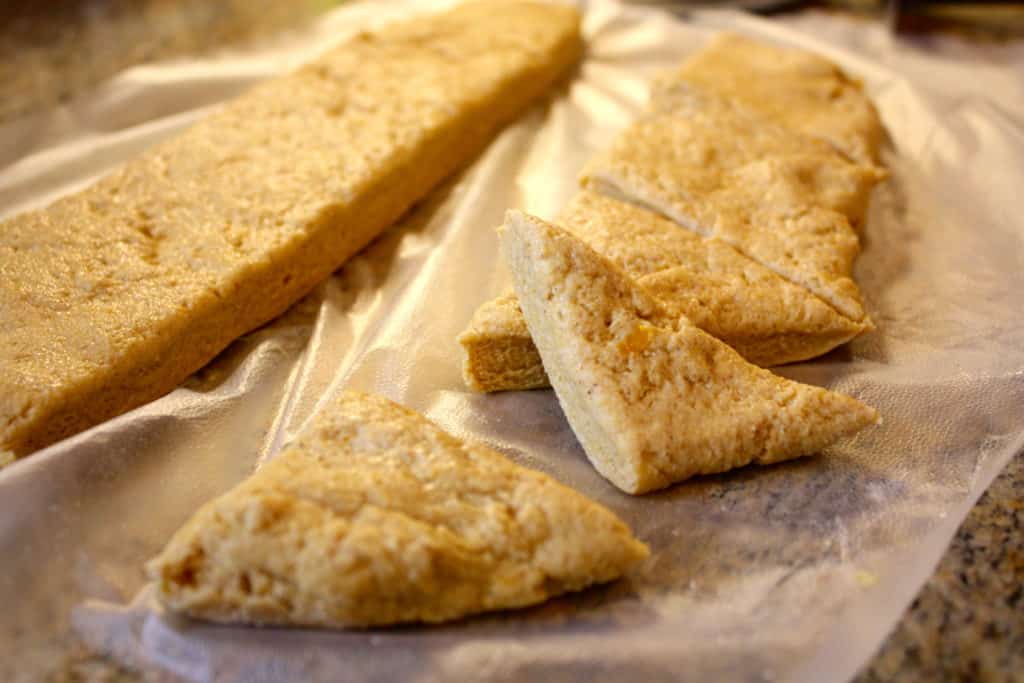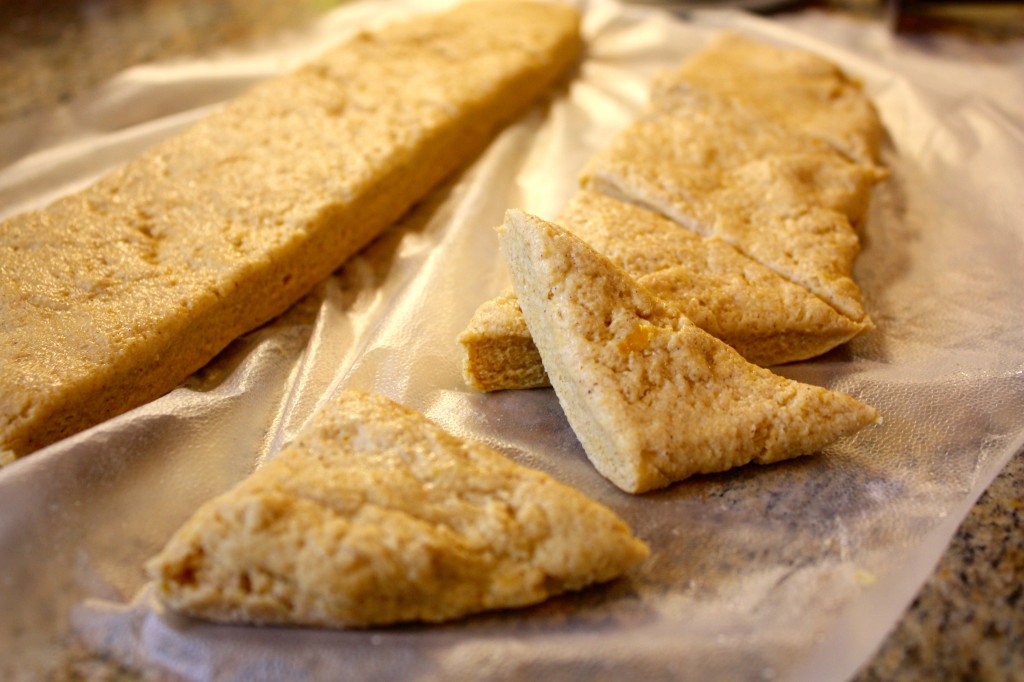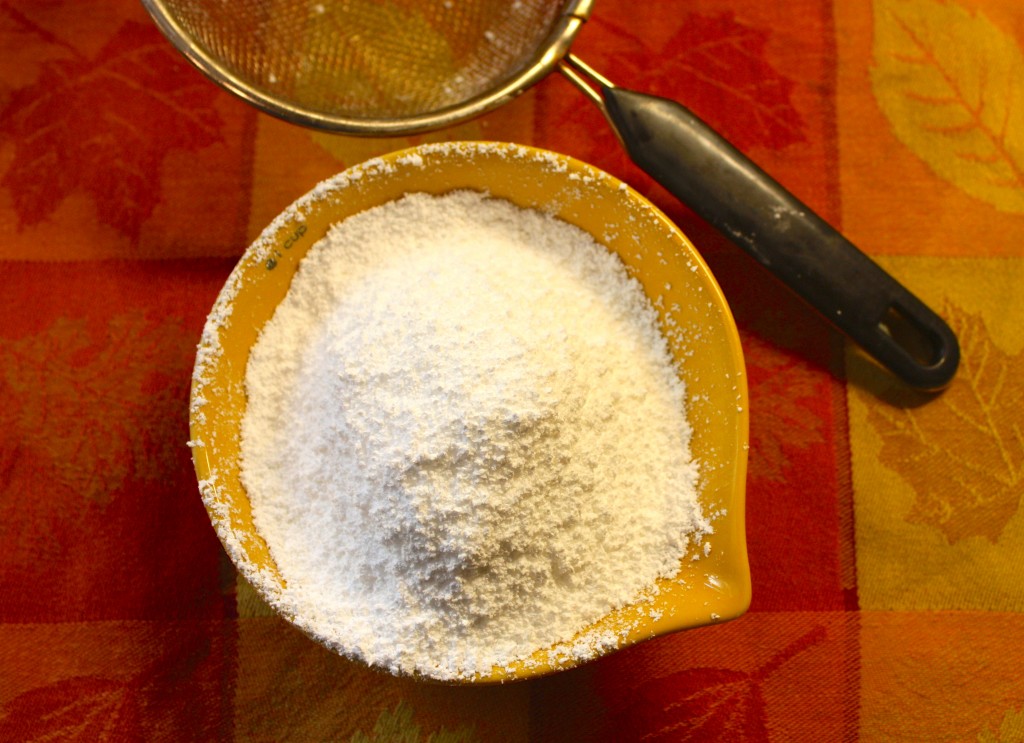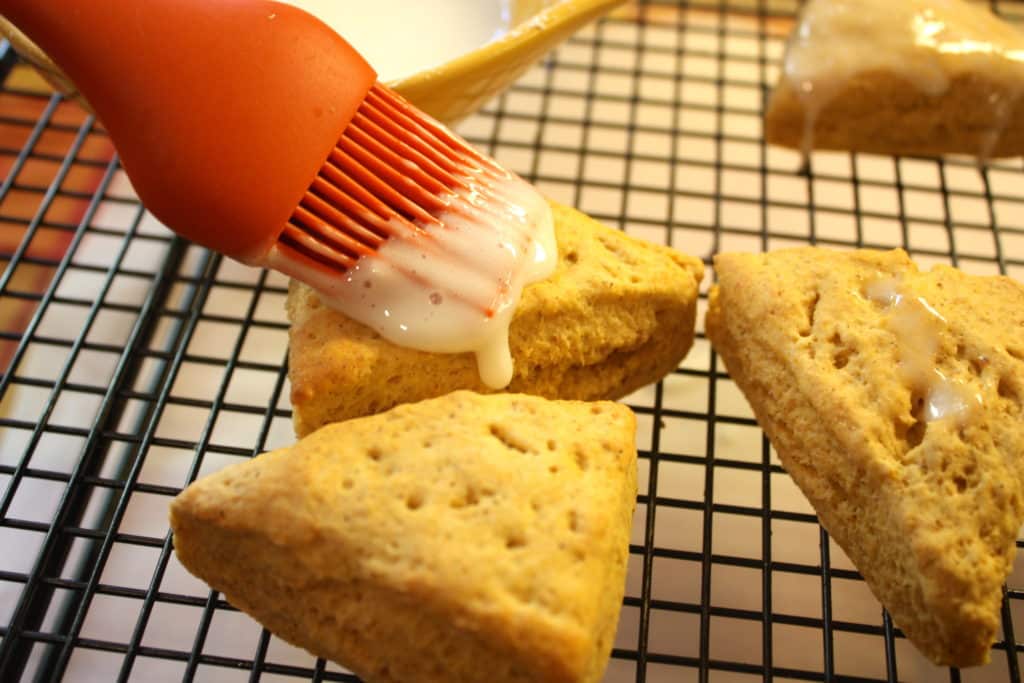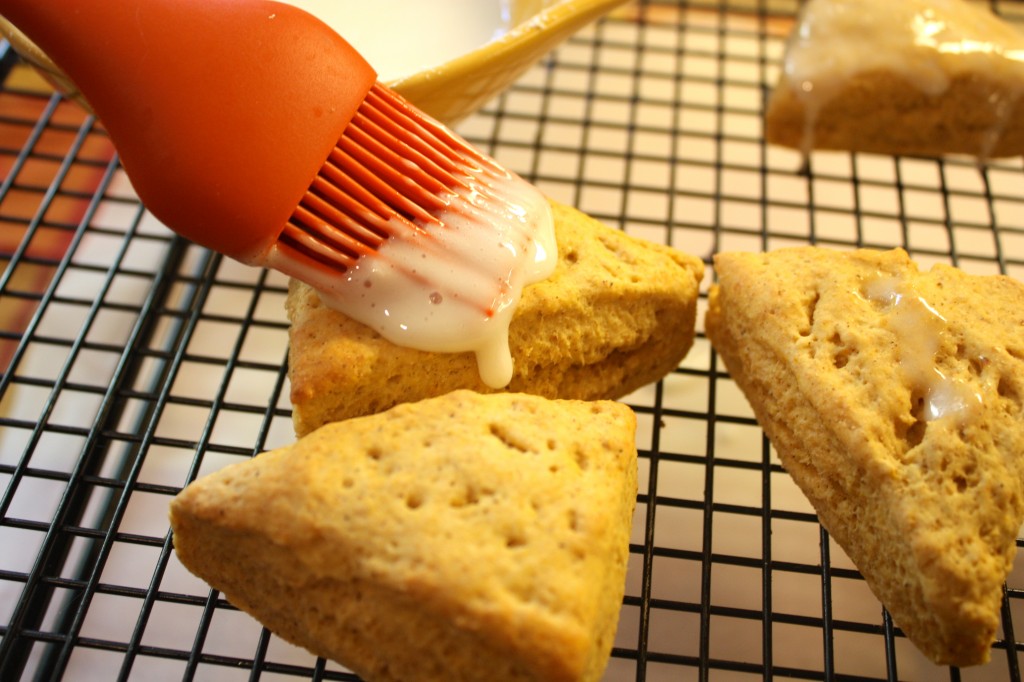 That's right, you are on track for wearing that sparkly cocktail dress during the holidays, and it's not going to be black, ok? 😉 Guys, fitted shirts this year?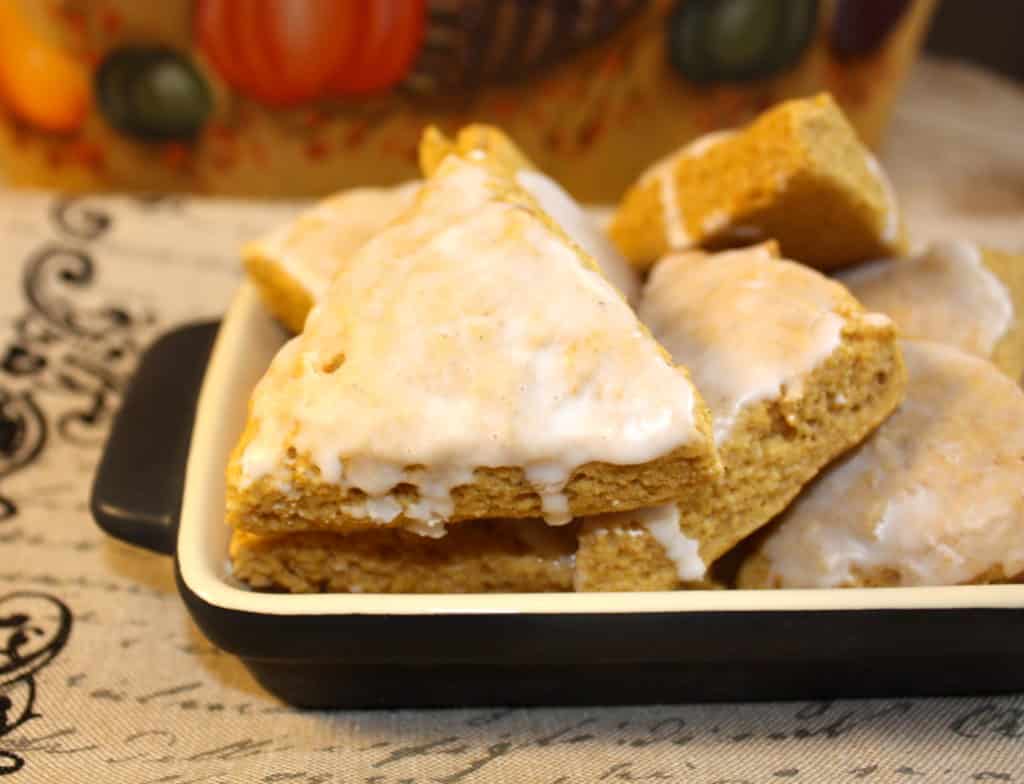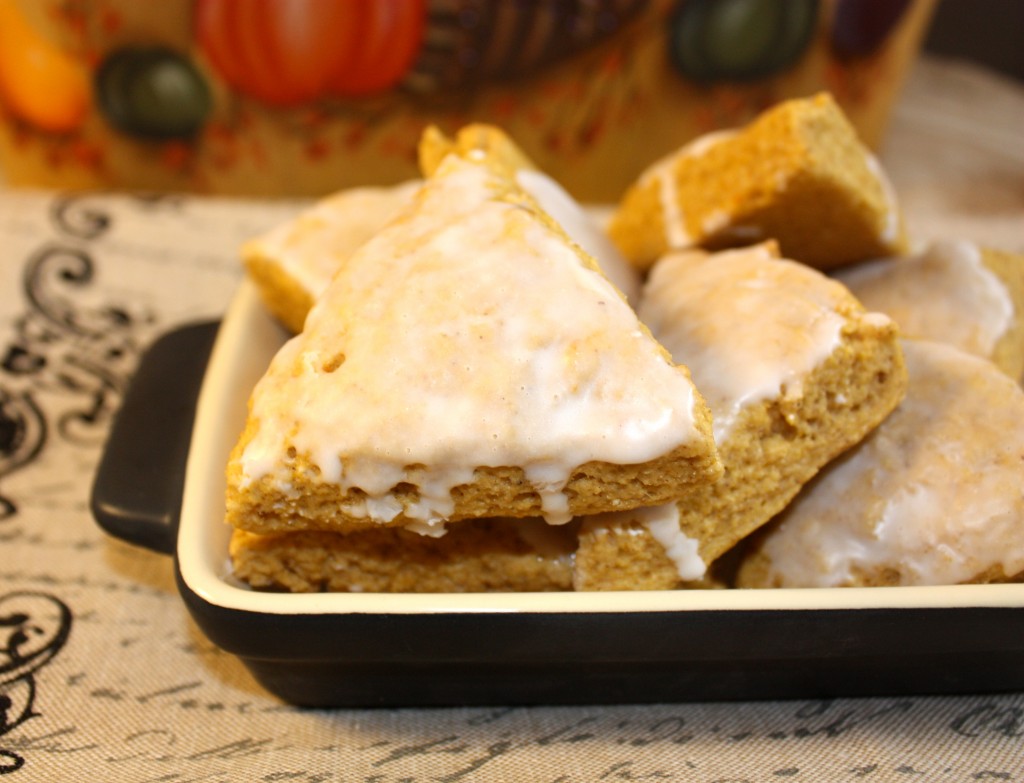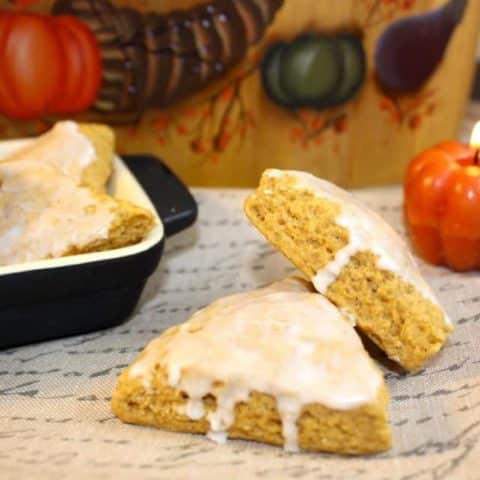 Low-Fat Pumpkin Scones
Lowering the fat in these pumpkin scones without sacrificing the flavor. Great addition to a brunch.
Ingredients
1 cup white whole wheat flour
1 cup self-rising flour
1/4 teaspoon salt
1/2 teaspoon cinnamon
1/2 teaspoon nutmeg
1/4 teaspoon all spice
1/4 teaspoon cloves
1/4 teaspoon ginger
3/4 cup brown sugar, packed
1 1/2 Tablespoons butter
1/3 cup 0% fat Greek yogurt
1 large egg
1 teaspoon vanilla extract
1/2 cup pumpkin puree
2-3 Tablespoons fat-free half and half (or milk)
Glaze
1 cup powdered sugar, sifted
1 Tablespoon fat-free half and half (or milk)
Instructions
Preheat oven to 400 degrees. Line two cookie sheets with parchment paper.
In a large bowl, whisk together flours, salt, cinnamon, nutmeg, all spice, cloves, and ginger.
in a medium bowl, mix brown sugar and butter with a hand mixer until course. Add to flour mixture and stir until the ingredients are incorporated.
In a separate bowl, whisk together yogurt, egg, vanilla and pumpkin. Add to the flour mixture. Use your clean hands to mix the ingredients together. Add the half and half one tablespoon at a time just until the dough holds together.
Put dough on a lightly floured surface. For mini scones form with your hands a 7 1/2 x 12 inch rectangle that is about 1/2 inch thick. With a pizza cutter or sharp knife, slice two strips the length of the dough. Cut triangles from each strip of dough. You will cut about 24 mini scones.
For large scones, slice one cut down the middle of the rectangle. Cut triangles from each strip of dough. You will cut about 12 large scones.
Place on prepared baking sheet placing them about 1/2 inch apart and bake for 12-14 minutes. Remove from oven and let cool on a cookie rack.
Prepare glaze by whisking together in a small bowl the powdered sugar and half and half until well blended and smooth. Brush on each scone and let dry.
Notes
You may substitute the whole white wheat flour for self rising flour. Instead of 1 cup whole wheat flour and 1 cup self rising flour, you would use 2 cups of self rising flour. You can also use 2 cups of all-purpose flour, but you will need to add 1 teaspoon of baking powder and 1/2 teaspoon of baking soda to the flour mixture.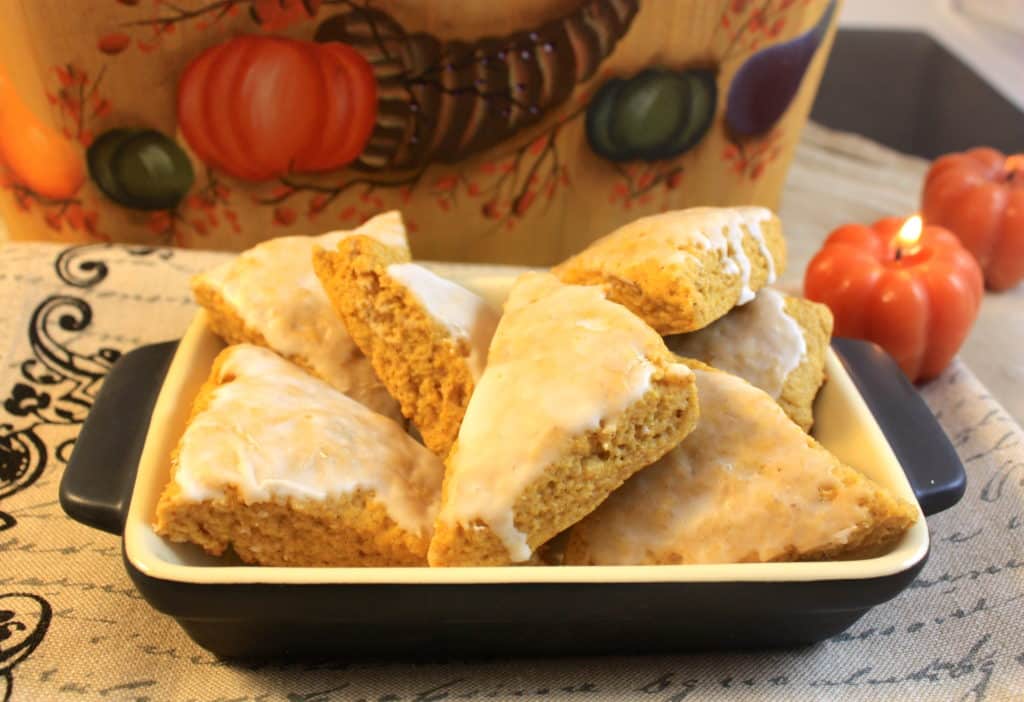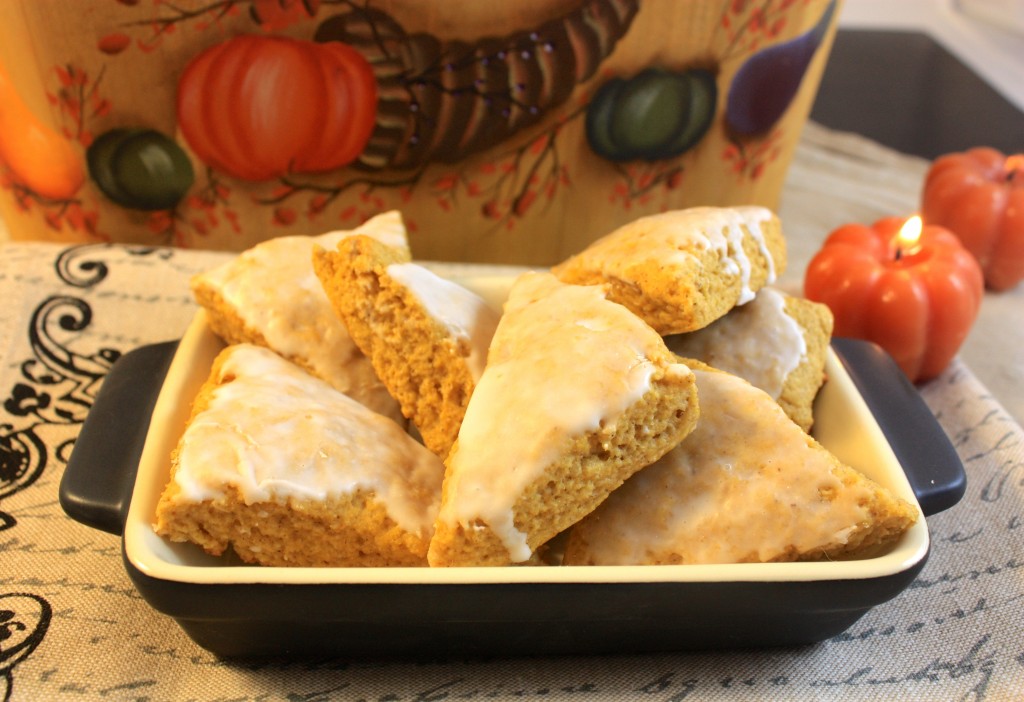 If you prefer large scones, by all means, make 12 instead of 24!!
I am certain you will enjoy this slimmed down pumpkin scone just as much as a fluffier one 🙂
Did you know regular scones have about 15-20 grams of fat? That's a lot.
Sorry.
Not sorry.
You should know.
You should also eat two of these scones tomorrow!


The Foodie Affair has plenty of buttery laden snacks that I adore. Have you tried my copy-cat Cranberry Bliss Bars? You must.
I have to even out the recipe pool with some lower fat options. It's only fair.
The pumpkin recipe season has just begun 🙂