Baked pork tenderloin coated with orange marmalade and rolled in a bed of herbs; cumin, thyme, sage, cinnamon and garlic. Enjoy with fresh veggies!
This post is sponsored by National Pork Board, National Pork Producers Council and Michigan Pork Producers Association. The content and opinions expressed below are that of The Foodie Affair.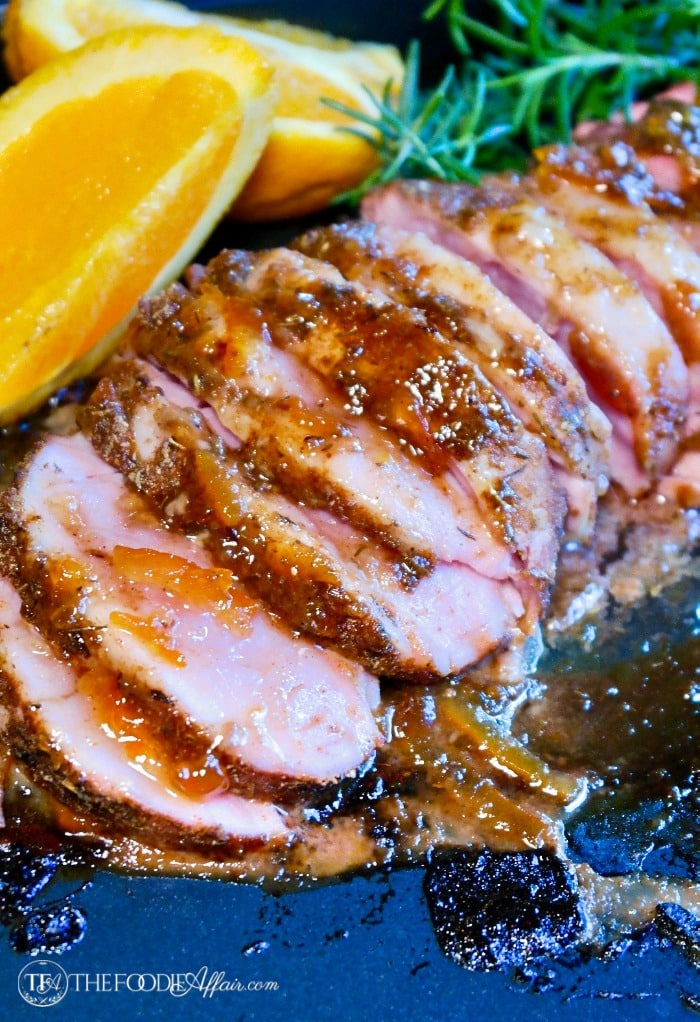 Baked Pork Tenderloin With Orange Marmalade
Before diving into this delicious pork tenderloin recipe I created, I would love to tell you about my experience in Michigan. 
I've never been to Michigan, so I was excited to travel to another part of our gorgeous country with 14 other bloggers to learn more about pig farming and pork!
It was a quick 3 day tour with an array of experts including farmers, veterinarians, and chefs.
Once I landed, I was immediately in awe by the beautiful vast amount of land, and to be honest, I had no idea Michigan has over 2,000 hog farms, and ranks 13th in the nation for hog production and inventory (Pork Checkoff).
Pass the Pork
This isn't the first time I've attended an event like this though, I was lucky enough to attend Pass The Pork Blogger Tour in Iowa back in 2015. 
That experience was eye opening for this Californian.  I left with such an appreciation and respect for family run farms like Brenneman Pork.
On this tour we also were able to meet and tour the Kendale Farms and Reicks View Farms, which are also both family run farms.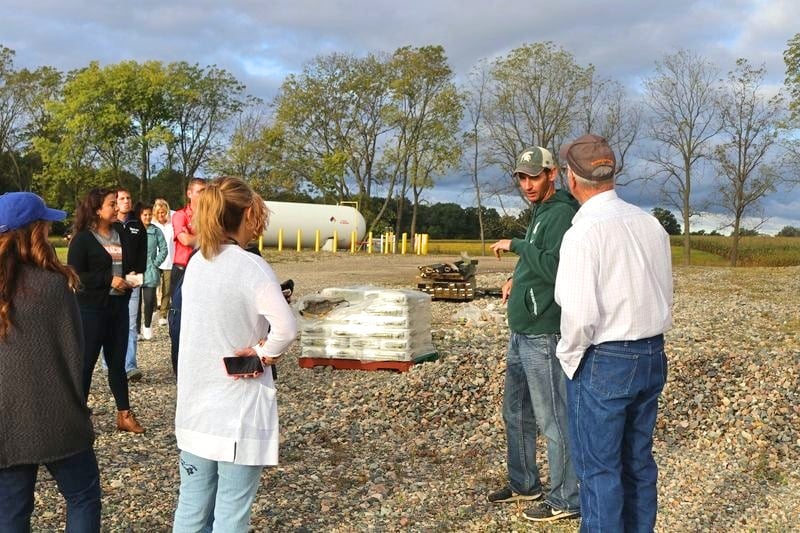 Animal care and health is the No. 1 priority of pig farms
After seeing pig farms in both Iowa and Michigan there is no doubt that the importance of the care and health of the animals is carried though out the industry. 
The owners, farm managers, care takers, veterinarians and transporters all play an important part in the producing the best and healthiest pork for consumers.
What pork temperature should you cook tenderloin?
The industry continues to grow with new practices, which is one of the reasons some of your cookbooks may be outdated when suggesting temperatures to cook pork. 
Whole muscle pork cuts cooked at 145° F with a 3-minute rest time is nice and tender and 100% safe to consume!
So, if your cookbook tells you to cook pork to 160° F then you're cooking based on OUTDATED information.
If you follow those directions, then you are likely to end up with dry and tasteless pork. We can't have that, right?
There is one caveat that you should know. Ground pork is the only cut that should be cooked at 160°F.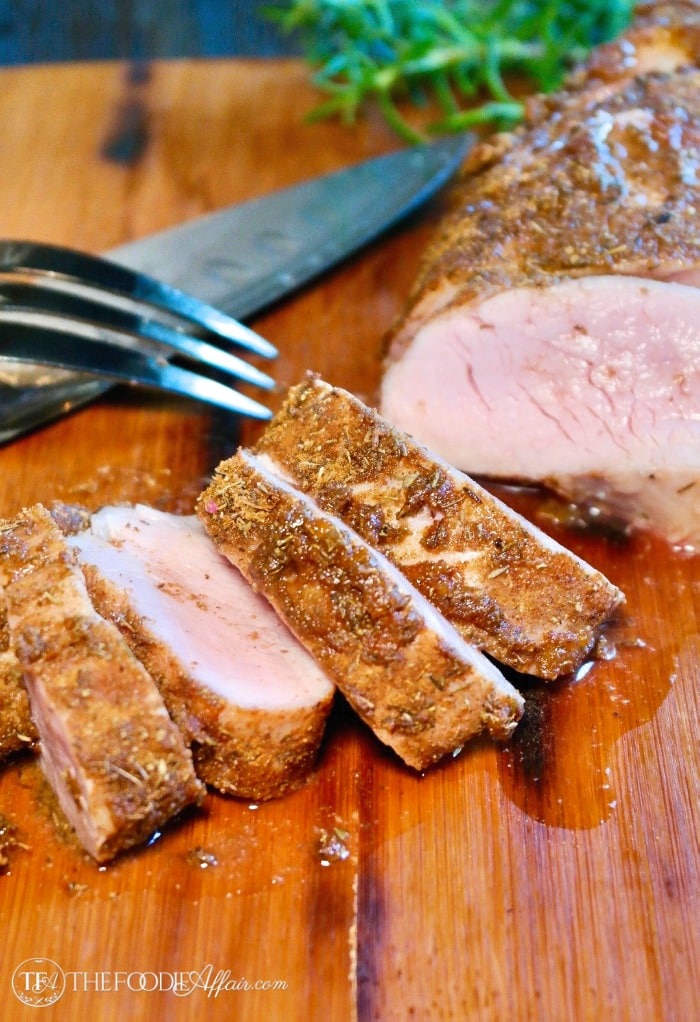 Why did the Food and Drug Administration (FDA) change their recommended cooking temperature?
There was once a fear was that pork that wasn't cooked at a high temperature could risk trichinosis consumption, a disease caused by eating raw or undercooked pork and wild game infected with the parasitic.
Now that the farming community has improved the care of the pigs, this is not an issue. 
There is ZERO chance of contracting the illness when pork is handled and cooked properly. 
Tricinae is killed when frozen or cooked to 138°F, below the recommended cooking temperature of 145°F.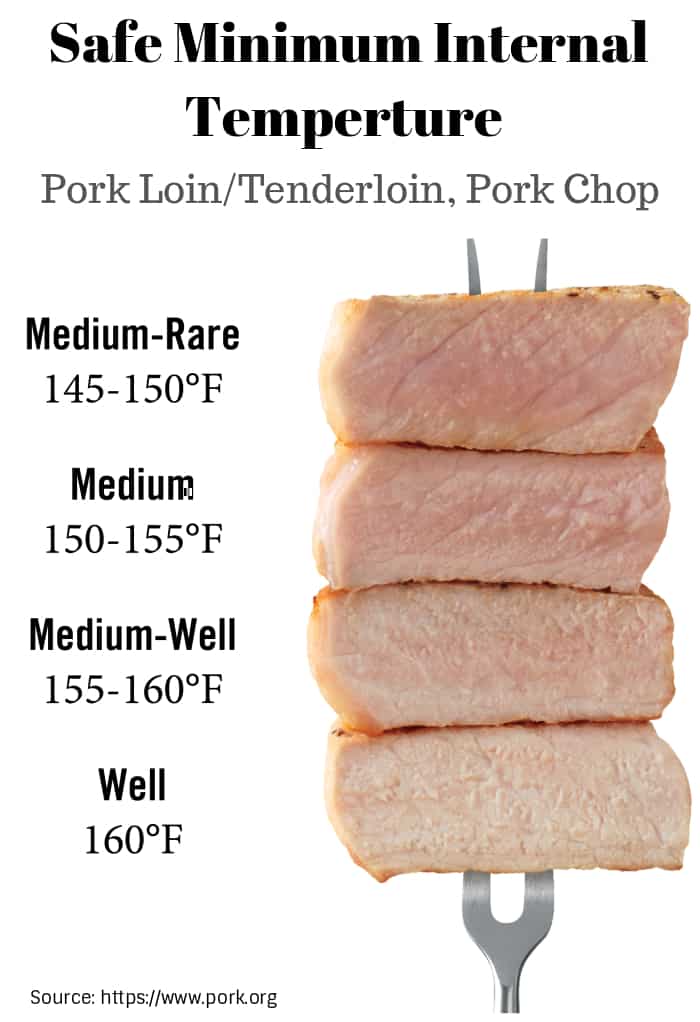 Pork food preparation guidelines recommended by the USDA
Follow these guidelines when handling pork cuts:
Clean your cooking station by washing hands and surfaces often
Separate raw meat from other foods like vegetables to eliminate cross-contaminating
Cook meats to their proper cooking temperatures
Chill and refrigerate meats once you get them from the store, and promptly refrigerate leftover cooked meats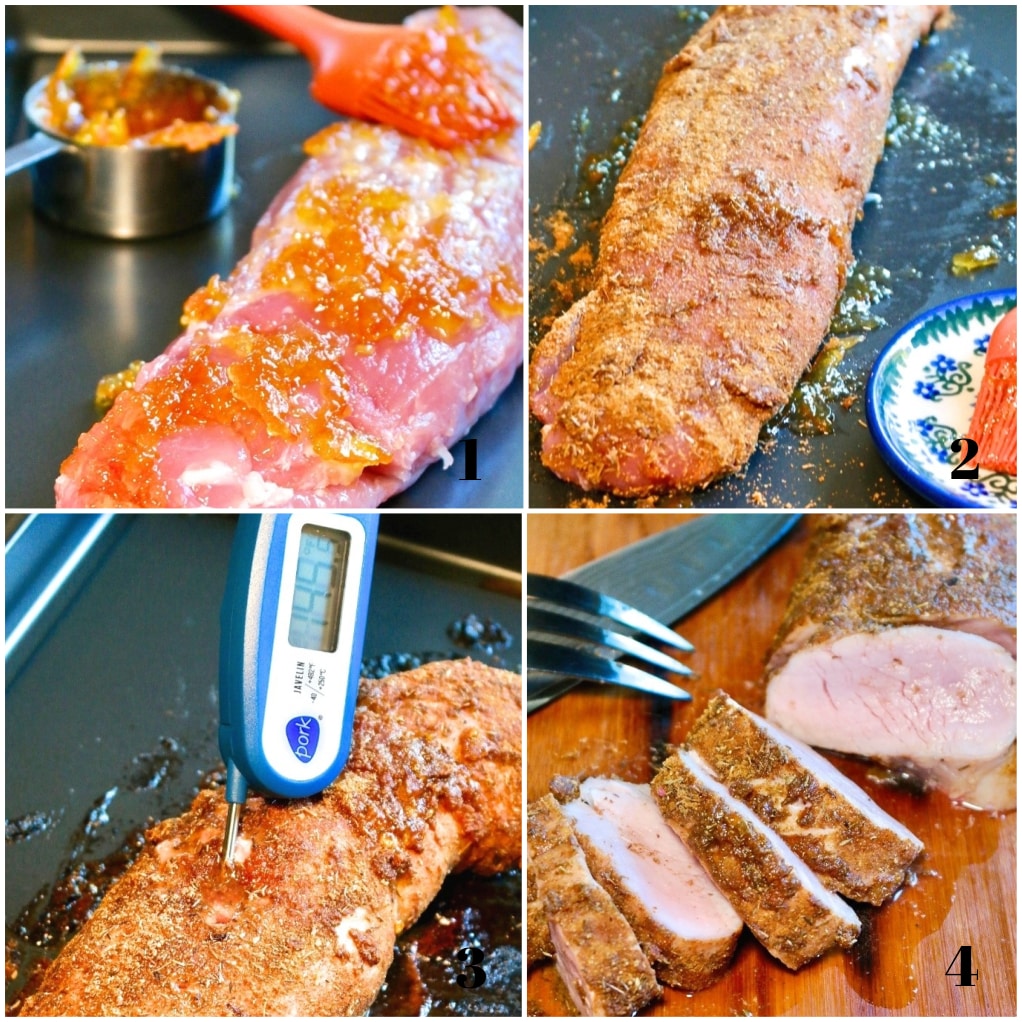 Easy pork tenderloin recipe
Now on to this delicious baked pork tenderloin with orange marmalade! 
This is simple to make and it cooks quick, which is why I like to serve guests pork tenderloin often! 
If you happen to have made my peach freezer jam, then replace it with the marmalade.  It's also delicious!
These are the ingredients you'll need:
Pork tenderloin
Marmalade or any jam
Thyme
Sage
Cumin
Cinnamon
Garlic powder
Kosher salt
Coat the tenderloin with marmalade, then roll the pork in the spices and bake until the internal temperature reaches 145°F.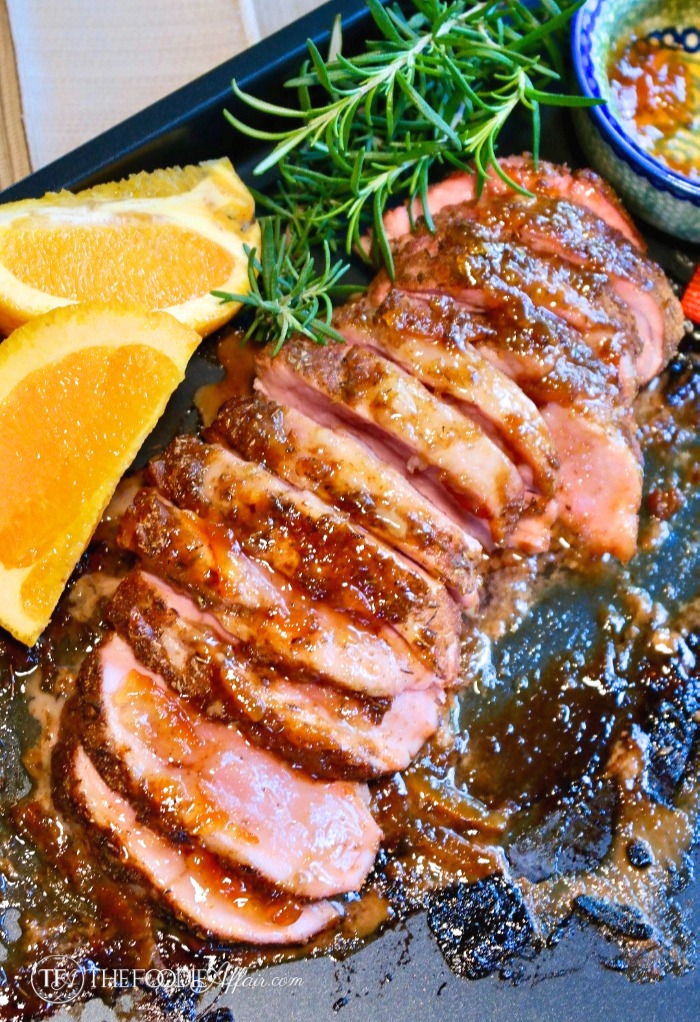 What to serve with pork tenderloin
Hope you enjoy this recipe as much as we have! Be sure to print or bookmark this page so you have the proper cooking temperature handy!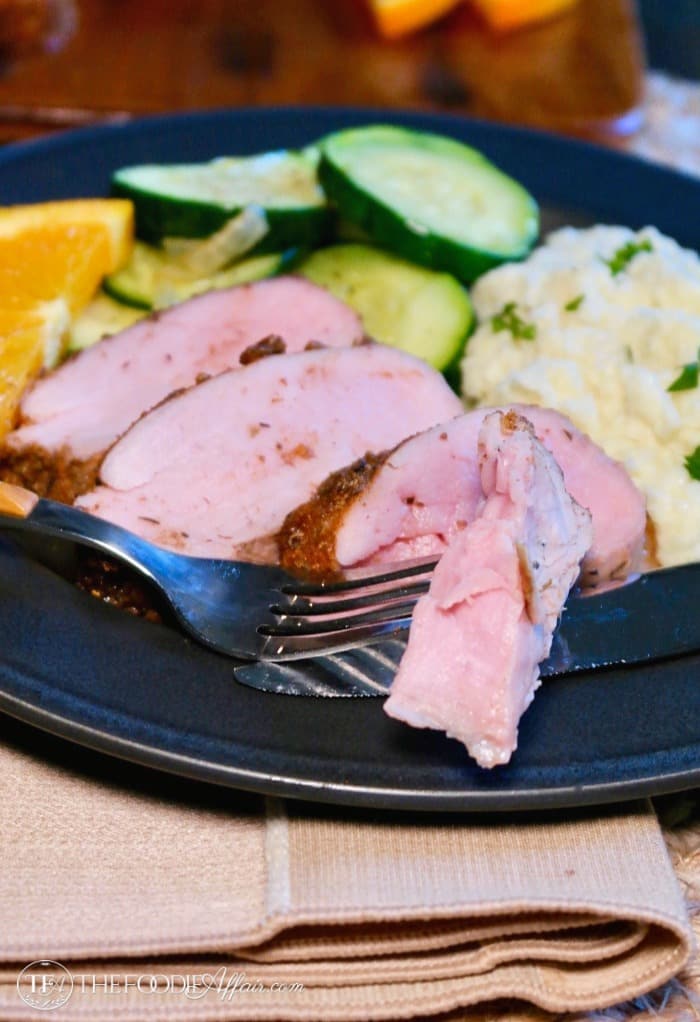 Looking for more pork recipes?
Check out these easy recipes!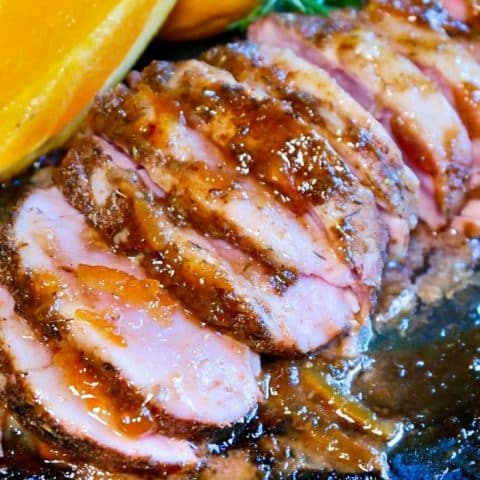 Baked Pork Tenderloin with Orange Marmalade
Simple pork tenderloin oven baked with a mix of flavorful spices and orange marmalade. Serve as a main meal or slice thinly for an appetizer
Ingredients
2 lb pork tenderloin
1/4 cup orange marmalade
1 teaspoon dried thyme
1 teaspoon dried rubbed sage
2 teaspoons ground cumin
1 teaspoon ground cinnamon
1/4 teaspoon garlic powder
1/4 teaspoon kosher salt
Instructions
Preheat oven to 425 degrees. Lightly spray a baking sheet with cooking spray and set aside.
In a small bowl whisk together all the spices.
On a flat surface cut a piece of parchment paper larger than the pork. Sprinkle spices on the parchment paper.
Brush pork with marmalade ensuring all sides are coated, then roll tenderloin in spice mix.
Place on prepared baking sheet and cook for approximately 25 minutes or until a meat thermometer inserted in the pork reaches 145 degrees Fahrenheit. Let the meat rest for 3 minutes before slicing.
Serve extra warmed marmalade on the side if desired.
Nutrition Information:
Yield:

8
Serving Size:

1
Amount Per Serving:
Calories:

195
Total Fat:

5g
Saturated Fat:

2g
Trans Fat:

0g
Unsaturated Fat:

2g
Cholesterol:

83mg
Sodium:

137mg
Carbohydrates:

7g
Fiber:

0g
Sugar:

6g
Protein:

30g
Please note that the nutritional information provided are guidelines and may vary based on the brand of products used. For your specific nutritional goals use My Fitness Pal or Verywell Fit recipe calculators. All content within this site is not intended as medical diagnosis or treatment and should not be considered a substitute for professional medical expertise.