Harvest salad with Asia pears and dijon vinaigrette.  This hearty salad is packed with nuts, greens and fruits. Enjoy as a main dish or tasty side to any meal.
I don't see Asian or apple pears often at the store, so when I do I grab them up!  Have you eaten one?  I highly recommend that you try to hunt for them even if you need to go to a few produce stands.
This unique fruit is shaped like an apple with the same crispy and crunchy texture, but with a juicy and refreshing flavor that you would expect from a pear.
I'm not sure if this hybrid was intentional cross planting or a pleasant natural occurrence between apples and pears.  Regardless, it's a good mix that I think resulted in is one of the tastiest fruits ever!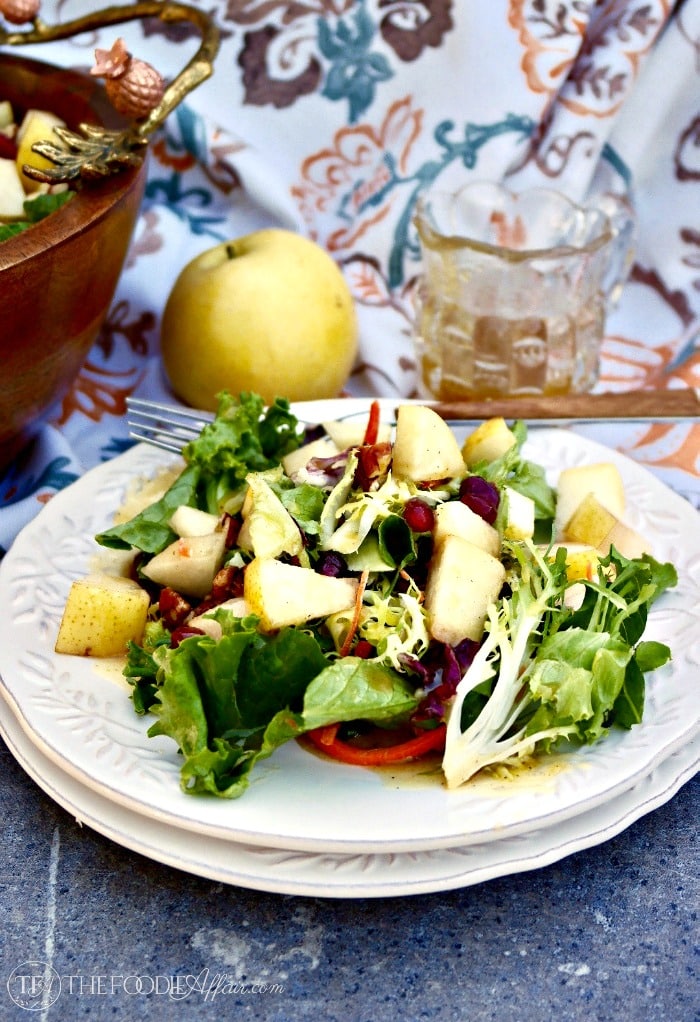 Juicy pears are often overlooked during the winter months. Pumpkin gets most of the recipe attention don't you think?  We can't help indulging in a seasonal Pumpkin Spice Latte or a slice of Pumpkin Cake Roll!  They're both soooo good!
After getting your pumpkin fix, this Harvest Salad with fresh green lettuce is just what you'll crave!  The Honey Dijon Vinaigrette Salad Dressing that I shared last week brightens up this salad with amazing flavor.  Fresh greens, fruits, and nuts with homemade dressing.  Does it get any better?!
Alan and I ate this salad with Baked Chicken Tenders and although this recipe is enough for four we polished it off between the two of us!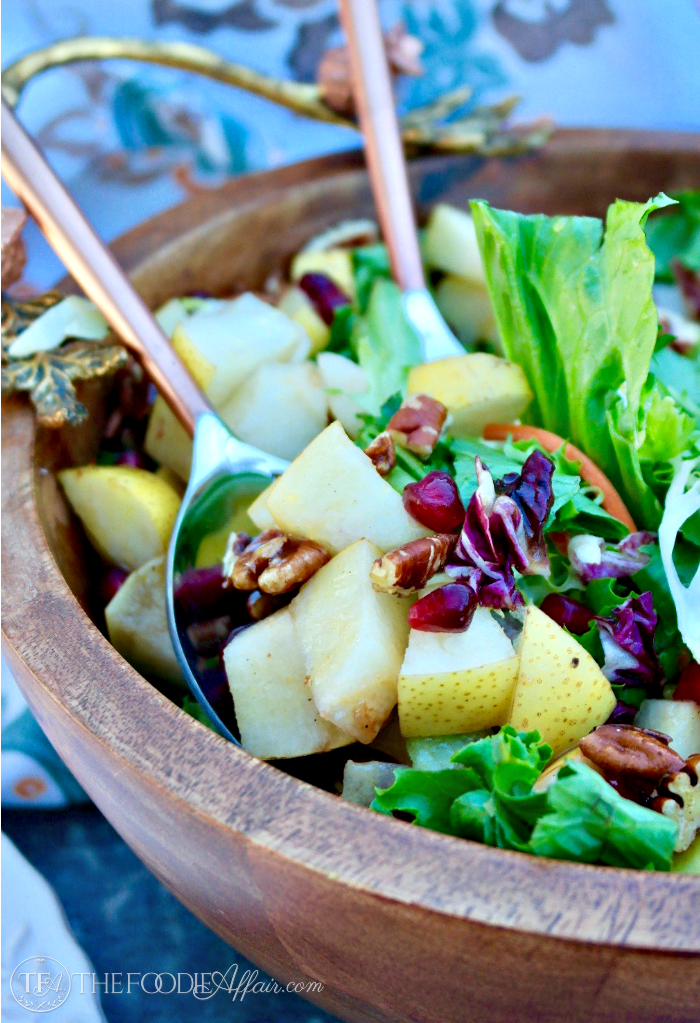 Yield: 4
Harvest Salad with Asian Pears & Dijon Vinaigrette
Prep Time 5 minutes

Cook Time 5 minutes

Total Time 10 minutes
Ingredients
7-8 ounces lettuce of your choice (mixed greens)
2 Apple/Asian pears, seeded and diced
1/4 cup pomegranate seeds
1/4 cup pecans, chopped
Instructions
Add to a large bowl the salad greens. Top with pears, pomegranate seeds and pecans. Add salad dressing and gently toss coating the ingredients.