Enchilada Skillet Recipe With Chicken
This enchilada skillet recipe with chicken is sure to become a family favorite recipe. This dish is flavorful, and easy to make when adding pre-cooked chicken!
In addition, you can choose to use a homemade or canned enchilada sauce for a quick and easy meal.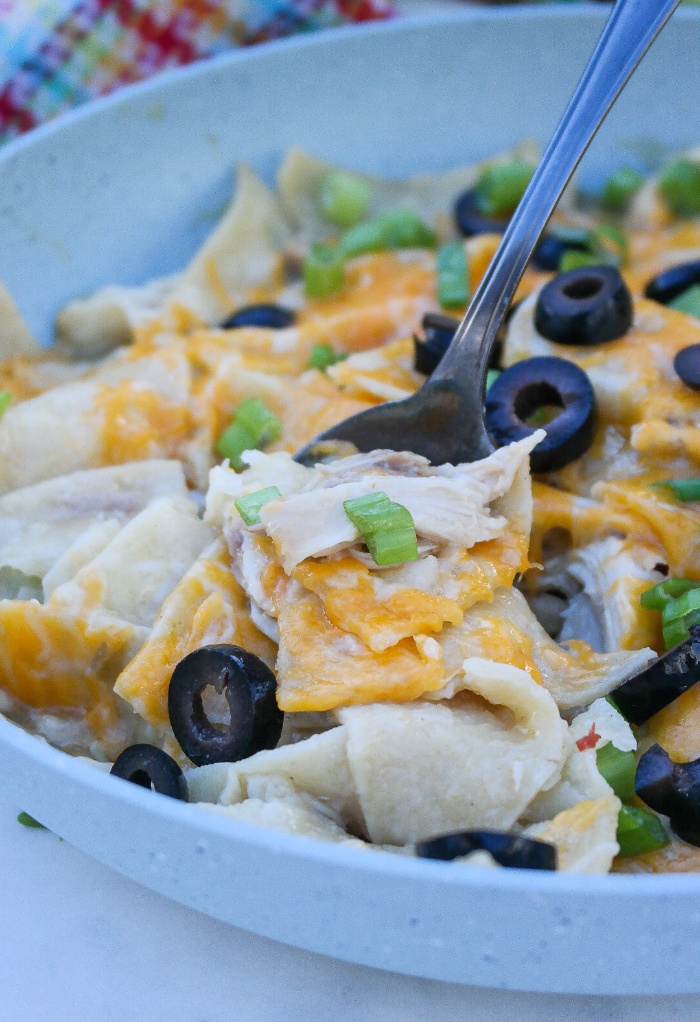 Skillet Enchilada With Pre-Cooked Chicken
Are you a Costco Warehouse member? We've been customers for several years, and although we don't really use our membership for its intention; buying in bulk for a big family or business, we do get some really cool things every so often.
Recently, I bought a running jacket with all those snazzy zippers placed in all the right places. I love it!
And booze – we definitely have bought the super-sized bottle of Bombay Gin, which has lasted over a year.
The 1.5 liter of Tequila, on the other hand, has a healthy dent in it from the batches of margaritas we went through (and shared!).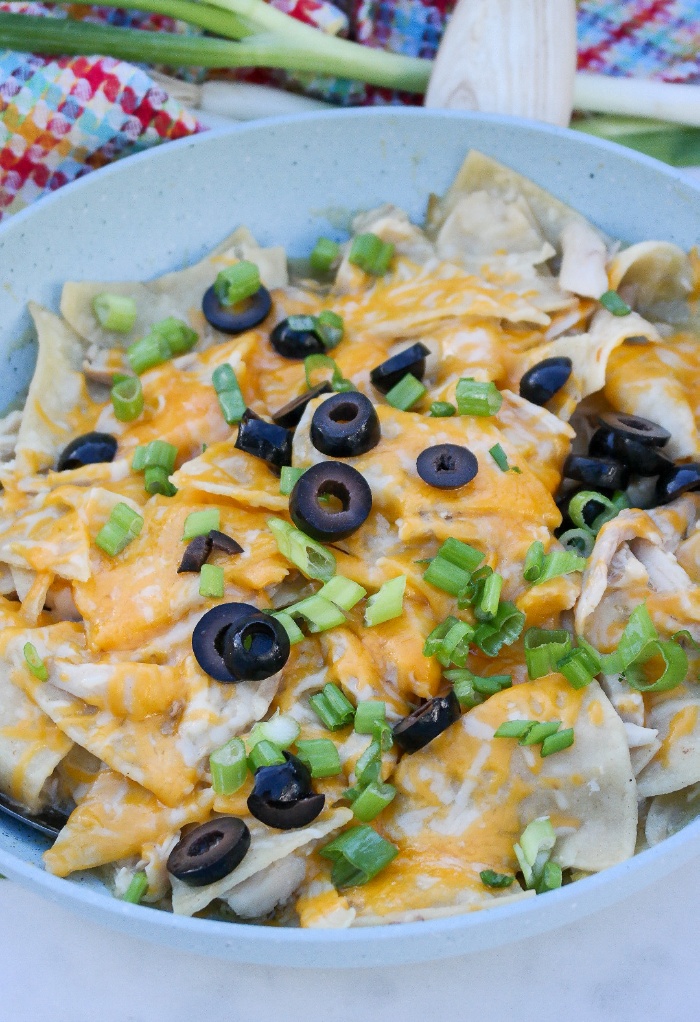 Oh, and I can't forget the chips! We picked up a 5 lb bag of tortilla chips. Apparently, we were hungry while shopping and thought we would eat nachos forevver!
While loading that two foot bag into our basket we were commenting, "Man, that is a heck of a lot of chips for the two of us. We don't need that much!"
If this is you too, then I highly recommend whipping up some fresh pico de gallo, avocado dip, or for a sweet profile try this mango pico de gallo to enjoy with your tortilla chips.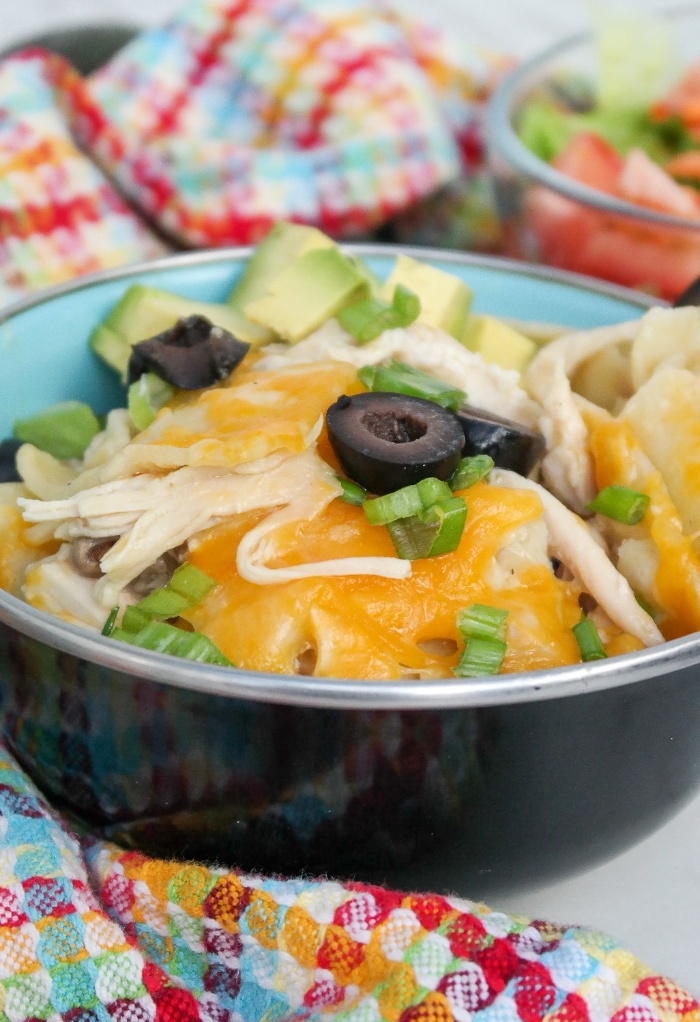 Costco rotisserie chicken
We may have or may not have done without the chips. However, what you shouldn't leave Costco without is a $5 pre-cooked roasted chicken.
Now that is a deal and time saver that I can get on board with. With a little help, I will have this Mexican enchilada skillet dish on the table in less than 30 minutes!
Although, my mom is more of a gourmet cook, she did have some family favorite easy recipes like this chicken enchilada dish. I have memorized this recipe from from watching her make it a bazillion times. Happy tummies!
She would make this meal way before the availability and convenience of pre-cooked chicken! However, she did use the canned ready made enchilada sauce. I do too 85% of the time I make this. Other times I change the recipe using a homemade red enchilada sauce.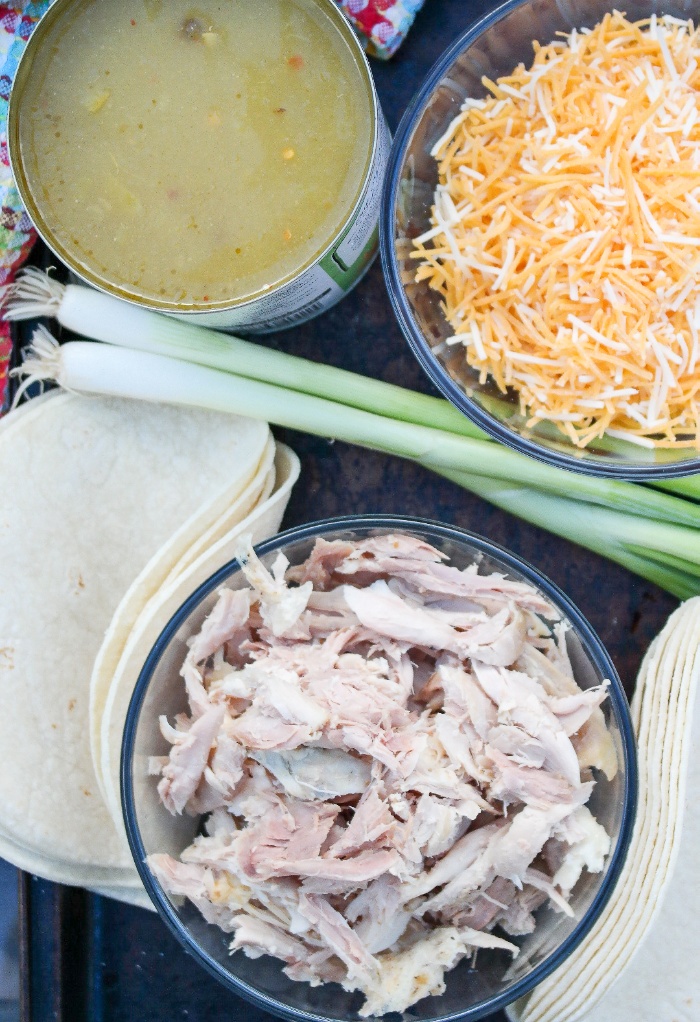 How to make enchilada skillet dish
The convenience of this recipe is the ability to make and sever in the same skillet. I break out my 10-inch skillet for this recipe.
First, prepare all the ingredients by shredding the chicken (you'll use about half of the bird), 3 cups of chicken, and cut the corn tortillas into triangle shapes.
Another preparation I always do is to shake the enchilada sauce (if using prepared) to mix up any spices that have settled to the bottom of the can.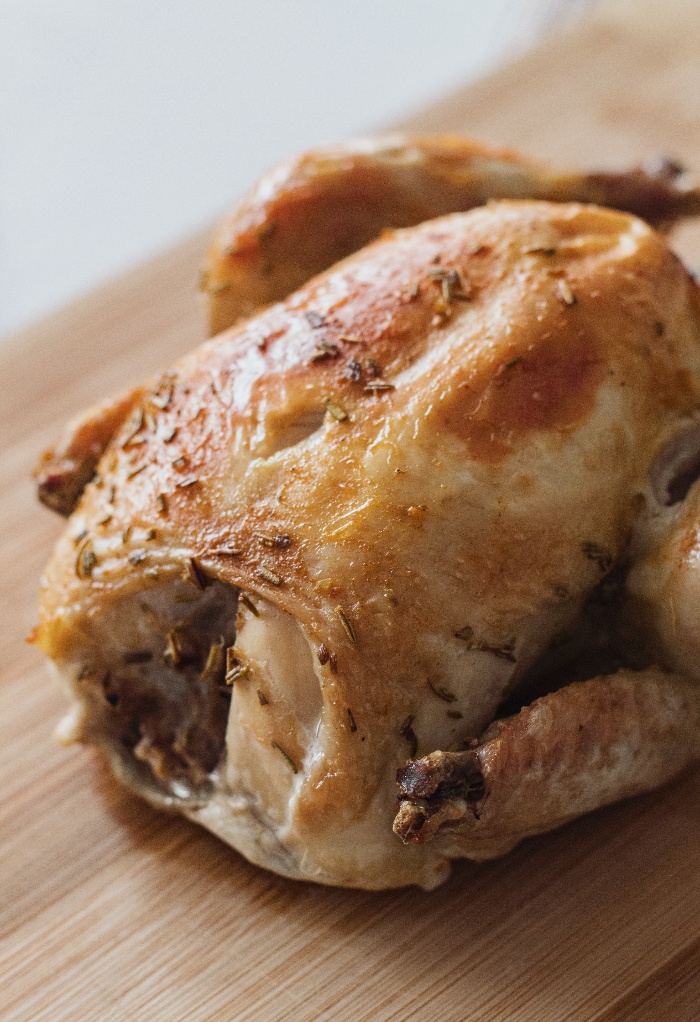 Preparing the tortillas
Once you have the chicken shredded, you will cut the corn tortillas into triangles. After cutting the tortillas you have two options going forward.
You can pan fry them for a heartier texture. Not quite crunchy like taco shells, but sturdy so when you pick up a fried triangle it holds its shape and doesn't flop over.
Alternatively, avoid using oil and cook the tortillas as they are into the sauce with the chicken.
Pan Fry Method
To pan fry, which is our favorite method, add oil of your preference to the skillet and heat over medium high. In batches fry the tortillas. You'll fry one side for about 30 seconds then flip them on the other side for an additional 30 seconds. Then set aside on paper towels to drain off extra oil.
No Fry Sauce Only Method
Alternatively, you will add the cut tortillas into the skillet with the sauce and chicken. The heat and moisture from the enchilada sauce will soften the tortillas. Keep a close watch so that the tortillas don't get too soft, which will turn mushy.
After preparing the tortillas, add the chicken and tortillas to the skillet. Slowly add the enchilada sauce to coat the ingredients to your liking. Top with cheese and cover until cheese melts. If the tortillas are too soft, then melt the cheese by placing under a broiler for minute or two.
Serve up with your favorite toppings like avocado cream sauce, sour cream, or pico de gallo salsa.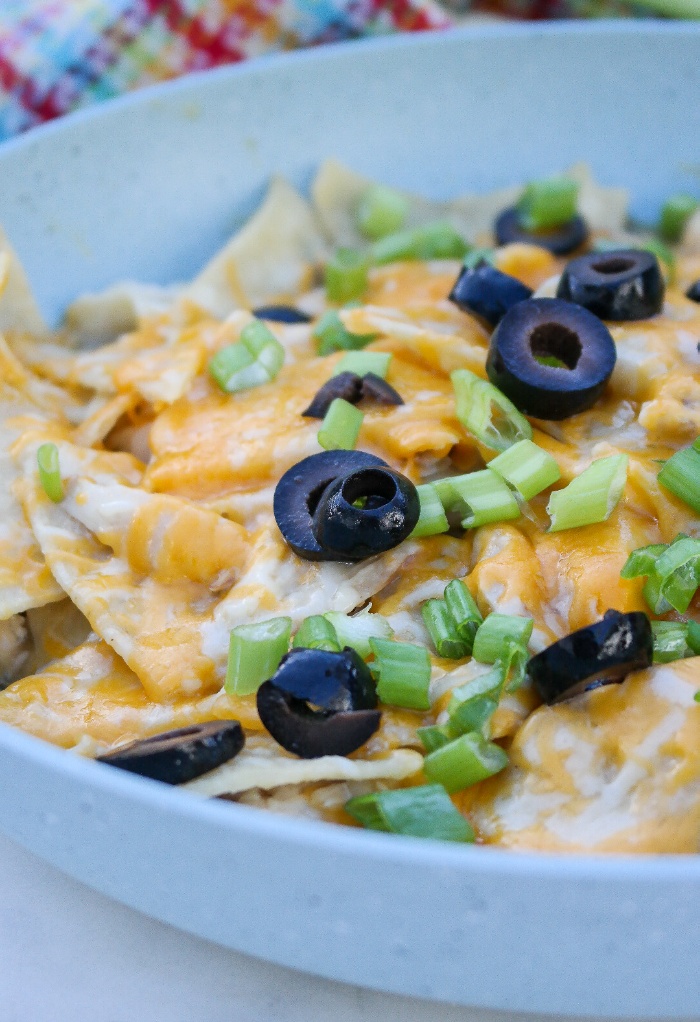 Delicious Enchilada Skillet Variations
As mentioned, a pre-cooked chicken if the quickest way to make this dish. If you want another quick fresh option, then try this air fryer chicken recipe. You can simple add salt and pepper to the chicken before cooking.
Also, cooked ground beef or turkey can be substituted for the shredded chicken. Personally, I like the red sauce with beef and green with chicken.
If you have just a few minutes more, I highly recommend that you make your own green enchilada sauce because it tastes so much better, but you already know that 🙂
Low Carb Options
Another variation is to use low carb tortillas or a flour based tortilla. Note that the thickness of tortillas vary. For this recipe, I find that the thicker tortillas hold the enchilada sauce best.
Mix it up and tell me which version you like best – low carb tortillas or traditional!
More Mexican Recipes To Try
Looking for some more Latin recipes to add to your menu? Give these a try: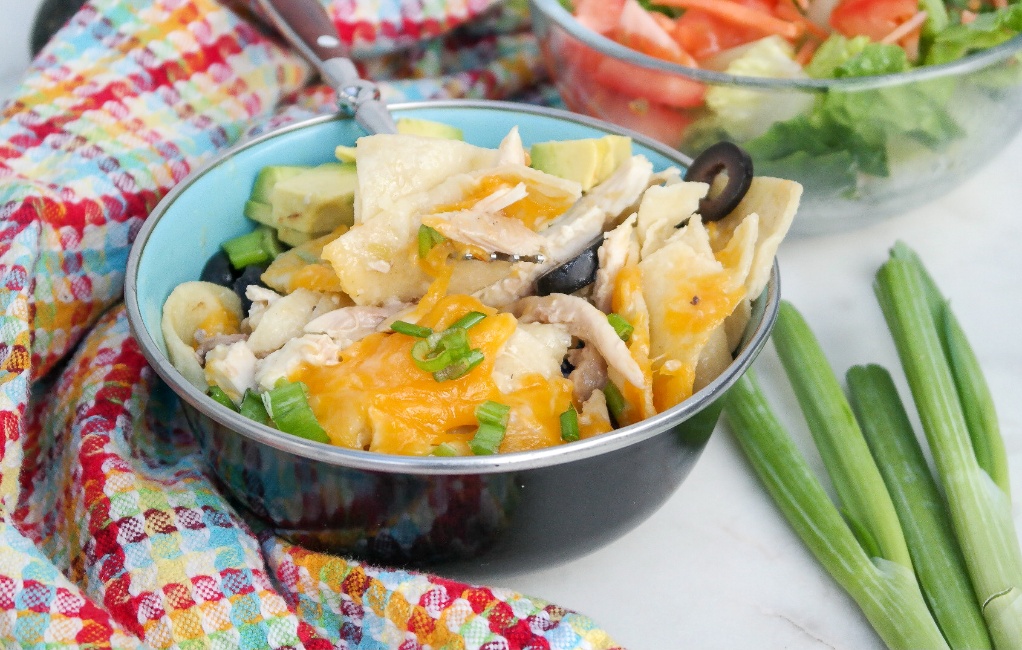 Frequently Asked Questions
Can you make enchiladas without frying the tortillas?
Yes! If you want to skip frying the tortillas, then you can place the tortillas directly in the pan with the enchilada sauce and cook until the tortillas soften. Watch carefully so they don't get mushy. Alternatively, the tortillas can be baked in the oven at 350°F for 5 minutes.
Why do you fry the tortillas in the first place?
Frying the tortillas forms a crust, which keeps the enchilada sauce from saturating the tortilla. We want the sauce to lay on the tortilla pieces instead or penetrating through.
Can enchiladas be frozen?
Yes! To freeze, place in a freezable container with an airtight lid. Keep frozen for up to 3 months. You can freeze leftovers or freeze just assembled enchiladas before cooking.
How do you reheat frozen enchiladas?
To reheat, defrost the enchiladas in the refrigerator overnight. Then place in a baking dish and cover with foil and cook in the oven at 350°F for 20 minutes. Remove foil and cook for an additional 5 to 10 minutes.
Can you freeze enchilada sauce?
Yes, if you don't use all the enchilada sauce, then place the leftovers in a freezable container or freezer bag. Sauce will stay fresh for up to 6 months.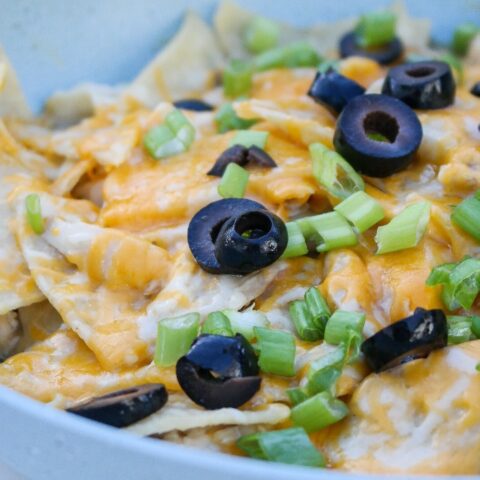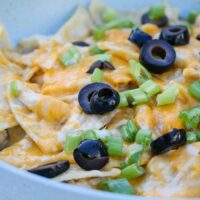 Skillet Enchiladas With Pre-Cooked Chicken
30 minute skillet enchiladas with pre-cooked chicken topped with cheese and a flavorful homemade sauce or canned. Easy meal with lots of flavor. Top with your favorite Mexican condiments.
Print
Pin
Rate
Ingredients
1/2

of 1 pre-cooked roasted chicken

shredded (3 cups)

1

package corn tortillas

6″, 12 count, cut into triangles

3/4

cup

shredded cheese

Mexican blend

1/4 – 1/3

cup

oil
Instructions
Shred chicken and set aside.

Cut tortillas into triangles.

Add oil to skillet and pan fry tortilla triangles on medium-high to slightly crisp the the corn tortillas. Cook in single layer batches. Drain on paper towels.

Carefully discard leftover oil from frying the tortillas.

Add enchilada (start with 1 cup) sauce and chicken to heat. Add tortillas and fold in ingredients.

Top with cheese and cover until cheese melts. Once melted, add any condiments you would like; olives, green onions.

Garnish with any additional condiment; avocado, sour cream, salsa, diced tomatoes once plated.
Notes
You may not need all 28 ounces of the enchilada sauce. I've noticed it depends on the thickness of tortillas used. The super soft and thin brands will not require as much sauce and will get mushy if too much sauce is added. Add one cup first, then half cup to the desired consistency.
Nutrition
Serving:
1
g
|
Calories:
183
kcal
|
Carbohydrates:
13
g
|
Protein:
9
g
|
Fat:
11
g
|
Saturated Fat:
3
g
|
Polyunsaturated Fat:
5
g
|
Cholesterol:
25
mg
|
Sodium:
979
mg
|
Fiber:
3
g
|
Sugar:
6
g
Disclaimer
Please note that the nutritional information provided are guidelines and may vary based on the brand of products used. For your specific nutritional goals use My Fitness Pal or Verywell Fit recipe calculators. All content within this site is not intended as medical diagnosis or treatment and should not be considered a substitute for professional medical expertise.
This enchilada skillet recipe was first shared March 2013. This post has been updated with new photos and additional information.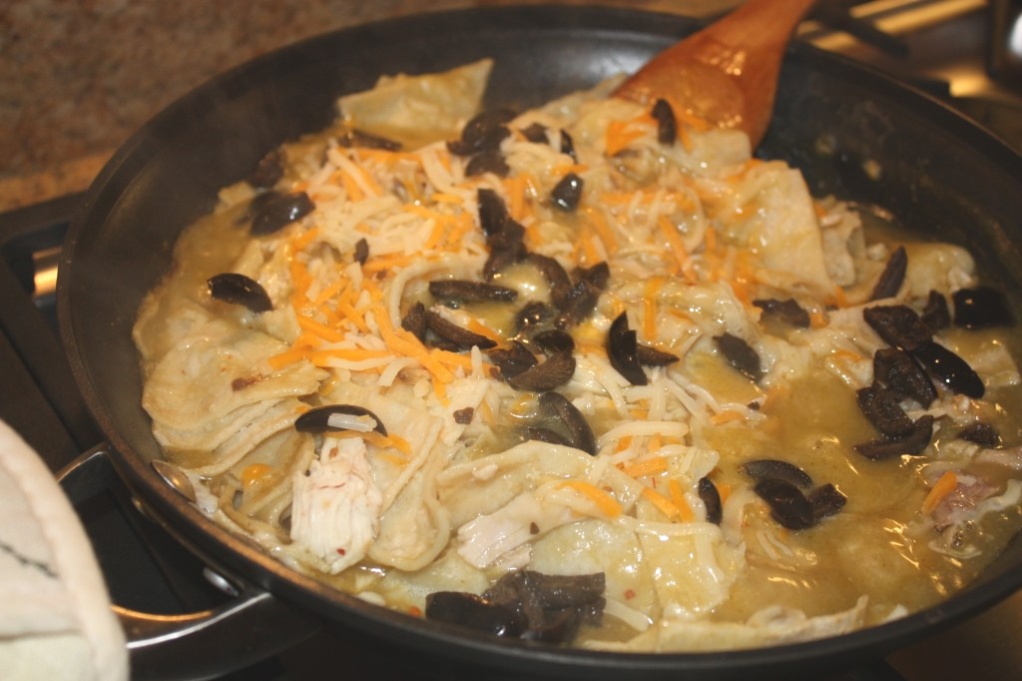 I love to add avocado and Alan loads up on the olives! What do you like to add to Mexican dishes?
Looking for another Latin inspired recipe? Give this gorgeous Shrimp Ceviche with Mango, Pineapple & Avocado from The McCallum's Shamrock Patch a try!