This simple dish of roasted sweet potatoes with sage, butter and honey make a delicious side dish to your Autumn meals.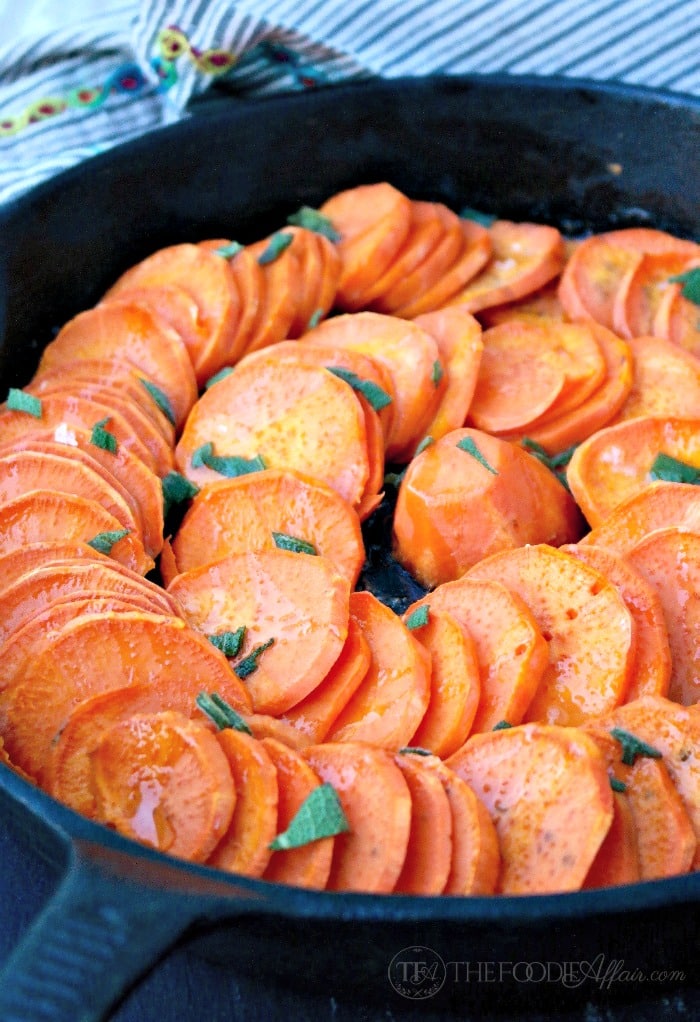 Hasselback potatoes have been the foodie rage this past year! I'm sure you've seen the simple fanned spud as well as even more elaborate taters that are stuffed with cheese, bacon and whatever else you can add between each slice of potato. The key is to keep the whole potato intact for that show stopping presentation.
My plan was to hasselback sweet potatoes my absolute favorite Fall veggie, but have you noticed the size variation from tater to tater? They're tubular not oval like regular Idaho potatoes, so I would need to cut the ends so it will cook evenly and there goes the pretty potato debut!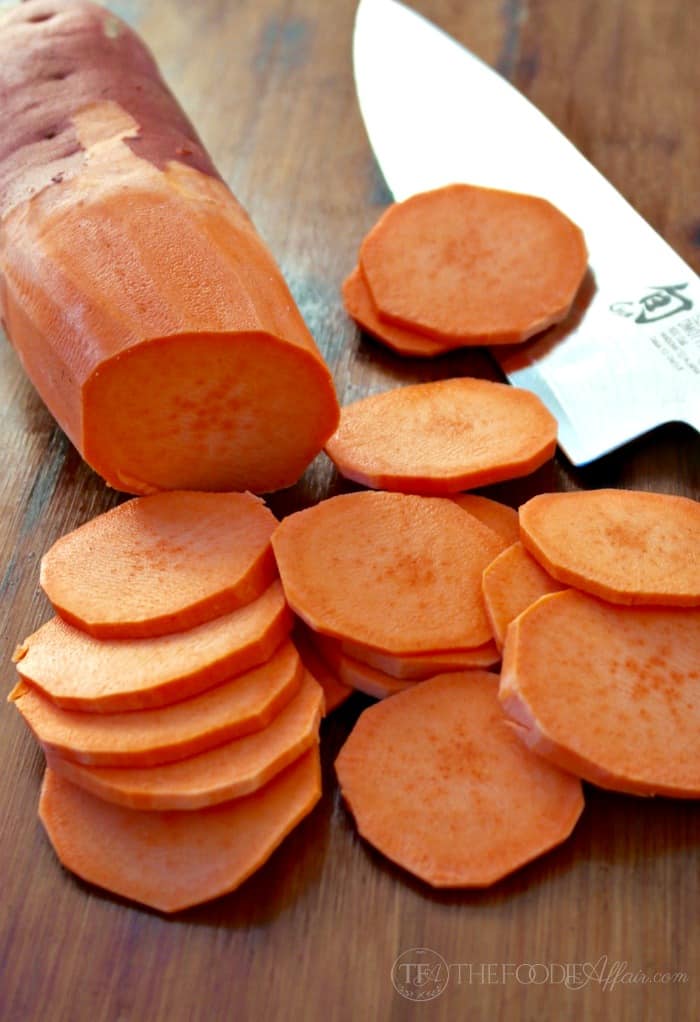 This simple oven roasted veggie dish is a variation of that same fancy look, but I've layered the round slices in my cast iron pan in a circle. No frills, just good tasting food!
The natural sugars in these sweet potatoes turn nutty and richly sweet, so you really don't need to add a layer of brown sugar crumble like I have in this sweet potato casserole recipe, but this certainly will taste fabulous if you do!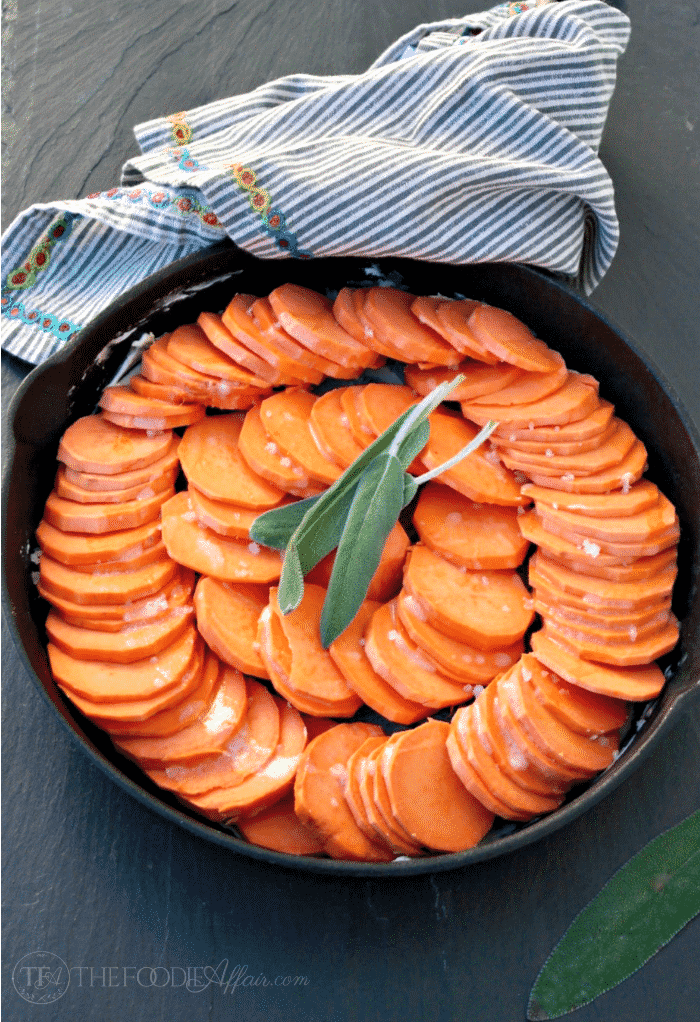 I kept this recipe simple to bring out the earthy flavors with a simple sprinkle of sea salt, some butter, sage and a drizzle of honey to finish it off. I think I could have polished off the whole pan by myself, but I shared 🙂
This is a great dish to enjoy all year long and this will also cover you if need a quick side for your Thanksgiving feast!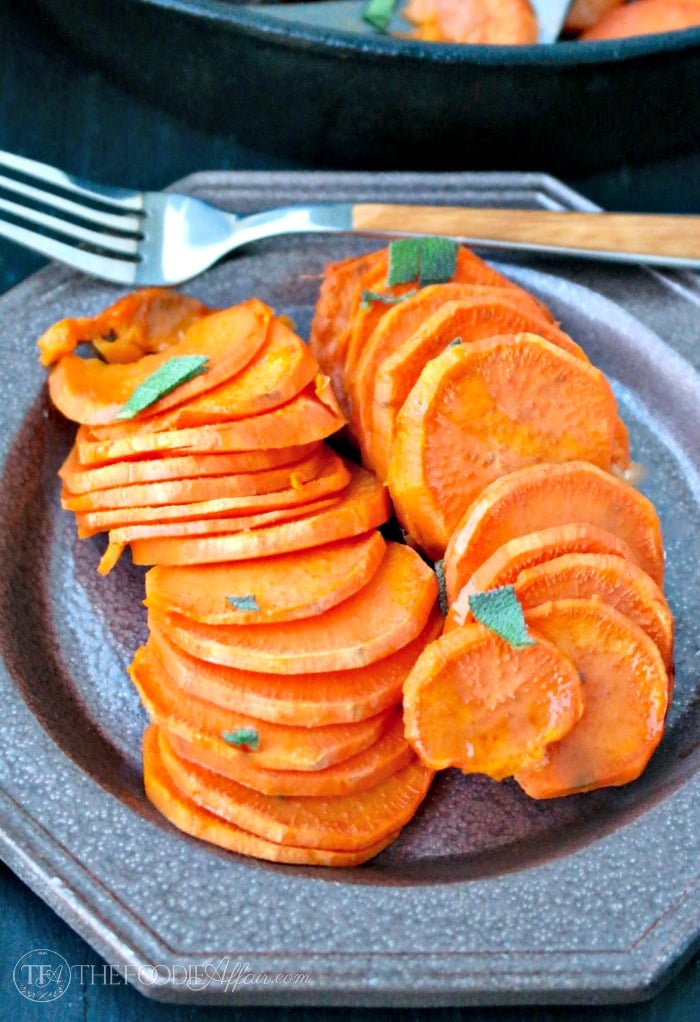 Yield: 4
Roasted Sweet Potatoes with Sage
Prep Time 10 minutes

Cook Time 30 minutes

Total Time 40 minutes
Ingredients
2 1/2 - 3 large sweet potatoes, peeled and evenly sliced (1/4 inch)
5-8 fresh sage leaves (more for garnish)
1 teaspoon sea salt
3 tablespoons butter (divided)
1 tablespoon honey
Instructions
Preheat oven to 375 degrees.
Grease the bottom of an oven proof skillet with 1 tablespoon of butter.
Place sweet potato rounds over the butter and melt the two remaining tablespoons of butter. Pour butter over the potatoes, sprinkle with sea salt and place sage leaves on top on potatoes. Cover with foil and cook for 20 minutes. Remove foil and continue to cook until potatoes are tender (about 10 minutes longer).
Remove from heat and drizzle honey over sweet potatoes. Garnish with fresh sage.