These pork rice balls are rolled with sticky rice and then steamed. Dip in hoisin sauce or wrap in a lettuce leaf and serve as an appetizer!
Thank you National Pork Board for sponsoring this post and providing me an opportunity to participate in the Pass The Pork Blogger Tour! The opinions expressed are mine alone.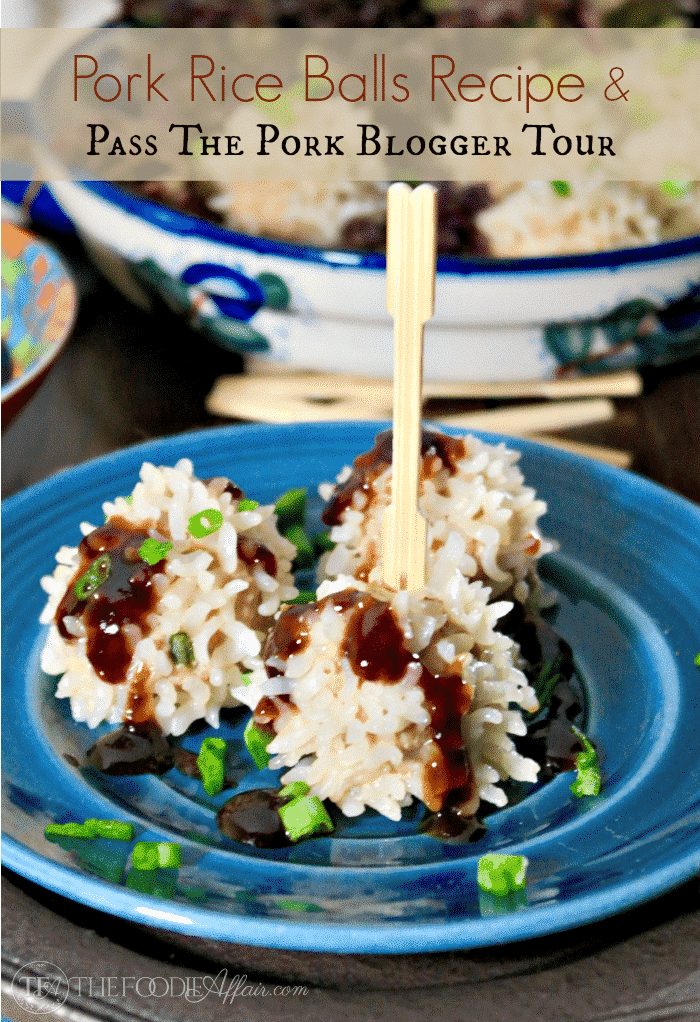 Pork Rice Balls
I'm sure you've heard the slogans "Pork, The Other White Meat" or "Pork Be Inspired" which are both intended to catch your attention and take a closer look at pork products.
Well, I had an opportunity to participate in a three day blogger event that allowed me a close-up peek of the pork industry and tour a state of the art pork farm in Iowa!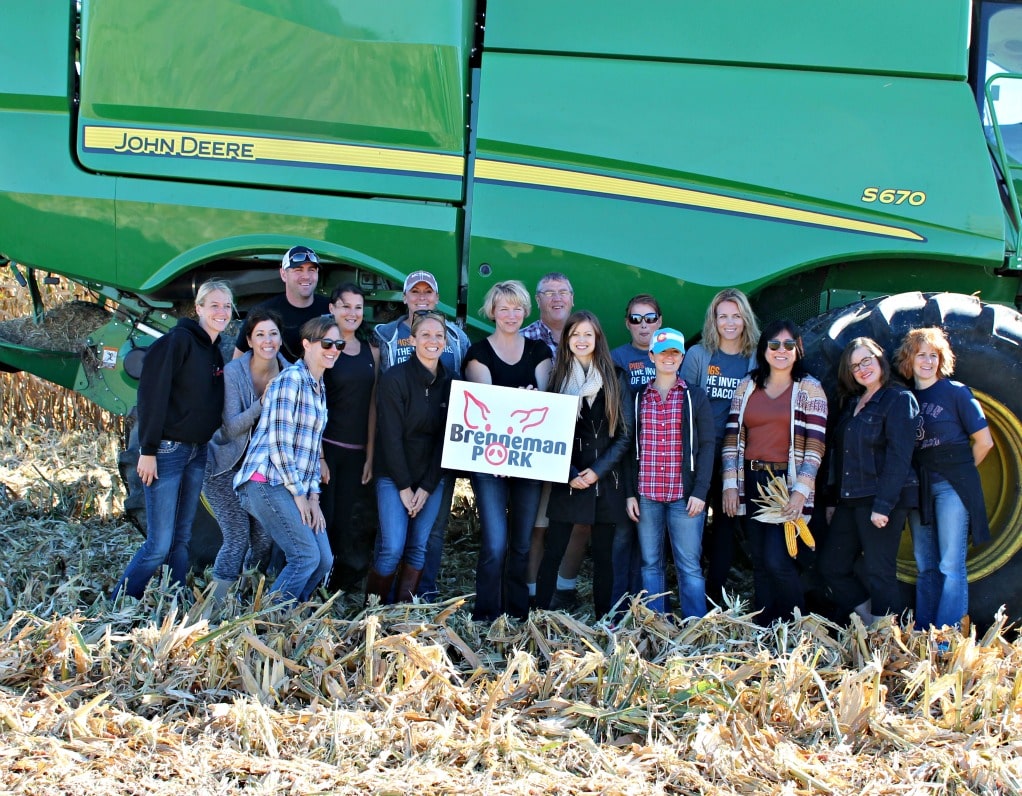 A tour of a pork farm
This California girl is surrounded by agriculture. I pass by acres of lettuce, strawberries and artichokes on my way to my office during my work week, but I have never been exposed to livestock farming and to be perfectly honest, I was a little nervous of what I might learn.
Like you, I've read stories about animals being mistreated and living in barbaric conditions, so I mentally prepared myself with those images and even went as far as thinking that I just might come home a vegetarian (dramatic much?! lol).
What I experienced when I toured the Brenneman Pork family run swine and grain company was an extremely well organized and highly sophisticated operation that has been committed to refining and improving their processes in all their business practices for over 30 years.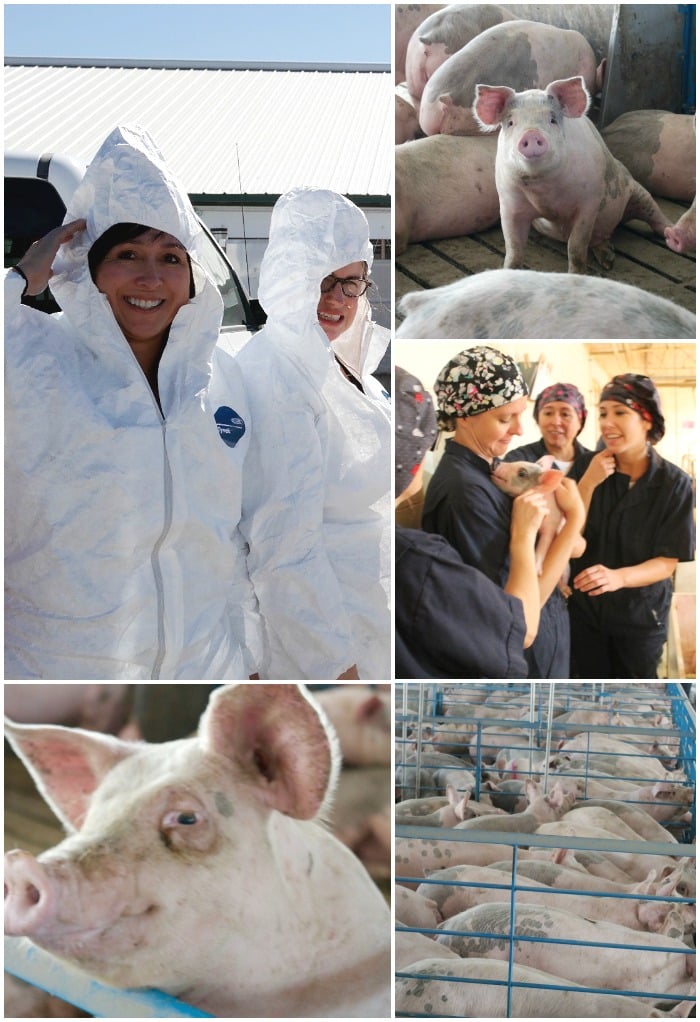 Family run farm
During the tour we were able to ask any question we wanted and were given a lot of time with the Brenneman's and their extended family.
My father is an entrepreneur, so I can appreciate the sacrifices and commitment it takes to run a company from the ground up. Some years are better than others just as you would expect in any company, and in the pork industry you have to be willing to adjust to the consumers demands, while continuing to provide the safest and best quality of pork.
Most impressive is the bio-security policy in the Brenneman's sow unit, nurseries and finishers areas. Any person (employees, visitors, vets….EVERYONE) on the farm must be free of dirt and disease before coming in contact with the animals.
Yep! They don't want HUMANS to infect their pigs! In order to mitigate infectious diseases there is a very regimented routine in place. Every person must take a full shower and dress in coveralls or those white space suits you see in the photo above before being in contact the the piggies as well as shower when you leave the farm!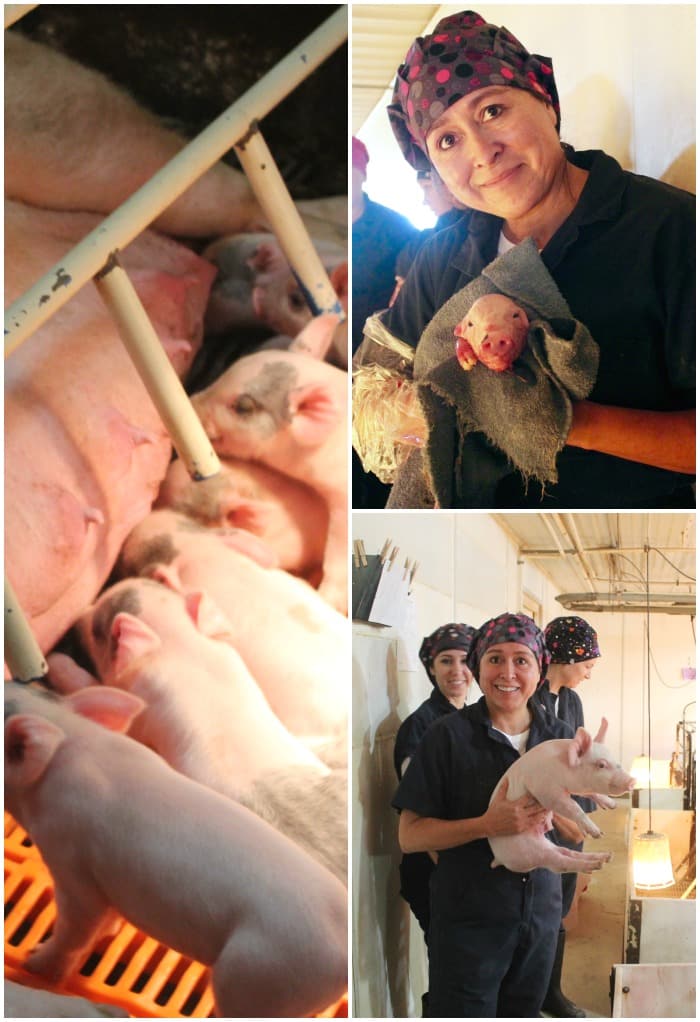 Bloggers experience farm life!
Several of the bloggers sleeved a sow. That's when you put on a long plastic glove and gently pull the piggy out of the sow during delivery! Delivering a newborn was super cool and quite an incredible experience!
I delivered piggy number 14, the last of that particular sow's piglets, so I suppose I'm a piggy midwife now!!
Cute as can be and you might think that after that experience I would never touch bacon again! Quite the opposite is true. After witnessing the pork farming practices I'm looking at pork with more recipe ideas in mind!!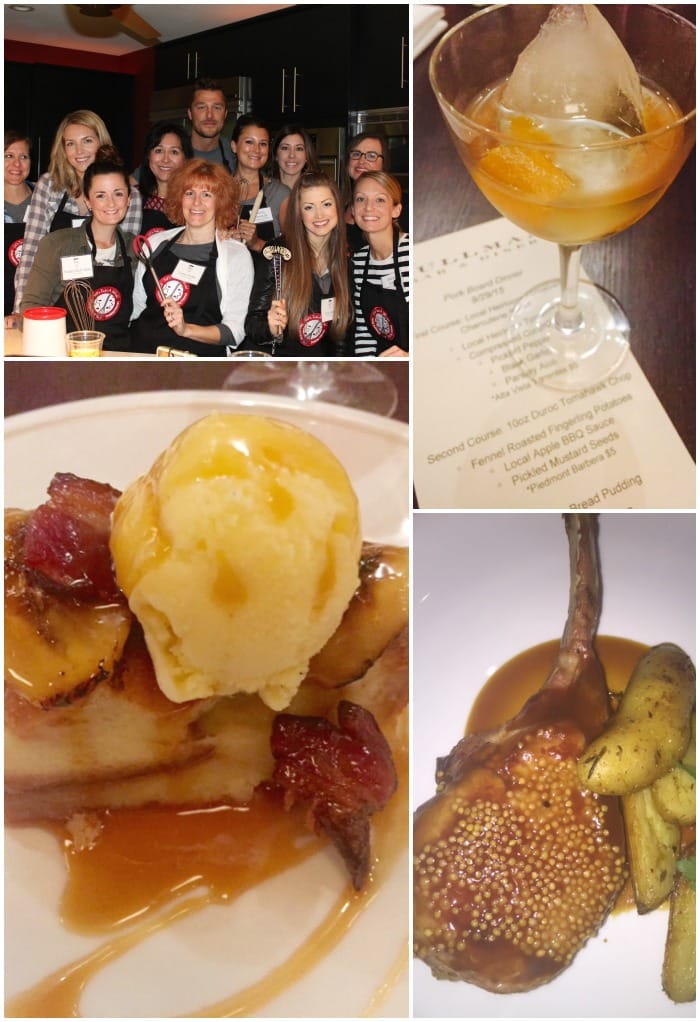 How to cook pork
On this tour we were fed very well and had a wide variety of pork dishes to try. We also cooked our own meal with the guidance of Nina who developed an amazing pork inspired menu that was thoroughly enjoyed by all of us!
One of the helpful tips I learned is how to properly cook pork. Since pork is very lean, the internal temperature of the meat should be between 140 – 160 degrees. You can read about more tips on cooking methods on the Pork Be Inspired page. There is also a printable chart detailing the cooking guidelines.
Since I returned from the tour I have a new appreciation for the life of a farmer and the pork industry! In fact, I'm humming the catchy slogan,"Put Pork On Your fork!" with pride!
I made these tasty pork rice balls with a mix of ground pork and Asian spices, rolled each in sticky rice and then steamed them! Add more flavor by serving these with hoisin sauce or wrap each piece in lettuce for a utensil free appetizer!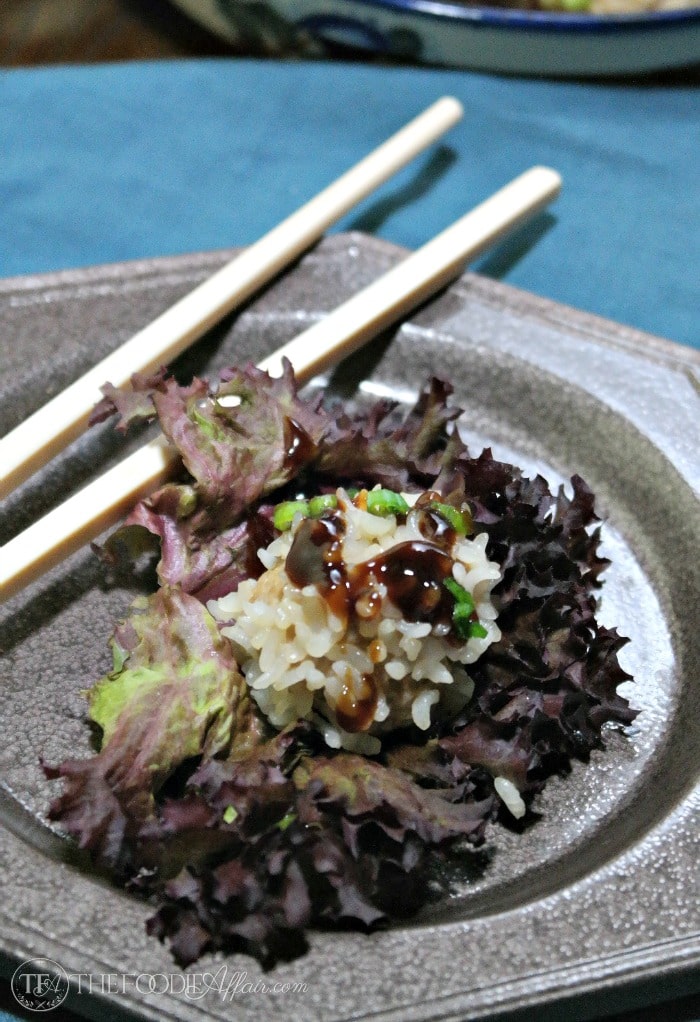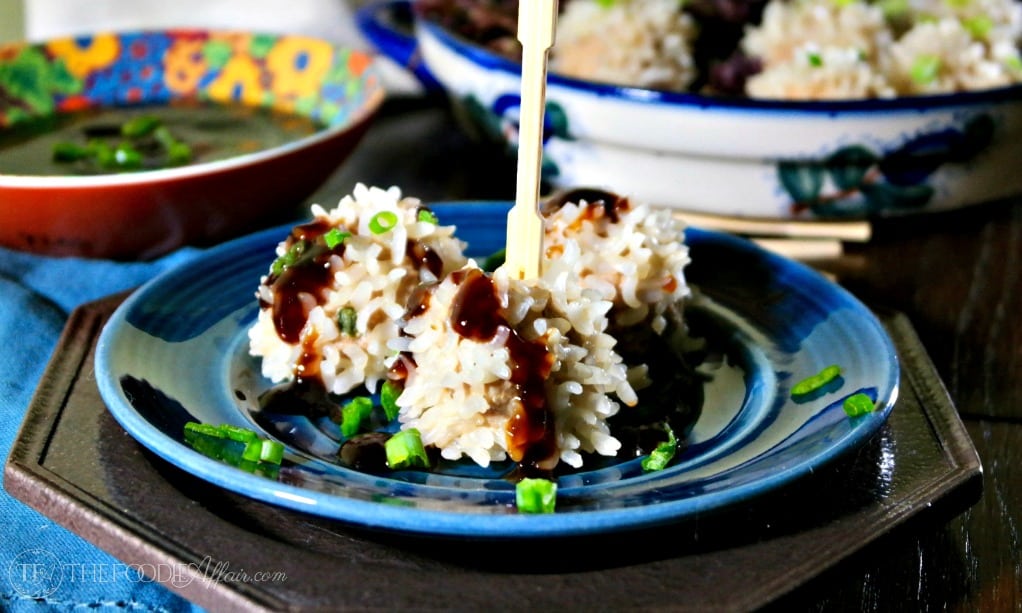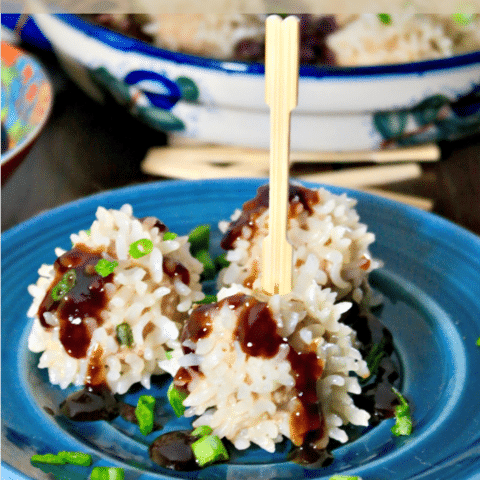 Pork Rice Balls
Total Time:
2 hours
30 minutes
Pork rice balls rolled in sticky rice and then steamed. Dip each ball in hoisin sauce or wrap in a lettuce leaf.
Ingredients
1 cup sticky rice (glutinous)
1 pound ground pork
1 large egg
1 teaspoon fresh ginger, minced
1/2 teaspoon brown sugar
1 tablespoon soy sauce
1/2 teaspoon sesame oil
1/4 teaspoon black pepper
1/2 teaspoon kosher salt
2 green onions, chopped
hoisin sauce for dipping
Instructions
In a medium bowl add water to rice. Swish around and disburse the milky substance. Drain and add more cold water repeating several times or until water is clear. Cover rice with cold water and let sit for 2 hours (or overnight). Drain and spread rice on a baking sheet. Pat with paper towels to soak up the extra moisture.
In a medium bowl add the pork, egg, ginger, sugar, soy sauce, oil, salt and pepper. Mix well and then fold in green onions. Roll into 1 inch meatballs and then roll in the rice.
Place in a steamer (you may need to cook in batches) and steam for 20 minutes. Serve with hoisin sauce.
Notes
Ground chicken, turkey or beef will also work in this recipe although the flavor will be different with each meat.
Nutrition Information:
Yield:

24
Serving Size:

1
Amount Per Serving:
Calories:

72
Total Fat:

4g
Saturated Fat:

2g
Trans Fat:

0g
Unsaturated Fat:

2g
Cholesterol:

26mg
Sodium:

120mg
Carbohydrates:

3g
Fiber:

0g
Sugar:

1g
Protein:

5g
Please note that the nutritional information provided are guidelines and may vary based on the brand of products used. For your specific nutritional goals use My Fitness Pal or Verywell Fit recipe calculators. All content within this site is not intended as medical diagnosis or treatment and should not be considered a substitute for professional medical expertise.