Baked Chicken Taquitos filled with seasoned shredded chicken and cheese rolled up and baked instead of deep fried! Add your favorite toppings and enjoy at your next fiesta!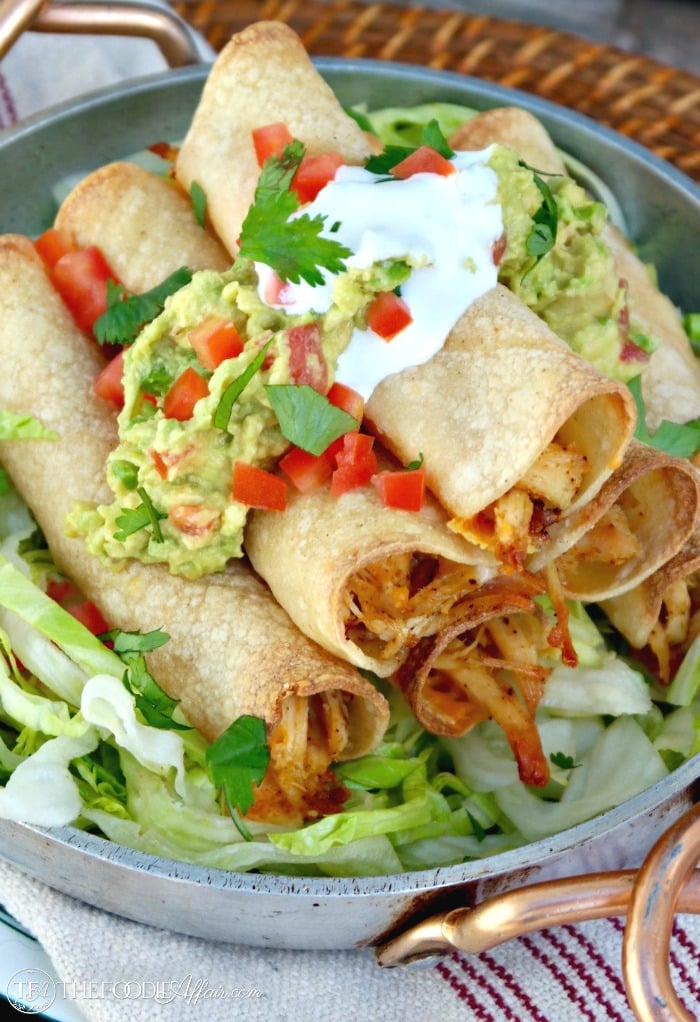 Baked Chicken Taquitos
It's been some time since I've made taquitos or even ordered them at a restaurant, and they're one of my favorite Mexican dishes to eat! I like the shredded chicken the best, but I've never turned down beef, pork or cheese taquitos!
When you bake instead of frying taquitos there is less grease to mess with (yay!), and of course a healthier version means less calories so go ahead and eat more!
These taquitos are super easy to make and you can serve them with your favorite toppings like Mexican crema, Pico de Gallo, a creamy or chunky Avocado Dip, or if you're short on time go ahead and purchase your favorite salsa!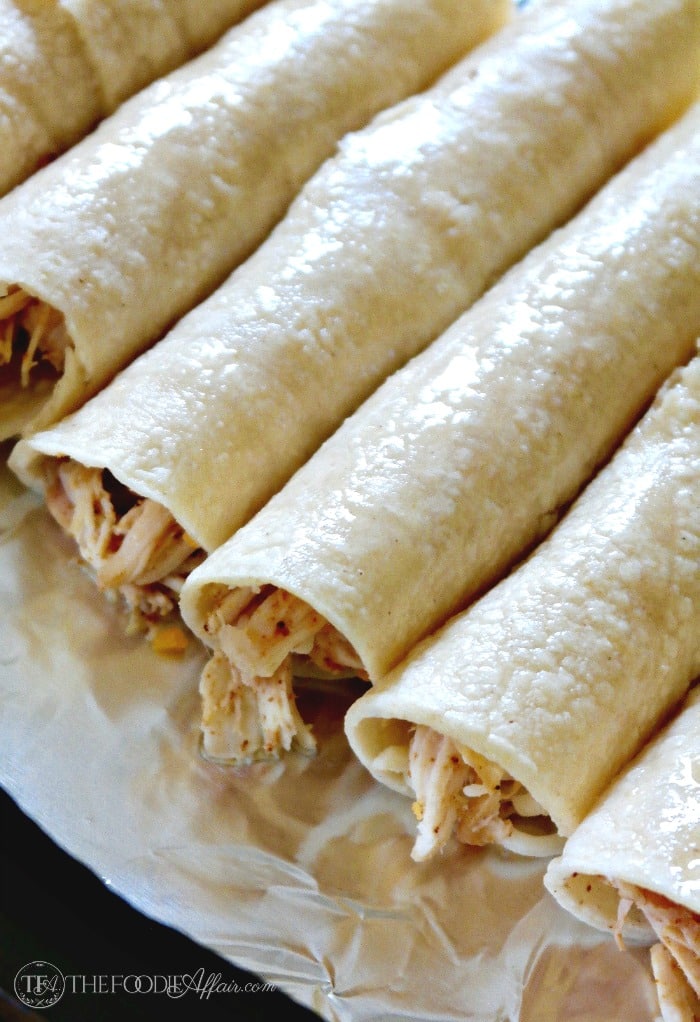 Assembling taquitos
The most time consuming part of making taquitos is preparing the chicken, and since I wanted to dive into these a soon as possible I used a chicken roisterer already cooked that I picked up from Costco.
If you want to bake your own chicken, use a combination of dark and white meat.  I easily add flavor when I bake the meat by using my taco seasoning mix recipe.
Whether you use a prepared seasoning or not, adjust to incorporate some of your own favorite flavors like cumin, more chili and garlic powders, which is the combination I added to the Costco prepared chicken!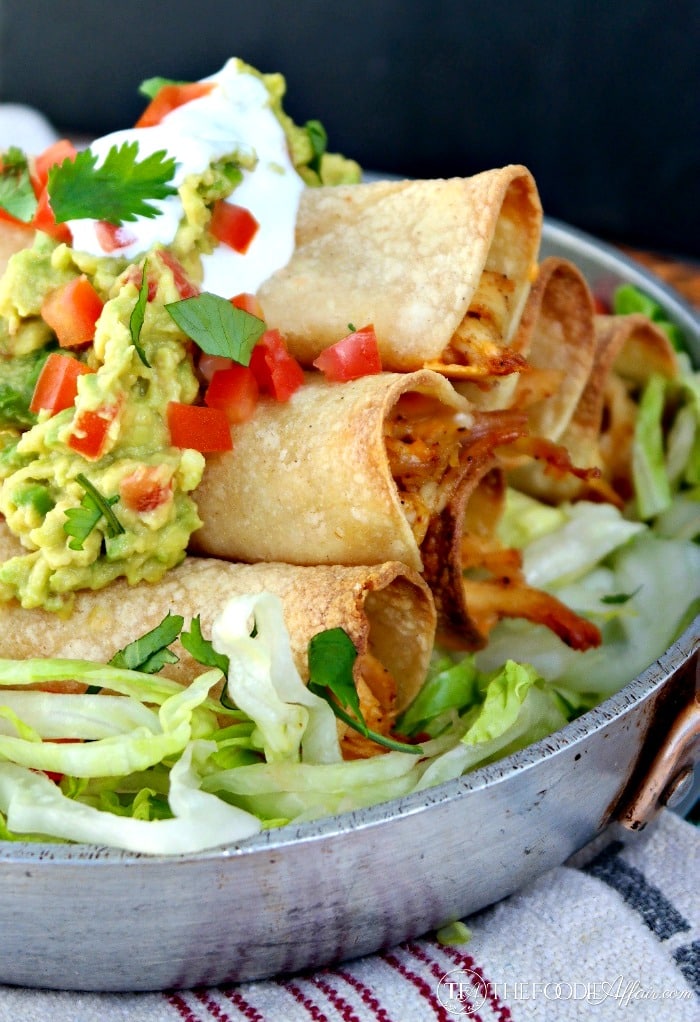 Taquitos can be an appetizer or main meal
We enjoyed these taquitos for our evening meal, and they also make a great appetizer to share with a crowd. You'll want to double up the recipe though because these go quick!
If you're planning a Mexican fiesta and want some more menu ideas to serve with these baked chicken taquitos you'l love my favorite Spanish Rice and no party is complete without a signature cocktail!
How about trying this Refreshing Paloma Cocktail or a Classic Margarita! Salud!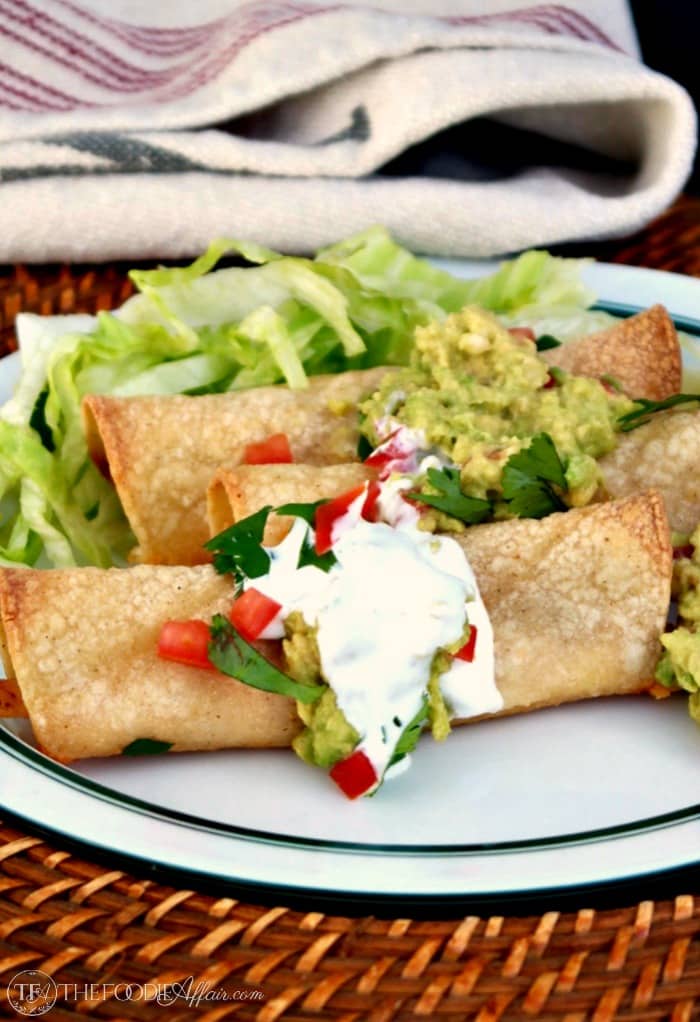 Yield: 12
Baked Chicken Taquitos
Ingredients
1 pre-cooked chicken roisterer, shredded (you'll need 3 cups)
1 teaspoon cumin
1 teaspoon garlic powder
1 teaspoon chili powder
1/2 teaspoon pepper
1/2 cup Mexican-style cheese blend, shredded
12 corn tortillas
oil for coating tortillas (I used avocado oil)
Toppings: shredded lettuce, diced tomatoes, salsa, guacamole, crema (optional)
Instructions
Preheat oven to 425 degrees. Line a baking sheet with foil and lightly brush with oil. Set aside.
In a small bowl whisk together the cumin, garlic powder, chili powder and pepper. Sprinkle over shredded chicken and mix so all the chicken is seasoned.
Soften the corn tortillas by placing them between damp paper towels and microwave for about 25-35 seconds.
Fill each tortilla with 3-4 tablespoons of chicken and top with 1 tablespoon of cheese. Roll up and place the taquito with the seam side down on the prepared baking sheet.
Brush each taquito with oil and bake for 20 minutes or until the tortillas are crispy.
Serve with your favorite toppings.