Simple skillet pork chops with caramelized onions and bacon in a creamy sauce! This delicious dish is ready in 30 minutes!
If you are looking for a delicious meal that is easy to make and pure comfort food then this simple skillet pork chops with caramelized onion & bacon is for you!
For about two months now I've been closely following a ketogenic diet (read more in this low carb chocolate peanut butter fudge post), and really watching my carbs by trying to keep them between 20-50 grams a day AND I have been intermittent fasting.
It has been easy to stay within that carb range because I have eaten low carb for years.  I just don't eat many starchy foods or breads.
Most of my carbohydrates come from vegetables.  I eat salads every day.  What's different for me is that I cook with more fats and make sure I get a decent portion in every meal (butter, olive oil, coconut oil, avocado, heavy cream).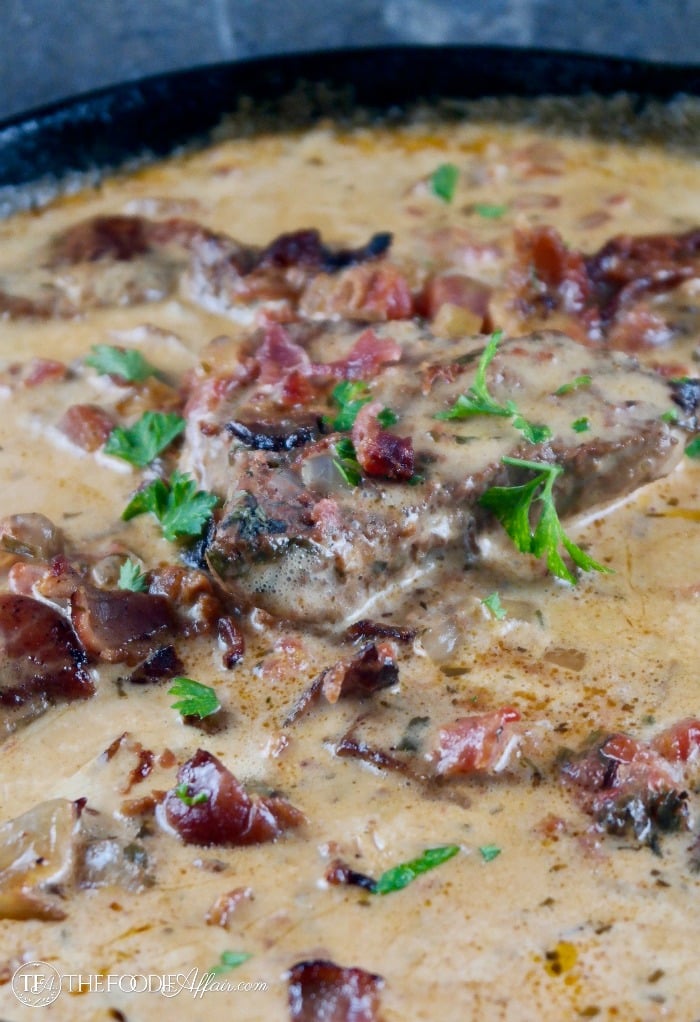 I've been on the low-fat everything trail since the 80's,
so it has taken me some time to grasp this Keto way of eating and I have to say I'm enjoying every bite and so is Alan!
My meals have consisted of lunch and dinner without any snacks.  It's awesome to not be hungry between meals and it's all because I have enough fat at each meal to keep me satisfied!
When you're satiated intermittent fasting is a breeze!
I eat my meals between noon and 7:00 pm, so my fasting is about 17 hours, which includes the hours I'm asleep.  It really doesn't feel like a fast, but what a difference it makes to the way my body uses energy!
The results of this new way of eating is a fat loss of about 12 pounds (in two months) with moderate exercise.  I'm full of energy and I'm eating delicious foods!  Just look at this meal!!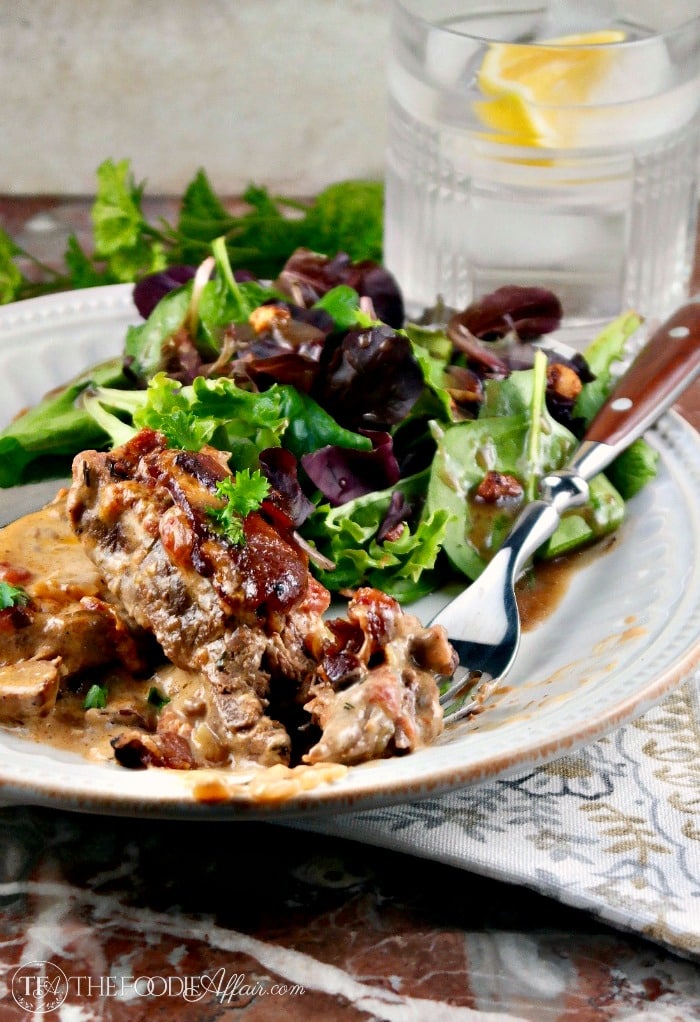 Simple Skillet Pork Chops with Caramelized Onions & Bacon
Author:
Sandra @ The Foodie Affair
Ingredients
4¾ - 1 inch boneless pork chops
4 slices bacon, diced
1 tablespoon butter
1 large onion, sliced
salt and pepper to taste
½ cup chicken broth
¼ cup heavy cream
1 teaspoon arrowroot and 1 tablespoon water
Instructions
In a large skillet cook bacon over medium-high heat until crispy. Remove bacon and set aside.
Add butter to bacon grease. Add sliced onions and season with a pinch of salt. Reduce heat to medium and stir onion until it is lightly browned and caramelized (10-15 minutes). Remove from skillet and set aside.
Season pork chops with salt and pepper on both sides. Return heat to medium-high and add pork to skillet and cook each side 2-3 minutes
In a small bowl whisk together arrowroot and water. Whisk in chicken broth and cream. Add to skillet with pork and scrape up and browned pieces stuck to the bottom of the skillet. Top pork with onion and bacon. Reduce heat to low and cook for 15-20 minutes uncovered or until the internal temperature reaches 145 degrees
For two weeks I followed a low-carb eating plan by
Diet Doctor
, which is where I found this recipe. This is too good not to share.  I'm happy with the way my clothes fit, so I plan on working on a maintenance plan.  Stay tuned and enjoy this dish!