This homemade elderberry syrup recipe is easy to make, giving you an all-natural way to boost your immune system to help the body fight cold and flu symptoms.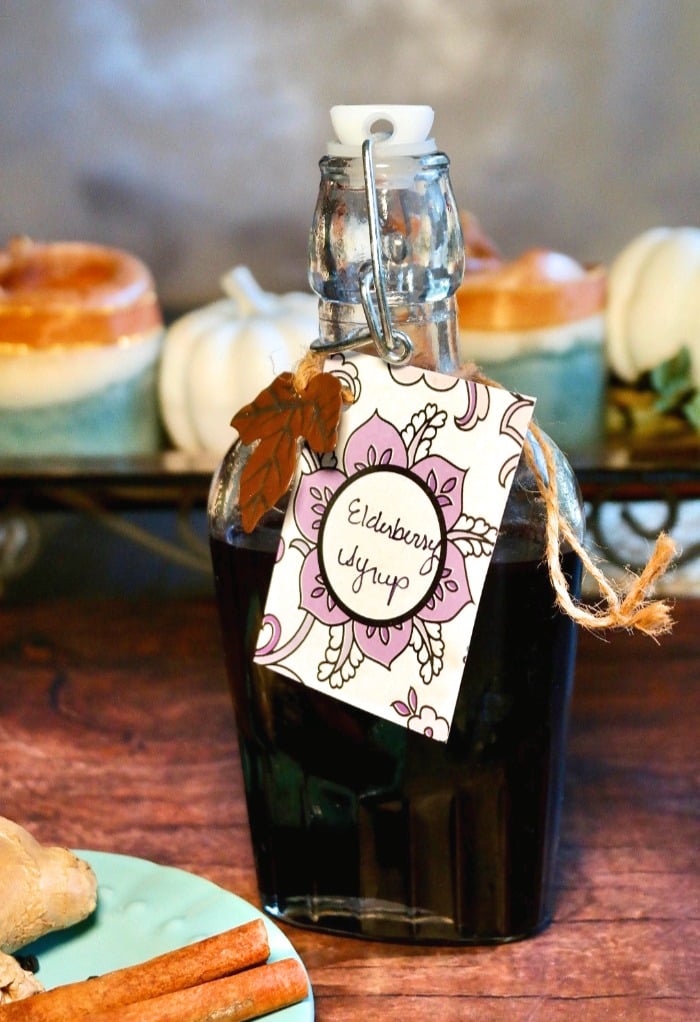 Elderberry Syrup Recipe
Not only is is a festive time of year to gather around the table and enjoy time with family and friends. This is also the time of year that we battle the cold and flu season.
Although flu shots are recommended, I have found that sometimes they work and other times it doesn't.
So I try to give my immune system a boost by being diligent in washing my hands often, and covering my face when I cough or sneeze.
In addition, this year I added a new task to my routine, which includes taking a tablespoon of elderberry syrup every day this fall and winter season.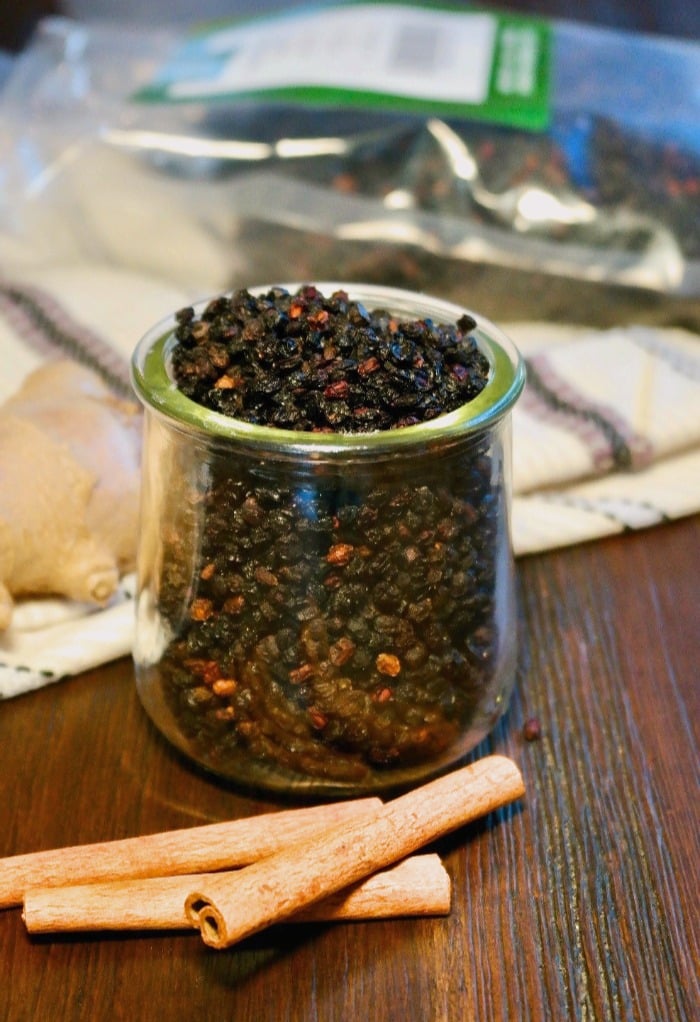 What are elderberries?
Elderberries are the dark purple fruit of the flowering plant that produce rich antioxidant properties that can help boost nutrients in our bodies.
In their natural state (don't eat raw), the berries taste tart and bitter, but cooked with a little sweetener it's quite delicious!
There are a variety of elderberry bushes, but most common are the the European Elder (Sambucus) and the the American Elderberry (Sambucus canadensis).
Both varieties have been used for centuries as a medicinal wine, tea, syrups and jams.
Elderberries provide the following nutrients:
Based on 1 cup you'll see that elderberries are loaded with Vitamin C.
Vitamin C: 87% Recommended Dietary Allowance
Vitamin A: 17% RDA – good to improve our skin
Vitamin B6: 17% RDA – supports liver function and metabolism
Iron: 13% RDA – supports vital functions, including boosting immune
Potassium: 12% RDA – essential for brain function, benefits the nervous system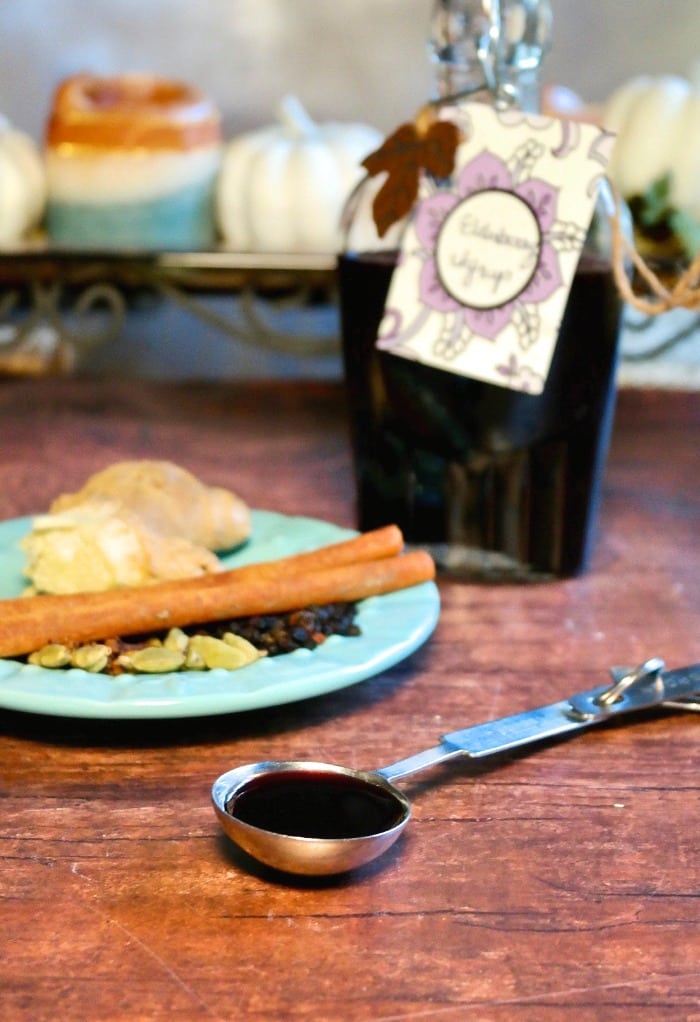 Homemade Elderberry Syrup
Purchasing the syrup can be pricy. Online I bought a small 1 ounce dropper of elderberry syrup when I was feeling under the weather, and that set me back $15.
That's when I decided to make my own syrup, which is much more economical than purchasing it from a store.
I bought organic dried elderberries from Monterey Spice Company, but you can also find them through Amazon.
A whole pound cost under $20 and you only need about 1/4 – 1/3 cup to make two cups of syrup. Talk about an economical immune booster!
How To Make Elderberry Syrup
Add berries to 4 cups of distilled or filtered water in a small sauce pan, and let soak for thirty minutes
Add additional spices; cinnamon, ginger, cloves, cardamon
Simmer for several hours or until the syrup is reduced to 2 cups
Remove from heat and strain
Add raw honey (to taste)
Cool and place in airtight jars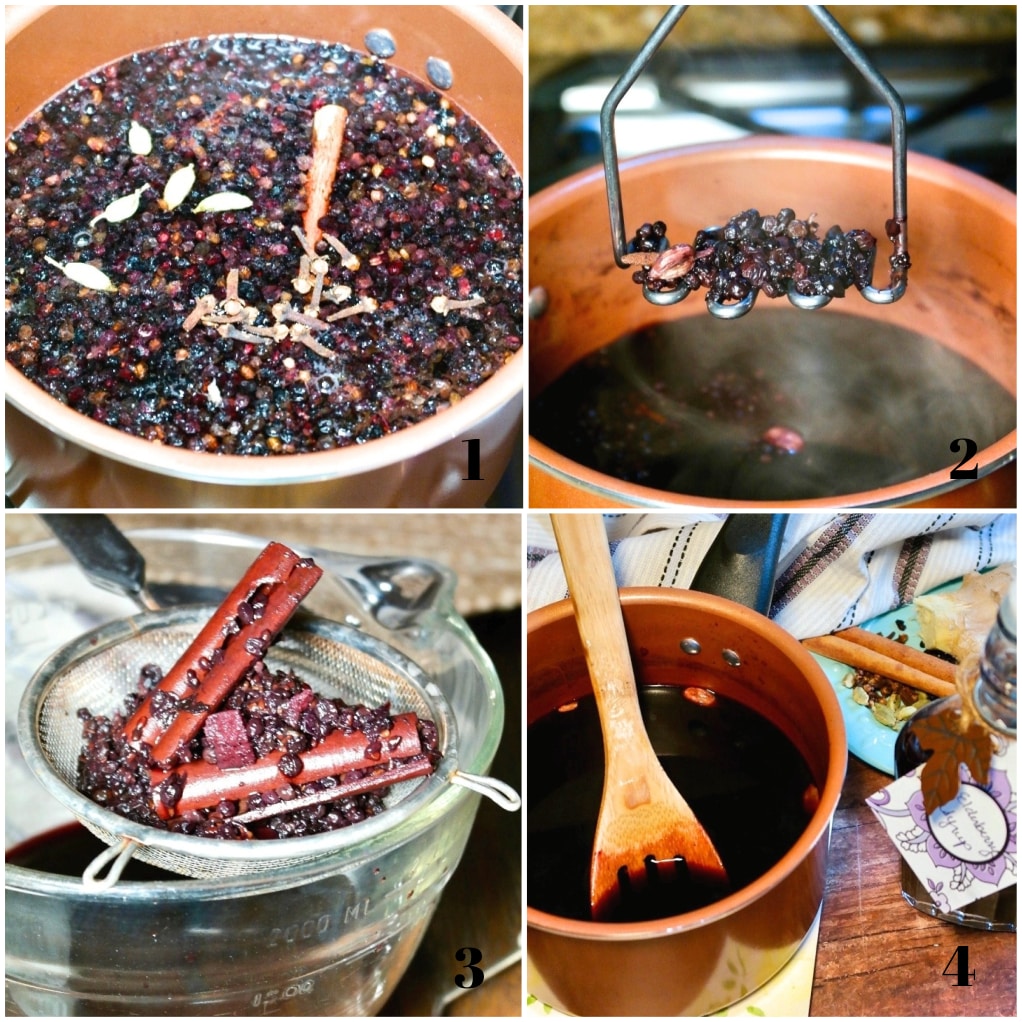 Elderberry Syrup Dosage
Please check with your physician for individual circumstance, but generally, these guidelines from the Franklin Institute of Wellness are safe to follow:
Adults take 1 tablespoon daily.
Children take 1 teaspoon daily (NOT recommended for children under 2)
Feeling under the weather?
Adults take 1 tablespoon every 3-4 hours
Children take 1 teaspoon every 3-4 hours
NOT recommended to exceed 6 dosage. Elderberries are also a mild diuretic, which may cause side effects.
Be well friends!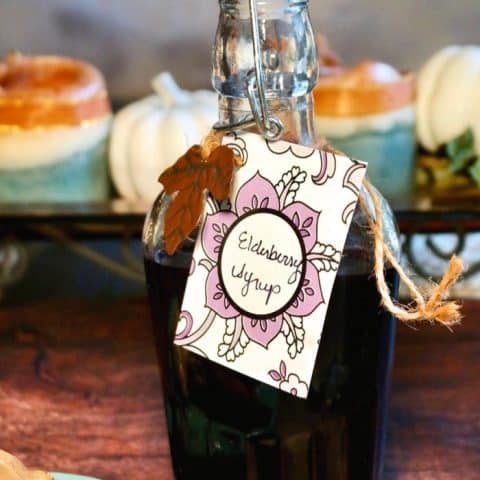 Elderberry Syrup Recipe | Simple Natural Immune Booster
This homemade elderberry syrup recipe is an easy to make, giving you an all-natural way to boost your immune system to help the body fight cold and flu symptoms.
Ingredients
4 cups distilled or filtered water
1/4 cup dried elderberries with twigs removed
1 teaspoon whole cloves
1 cinnamon stick
6 cardamon pods
1/4 inch knob of fresh ginger, diced
1/4 - 1/2 cup raw honey OR sweetener alternative for sugar free syrup
Instructions
Add water to a small sauce pan and place elderberries in the pan to soak for 15-30 minutes. Add cloves, cinnamon, cardamon and ginger. Bring to a soft boil and reduce heat to simmer.
Simmer for a minimum of 45 minutes or until liquid is reduced to half (2 cups). With a potato masher squish berries removing as much juice as possible.
Place a strainer over a clean bowl and pour syrup catching berries and spices. Throw away berries and spices.
Place syrup back in the pan and add honey (or sugar alternative). Stir and let cool at room temperature. Place in glass jars and store in the refrigerator.
Notes
DO NOT consume uncooked elderberries or twigs.
This recipe is based on my own experience with elderberry syrup and is NOT medical advice. Please consult a professional for your individual circumstance.
Nutrition Information:
Yield:

32
Serving Size:

1 tablespoon
Amount Per Serving:
Calories:

6
Total Fat:

0g
Saturated Fat:

0g
Trans Fat:

0g
Unsaturated Fat:

0g
Cholesterol:

0mg
Sodium:

6mg
Carbohydrates:

1g
Fiber:

0g
Sugar:

1g
Protein:

0g
Please note that the nutritional information provided are guidelines and may vary based on the brand of products used. For your specific nutritional goals use My Fitness Pal or Verywell Fit recipe calculators. All content within this site is not intended as medical diagnosis or treatment and should not be considered a substitute for professional medical expertise.