This sweet and spicy pork skillet dish with chunks of pineapple is an easy recipe that can be on your table in 30 minutes!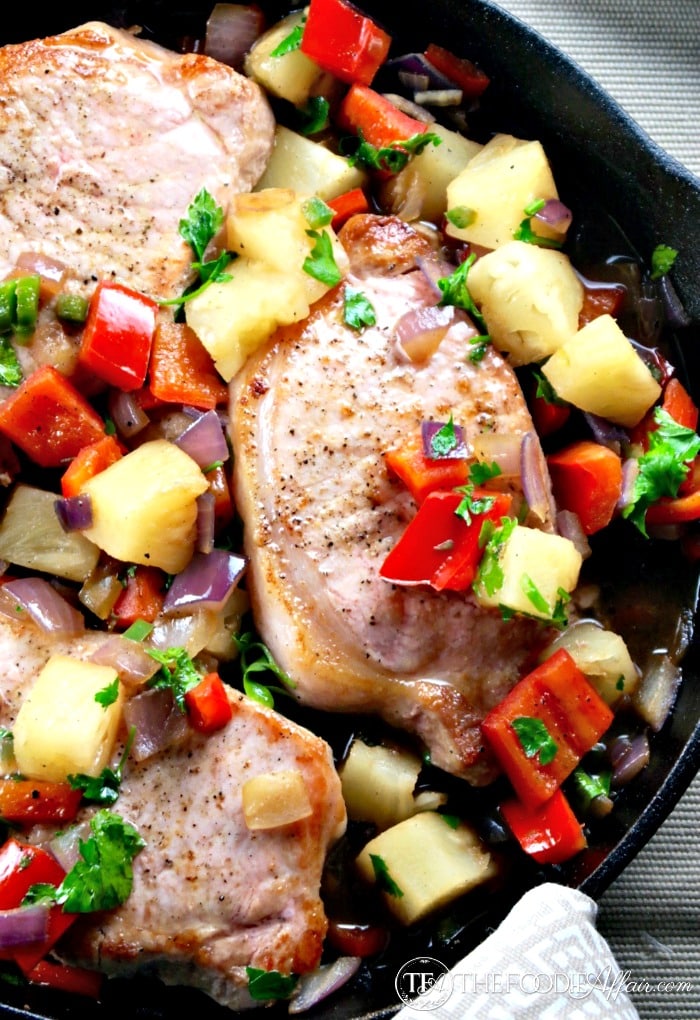 Sweet and Spicy Pork
Ready for a tasty dish that can be quickly prepared? Well, I'm always on the hunt for more casseroles, one-pot or skillet meals like this easy sweet and spicy pork dish to make mid-week!
This skillet meal is made with simple and fresh ingredients that tastes great, is WAAAY better than ordering out, and quite nutritious too!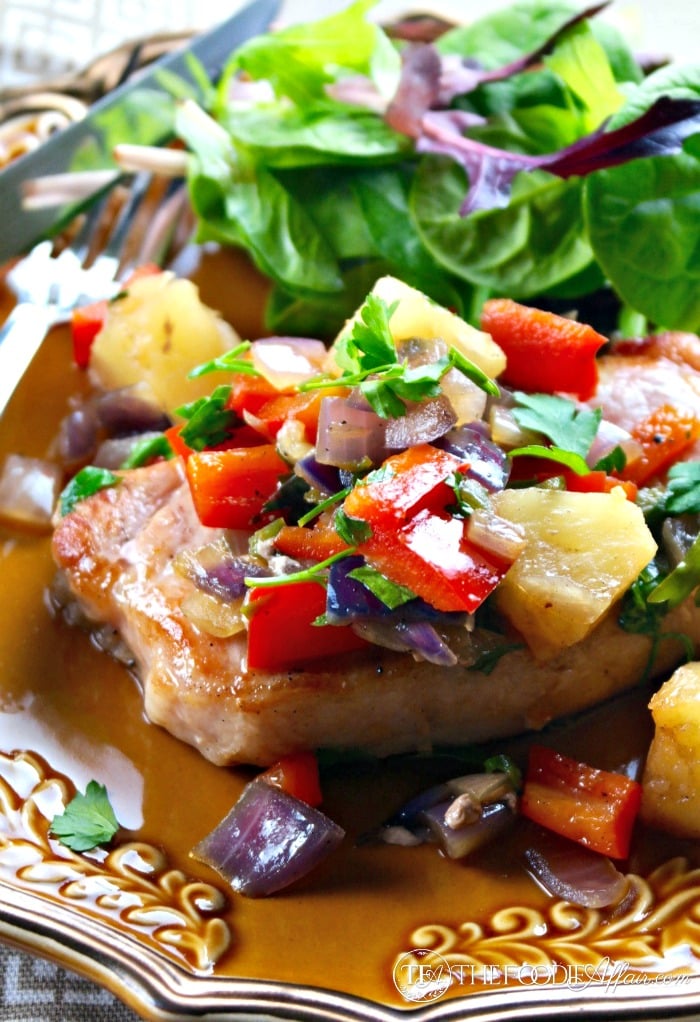 Simple pork chop recipe
I have a couple of Rachael Ray's cookbooks and each one has sticky notes sticking out of it marking the recipes that I've cooked or have caught my eye while flipping through the book. I love the way she writes her recipes with guidance like "eyeball it" or "pour EVOO (extra-virgin olive oil) twice around the pan!"
Now those wing-it instructions are what REAL cooking is all about! She gives the reader the basics and encourages us to adjust the seasoning and ingredients to what we like!
It's the way I cook when I'm not writing down instructions for the blog!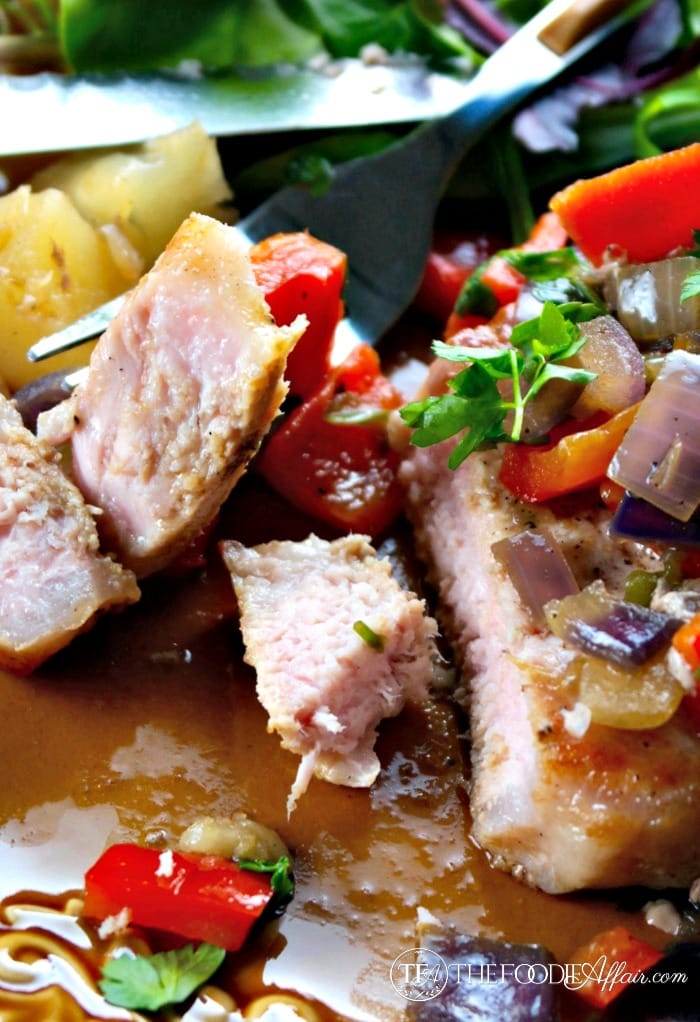 Pork the other white meat
I like to make this colorful Sweet and Spicy Pineapple Pork skillet meal when we are all "chickened-out" and have had enough poultry for a few weeks! Rachel created this recipe to suit my tastebuds perfectly, but if you want more heat then add an extra few slices of jalapeños. Prefer more pineapple? Add it!
This dish takes no time to cook and is pretty enough to share with guests!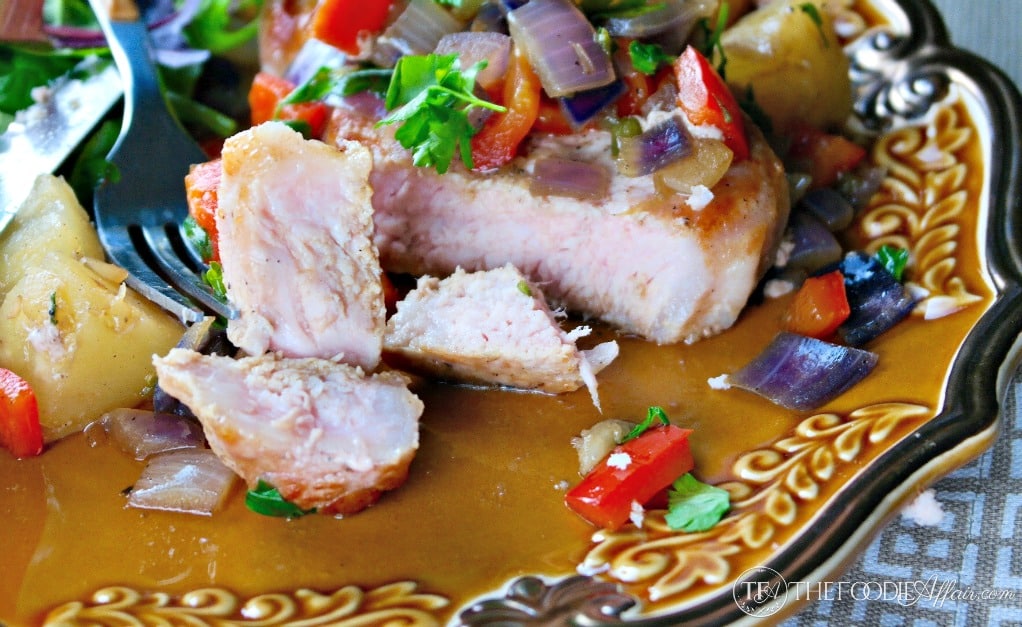 Other pork recipes to try!
Looking for more pork recipes?  Give these a try:
Yield: 4
Sweet and Spicy Pineapple Pork
Ingredients
3 tablespoons olive oil, divided
4 1-1/2 inch thick boneless center-cut pork chops
1 large red onion, diced
salt and pepper
3 garlic cloves, chopped
1 red bell pepper, diced
1 jalapeño pepper, seeded and diced
1 8-ounce can pineapple chunks in juice
1/2 cup chicken stock
parsley leaves for garnish
Instructions
Preheat oven to 375 degrees.
Heat a large skillet with olive oil over medium-high heat. Generously season pork chops with salt and pepper and add to skillet and sear for 2 minutes on each side. Remove pork and place on a baking dish and put in the oven for 8-10 minutes.
While pork is cooking. Add 1 tablespoon of olive oil to the skillet. cook onions, garlic, bell peppers, jalapeños and season with salt and pepper. Cook until the vegetables soften (3-4 minutes). Add the pineapple with the juice and chicken stock. Place pork back in the skillet with the vegetables and pineapple and cook for about 3 minutes. Garnish with parsley and serve.



Sweet and spicy pork recipe credit: 365: No Repeats, Rachael Ray, 2005