Sweet Potato Muffins with a cinnamon crunch topping!
These flavorful light and airy muffins are made with whole wheat pastry flour and leftover mashed sweet potatoes from Thanksgiving.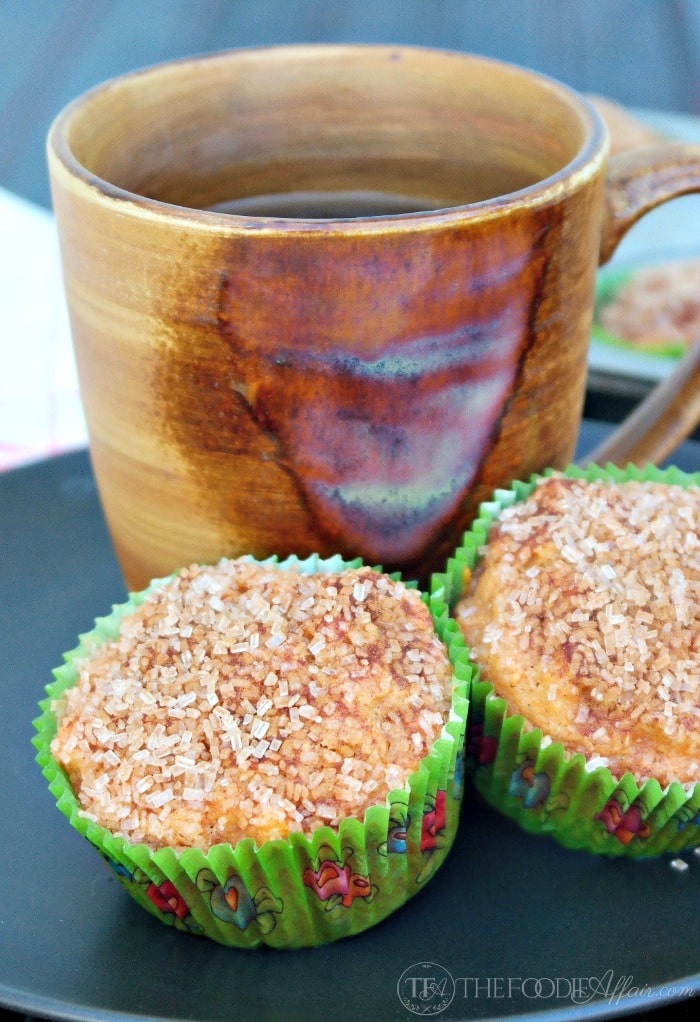 Are you still in your Thanksgiving food coma from enjoying all the delicious dishes you prepared for Thanksgiving? I was battling a nasty cold and got off easy this year. Thankfully, my mom hosted our dinner and prepared the bird and lots of sides.
My contribution was this Cranberry Jalapeño Salsa appetizer, the ingredients to make these Apple Cider Margaritas, and this Sweet Potato Casserole because no matter how much food we have, Thanksgiving is not complete without mom Karen's casserole!
Does your family have a recipe that you cook year after year?  Everyone loves sweet potato casserole, especially when it's loaded with that crumbly topping.
I always roast a few extra potatoes to have on hand when I make that casserole and use the pulp in new recipes his time of year.
Last Thanksgiving break I made Sweet Potato Gnocchi, which is making me salivate as I think about each bite that practically melts in your mouth, but this year I wanted something for brunch and made muffins!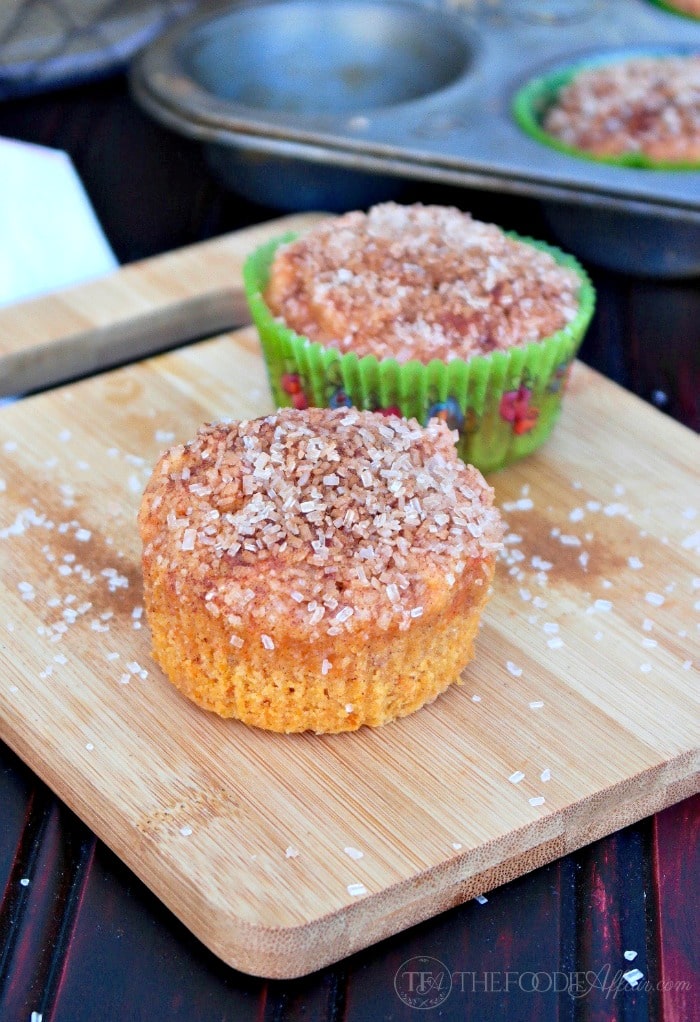 These muffins are not too sweet even though the cinnamon sugar topping might make you think otherwise. I used Wilton's White Sugar Crystal Sprinkles that I had stashed in my baking supplies, but you can substitute granulated sugar which will melt forming a thin layer of crunch on top of the muffins.
The difference is that the extra large sugar crystals won't melt when baked, so you get a decorative finished look that's edible!
I've also been using whole wheat pastry flour in my baking. I love that I can incorporate whole wheat flour in my baked goods with tender and fluffy results. Enjoy these Sweet Potato Muffins with a warm beverage for brunch or an afternoon snack. These also make a great gift if you like to give food treats during the holidays.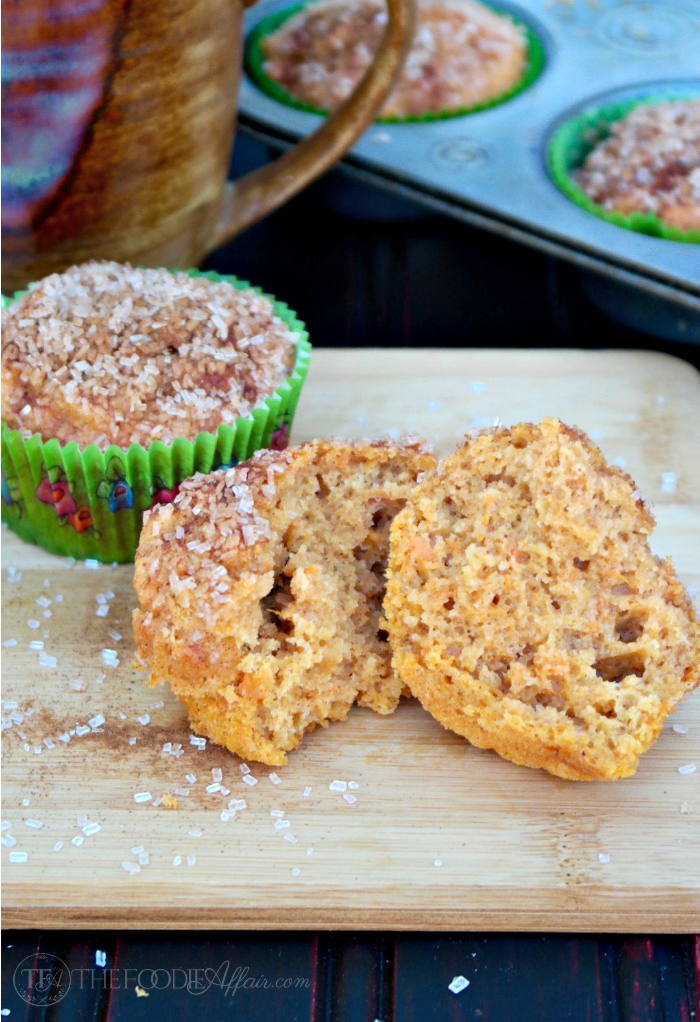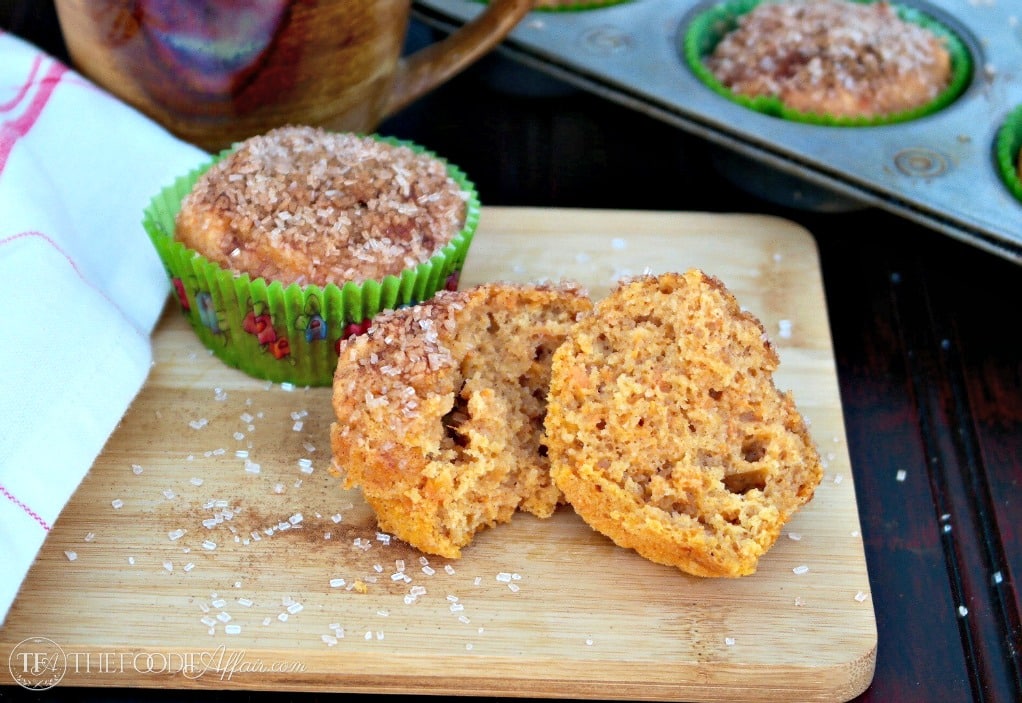 Yield: 12
Cinnamon-Crunch Sweet Potato Muffins
Prep Time 10 minutes

Cook Time 20 minutes

Total Time 30 minutes
Ingredients
1 3/4 cups sweet potatoes, mashed
1 3/4 cups whole wheat pastry flour
1 teaspoon pumpkin pie spice
2 teaspoons baking powder
1/2 teaspoon kosher salt
2 eggs
1/2 cup brown sugar
1/2 cup canola oil
1/2 cup milk
zest from 1 orange
TOPPING
3 tablespoons white sugar crystals
1 teaspoon ground cinnamon
Instructions
Preheat oven to 400 degrees. Spray muffin liners with non-stick cooking spray and set aside. Combine sugar and cinnamon together in a small bowl and set aside.
In a medium bowl whisk together flour, pumpkin pie spice, baking powder and salt.
In a separate large bowl whisk together the eggs, brown sugar, oil, milk and orange zest. Add sweet potatoes to the liquid mix and whisk until well blended. Add the flour mixture and stir until ingredients are moistened. It's ok if the batter is a little lumpy. Fill the muffin liners with batter three fourths full. Sprinkle about 1/2 teaspoon of sugar/cinnamon mix on each muffin. Bake for 20 minutes or until the muffins are set and a toothpick inserted into the center comes out clean. Transfer to a wire rack and let cool.


Recipe adapted from Williams-Sonoma