Craving banana muffins, but don't want to tempt yourself with a dozen muffins? Give these healthy banana muffins a try! 7 delicious tender gluten-free and low carb banana muffins are enough for a whole week, just for YOU!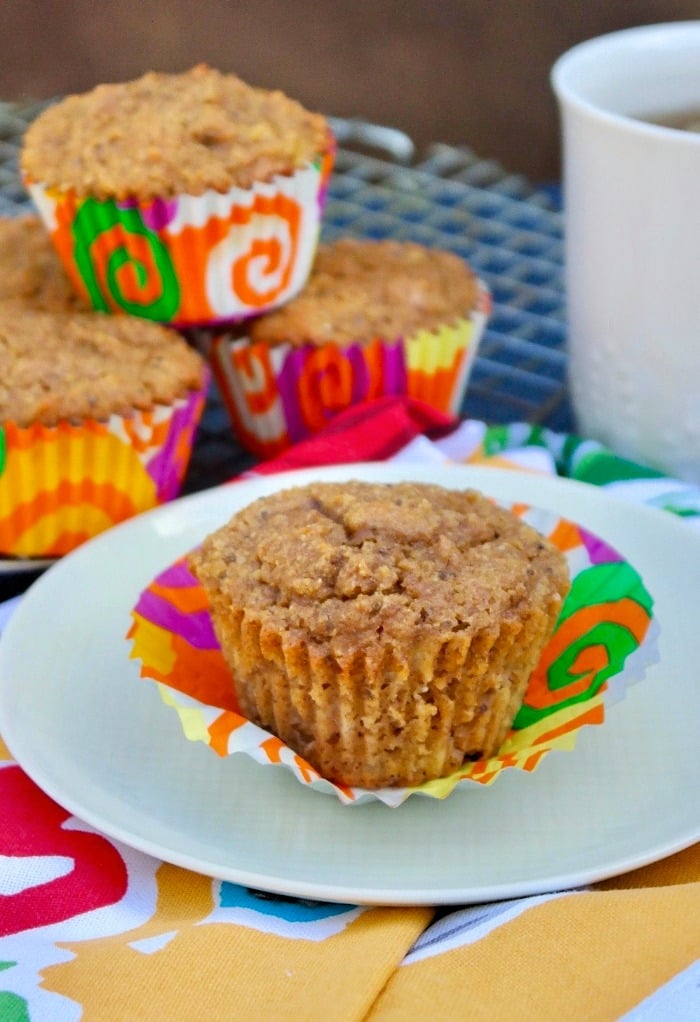 Healthy Banana Muffins
After learning that bananas are on the high-carb list measuring in at 27 grams for a medium-sized 'nana, I started to cut them out of my diet completely or add half when putting them in smoothies.
It's hard to cut fruits out that you like, especially when they have other health benefits like providing a good dose of potassium (487 mg), but as long as we are flexible, modifying recipes is the way to go when following a low carb diet.
For this recipe I used one large banana and a scoop of banana powder, which is 100% natural bananas freeze dried and turned into a powder.  This is an amazing low carb hack (1 scoop 7 calories and 2 carbs)!
I probably could have completely left out the fresh banana, but I didn't for this recipe.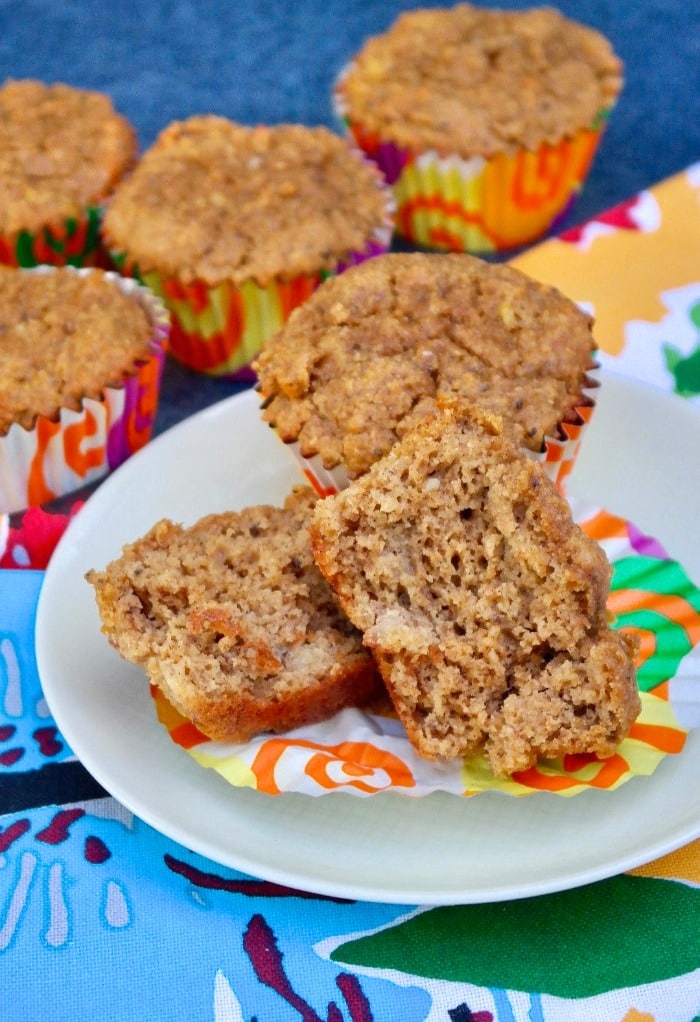 Gluten free banana muffins made with a low carb baking mix
In order to make low carb muffins you need to remove the flour base from the ingredient list.  That's the tricky part of turning some of your yummy baked food recipes into a low carb favorite.
For these zucchini protein muffins whey protein with whole wheat pastry flour was incorporated in the recipe with great results, but there is room to lower the carb count.
My sugar free pumpkin bread is one of my favorite quick bread with a combination of almond and coconut flour.  Delicious, but the batter is too heavy for muffins.
Next, comes another option, oat fiber!  I've used oat fiber is small amounts in this low carb waffle recipe and these low carb pumpkin spice bagels.
I searched high and low in the low carb community for a nut free flour option too. Can we possibly find a low carb AND nut free baking option?  The answer is YES!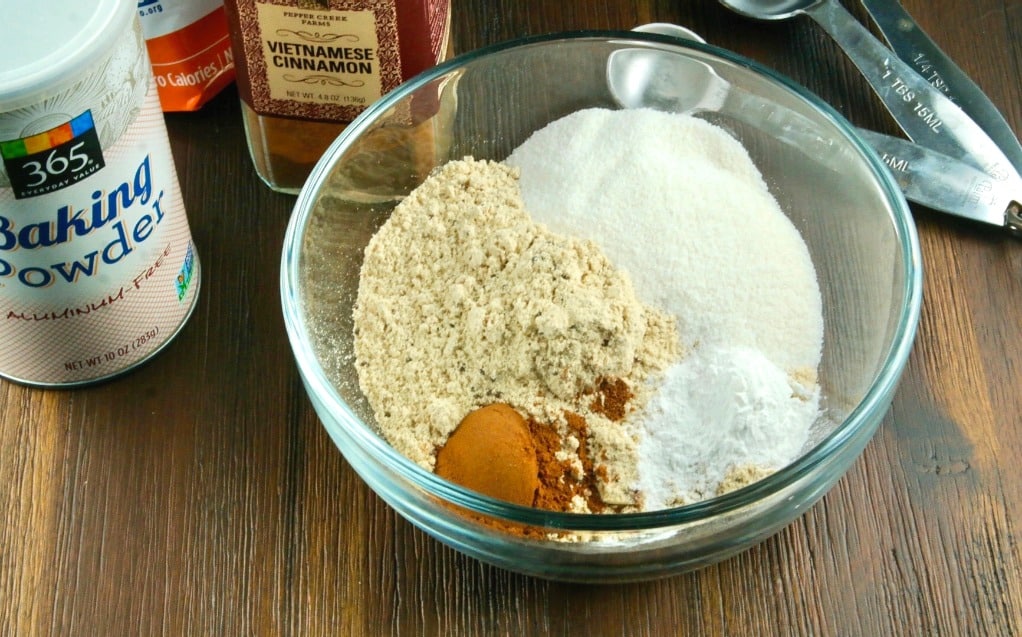 Healthy banana muffin recipe
There is another whole healthy eating community that I'm just discovering (always late to the party!).  Trim Healthy Mama has marketed a low carb baking blend and as you can imagine there are several DIY hacks online.
For this recipe I used Briana's Baking Mix. No Almond flour in this batch, so yay, we have another baking mix option!
The flour combination is so awesome together.  I halved the ingredients to sample and modified by reducing the coconut flour and oat fiber. Note that you will only need 2/3 cup for this small batch healthy banana muffin recipe.
3/4 cup oat fiber (NOT oat flour)
1 cup coconut flour
1/2 cup whey protein powder (unflavored)
1 cup golden flaxseed meal (I used a flaxseed & chia seed mix)
1 1/2 teaspoon xanthan gum or glucomannan powder
1/4 cup baking mix is 3.34 Net grams of carbohydrates.
The remaining flour should be stored in an airtight container for another use or how about making another batch of healthy banana muffins for the following week 😉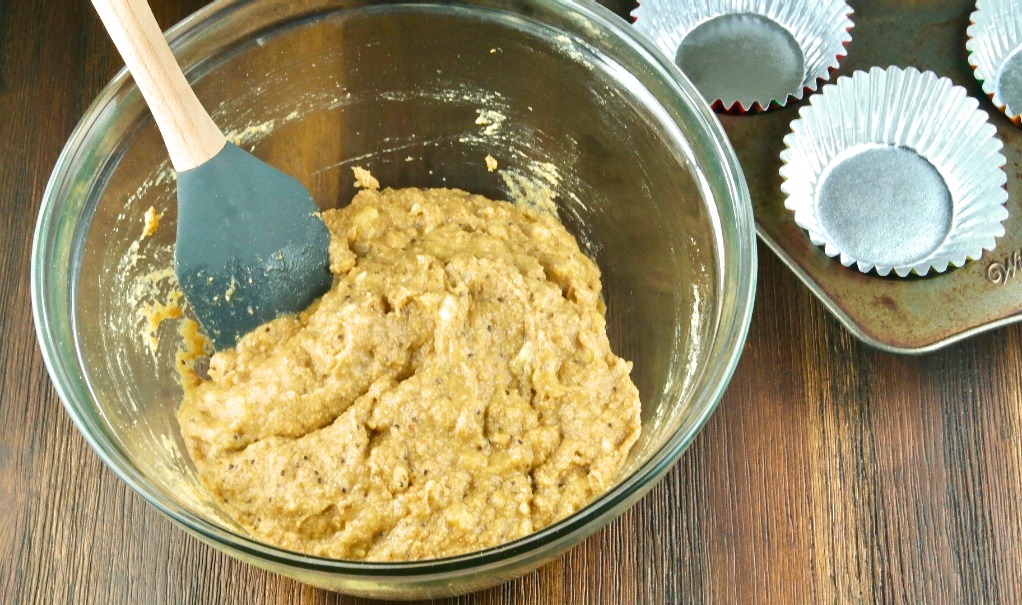 As I mentioned earlier, this recipe requires only one banana.  I used banana powder for more flavor, but you can leave it out and add banana extract if you would like.
The fresh banana is mashed and then mixed with three eggs and 1/4 cup of melted and cooled butter.
Gently (just until incorporated) mix the dry and wet ingredients together and you have low carb banana muffin batter!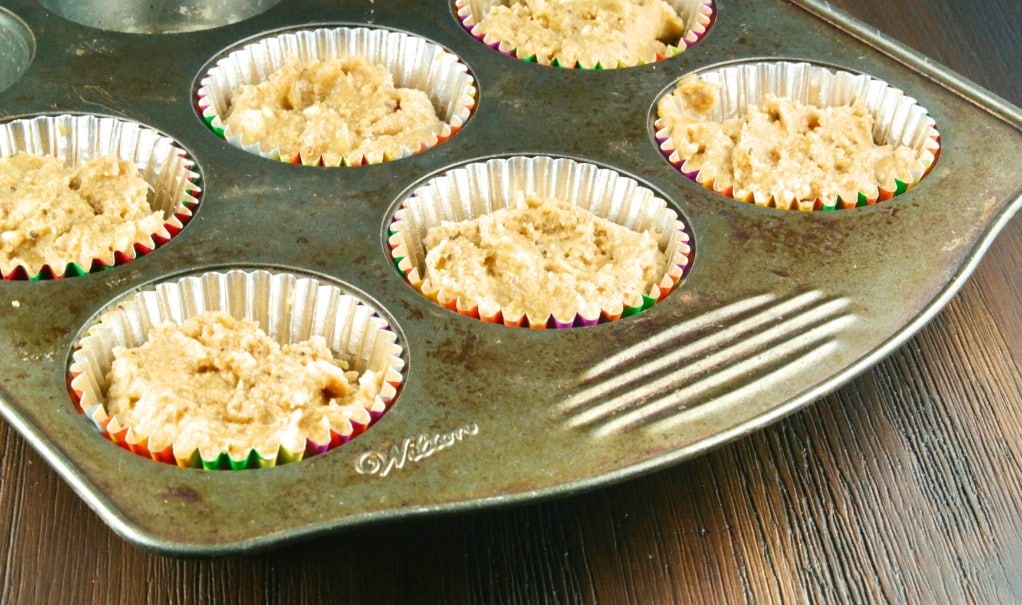 Small batch banana muffin recipe
This recipe makes 7 muffins – one for each day of the week just for YOU!  Yes, go ahead and treat just yourself, ok?
Looking for more small batch muffins?  Check out these recipes:
Small Batch Lemon Vanilla Crumb Muffins –  For low carb modification replace flour with baking mix and use sugar free sweetener.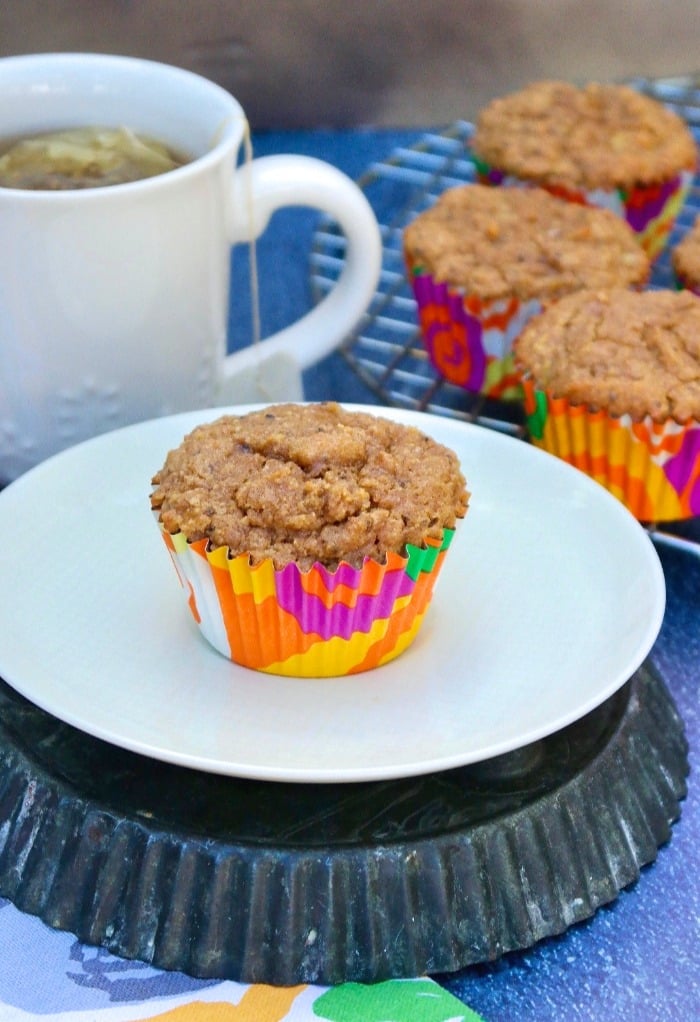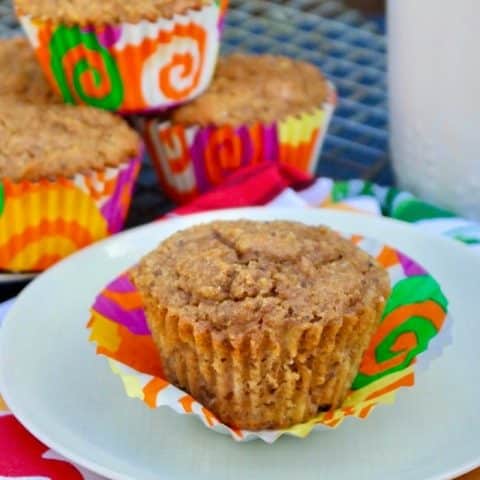 Healthy Banana Muffins | Small Batch Recipe
This banana muffin recipe is perfect when you want to enjoy a treat without a lot of leftovers. Tender, low carb and gluten free muffins are a delicious way to start the day!
Ingredients
2/3 cup low carb baking mix
1/4 cup stevia/erythritol sweetener blend
1 teaspoon baking powder
1 teaspoon cinnamon 
1 teaspoon banana powder (optional) 
3 large eggs
1/4 cup melted butter, unsalted and cooled
1/4 cup heavy cream 
1 large very ripe banana
1 teaspoon vanilla
Instructions
Preheat oven to 325 degrees.
In a medium bowl whisk together baking mix, sweetener, baking powder, cinnamon and banana powder (optional).
In a separate bowl mash banana with a fork, and then add eggs, butter, cream, and vanilla. Mix until well combined.
Gently fold wet and dry ingredients together until incorporated. Do not over mix.
Place batter in muffin liners and bake for 20-25 minutes.
Notes
Important Note: Oat fiber isn't the same as oat flour, and you need to look at the brand to ensure it is a gluten-free fiber if you are on a strict gluten free diet.
Fiber and coconut flour soaks up the liquids, so depending on the brand you use, you may need to adjust the ingredients as you see fit. If the dough is too dry, then add another tablespoon of cream. Too wet? Add a tablespoon of baking mix.
Keep in an airtight container for one week.
Nutritional analysis will vary dependent on the ingredients you use. The carb count is an estimate, please calculate your own ingredients for exact macros.
Nutrition Information:
Yield:

7
Serving Size:

1
Amount Per Serving:
Calories:

188
Total Fat:

14g
Saturated Fat:

7g
Trans Fat:

0g
Carbohydrates:

5.2g
Protein:

4g
Please note that the nutritional information provided are guidelines and may vary based on the brand of products used. For your specific nutritional goals use My Fitness Pal or Verywell Fit recipe calculators. All content within this site is not intended as medical diagnosis or treatment and should not be considered a substitute for professional medical expertise.