Red Velvet Cake with a creamy layer of cheesecake! Decadent and perfect for any celebration!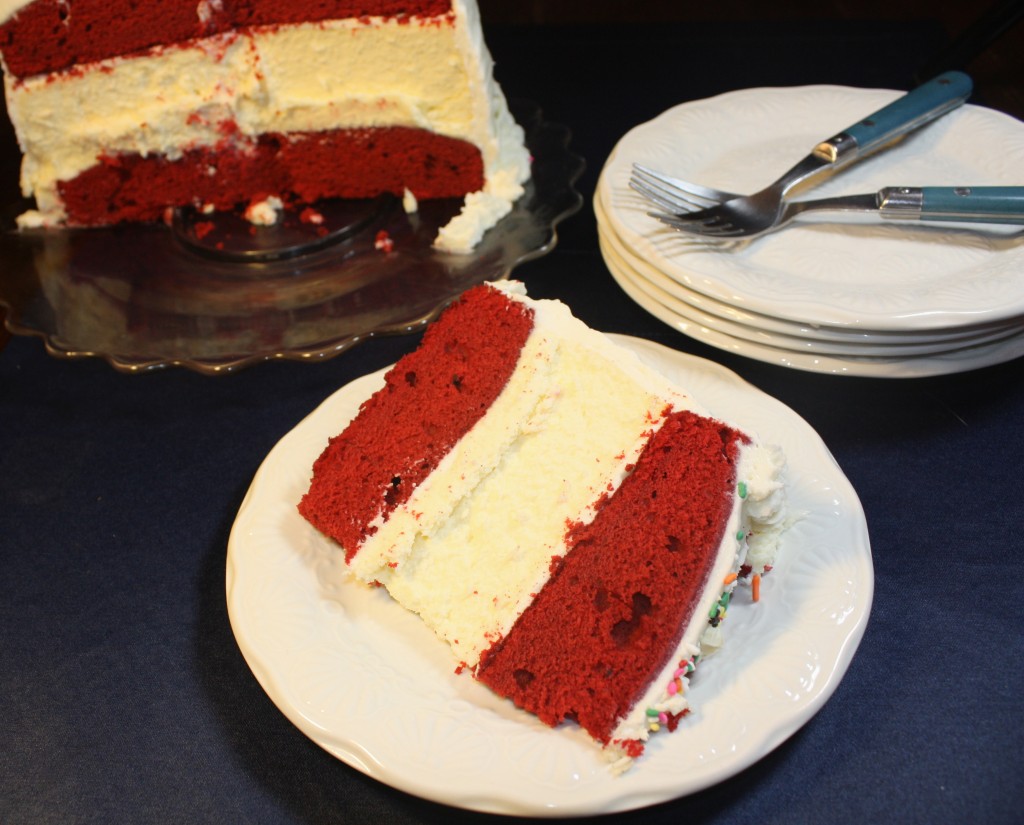 We celebrated my son's 19th birthday last week, and when I asked him what kind of a cake he wanted this year, he said "Red velvet with a layer of chocolate cake!" That's completely doable, but I kind of hemmed and hawed, and tried to talk him out of the red velvet part.
No.4, red dye is not so good for us, besides that fact, do you know how totally messy it is to work with red food coloring?!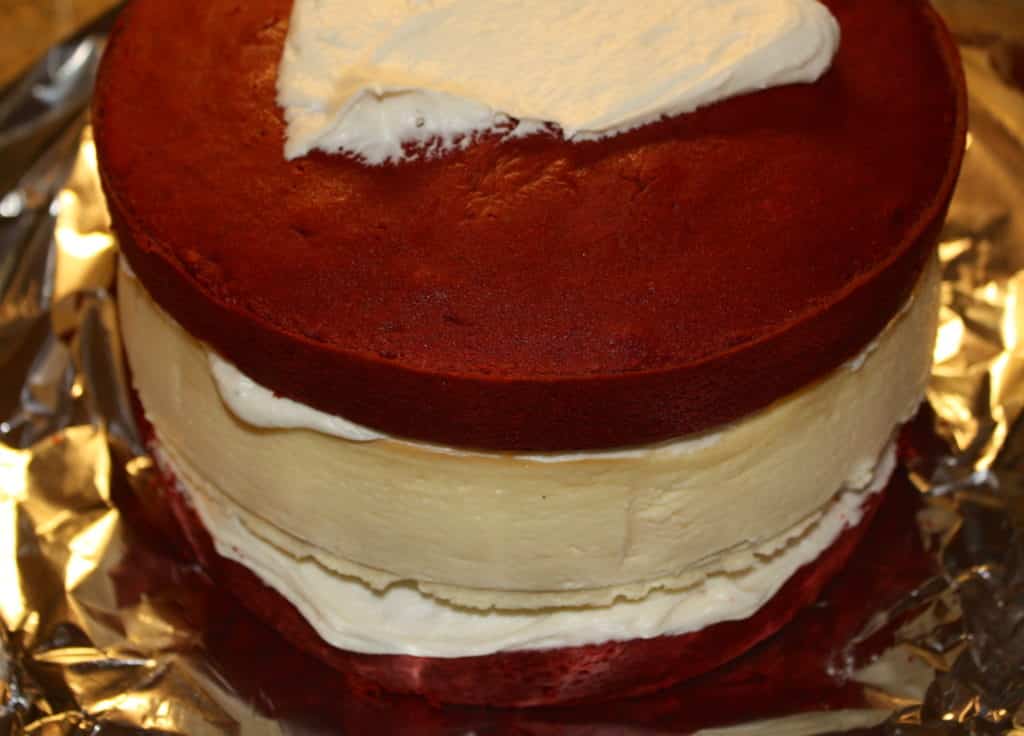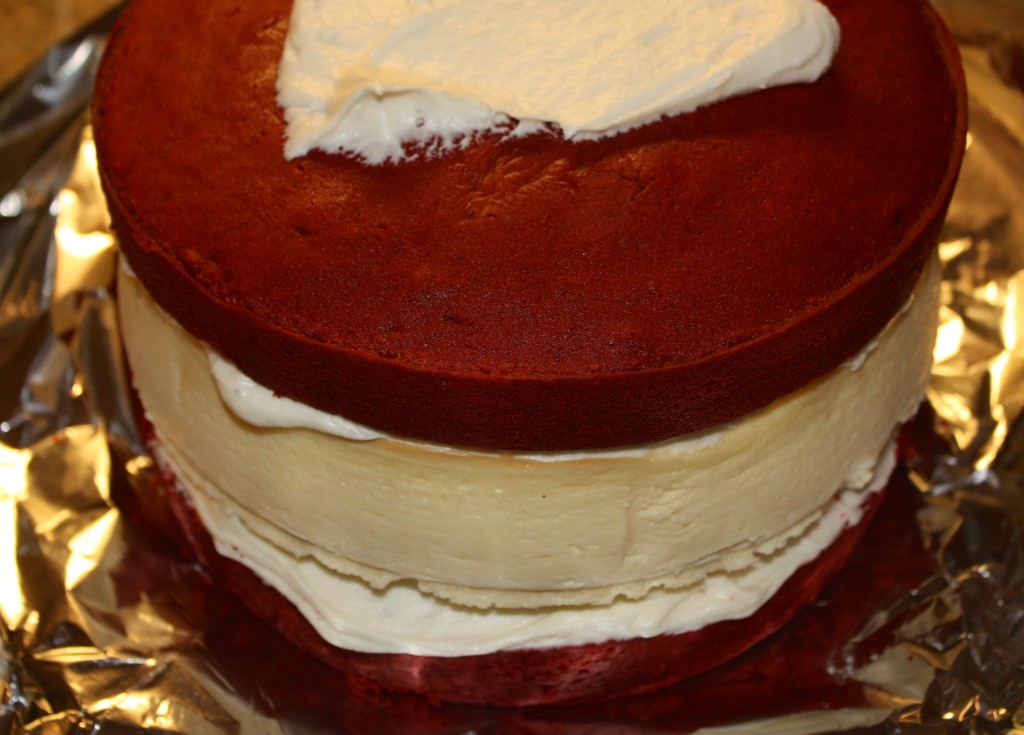 I always feel like I should prepare my work space as if I was going to paint the walls because one little speck of dye can ruin dishtowels, stain a counter top, and bleed into little crevasse that you never knew existed! I didn't complain of all those things, I just told him how icky red dye is for you, and THEN somehow got side tracked into telling him that his dad and I shared a piece of red velvet cake at The Cheesecake Factory with his sister, and it was layered with…..yep, CHEESECAKE! What a double whammy decadent duo!!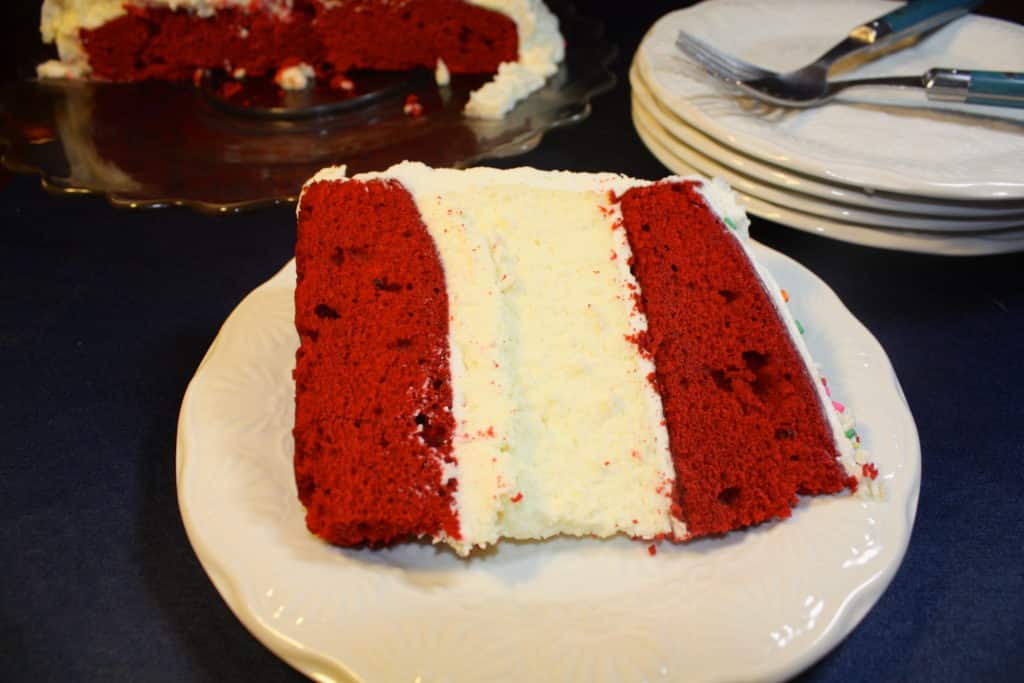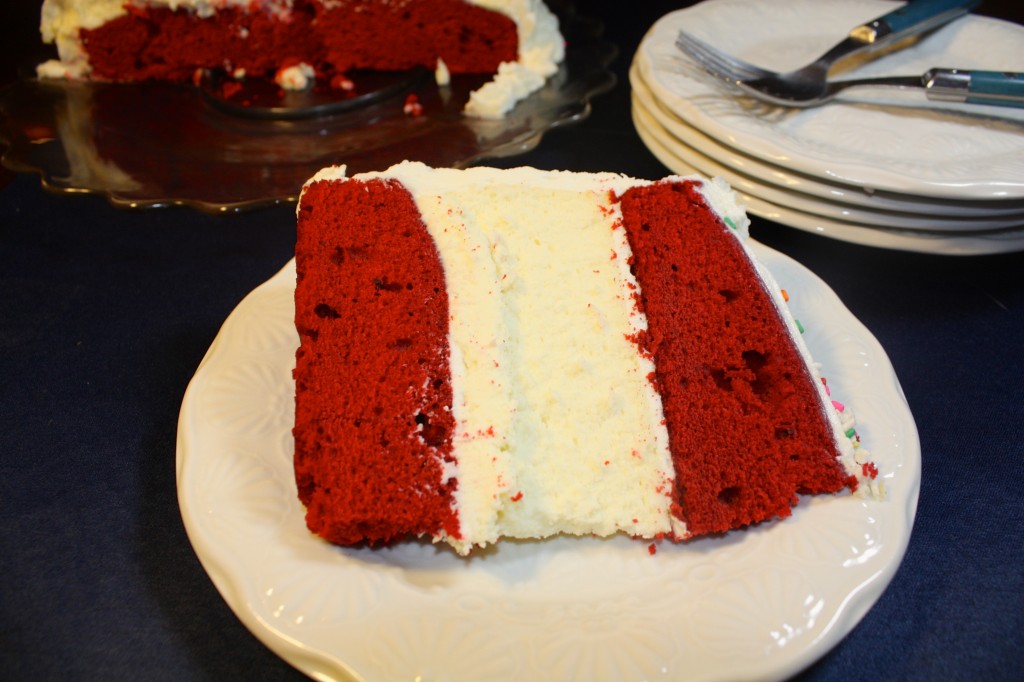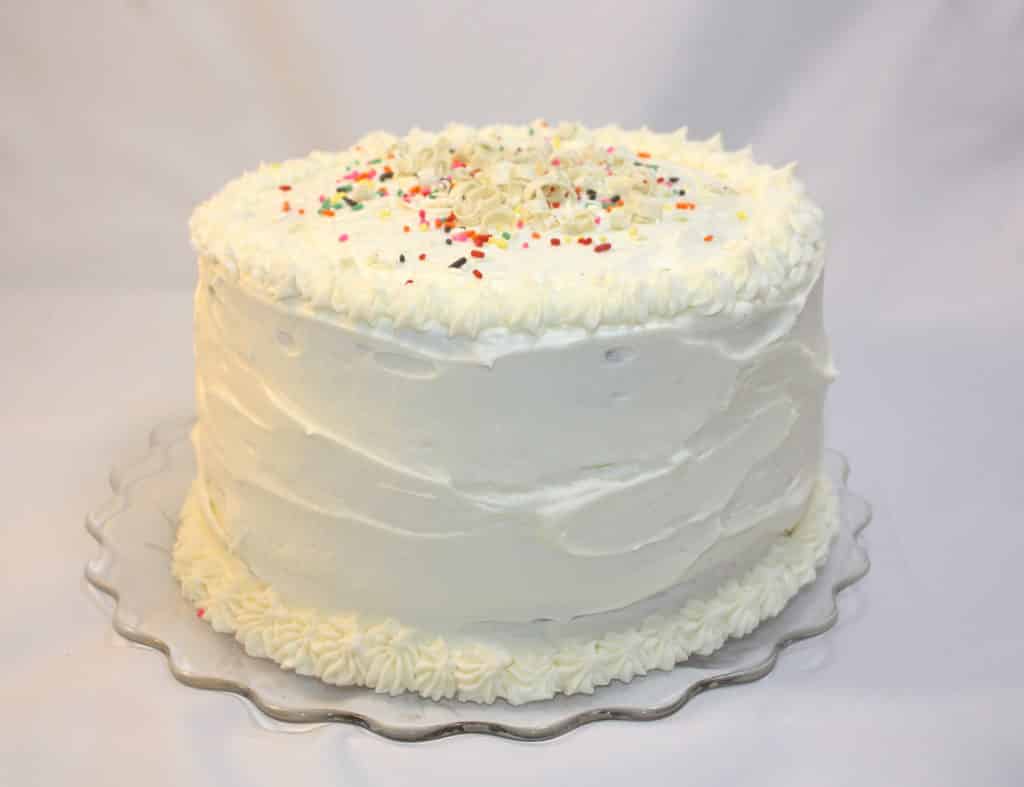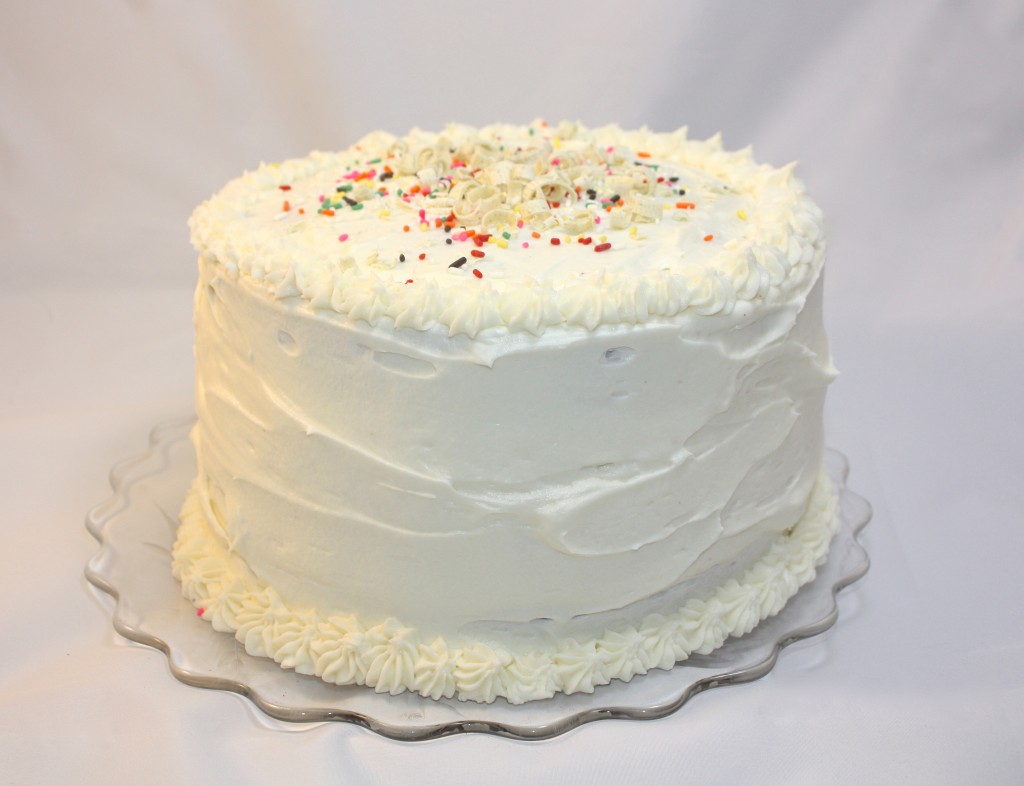 There is something magical about red velvet cake, don't you think? Adding cheesecake takes it to a whole other fabulous level! A celebratory special cake indeed!
This isn't a hard cake to make, it just takes time. I baked both cakes one evening, and then put it together the next day after the cheesecake had time to get nice and firm.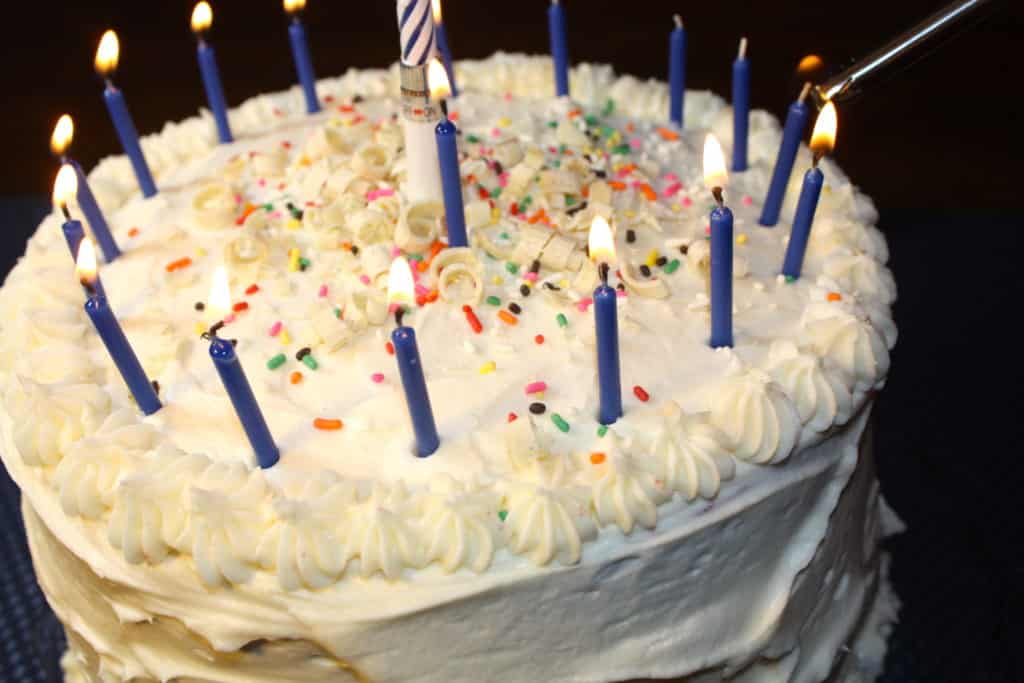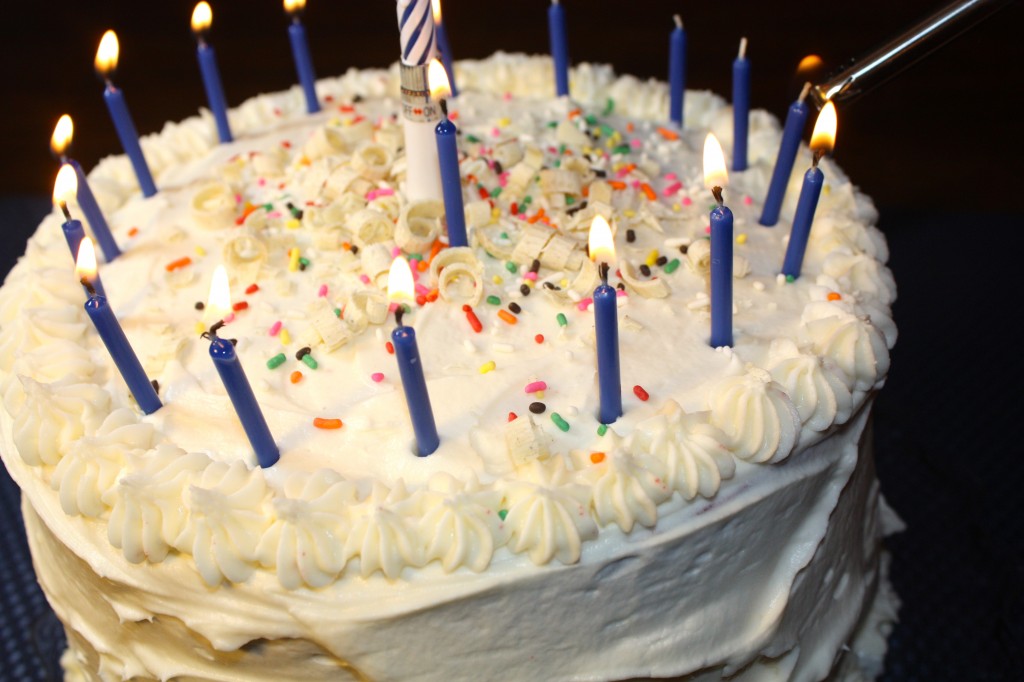 Yield: 12
Red Velvet Cheesecake
Decadent red velvet cake with a creamy cheesecake layer. This cake is perfect for any celebration!

Prep Time 1 hour

Cook Time 1 hour 20 minutes

Total Time 2 hours 20 minutes
Ingredients
Cheesecake
32 ounces cream cheese, room temperature
1 cup granulated sugar
4 large eggs, room temperature
3/4 cup sour cream, room temperature
1 tablespoon vanilla extract
Red Velvet Cake
2 1/2 cups cake flour
1 teaspoon baking soda
1 teaspoon salt
1/4 cup plus 2 tablespoons unsweetened cocoa powder
1 cup butter, unsalted and at room temperature
1 1/2 cups granulated sugar
2 large eggs
1 cup buttermilk
4 tablespoons red food coloring
2 teaspoons vanilla extract
1 tablespoon distilled white vinegar
Frosting
1 cup butter, unsalted and at room temperature
8 ounces cream cheese at room temperature
3 1/2 cups powdered sugar, sifted
2 teaspoons vanilla extract
2 tablespoons cream of coconut (optional)
Instructions
Preheat oven to 350 degrees.
Cheesecake
Spray 9" springform pan with non-stick spray with flour. Wrap the bottom of the pan with foil to prevent water from seeping into the pan while cooking in water bath. Boil water in preparation of water bath.
Beat together cream cheese and sugar until fluffy, scraping down the side of bowl as needed. Add in the eggs one at a time and beat until fully incorporated. Beat in the sour cream and vanilla.
Pour the cream cheese batter into the prepared springform pan. Place the pan into a larger pan with a high lip and add hot water until it reaches halfway up the springform pan.
Bake for about 45-55 minutes. The edges should be set, but the middle will look like it needs to be cooked longer. Turn off the oven and let it continue to cook in the warm oven for 1 hour.
Remove from water bath and place pan on a cooling rack allowing the cheesecake to get to room temperature. Put the cheesecake in the refrigerator until chilled (best to leave overnight).
Red Velvet Cake
Grease two 9 inch cake pans and line the bottoms with parchment paper. Spray with non-stick cooking spray with flour.
In a medium bowl, sift together flour, sugar, baking soda, salt and cocoa together. Set aside.
On medium speed, cream the butter and sugar together until light and fluffy. Add the eggs one at a time and mix until incorporated. Add buttermilk, food coloring, vanilla, and vinegar. Mix until well combined.
Add dry ingredients and mix until smooth.
Pour batter evenly into prepared cake pans. Bake for 25 minutes, or until a toothpick inserted into the center comes out clean. Let cool for 5-10 minutes and remove from pans and place on a cooling rack.
Frosting
Whip the cream cheese, butter and vanilla together. Add powdered sugar and continue to mix until light and fluffy (about 5 minutes). Add Cream of Coconut (optional) and mix until blended into frosting.
Assemble Cake
Level the red velvet cakes cutting any domed mounds with a serrated knife. Place one layer of red velvet cake on your serving plate and spread a thin layer of frosting on the top of the cake. Carefully remove the cheesecake from the springform pan and place the cake on top of the first layer of red velvet cake. Add a thin layer of frosting to the top of the cheesecake, then add the second layer of red velvet cake. . Cover the cake with frosting and decorate with sprinkles, shaved white chocolate if desired. Refrigerate until ready to serve.


This cake was adapted from Brown Eyed Baker, and Food.com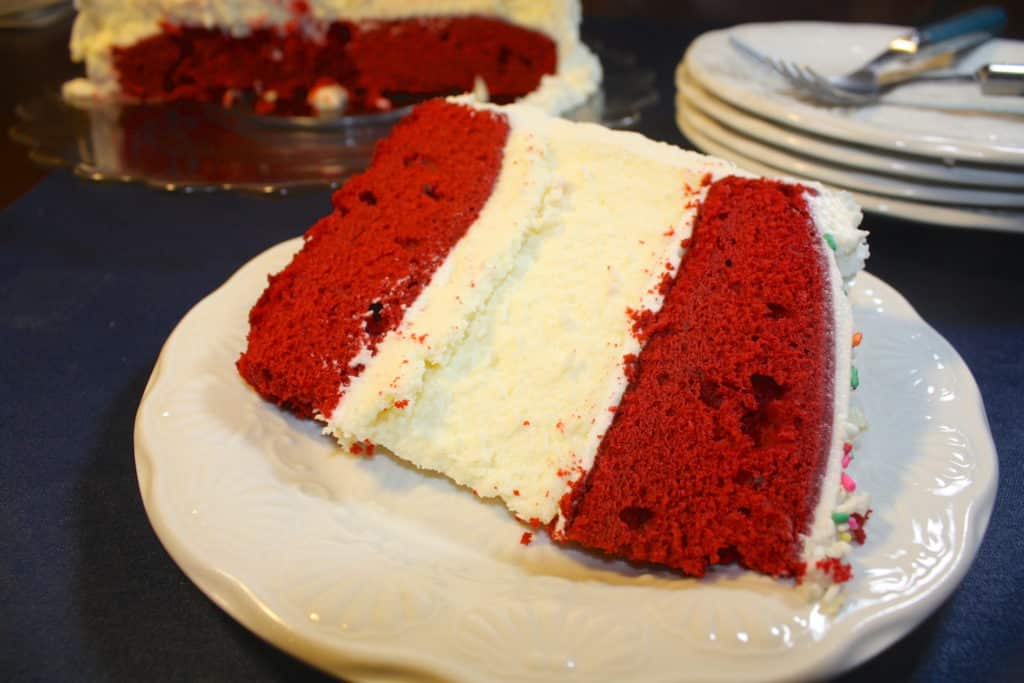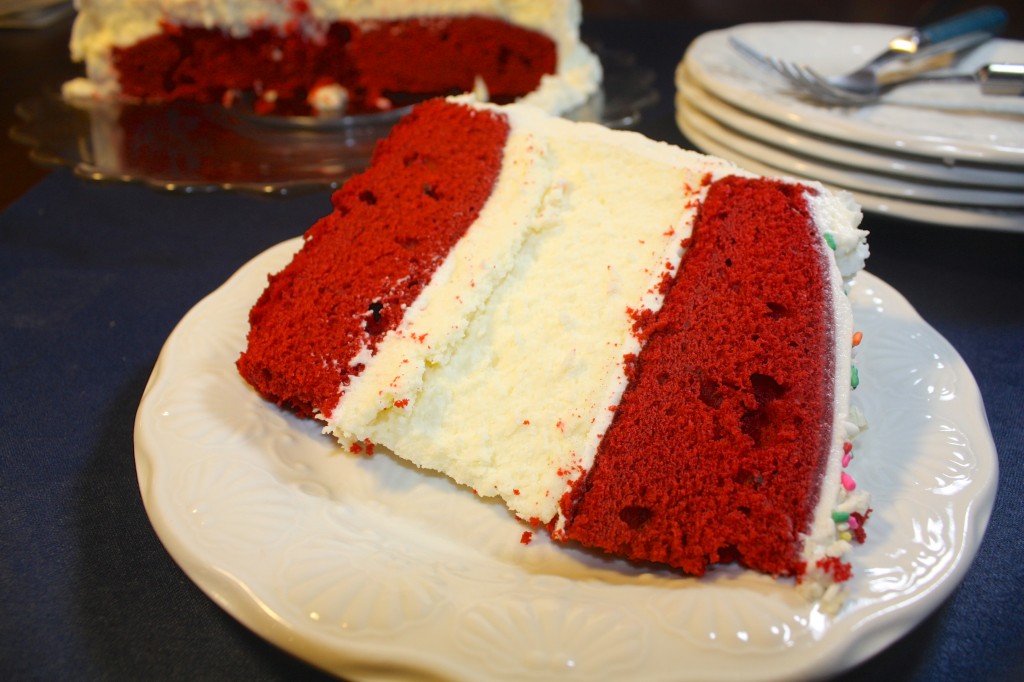 I was really pleased with the way this cake turned out! The cheesecake was creamy and luscious,complementing the red velvet perfectly. I added just a little coconut cream (Coco de Lopez) to the frosting. It was a very subtle addition of flavor that made this cake even more special.