Light and airy pumpkin delight with three layers of delicious Fall flavors; gingersnap crust, creamy pumpkin, and fresh whipped cream!
Pumpkin Delight
I'm not sure who came up with the title Pumpkin Delight, but it works for this dessert!
Super creamy and delicious as well as completely delightful! Living up to the title for sure!
Do you ever spend way too much time on Pinterest looking for inspiration?
Tell me I'm not alone…pretty please! Well, yeah, that's how I found my inspiration for this dessert.
There were several "Pumpkin Delights" to choose from, but most recipes called for pre-packaged puddings and frozen whipped cream.
Although I'm not opposed to using those products, they aren't stocked in my pantry.
And to be honest, I prefer using real ingredients without a lot of preservatives.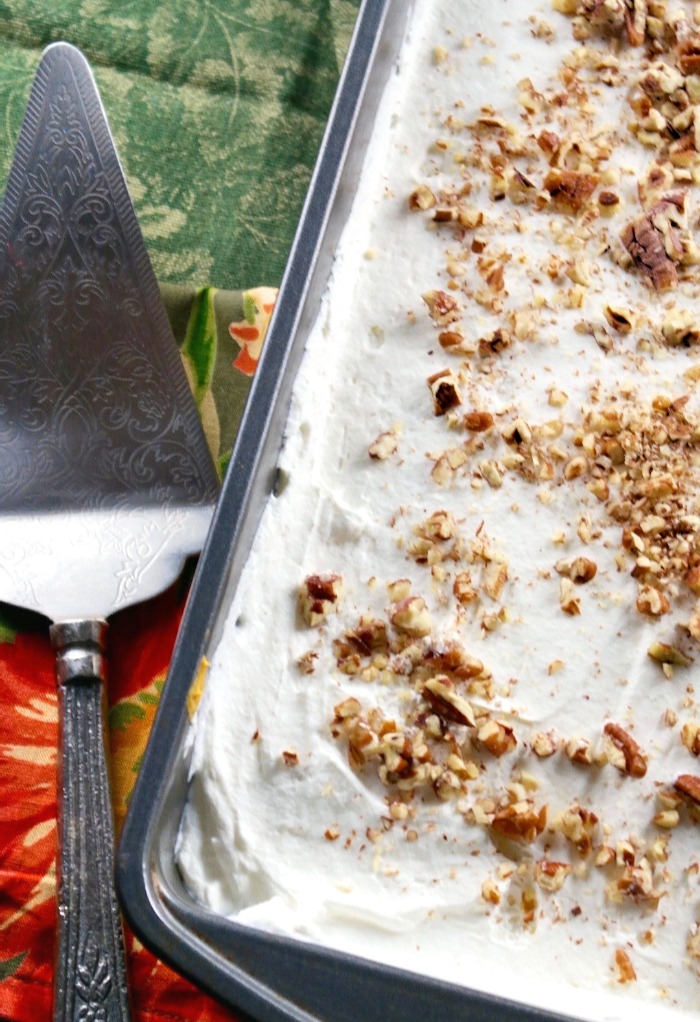 Easy Pumpkin Dessert
Although it might be hard to believe, not everyone is a pumpkin pie fan.
With the non-pumpkin lovers in mind, I considered making a general dessert like an apple pizza or chocolate chip cream cheese dip.
But you really can't celebrate anything Thanksgiving-ish without pumpkin, right?!!
This didn't last though the lunch hour!
Every single bite was gone and I even had a friend say, "I usually don't like anything pumpkin, but this was really good!"
Yay, non-pumpkin eaters will be converted with this treat!
The crust was baked for just seven minutes to help it set, which is the only baking time required for this pumpkin delight recipe.  
Make sure to allow for time to let this pumpkin delight sit in the refrigerator prior to serving.
For a pretty presentation pop the dessert into the freezer, slice it and then let thaw right before serving.
Pumpkin delight ingredients and utensils
GINGERSNAP CRUST
gingersnap crumbs (about 40 cookies)
dark-brown sugar
all-purpose flour
kosher salt
unsalted butter, melted
PUMPKIN LAYER
cream cheese, softened
vanilla extract
pumpkin pie spice
WHIPPED TOPPING
heavy cream
sweetener
pecans, chopped (optional)
Utensils
large size bowl
medium size bowl
9″ x 13″ baking dish
measuring spoons and cups
hand mixer
mixing spoons
TELL ME WHAT YOU THINK OF THE PUMPKIN DELIGHT RECIPE!
Did you make any adjustments? I would love to hear what you did. Leave me a note in the comments!
PIN TO YOUR HOLIDAY AND DESSERT BOARDS