Light and airy pumpkin delight dessert is three layers of delicious Fall flavors: gingersnap crust, creamy pumpkin filling with cream cheese, and fresh whipped cream all topped with chopped pecans!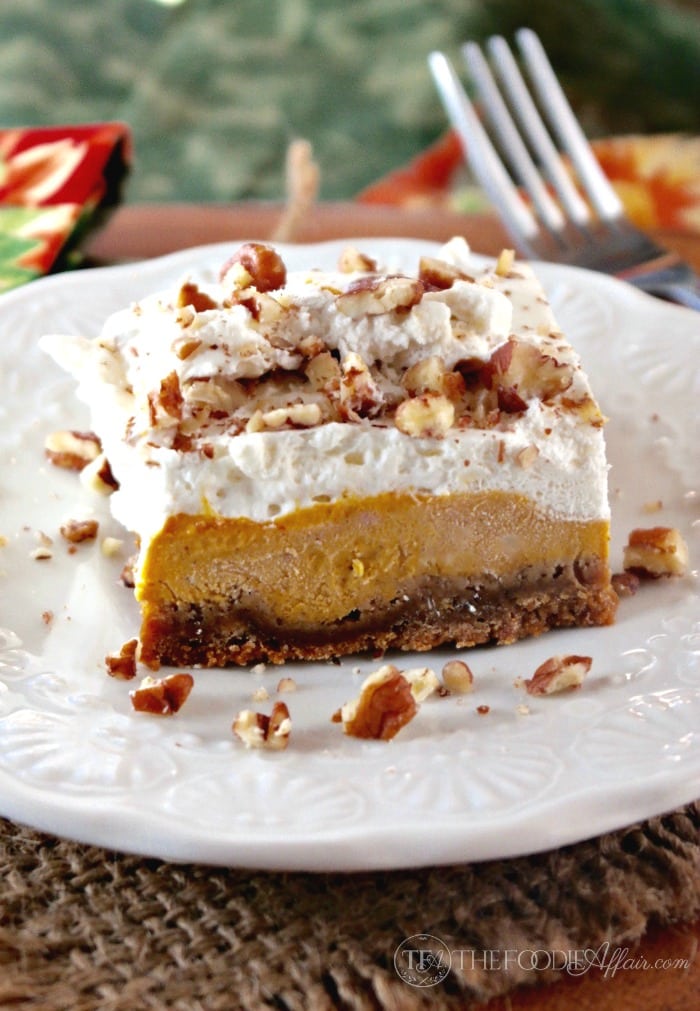 I'm not sure who came up with the title Pumpkin Delight, but it works for this dessert! So creamy and delicious and completely delightful! Living up to the title for sure!
I was looking for some inspiration on Pinterest for a pumpkin dessert to bring to work to share with my co-workers. I found several "Pumpkin Delights" but this is what I had imagined, except that the recipes that I took a close look at (this PD pin) used pre-packaged puddings and purchased whipped cream. I'm not opposed to using those products, but I don't keep a stock of jello in my pantry and my grocery shopping patience was gone after I picked up gingersnaps at the beginning of this week!
I'm sure the stabilizers in those products will hold up longer keeping the cake layers fluffy, but I managed to keep the ingredients to a minimum with great results!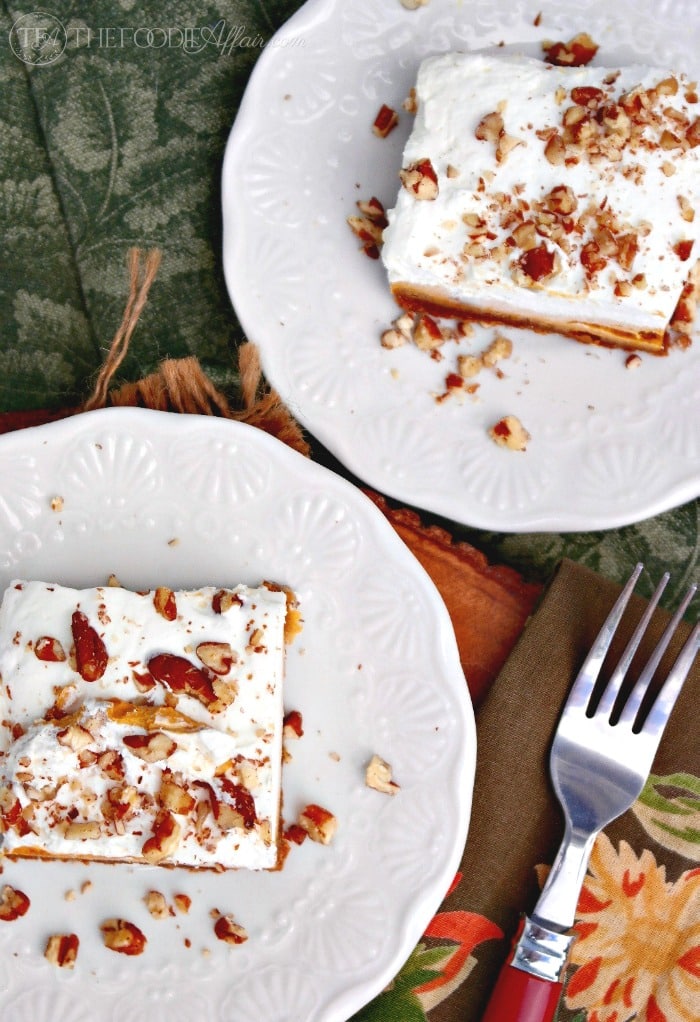 Not everyone is a pumpkin pie fan, so I was mindful of that when coming up with a dessert for twelve or so co-workers, but you really can't celebrate anything Thanksgiving-ish without pumpkin, right?!!
This didn't last though the lunch hour! It was gone in no time and I even had a friend say, "I usually don't like anything pumpkin, but this was really good!" Yay, non-pumpkin eaters will be converted with this treat!
I baked the crust for just seven minutes to help it set, but that's the only baking involved for this dessert. You'll need some time to let it sit in the refrigerator, and if you want to cut each slice into pretty pieces then pop the dessert into the freezer, slice it and then let thaw right before serving.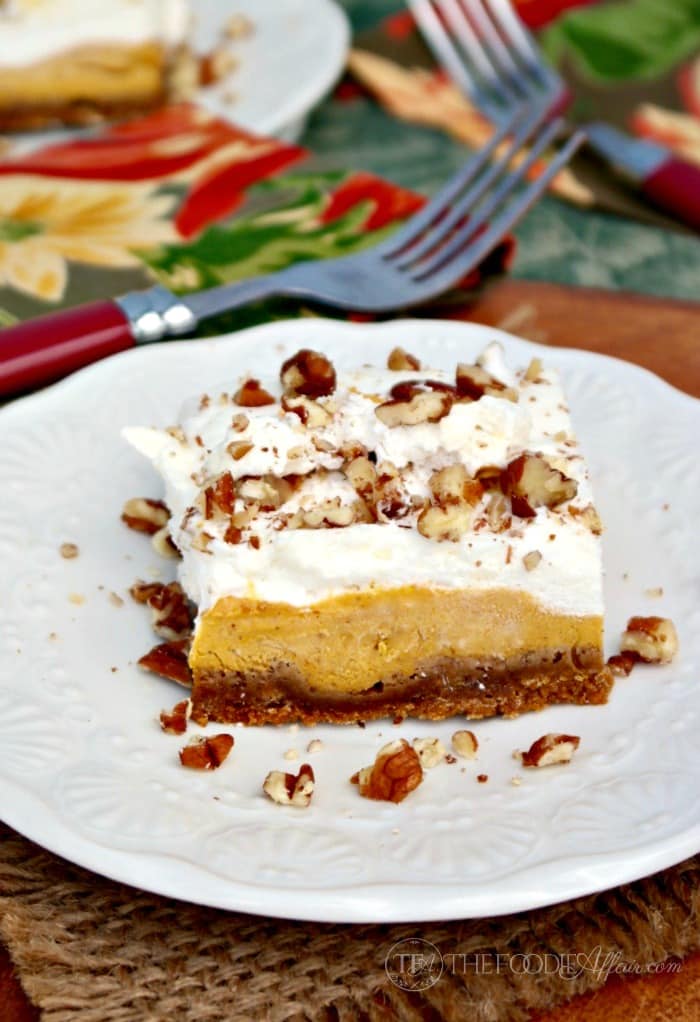 Yield: 8
Pumpkin Delight Dessert
Prep Time 15 minutes

Cook Time 10 minutes

Total Time 25 minutes
Ingredients
Gingersnap Crust
1 3/4 cups gingersnap crumbs (about 40 cookies)
1/4 cup packed dark-brown sugar
1 tablespoon all-purpose flour
1/2 teaspoon salt
4 tablespoons (1/2 stick) unsalted butter, melted
Pumpkin Layer
1 8 ounce cream cheese, softened
1 15 ounce can pumpkin
1 1/12 teaspoon vanilla extract
1 teaspoon pumpkin pie spice
Whipped Topping
2 cups heavy cream
2 tablespoons granulated sugar
1/2 cup pecans, chopped (optional)
Instructions
Preheat oven to 350 degrees.
CRUST
In a large bowl whisk together gingersnap crumbs, brown sugar, flour and salt. Add melted butter and stir until mixture is well combined. If the crumbs are not holding together then add a tablespoon of water. Press crumb mixture on the bottom of an 9 X 13 inch pan. Place in the freezer and chill for 10 minutes. Bake for 7-10 minutes and cool on a wire rack.
PUMPKIN
In a large bowl beat the cream cheese until fluffy. Gradually add the brown sugar until well combined. Add pumpkin, vanilla and pumpkin pie spice and mix well. Put in refrigerator until crust is cool. Put pumpkin on cooled gingersnap crust.
WHIIPPED TOPPING
In a large bowl on medium-high speed beat cream until soft peaks form. Gradually beat in 2 tablespoons granulated sugar until stiff peaks form. Top pumpkin layer with whipped cream. Refrigerator for at least 3 hours. Garnish with chopped pecans and serve.
Notes
Gingersnap crust by Martha Stewart
I used a 9 x 13 inch baking pan, but if you want thicker layers use a smaller pan like a 9 x 9 inch square pan.