Instant Pot Egg Bites – Copycat Starbucks Sous Vide Recipe
Protein packed delicious Instant Pot egg bites are the perfect low carb healthy breakfast or snack for on the go! Clean out your refrigerator and customize this recipe with your favorite ingredients for an economical version of egg bites from Starbucks without a sous vide machine. 
If you love egg recipes be sure to add this Healthy Scrambled Eggs Recipe to your brunch menu.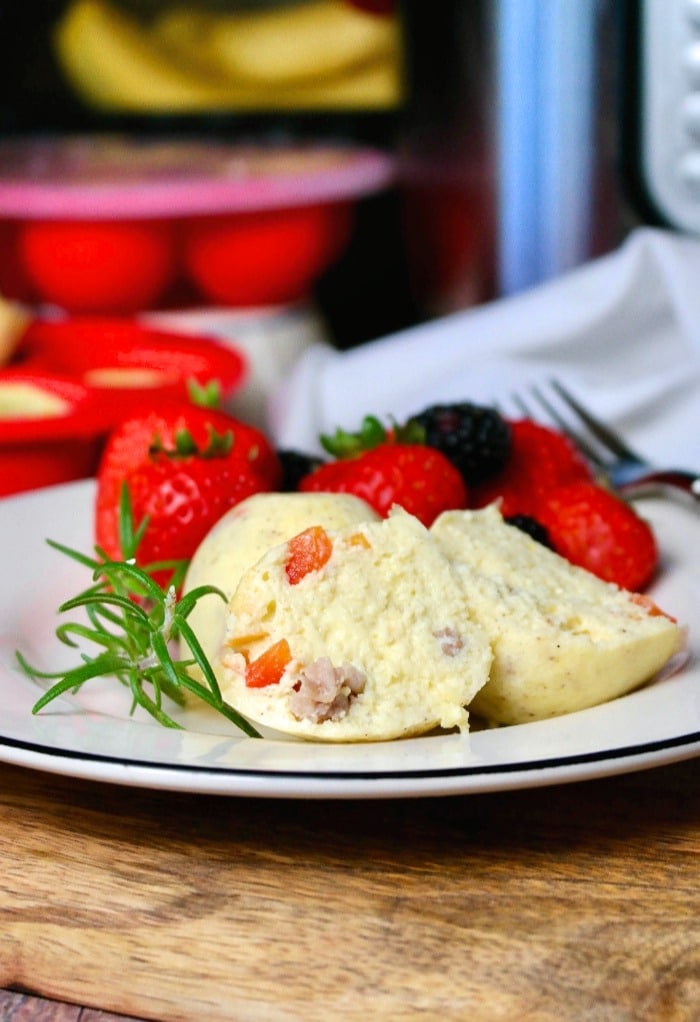 Pressure Cooker Egg Bites
Light and fluffy egg bites are the perfect meal prep make ahead breakfast or snack for busy mornings.
This recipe is completely versatile to meet your tastebuds as well as an easy way to put those leftovers to good use.
Each time I make these delicious egg bites I mix up the ingredients creating different flavors. This time I had leftover cooked sausage from these sausage egg rolls, so in the ingredient list they went.
In addition to a meat protein, I also like to have a variety of vegetarian egg bites with onion, diced bell pepper, green onions, chopped fresh spinach or zucchini.
The options are endless!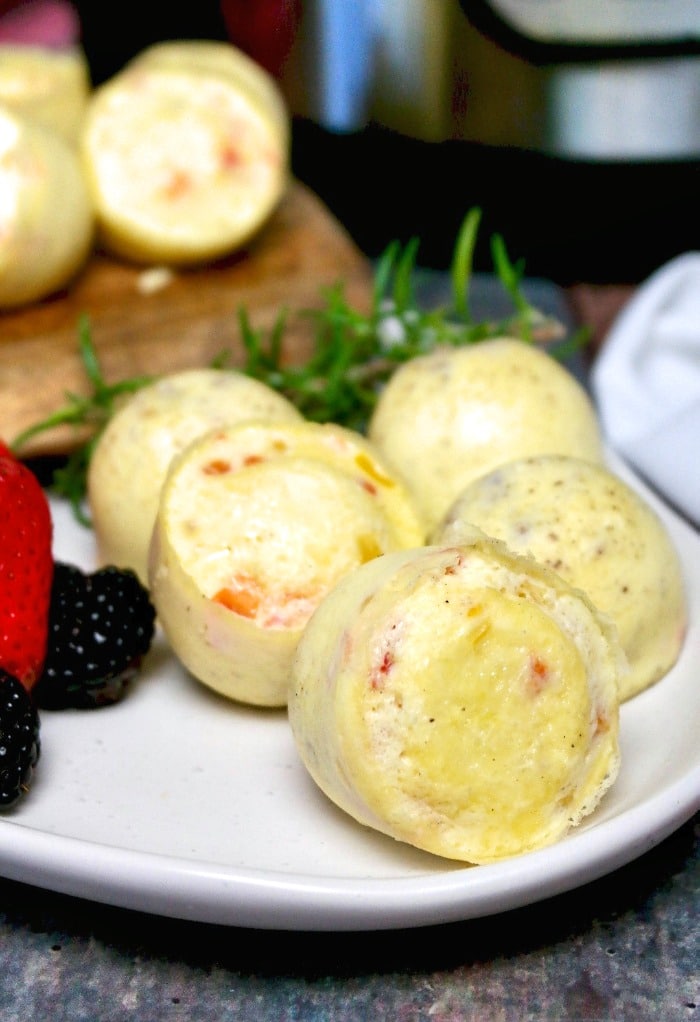 Sous Vide egg bites are the rage right now and lucky for us low carb followers they are perfect for our diet! Plus this is an easy recipe to make at a fraction of the cost that you would pay at a coffee shop.
First, what is Sous Vide cooking? Sous Vide in french means under vacuum. This method of cooking is usually cooking vacuum sealed food in a controlled water bath. The results are always tender and flavorful foods. However, since I don't have A Sous Vide I learned that this same method can be replicated by using the high pressure steam setting in an Instant Pot, which is how I cooked these copycat Starbucks egg bites.
After a couple of purchases of pre-made egg bites along with a a fancy frappe coffee, I knew I could make these at home for a fraction of the cost the coffee shop charges that are just as delicious and healthier for us too!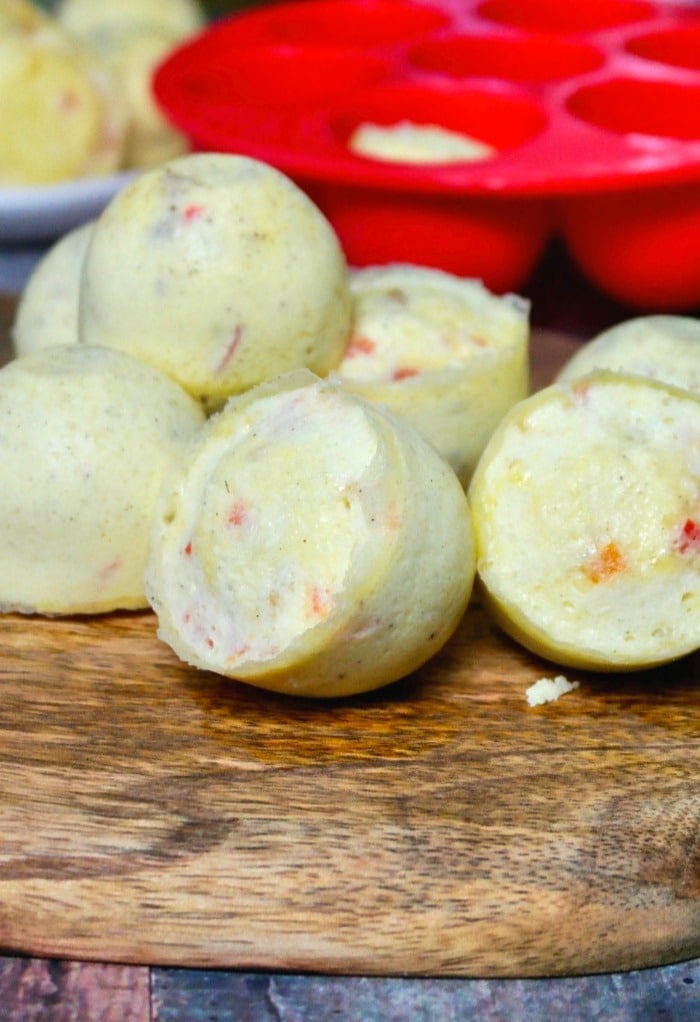 Basic main ingredient list:
To make egg bites, gather the following ingredients for the basic recipe. Also, if you are set on the variety of egg bites that Starbucks sells, then you are in luck! I researched the ingredient list of their egg bites so that you can replicate the variety of egg muffins that Starbucks offers.
Basic Egg Bites
8 large eggs or 1 cup of egg whites and 4 large eggs
1/2 cup cottage cheese
1 cup shredded cheese
3/4 teaspoon salt
1/4 teaspoon pepper
1/3 cup half and half or heavy cream
1 cup cooked protein, divided
1/2 cup vegetables, divided
Egg Bites From Starbucks
To copy Starbuck's menu follow the ingredient list below for the add-ins by following this combination: 1 cup of shredded cheese. The type of cheese is your choice or a combination of your favorite cheese, 1 cup of meat and 1/2 cup of vegetables divided among silicone egg bite mold.
Note that the lists below does not include the starches, oils or preservatives that Starbucks has in their food.
Feel free to add natural spices to suit your preference to the egg mixture. A dash of hot sauce, garlic or jalapeno peppers is what Alan prefers in his egg bites. Also, I use the whole egg when I make these, but Starbucks use the whites only. In the recipe card I give you directions on how to use both whole eggs with egg whites.
Bacon and Gruyere Egg Bites
Applewood Smoked Bacon
Cottage Cheese
Aged Gruyere Cheese, which is a smooth melting type of Swiss Cheese
Monterey Jack Cheese
Ham, Cheddar and Pepper Egg Bites
Diced Ham
Roasted Red and Green Peppers
Cottage Cheese
Cheddar Cheese
Cotija Cheese
Monterey Jack Cheese
Egg Whites and Red Pepper Egg Bites
Egg whites only – 2 per serving egg mold
Fire Roasted Red Peppers with a Speckle of Spinach
Cottage Cheese
Monterey Jack Cheese
Kitchen tools
You will need an Instant Pot or electric pressure cooker, and two silicone molds. I have a 6 quart Instant Pot and I purchased my molds from Bed, Bath, & Beyond (not an affiliate).
Do I Have To Add Cottage Cheese To Egg Bites?
No. If you would like to leave the cottage cheese out you may, but be advised that your egg bites may be heavy and dense.
The cottage cheese adds a creamy fluffy texture as well as some additional filling protein to each egg bite.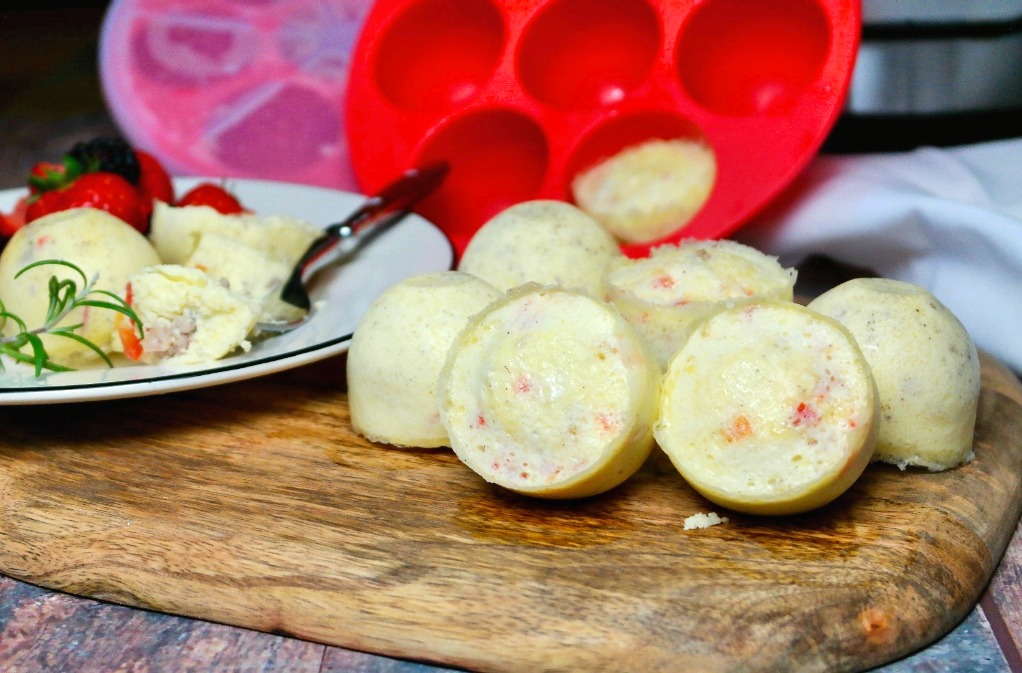 How To Make Instant Pot Egg Bites
I use two Instant Pot egg bites mold, which yields 14 egg bites.
STEP 1 – PREPARE EGG BITES MOLD
Grease the silicone egg mold with a light coating of butter, oil or non-stick cooking spray.
STEP 2 – PREPARE ADD-IN INGREDIENTS
Prepare the ingredients that you will use for your egg bites; dice vegetables, shred cheese, and thoroughly cook meats. Roast diced vegetables on a cookie sheet or lightly stir-fry in a large skillet to bring out the natural flavors of your vegetables. Mixing in raw vegetables are fine too.
STEP 3 – BLEND WET INGREDIENTS & SPICES
Place eggs, cottage cheese, cream, salt and black pepper as well as any other seasonings you are using in a blender. Pulse until creamy.
STEP 4 – PLACE IN MOLDS
Evenly distribute the prepared vegetables and meat with the shredded cheese in the silicone molds. Top with egg mix, then top with additional cheese.
STEP 5 – STEAM IN INSTANT POT TO COOK
Place the prepared egg bites with the lid that the molds come with. If you don't have a lid, then you will want to cover the molds tightly with aluminum foil (lightly spray the foil with non-stick cooking spray.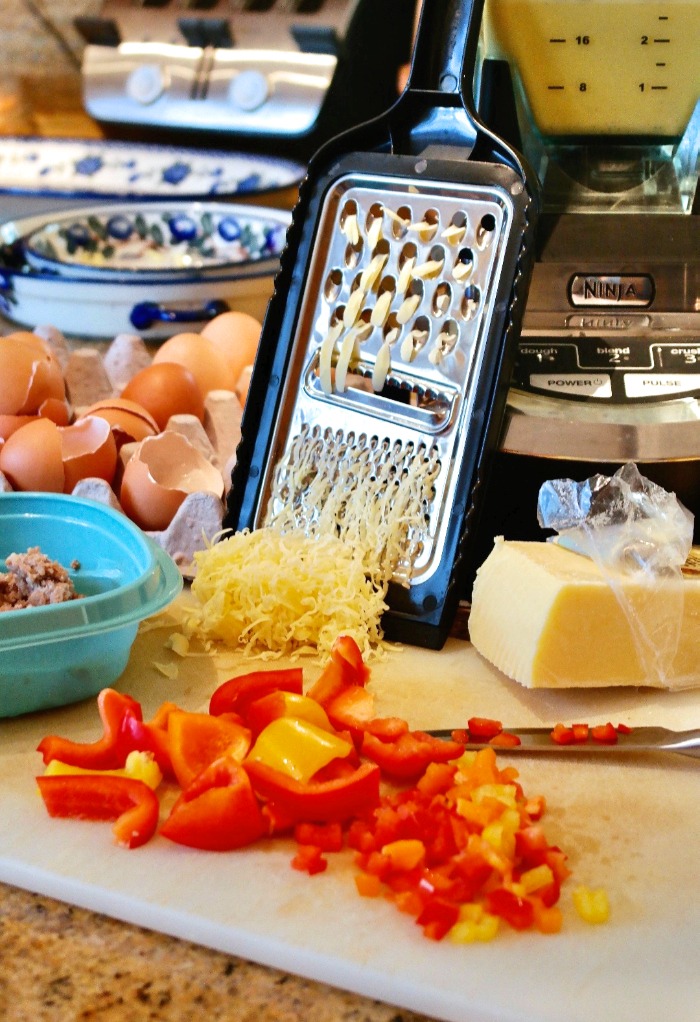 STEPS TO COOK EGG BITES
Once the pressure builds up, egg bites will cook in just 8 minutes! Follow these easy instructions.
Prepare the Instant Pot placing the metal trivet on the bottom of the inner pot and add one cup of water.
Fill the silicone molds with the egg mixture and cover the molds with the silicone lid.
Place the Instant Pot lid on ensuring the vent is in the SEAL position.
Set to STEAM mode for 8 minutes. If your Instant Pot doesn't have a STEAM option, use MANUAL mode. It'll take about 5-8 minutes for the pressure to build up.
When the timer goes off and the steaming has completed let the pressure natural release on its own for about 10 minutes.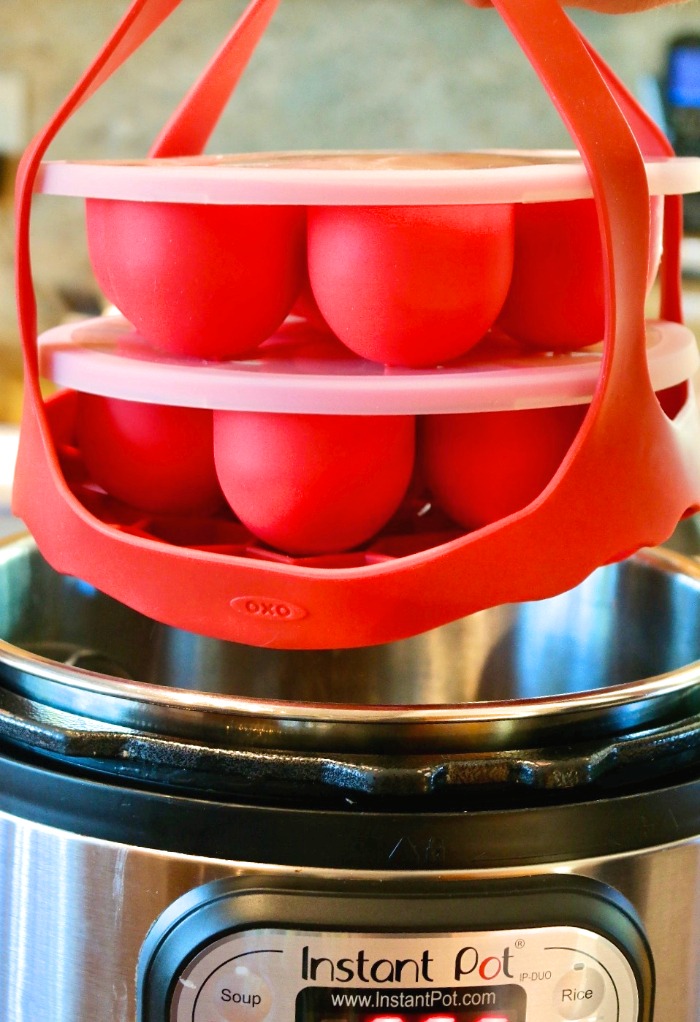 HOW TO STORE INSTANT POT EGG BITES
After cooking the egg bites cool completely. Cover with the clear lid the the silicone mold comes with or remove from the mold and place in an airtight container before storing in the refrigerator. Fresh cooked egg bites are best when eaten within one week of preparation.
Freeze in the mold after cooling completely. Cover with the clear lid before placing them in the freezer. That's right! Freeze the prepared eggs right in the silicone molds.
For vacuum sealing remove the egg bites from the molds, cool, and then place egg bites on a parchment paper lined baking sheet. Flash freeze the eggs by placing them in the freeze for 20-30 minutes to harden (holds the shape of the bites), then vacuum seal.
Freezer bags can also be used. Again, cool completely before placing them in the bag. It's recommended that you follow the flash freeze method as above and wrap each bite in parchment or freezer paper before putting them in freezer bags.
All the methods mentioned above will maintain freshness for three-six months.
HOW TO REHEAT EGG BITES
Out of the freezer egg bites can be microwaved on defrost mode for 1 minute, then heated on high for 30 seconds. Repeat every 30 seconds for desired temperature.
Cooked egg bites can be reheated in the microwave on high for 30-60 seconds.
If reheating in the oven, place on a baking sheet at 325°F for 15-20 minutes.
IS INSTANT POT EGG BITES KETO FRIENDLY?
Yes! Each egg bite is only 2 carbs each with sausage and vegetables.
As you adjust the ingredient list you may want to recalculate to make sure you stay within your daily macronutrients.
Although, I'm fairly certain that egg bites can easily fit into a healthy meal plan for any type of diet.
DELICIOUS HARD BOILED EGGS RECIPES TO TRY
Hard boiled eggs are the perfect snack or meal for on the go. Here are ways to cook them perfectly.
MORE COPYCAT STARBUCKS RECIPES
Love Starbucks but not the price tag? Be sure to check out these recipes: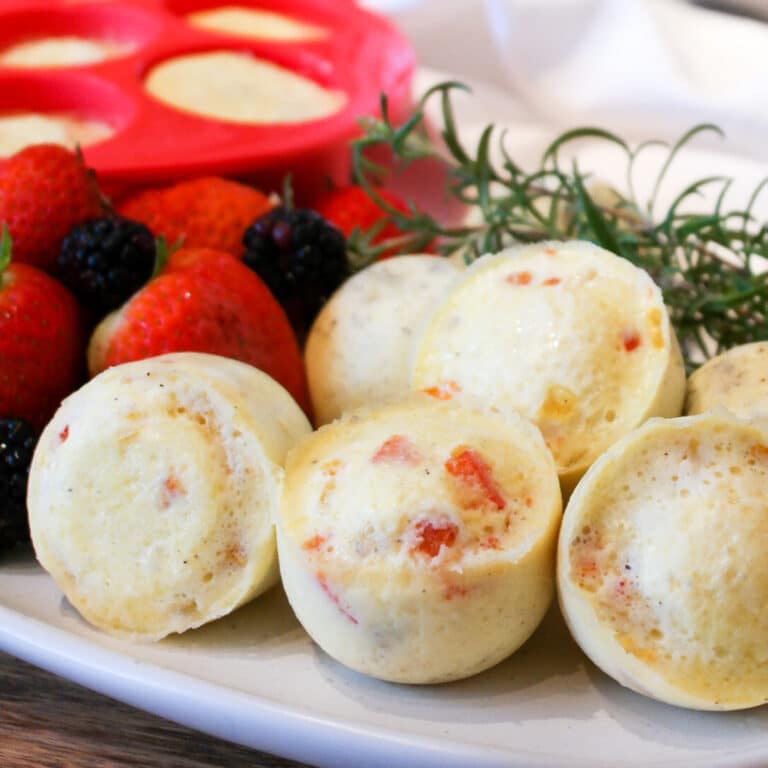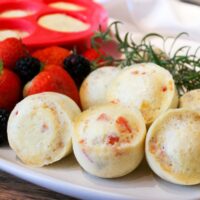 Instant Pot Egg Bites Recipe
Instant Pot egg bites are delicious protein packed breakfast or snack for on the go! This economical version of egg bites is often found at Starbucks. Mix the ingredients to customize your own version.
Print
Pin
Rate
Ingredients
8

large eggs

1/2

cup

cottage cheese

1

cup

shredded cheese

3/4

teaspoon

salt

1/4

teaspoon

pepper

1/3

cup

half and half or heavy cream

1

cup

cooked protein

divided

1/2

cup

vegetables

divided
Instructions
Grease silicone molds and set aside.

Prepare meat if adding by pre-cooking sausage or bacon.

Dice vegetables of choice – peppers, onion, mushrooms and set aside.

Shred cheese and set aside.

In a blender add eggs, cottage cheese, half and half with salt and pepper.

Blend until all ingredients are mixed well.

Add 1 tablespoon of meat and 1 tablespoon of vegetables to each greased egg mold. Top with a teaspoon of cheese.

Pour egg mix over the mix. Top with additional cheese if desired. Cover the mold with the silicone top.

Place trivet on the bottom of your Instant Pot and add one cup of water.

Put covered egg molds into the Instant Pot (may want to use silicone holder).

Secure the Instant Pot lid (vent closed).

Press steam mode and add 8 minutes to timer. Once timer beeps let pressure release for an additional 10 minutes.

Open Instant Pot and enjoy your fresh egg bites!
Notes
Meat ideas – sausage, ham, bacon, shrimp, ground beef
Vegetable ideas – onion, peppers (green, red, yellow), spinach, kale, mushrooms, zucchini, asparagus, tomatoes, broccoli
Cheese ideas – Monterey Jack, Cheddar, Gouda, Feta, Mozzarella, Colby, Swiss, Cotija
Substitute – all whole eggs to 4 whole eggs and 1 cup of egg whites.
Nutrition
Serving:
1
g
|
Calories:
115
kcal
|
Carbohydrates:
2
g
|
Protein:
10
g
|
Fat:
7
g
|
Saturated Fat:
4
g
|
Polyunsaturated Fat:
3
g
|
Cholesterol:
121
mg
|
Sodium:
251
mg
|
Sugar:
1
g
Disclaimer
Please note that the nutritional information provided are guidelines and may vary based on the brand of products used. For your specific nutritional goals use My Fitness Pal or Verywell Fit recipe calculators. All content within this site is not intended as medical diagnosis or treatment and should not be considered a substitute for professional medical expertise.
More Instant Pot Recipes You'll love
Looking for more ways to cook in a pressure cooker? Be sure to check out these recipes!
Beef Stew recipe – Hearty pressure cooker beef stew made with carrots, potatoes, and onion cooked in beef stock and red wine cooks in 35 minutes
Mexican Soup with Hominy – Rich and delicious pozole made in a fraction of the time the traditional recipe takes to cook on the stovetop.
Instant Pot Chicken Soup – Quick, simple, and nutritious soup with chopped veggies. Mom approved belly warming soup to help beat the cold and flu season!