How to Make Perfect Hard Boiled Eggs (6 Methods)
Have you always wanted to know how to cook hard boiled eggs? While most people think the only way to prepare them is to place them in a pot of boiling water and allow them to boil for several minutes, there are plenty of other techniques and strategies you can use to prepare the perfect hard boiled eggs with ease!
Hard Boiled Eggs are so versatile! Not only are they great on their own as a snack or appetizer, but they can also be used in a variety of recipes like egg salad, chicken salad, potato salad, and more!
If you're on a low-carb diet then these eggs are most likely a staple snack or meal on the go for you. No matter which way you use to make this protein-filled staple, you will be so glad that you have something easy to grab when you are in a hurry.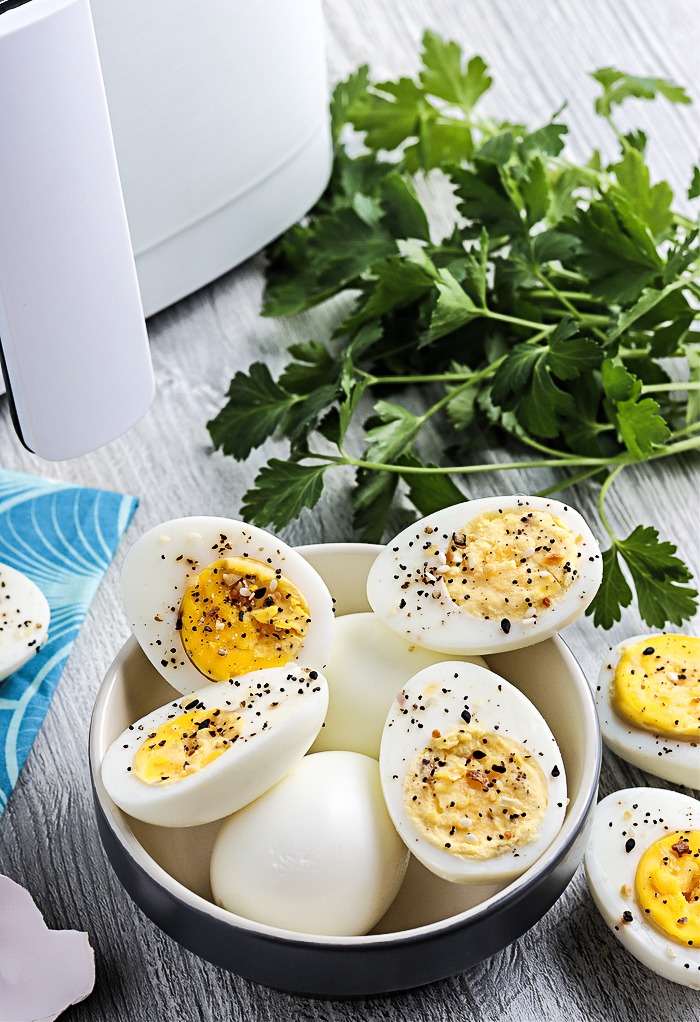 You can use your air fryer to prepare hard boiled eggs using the following steps!
Preheat your air fryer by setting it to 250°F degrees for five minutes.
Place your eggs in the air fryer basket, cooking for a set time of 17 minutes for hard boiled eggs.
Fill a bowl with cold water and add ice to it, placing it off to the side until the eggs are done.
Place your eggs from the air fryer into the bowl of ice water and let them sit for 10 minutes before attempting to peel them.
How long will the eggs last?
You can keep these eggs peeled in a container in the fridge for up to a week before you'd need to dispose of them!
Do I need to use cooking spray in the air fryer for these eggs?
No, you won't need to add cooking spray to the air fryer basket when preparing hard boiled eggs in the air fryer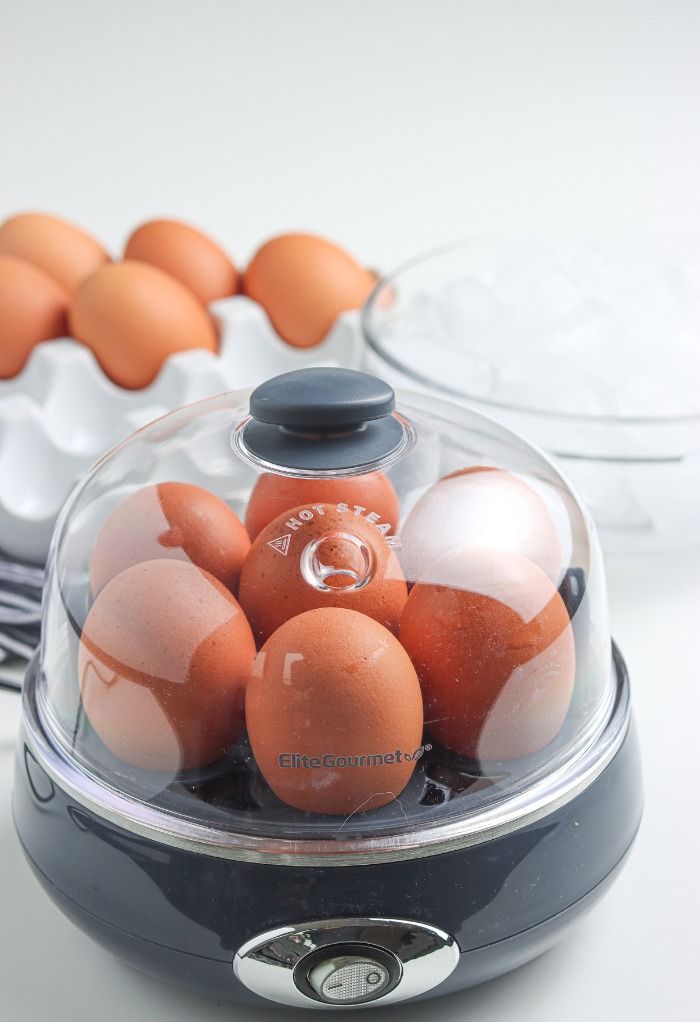 If you don't want to steam your eggs, you can use a Hard Boil Egg Cooker. The boiled eggs machine is convenient and gives perfect results every time.. Follow these egg cooker instructions:
Plug the egg cooker into an outlet.
Fill your measuring cup with water to the correct line.
Set the egg cooking rack on top of the heating plate with the side facing up before setting an egg in each spot.
Set the lid on the unit and power it on, allowing the eggs to cook for several minutes before turning the device on.
Do I need to use room-temperature eggs?
No, you should use cold eggs when you're preparing them in the egg cooker.
How long will these eggs last?
When stored properly, your eggs should last in the fridge for up to a week.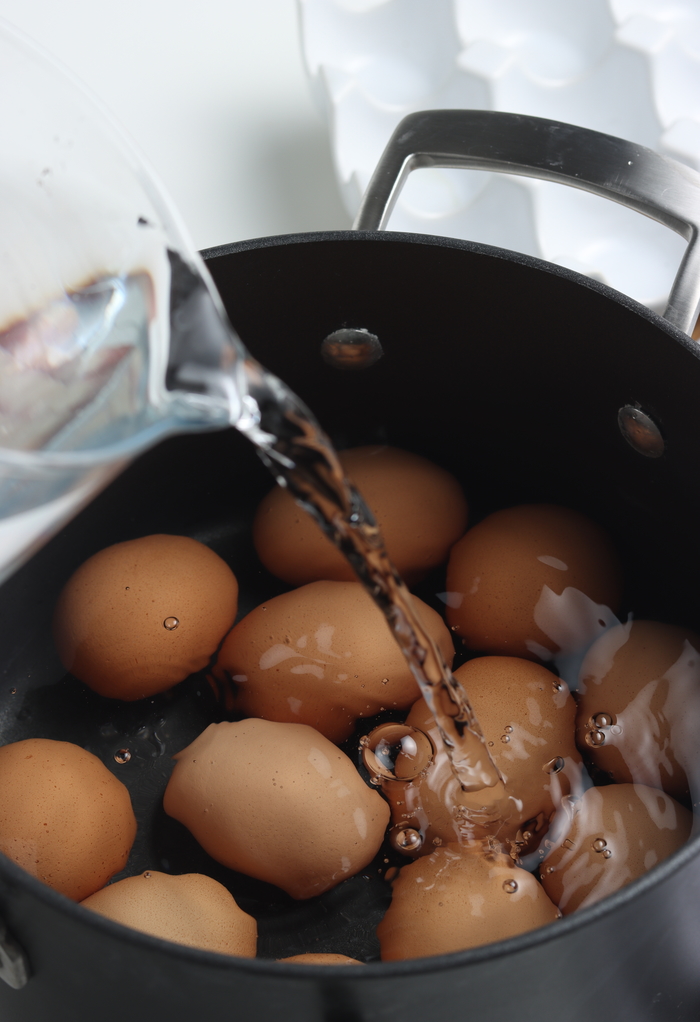 Many people use the stovetop approach when they want to hard boil an egg. Check out this process on how to boil hard boil eggs on the stove:
Put your eggs in a pot on the stove.
Cover your eggs with water, making sure the water covers them by at least an inch.
Bring your water to a boil on high heat before covering it with a lid and removing the pot from the stove.
Set your timer and allow the eggs to sit in the hot water for up to 12 minutes for hard boiled eggs.
Place your eggs in a water bath full of ice and let them sit for up to 10 minutes before you peel them.
For a boiled egg how long should I leave on the stove?
You can leave the eggs on the stove for up to 14 minutes. If you want soft-boiled eggs, six minutes is ideal.
Do I need to use salt?
While it's optional, a pinch of salt will help solidify the egg whites if there is a crack in the eggs, so it's worth using to avoid a mess if an egg leaks.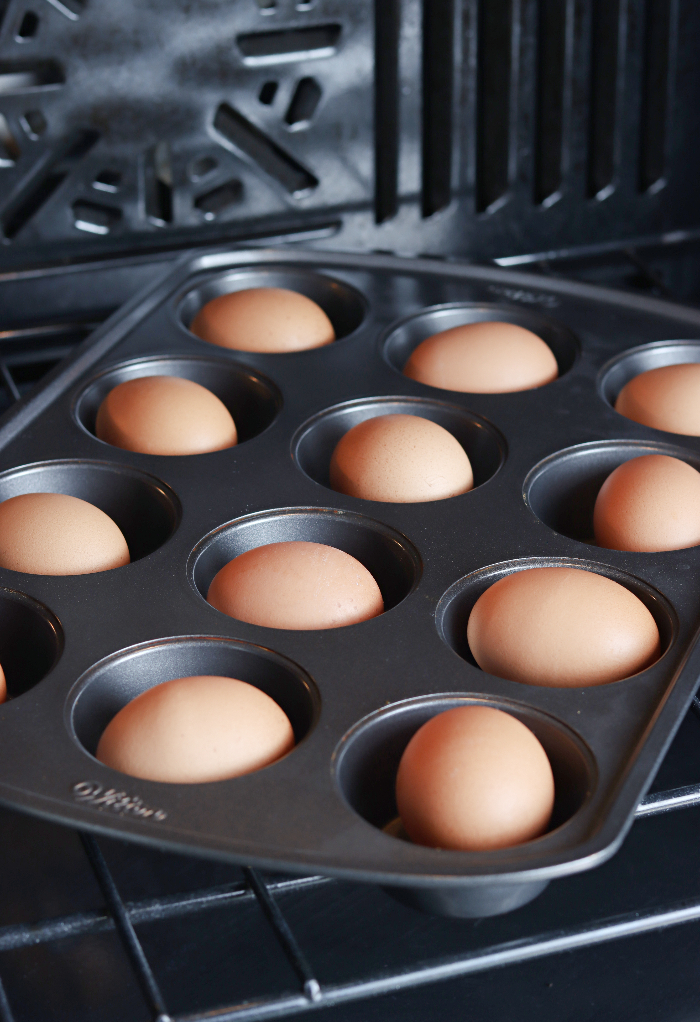 Who knew you could bake a hard boiled egg? If you want to know how to prepare hard boiled eggs in the oven, follow these steps:
Set your oven to 325°F degrees.
Place your eggs in a muffin tin and then cook them for a minimum of 20 minutes and up to 30 minutes.
Remove eggs from the oven and transfer them into a bowl full of water and ice, letting them cool for 10 minutes.
How long does it take to cook a hard boiled egg in the oven?
Let your eggs cook for 30 minutes in the oven if you want them to be hard-boiled.
Should I preheat the oven beforehand?
Yes, it's a good idea to preheat the oven before placing your eggs inside it to cook them.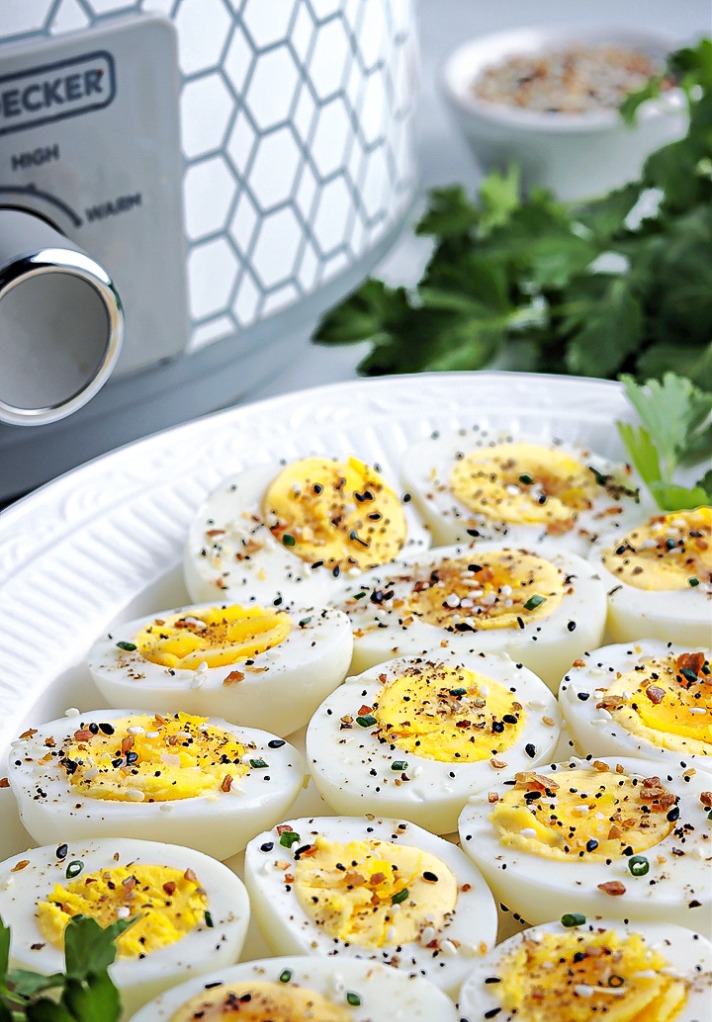 Cooking eggs in a crockpot is another great option. If you would like to make the crockpot hard boiled eggs, be sure to follow these steps:
Place eggs in the bottom of your crockpot.
Add water to cover the eggs.
Set the crockpot to the high setting, put the lid on, and let the eggs cook for 2.5 hours.
Remove the eggs, place them in ice-cold water, and let chill for 10 minutes before peeling and serving.
Will slow cooker hard-boiled eggs come out right?
Yes. As long as you follow the cooking instructions, these eggs will turn out perfect!
How long do crockpot eggs need to cook?
You need to cook the eggs on high for two and a half hours. While this isn't ideal for those looking to have eggs in a rush, it's perfect for anyone who wants to prepare lots of hard-boiled eggs at once.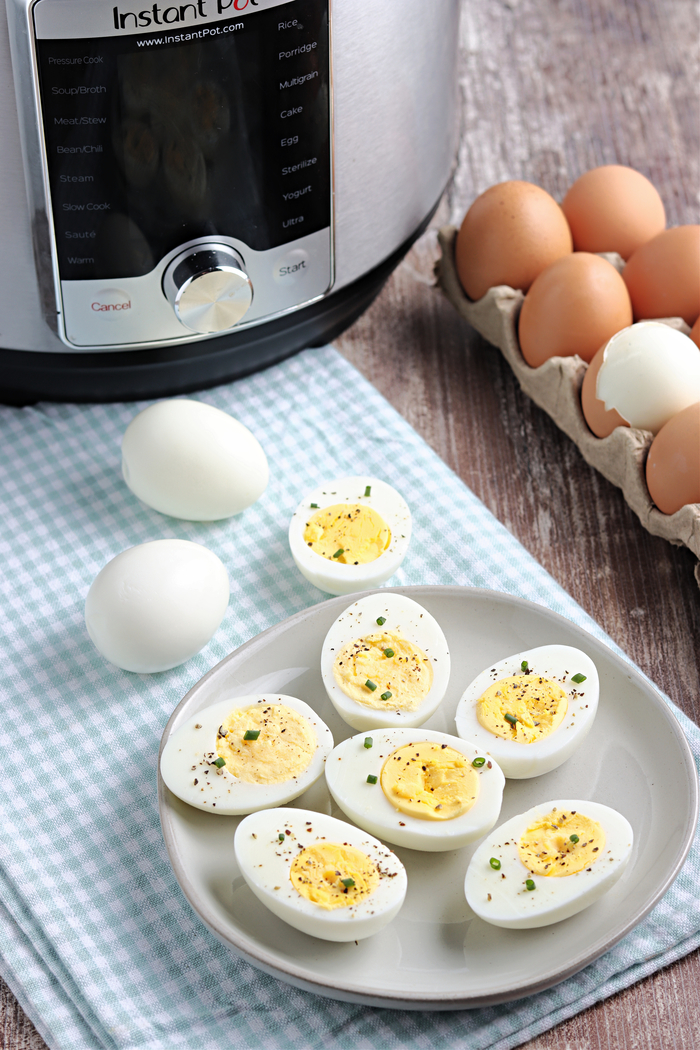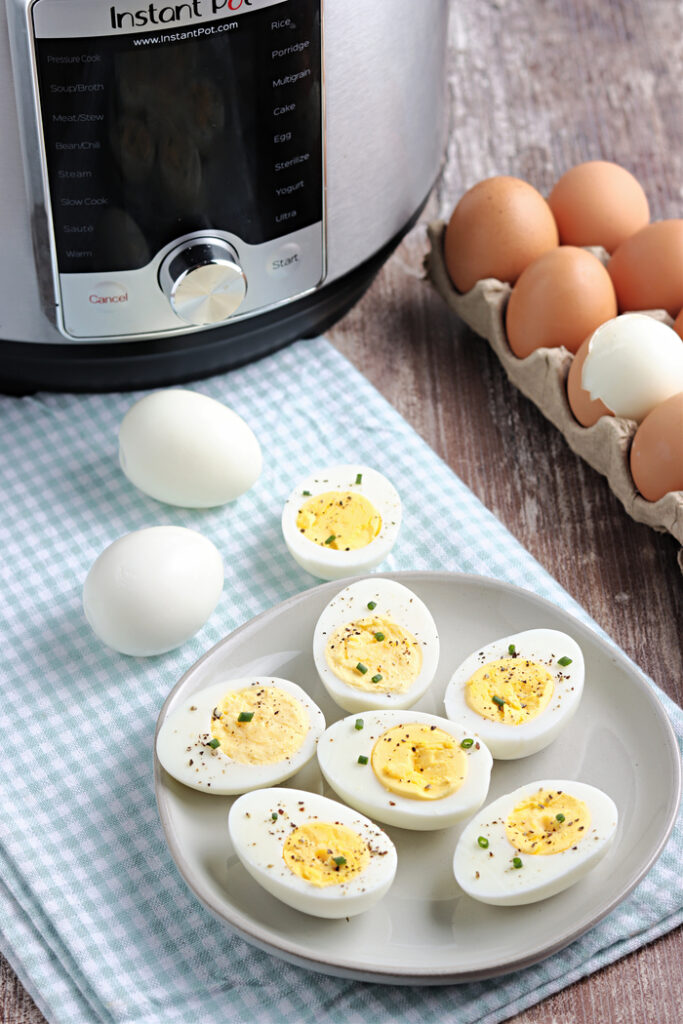 Making hard boiled eggs in the pressure cooker is so easy! They come out perfectly cooked and easy to peel without much effort at all.
Add the water and trivet to the Instant Pot.
Place eggs in a single layer on the trivet.
Pressure cooker on the manual high pressure setting for five minutes.
Manually release the pressure when the time is up.
Place eggs in an ice water bath for ten minutes.
Peel and store in the fridge for up to one week.
Do I need to use a natural release or quick release?
I used a quick release or sometimes called a manual release for these eggs.
How many eggs can I cook in a 6 quart pressure cooker?
You can make up to eight eggs in a 6 quart Instant Pot. You will need an 7 or 8 quart to make a dozen eggs.
Tips for Hard Boiled Eggs
Now that you understand how to cook hard boiled eggs, it's time to get some tips on how to make them perfectly every single time. Use these tips to up your egg game:
The fresher the egg, the harder it is to peel. If you have older eggs, they will be easier to peel.
You will want to be sure to use cold eggs not room temperature eggs with these methods for boiled eggs.
The size of your eggs may affect your cook times. The cook times that I have listed are based on large eggs. If you are using a different egg you may need to adjust the time.
Egg cookers all cook differently so read the instructions on the correct cook time for your machine.
If you are making a lot of hard-boiled eggs, it's best to cook them in batches.
Always cool your eggs in an ice bath so that the egg yolks stop cooking.
You make these eggs up to a week ahead of time as long as you store them in an airtight container in the fridge.
When using the stove top, slow cooker, pressure cooker or air fryer make sure that your eggs are in a single layer for even cooking.
For easy peeling, peel eggs under a stream of cool water.
If you want a perfect boiled egg follow the cooking time closely for all the different ways listed here.
You will need to adjust the cook time for perfect eggs if you live in a higher altitude environment.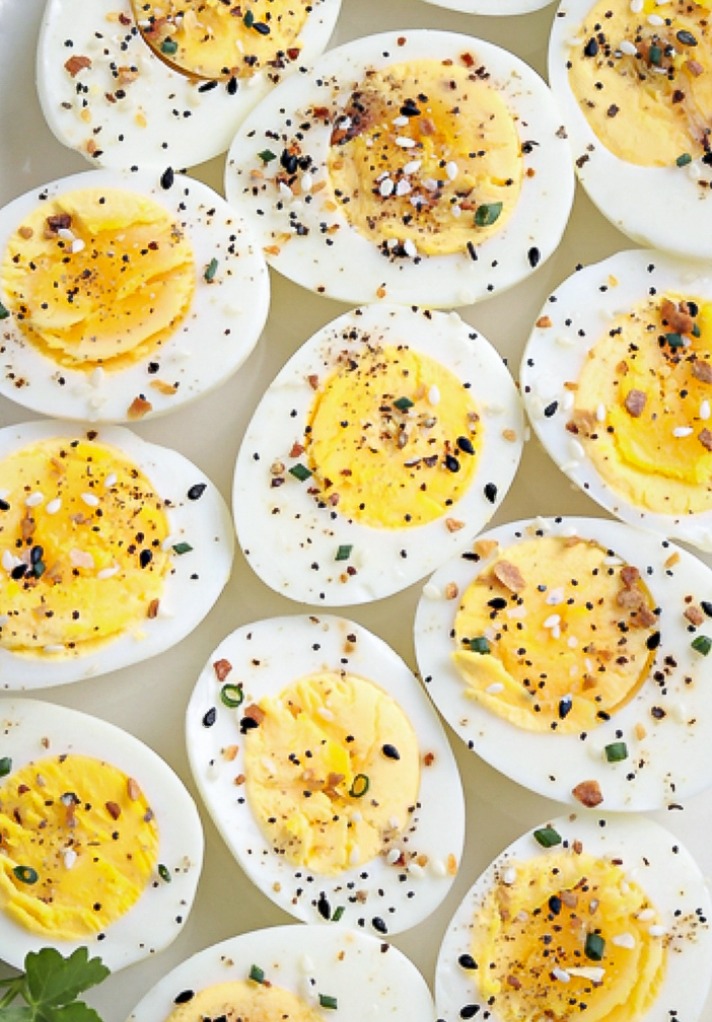 How to Avoid a Green Yolk in Hard Boiled Eggs
The green ring around the yolk is caused by a chemical reaction that occurs when the egg is overcooked. This is completely safe to eat, but some people prefer the aesthetic of a yellow yolk. If you want to avoid a green yolk, follow these tips:
Don't overcook your eggs. This is the number one way to avoid a green yolk.
Store your eggs properly. Storing your eggs in the fridge will help prevent the formation of a green ring.
Add vinegar to the water if you are cooking them on the stovetop. This will help keep the yolks from turning green.
The egg cooker is the method that is the least likely to give you a green yolk.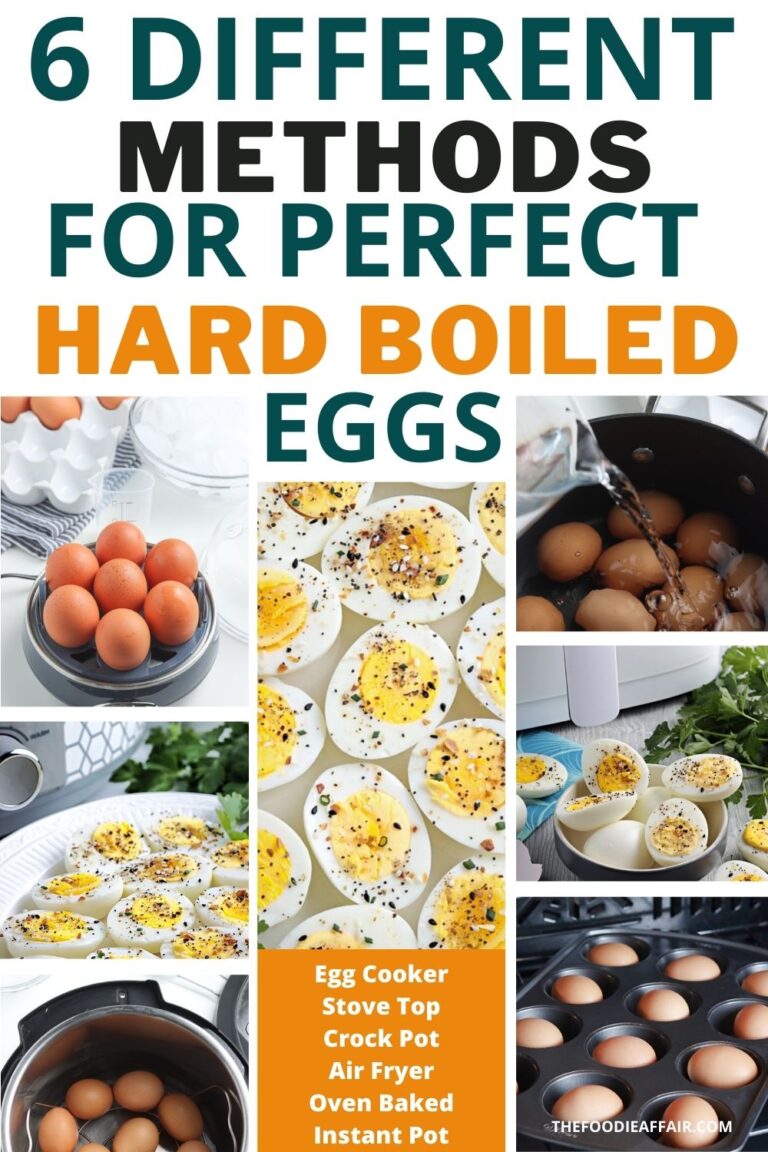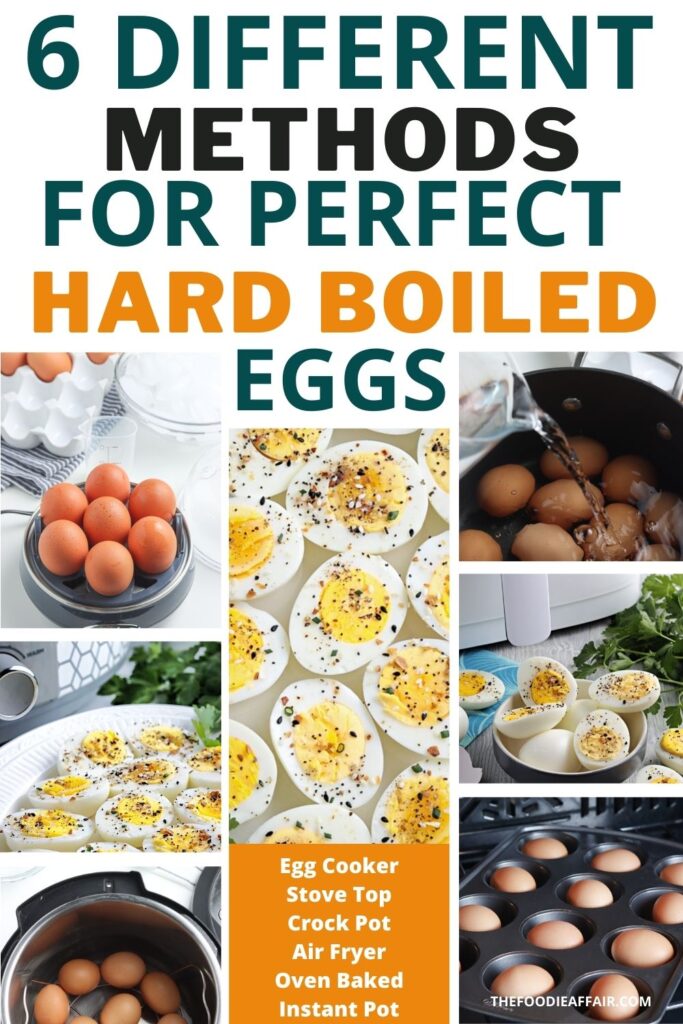 Ways to Use Hard Boiled Eggs
Now that you know how to cook hard boiled eggs perfectly, it's time to put them to good use! Here are some ideas on what to do with your newly cooked eggs:
Egg Salad Sandwiches – This is a classic for a reason! Egg salad is delicious and makes for an easy lunch when you are in a hurry. This Keto Egg Salad is a staple at my house!
Deviled Eggs – Deviled eggs are a delicious appetizer that is perfect for any party or gathering. Try these Dill Deviled Eggs.
Potato Salad – This classic dish is even better when you add in some hard-boiled eggs like the way this Fresh Herb Potato Salad or this Picnic Potato Salad is prepared.
Salad Topping – They are a great way to add some protein to your cobb salad.
Snack – Hard-boiled eggs make a great snack that is both healthy and filling.
Easter Eggs – Hard-boiled eggs can be dyed and used as part of an Easter egg hunt. Try using All Natural Easter Egg Dyes.
No matter how you cook these eggs or use them you will be so glad that you learned how to make perfect hard-boiled eggs!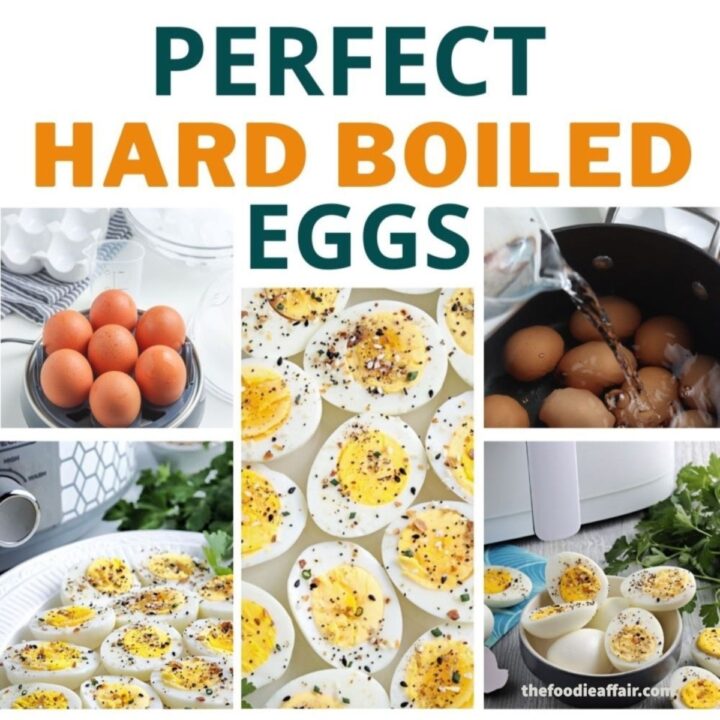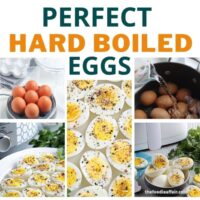 How to Make Perfect Hard Boiled Eggs (6 Methods)
Pick the perfect method to cook hard boiled eggs. Whether you try the traditional method on the stove top or a new air fryer method, follow the simple instructions to make soft boiled, medium boiled or hard boiled eggs every time.
Print
Pin
Rate
Notes
Times and methods will vary. Check each post for times and kitchen tools needed.
Older eggs are easier to peel than new eggs.
Methods are for medium and large size eggs.
Nutrition
Serving:
1
g
|
Calories:
72
kcal
|
Protein:
6
g
|
Fat:
5
g
|
Saturated Fat:
2
g
|
Polyunsaturated Fat:
3
g
|
Cholesterol:
186
mg
|
Sodium:
72
mg
Disclaimer
Please note that the nutritional information provided are guidelines and may vary based on the brand of products used. For your specific nutritional goals use My Fitness Pal or Verywell Fit recipe calculators. All content within this site is not intended as medical diagnosis or treatment and should not be considered a substitute for professional medical expertise.