Copycat Starbucks Bliss Bars are triangular pieces of cookie with cake crust are topped with a decadent cream cheese frosting mixed with white chocolate and dried cranberries.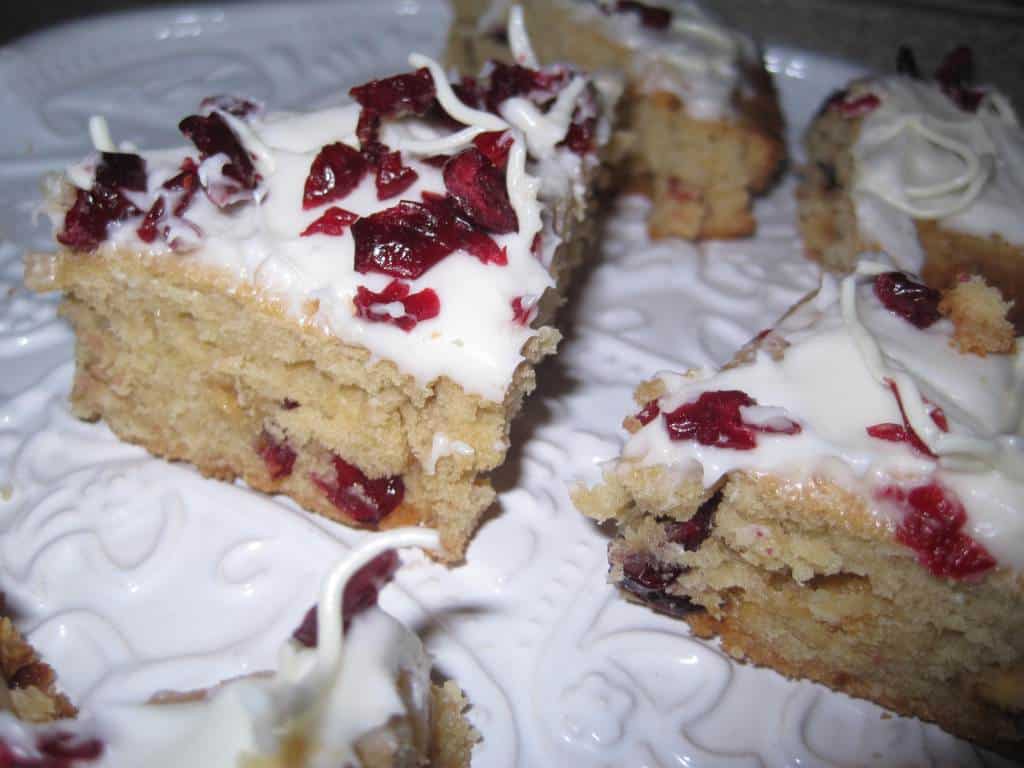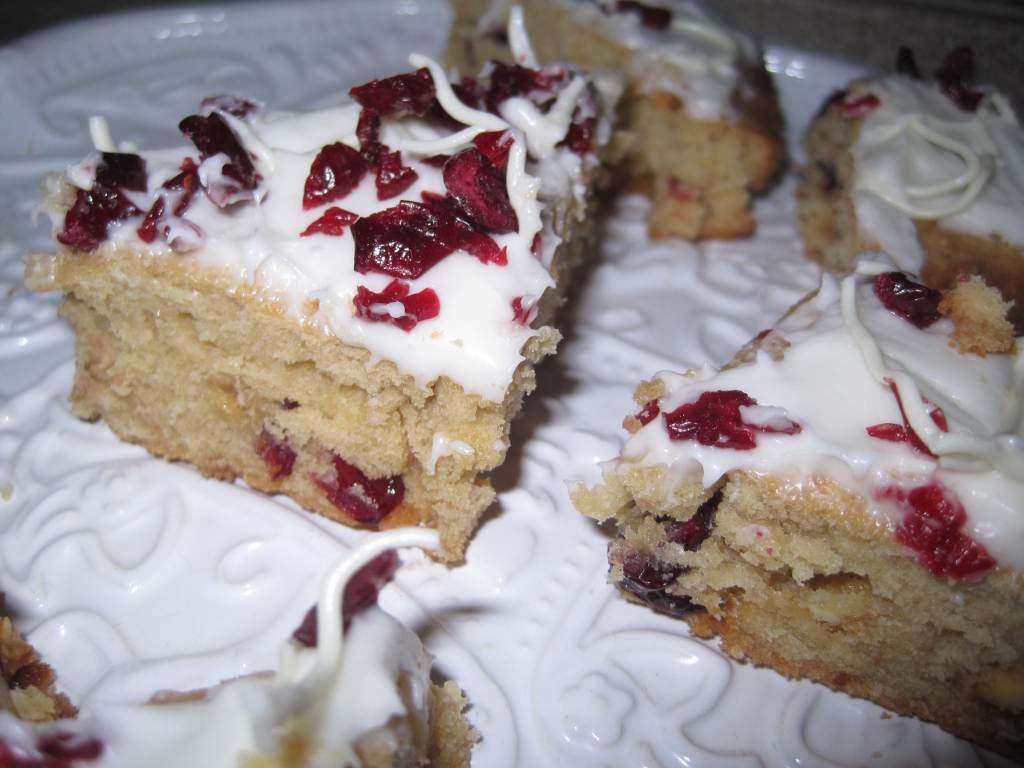 My coworkers are regulars at Starbucks and just about everyday I see a drink with the familiar coffee label on one of the desks in our office. They're not the "mocha latte lo-fat cream" types, but although they like the plain ol' fashion cup of joe they will occasionally pick up some fancy treats from under the display case.  A favorite among these seems to be the Cranberry Bliss Bars. They're a seasonal favorite this time of year, and exactly the recipe I wanted to duplicate! Maybe it was divine intervention or just another foodie on the same quest for deliciousness, but quite by surprise a friend tagged me on Facebook a copycat Starbuck Cranberry Bliss Bar recipe from Mr. Breakfast, 
mrbreakfast.com
!
Yield: 24
Copycat Starbucks Bliss Bars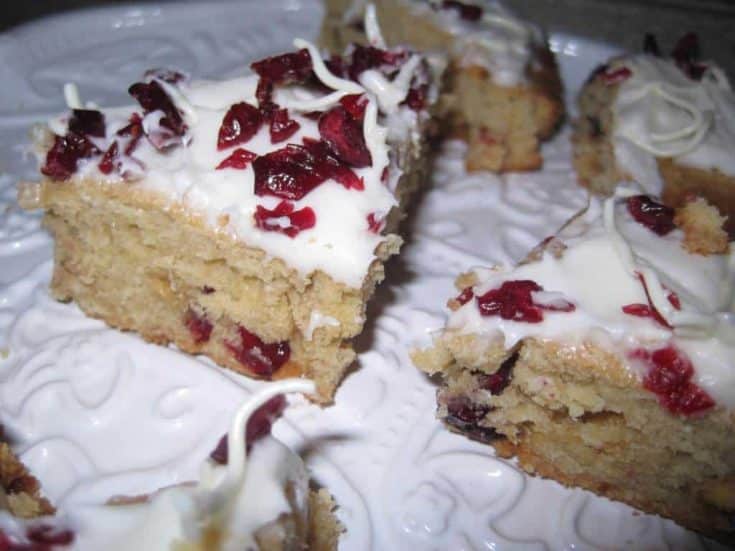 Ingredients
Bars
1 1/2 sticks of butter, softened
1 1/4 cups brown sugar, packed
3 large eggs
1 1/2 teaspoon vanilla
1 teaspoon ground ginger
1 1/2 cup all purpose flour
1/4 teaspoon salt
1/2 teaspoon baking powder
1 teaspoon grated fresh ginger
1 teaspoon sugar
1/2 cup dried minced cranberries (I used pomegranate Craisins)
4 oz. white chocolate (I used 1 bar of Lindt), coarsely chopped
Frosting
4 oz. neufchâtel cheese, softened
2 tablespoons butter, softened
1 teaspoon vanilla
1 1/2 cups powdered sugar
Instructions
Preheat oven to 350 degrees, and lightly grease a 9x13 pan.
Beat butter and brown sugar until light and fluffy. Add vanilla.
Once incorporated, add eggs one at a time.
In a separate bowl, sift together flour, baking powder, salt, and ground ginger.
Combine flour and butter mixture.
Separately, mix fresh ginger and 1 teaspoon of sugar, then add to the dough.
Fold in cranberries and chocolate.
Put in greased 9 X 13 pan and bake for 20-25 minutes or until lightly browned.
For frosting mix Neufchatel cheese, butter, vanilla and powdered sugar until well combined. Put on top of cooled bars.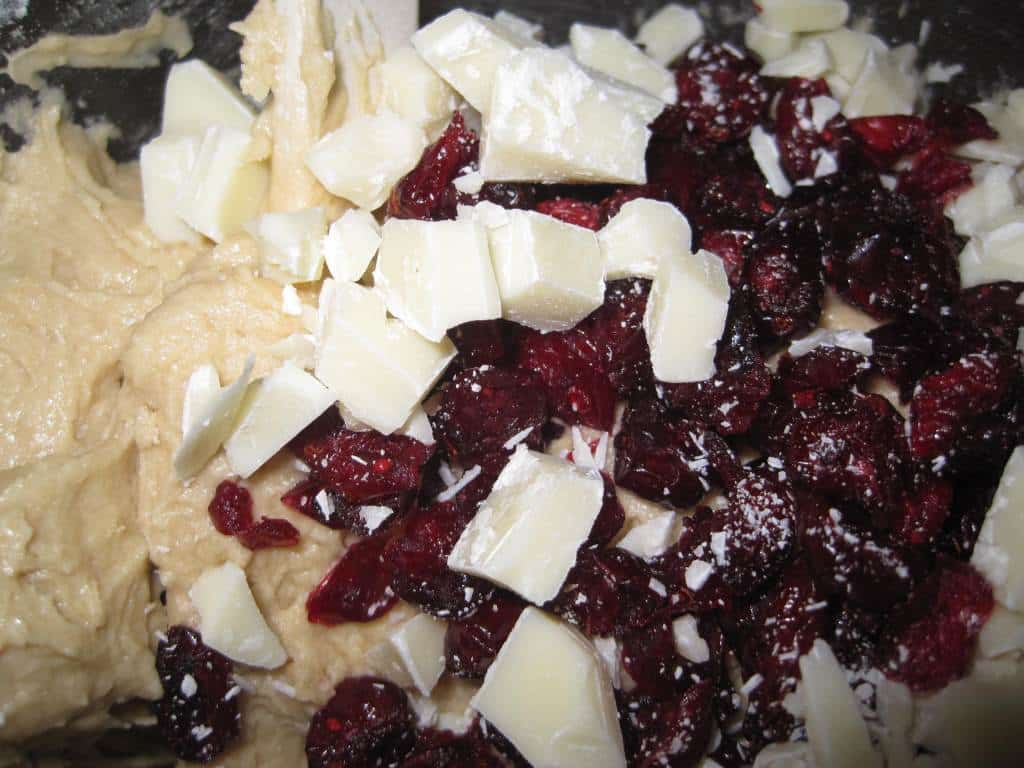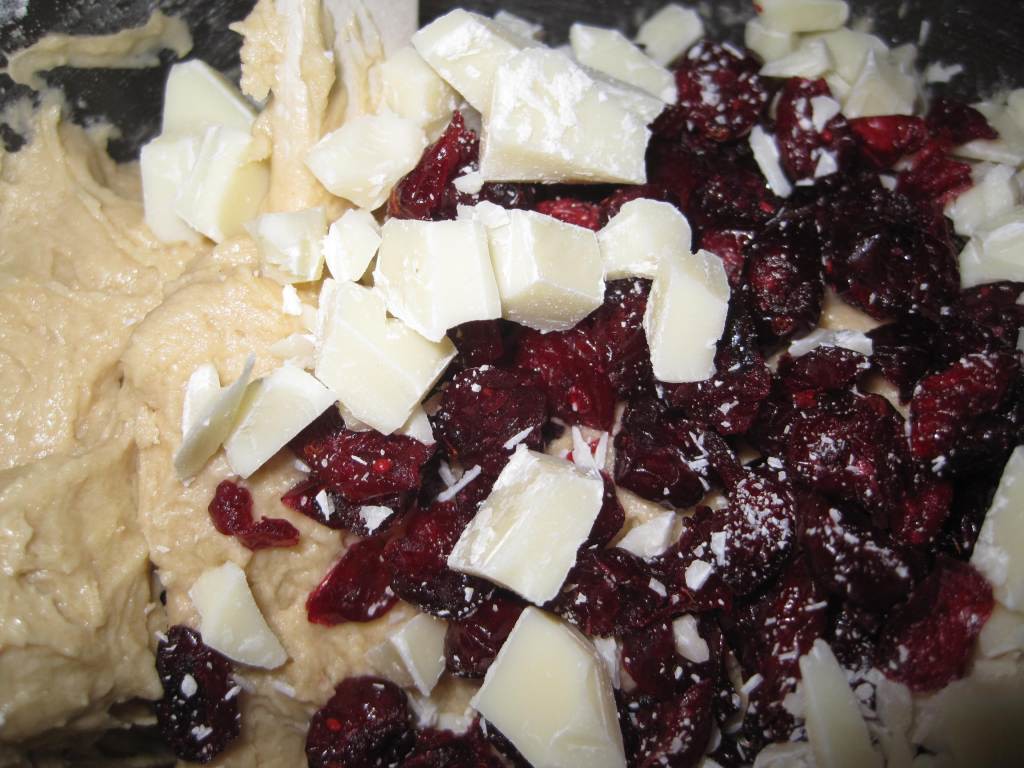 These triangular pieces of cookie with cake crust are topped with a decadent cream cheese frosting, mixed with white chocolate and dried cranberries, similar to my earlier scone recipe combining chocolate and cranberries, and just as delicious.  Added is a hint of ginger in the crust… ohhh, bliss for sure! Mr. Breakfast's recipe has a perfect frosting, although I tried to save 1/3 calories by using neufchâtel cheese instead of full fat cream cheese, and I did tweak the bar ingredients just a bit.
To make these bars pretty garnish with 1 tablespoon of minced dried cranberries and 1/3 cup of melted white chocolate chips.  You just saved yourself a trip to the coffee shop!