Tomatillo green chili salsa is the backbone to a host of Mexican dishes. I use my blender for this salsa, mixing a few basic ingredients (tomatillos, onion, garlic, cilantro, and a jalapeño pepper), and then adjust the flavor to my preference.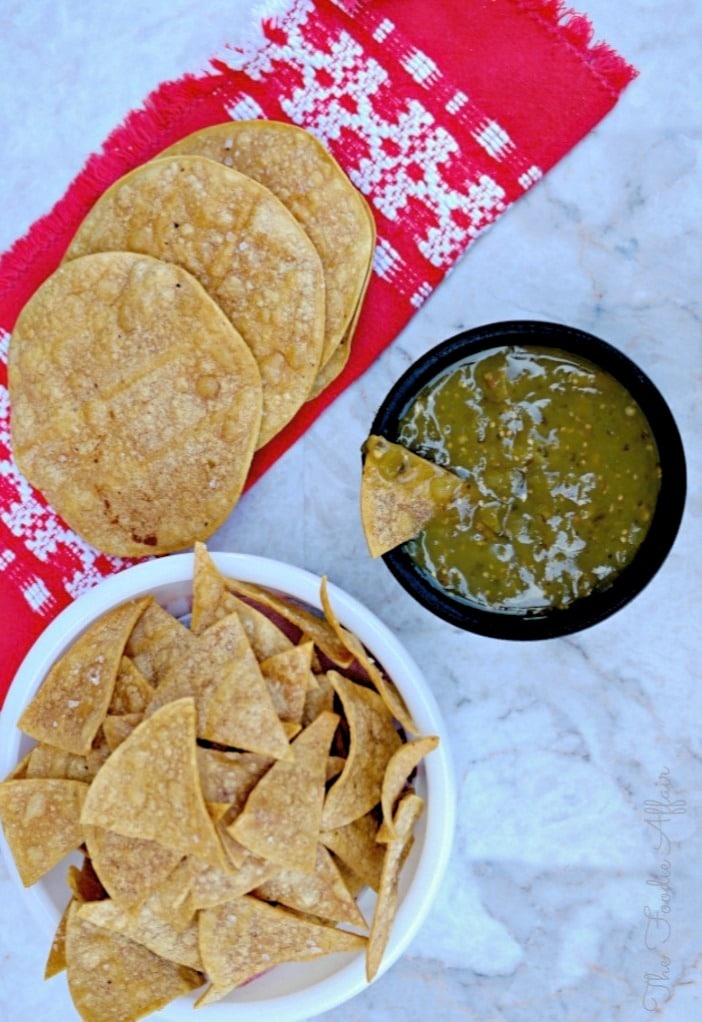 Tomatillo Green Chili Salsa Recipe
Some of my favorite salsa ingredients are cilantro, onion, and garlic, so I use plenty in this recipe.
On the other hand, I'm a wimpy salsa eater when it comes to the added heat from chili peppers, so I start with half a jalapeño.
Once I get the basic ingredient then I taste the sauce along with my husband and son's taste testing opinions.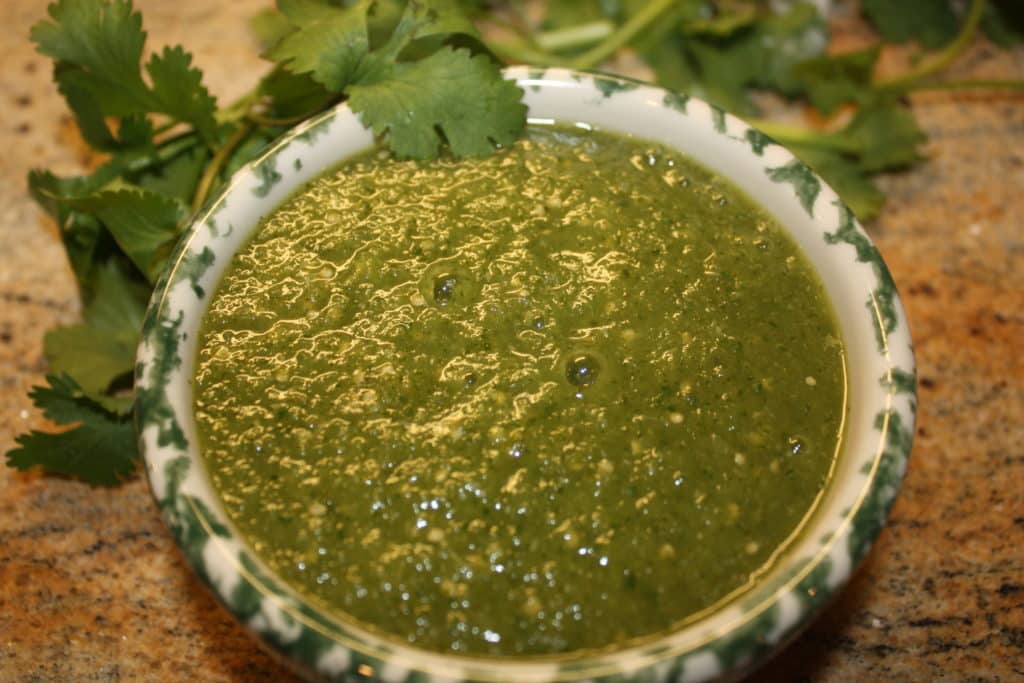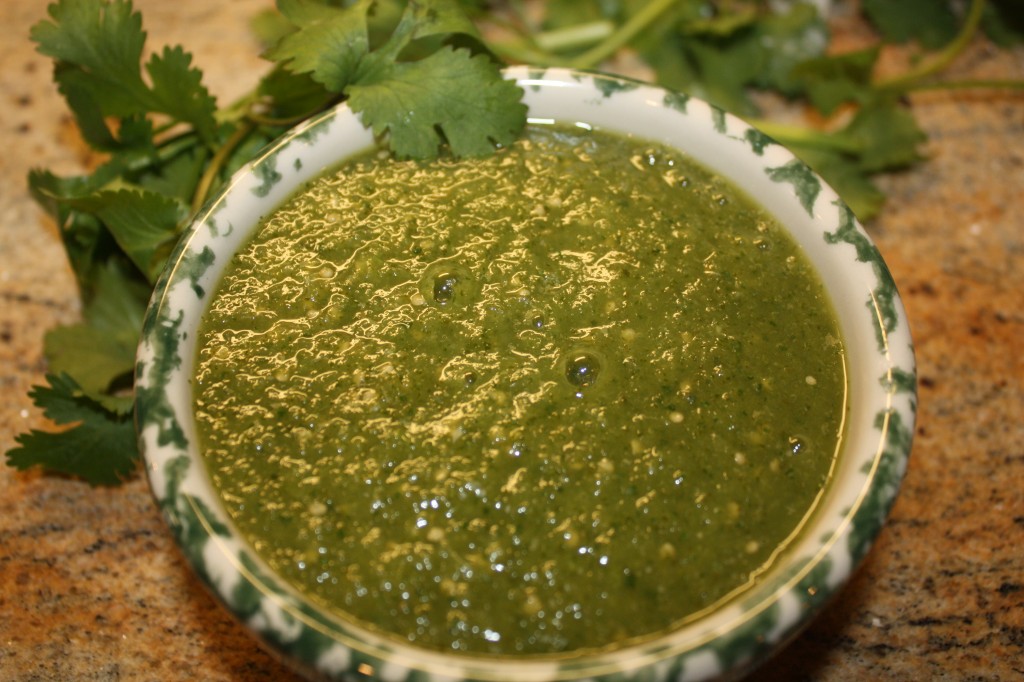 They like a hotter salsa, so between the tweaking the spices we quickly end up with a medium full flavor salsa.
This chili verde recipe has just enough heat from the jalapeños that doesn't leave us sniffling or dabbing perspired foreheads!
What are tomatillos?
These funny looking fruit are a relative of the tomato family with a papery outer skin, leaving behind a sticky residue.
Tomatillos are not sweet like the red tomatoes we serve with our salads. This fruit (yes, tomatoes are fruits!) are tart giving it the unique taste to sauces.
How to Prepare the Jalapeños for Tomatillo Green Chili Salsa
I use jalapeño or serrano peppers for this sauce.
The seeds in the chili peppers are potent, so protect yourself by using gloves or after handling the peppers rinse in cold water.
DO NOT touch your lips or eyes after touching the peppers.
First, clean the peppers and then cut the stem off and slice in half.
Should the Seeds be Removed When Making Tomatillo Green Chili Salsa?
If you are concerned about the heat it's important to know that the pungency (or heat factor) of chile peppers is measured in multiples of 100 Scoville units.
Jalapeños range from 5,000 – 25,000. The hottest pepper is the Ghost Pepper coming in at 1,000,000 units. Now that is HOT!
Also note that the heat doesn't come from the seeds. Capsaicin is the compound where the heat comes from and is located in the white pith or membrane or the pepper.
A little bit of the capsaicin will be on the seeds, but not nearly as much as in the pith, so use your judgement when leaving or removing the seeds.
Personally, it's a habit for me to remove the seeds when making green chili salsa because they don't blend up well.
Pepper Heat Index
When shopping for peppers, I always remember, the smaller the chili the hotter the bite!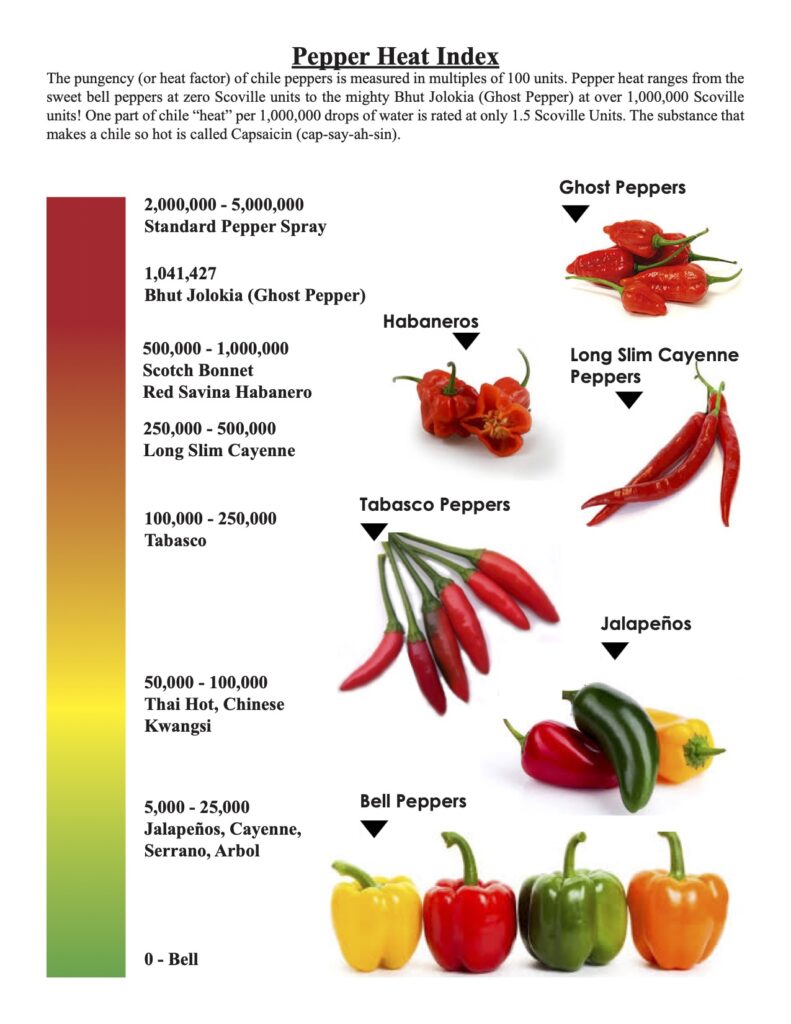 Recipe Ideas Using Tomatillo Green Chili Salsa
You can get super creative with this green chili salsa. Here I browned some pork, added the sauce for a Pork Chili Verde dish.
The sauce is tasty all on it's own, and great with chips. Make your own Baked tortilla chips and salsa!!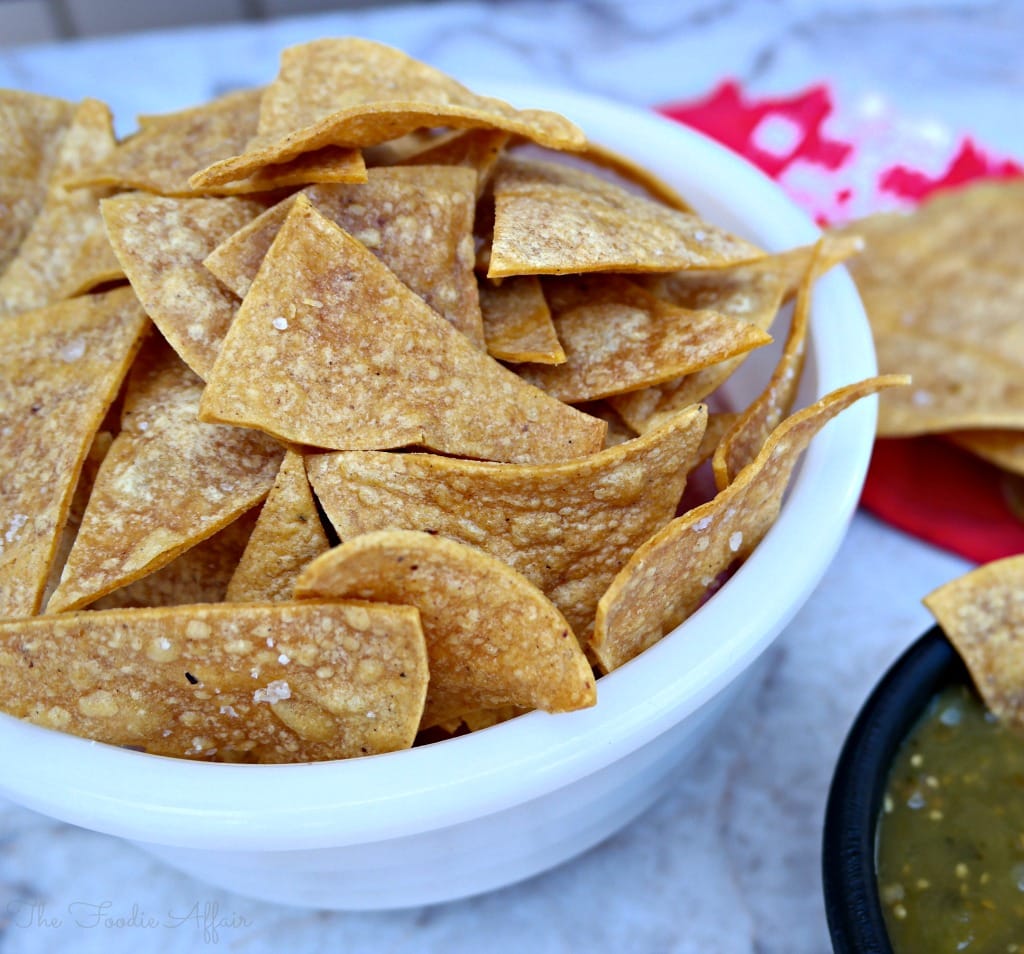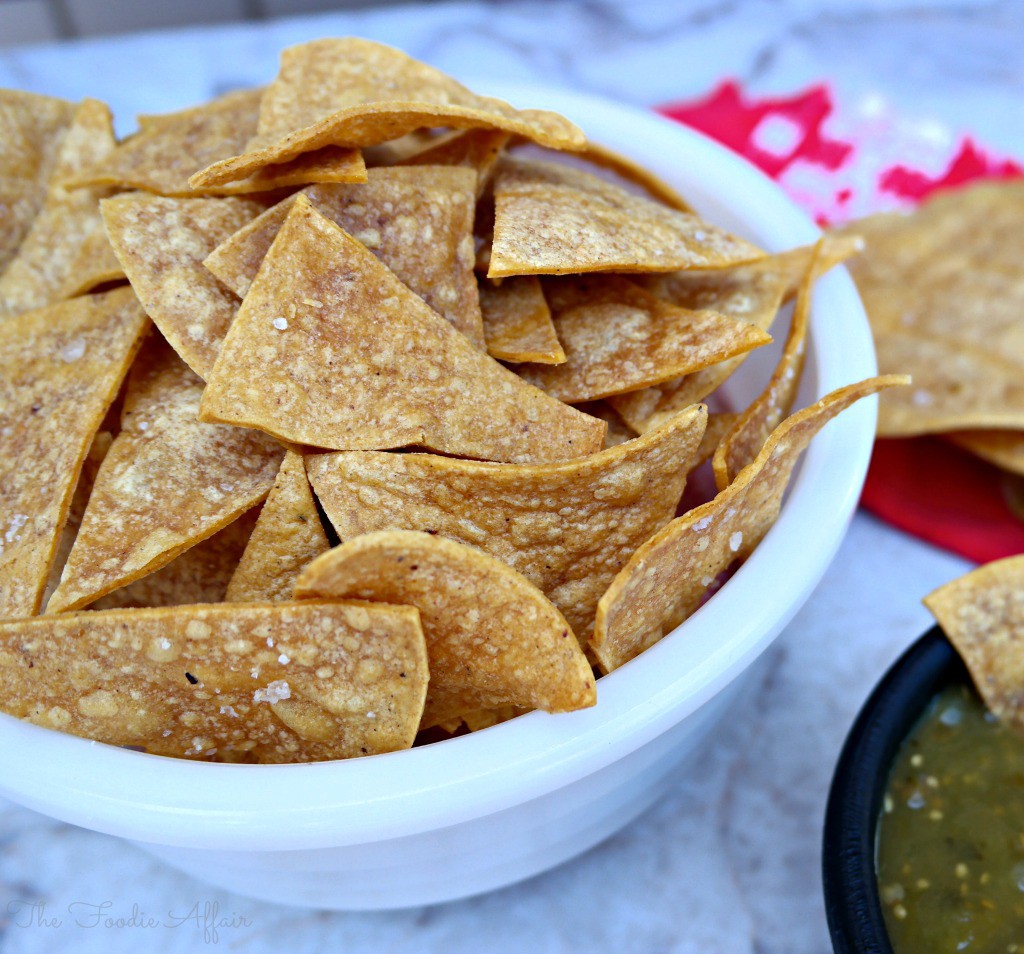 Mmmmm, now we're going to add it as a condiment on top of fried or baked chicken taquitos!
The Tomatillo Salsa Verde is so versatile. Add it to any protein, use the sauce for green enchiladas, add it to eggs.
The possibilities are endless!
Yield: 4-6 servings
Tomatillo Green Chili Salsa For Mexican Dishes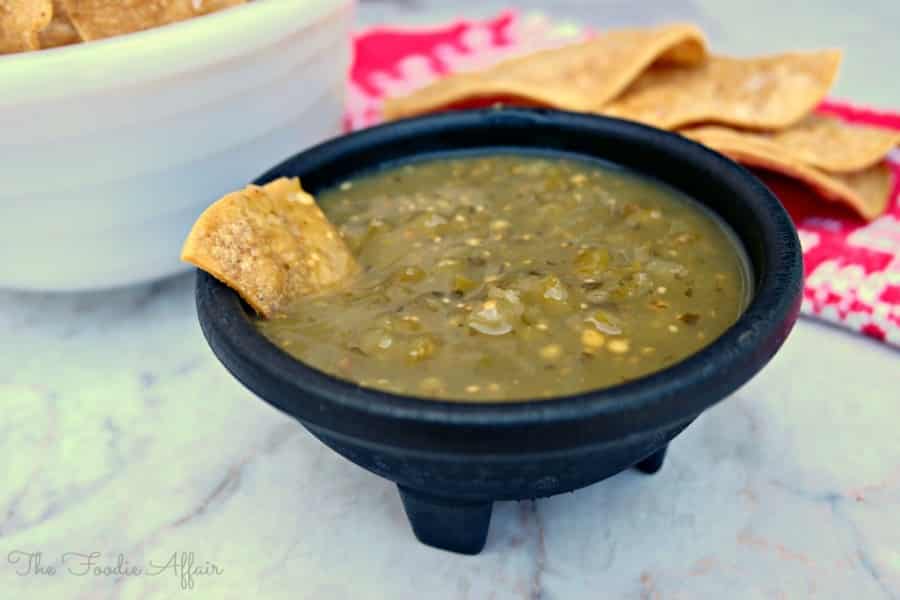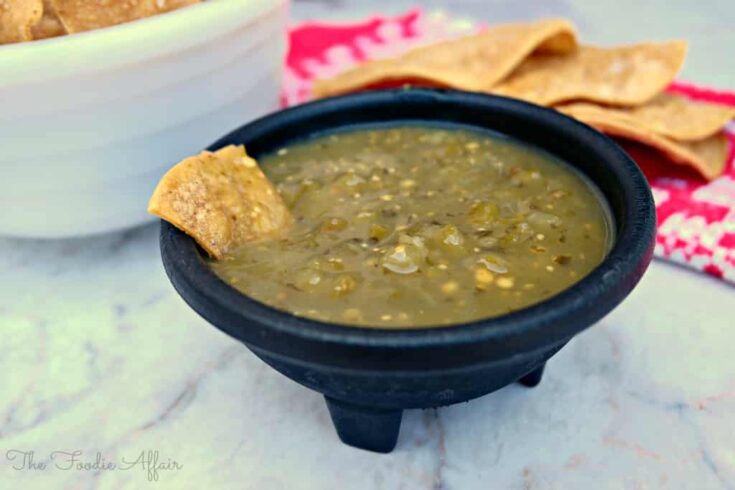 Make your own tomatillo green chili salsa and adjust the heat to your preference. Use as a dip with tortilla chips or as a base for Mexican dishes like chile verde or enchiladas.
Ingredients
5-6 (approximately 2 lbs) tomatillos
3/4 cup white onion, chopped
3/4 cup cilantro leaves
2 garlic cloves, chopped
1 lime, freshly juiced
1-2 jalapeño peppers (stemmed, seeded, and chopped)
1/2 teaspoon salt
Instructions
Clean tomatillos by removing the husks and rinsing well. Place tomatillos in a saucepan, cover with water. Bring to a boil and simmer for 5 minutes, turn the tomatillos to ensure even cooking OR
Halve the tomatillos and broil (skin side up) for 5-7 minutes. Let cool.
When the tomatillos are cool enough to handle, remove the stems and put all the ingredients in a blender or food processor.
Now comes the most important part, taste your sauce! Every jalapeño has a spicy life of its own. Some super hot and others not as potent. I seed my jalapeños and start adding slowly. I usually end up using one whole chili pepper, adjusting my recipe to the flavor I like.
Nutrition Information:
Yield:
6
Serving Size:
1
Amount Per Serving:
Calories:

19
Total Fat:

0g
Saturated Fat:

0g
Trans Fat:

0g
Unsaturated Fat:

0g
Cholesterol:

0mg
Sodium:

179mg
Carbohydrates:

5g
Fiber:

1g
Sugar:

2g
Protein:

1g
Please note that the nutritional information provided are guidelines and may vary based on the brand of products used. For your specific nutritional goals use My Fitness Pal or Verywell Fit recipe calculators. All content within this site is not intended as medical diagnosis or treatment and should not be considered a substitute for professional medical expertise.
Thirsty For A Mexican Cocktail?
Give this green chili salsa a try, and serve it with a cold cerveza, paloma cocktail, low sugar margarita or Spanish sangria!