Easy Homemade Buttermilk Biscuits
Tender and flaky homemade buttermilk biscuits are easy to make and super versatile. Enjoy with butter, jam or turn into breakfast sandwiches with egg and ham or sliders with hamburger patties.
Fresh and filling breakfast might seem like a thing of the past or a weekend-only treat, but it doesn't have to be. I love to make a batch of biscuits and pop them in the oven while I finish cooking eggs and bacon.
My recipe for homemade buttermilk biscuits is quick, fool-proof, and delicious.
You will get about a dozen large fluffy biscuits if you follow my tips and tricks and this recipe, or you can cut it in half and make a small batch. I like to make the full twelve to have some leftovers for another day or make toasted pancake biscuits for a nice little treat.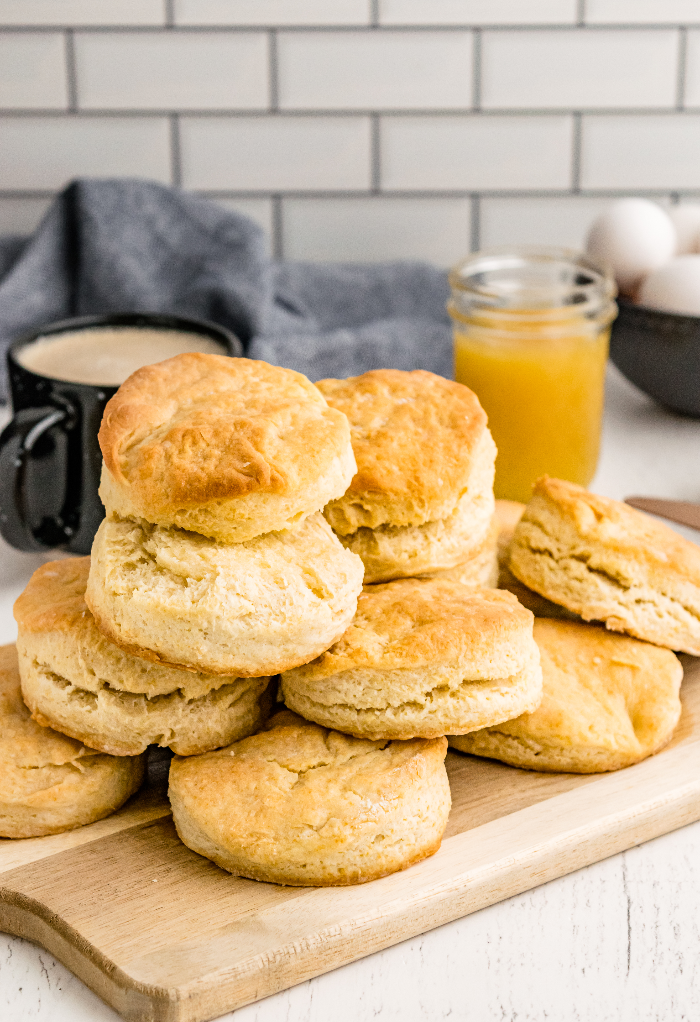 Homemade Buttermilk Biscuits Recipe
One of the biggest steps in getting tall, fluffy, airy biscuits is to have COLD butter, and not to work it too much. You want your ingredients to be just mixed, not over kneaded and mixed.
The more you work this dough the tougher your biscuits will be and the less they will rise in the oven. The cold butter releases steam while the biscuits bake, which makes them get taller and fluffier, creating little fluffy air pockets throughout the dough.
The dough for homemade buttermilk biscuits can be turned into more than just a family favorite breakfast food, you can also easily make dumplings for chicken soup, shortcakes for summer desserts, garlic cheese bread for Italian dishes, and more!
These biscuits are from my Buttermilk Biscuit Breakfast Sandwiches posted in 2013. They're so good that they needed their own post with more details and step by step photos.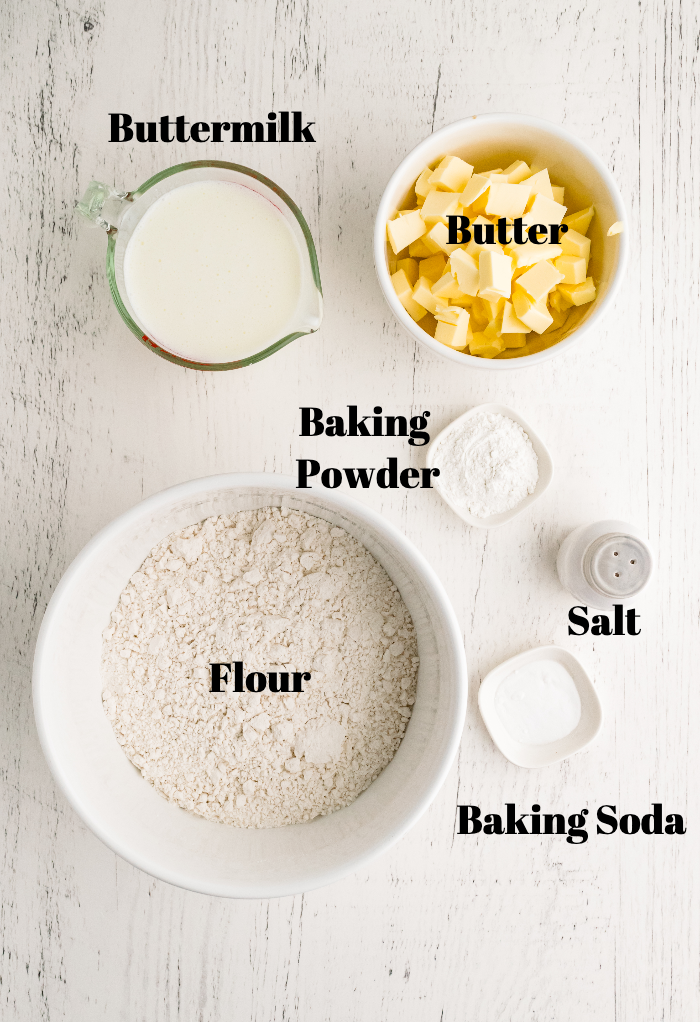 What do I need to make Buttermilk Biscuits?
All-Purpose Flour – sift your flour in a fine mesh strainer or flour sifter first to make sure any lumps are disintegrated.
Baking Soda – the chemical reactions help give lift and fluff to your biscuits so they are not hockey pucks. Make sure yours hasn't expired or you'll bake flat biscuits.
Baking Powder – another ingredient to help with the necessary leavening chemical reactions. Again, make sure to check the expiration date.
Butter – fat adds moisture and helps hold the dry ingredients together. Make sure your butter is cold. Don't use a substitute. Use full fat butter.
Buttermilk – not only does the slightly sour flavor add delicious flavor, but the fats also help to make better biscuits.
Salt – salt aids in the butter steam reaction as well as bringing the flavors to life fully in your biscuit dough.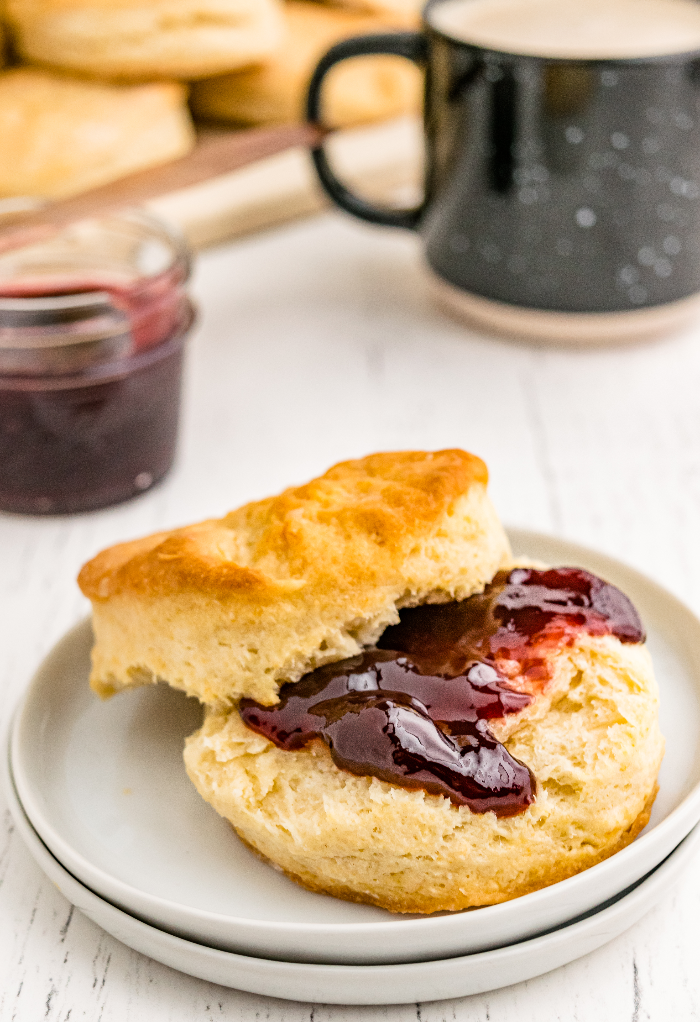 How do I make Homemade Buttermilk Biscuits?
Measuring
Start with cold butter and buttermilk, when you cut up your butter put it back into the refrigerator to chill until absolutely ready to measure and incorporate.
When you measure flour it should not be packed into the measuring cup, use a spoon or scoop to fill it to the top of the measuring cup and then level it off with a knife.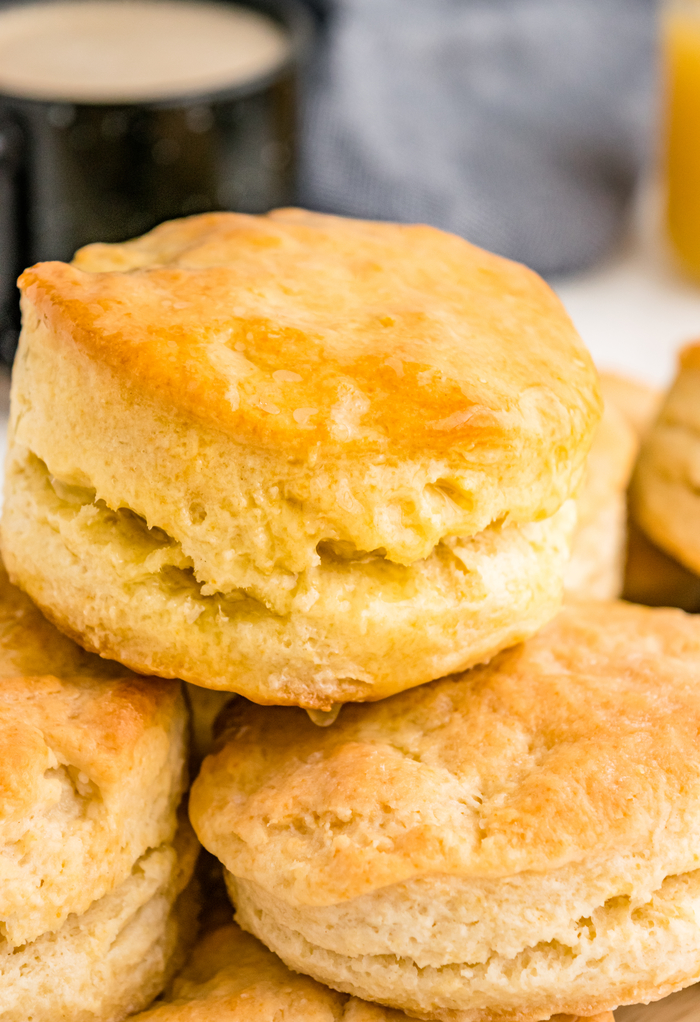 Whisk and Mix
Make sure to mix your dry ingredients well with a whisk so that the leavening agents are fully mixed through the flour.
Use a pastry cutter to mix in the chilled butter with the dry ingredients, if you don't have one use your fingers to quickly crumble the butter and flour in together, but this is going to start melting it quickly, a pastry cutter or two knives is best.
Make a well in the middle of your butter/flour mixture to add the buttermilk to, and then mix from outside in, folding the dry into the wet evenly.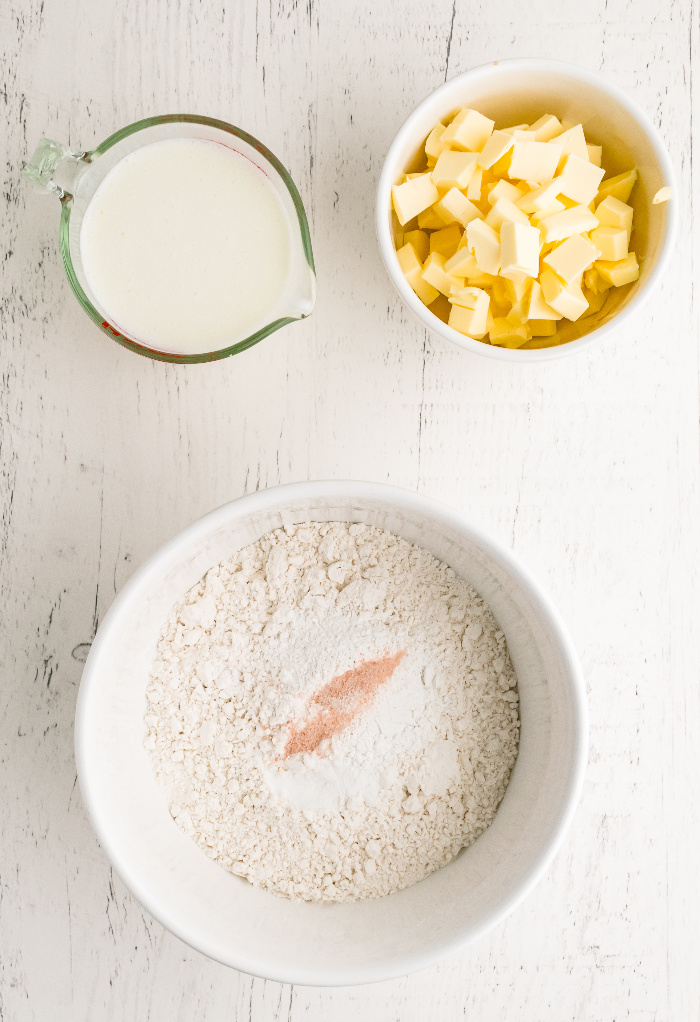 DON'T OVER MIX!
Gently Form Dough & Cut Biscuits
Incorporate the ingredients until all flour is wet, and then turn out onto your floured surface.
You only need to "knead" the dough once or twice, if you overwork it your biscuits will not rise and they will be tough.
When you cut your dough with the biscuit cutter use one motion, down and up, don't twist. Twisting seals the dough on the edges and can make them not as fluffy.
Bake
Place your cut biscuits close together, if they are touching that is ok, it will make them taller because the steam will not escape as much.
Preheat your oven so the temperature is right the entire time and they bake evenly. If your oven is hotter on one side of the oven, then turn the baking sheet half way through baking time.
Have melted butter ready for the second your biscuits come out of the oven and either spoon or brush over the tops and sides.
Don't let them get too brown on top, just starting to get to the golden brown stage is perfect.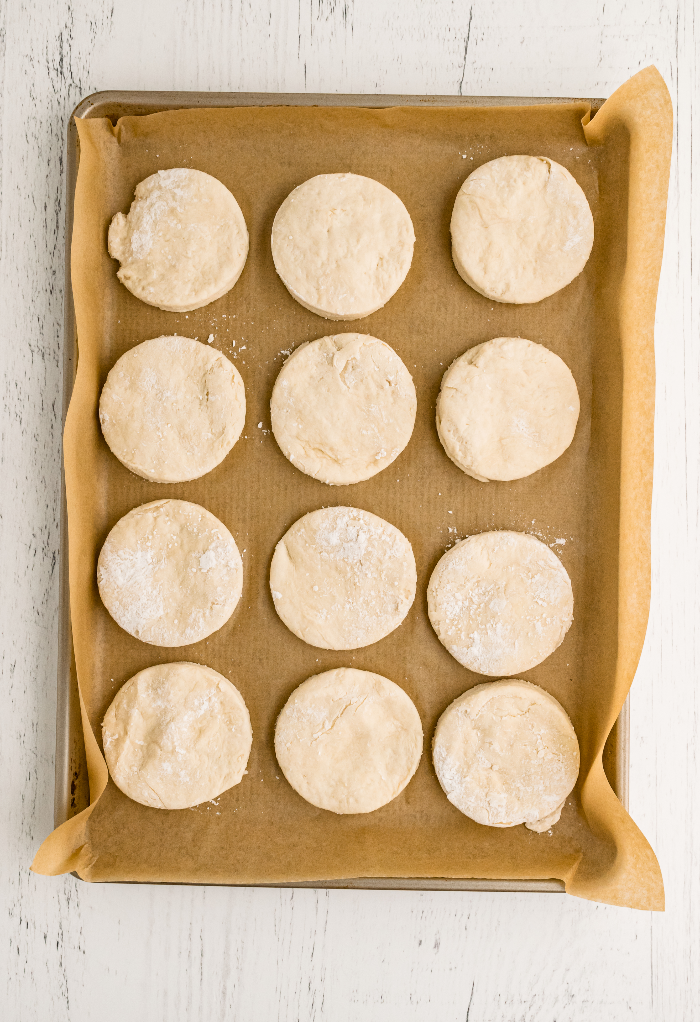 Variations/Other Uses:
Sweet Buttermilk Biscuits
Add a ¼ cup of granulated sugar to the dry ingredients to make shortcakes with your biscuit dough. You can either roll and cut as you would for biscuits or drop by tablespoonfuls onto the baking sheet for a more rough style. Serve cooled, with a dollop of cream cheese fruit dip, fresh fruit or whipped cream.
I like to make "pancake" biscuits with leftovers the next day. Let the biscuits sit on the counter covered with a towel overnight. The next morning, cut the stale biscuits in half, then place on a baking sheet with cut surfaces facing up. Brush with melted butter, place in the oven to toast until golden brown and crispy on top. Next drizzle with pancake syrup, blueberry sauce or honey and eat them like pancakes!
Savory Homemade Buttermilk Biscuits
Add a cup of shredded sharp cheddar cheese and a teaspoon of garlic powder to the dry ingredients, then drop onto the baking sheet using a medium or large cookie scoop. Once baked, brush garlic butter on the top of the biscuits and sprinkle with parmesan cheese. (these will be the best "cheddar bay biscuits" you have ever had).
Use this dough to make the dumplings in your favorite chicken soup to make chicken and dumplings. Just drop the dough by the spoonful into your finished hot soup during the last portion of cooking and allow the dough to steam through on top of the pan, or roll super thin and cut into small squares and drop into the pot of hot soup to finish cooking.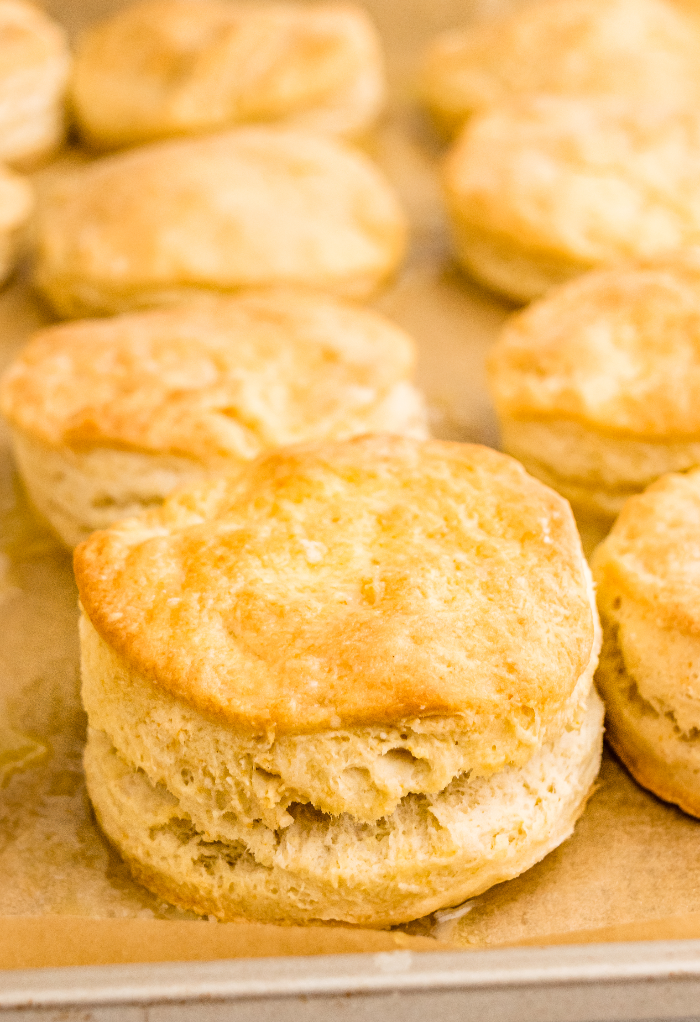 What if I don't have any buttermilk?
If you don't have buttermilk you can use cream, half and half or whole milk and add a tablespoon of lemon juice to a measuring cup and fill with milk of choice to the 1 cup mark. This will sour the milk. Let it sit in the refrigerator this way for five minutes. It will curdle a bit and that's ok. Stir and mix into your biscuit dough.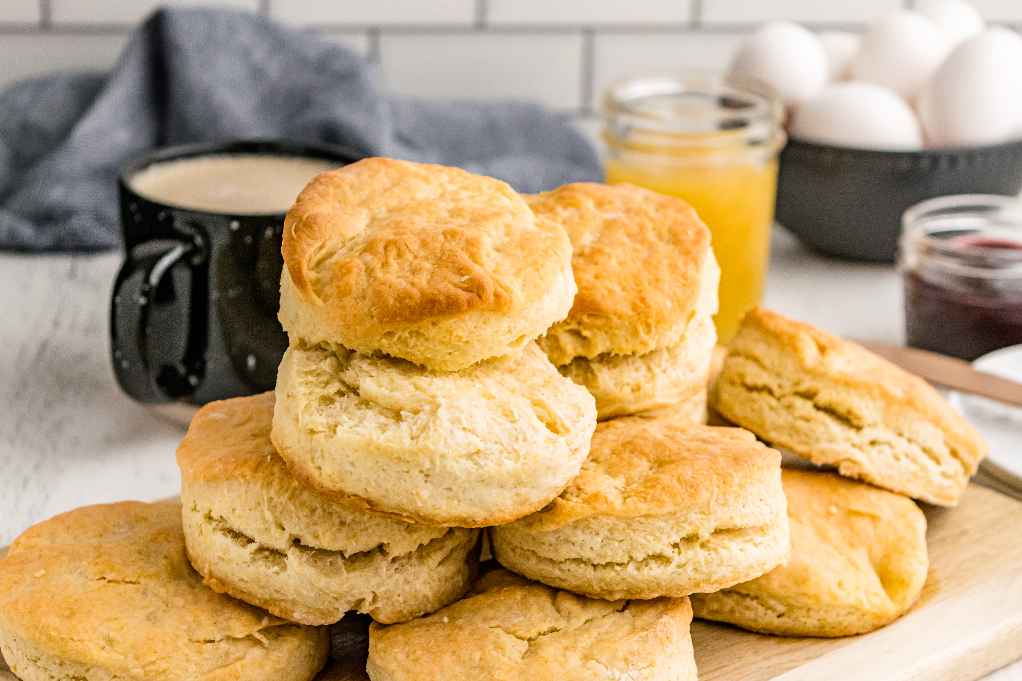 How do I store homemade buttermilk biscuits?
You can store your biscuits once they are completely cooled in an airtight container on the counter or in the refrigerator for two days.
I would suggest storing them without butter on top, dry on top would keep the best, you can always add butter when you are ready to enjoy.
Once you try making your own homemade buttermilk biscuits you will leave the cans of biscuits at the store and make your own every time, there is absolutely no comparison.
I would love to hear your feedback and how you used your biscuits if you got creative! Leave a comment telling me all about it below!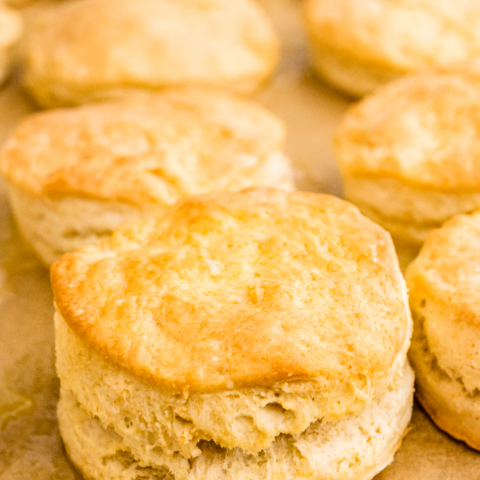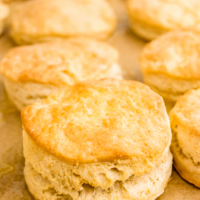 Easy Homemade Buttermilk Biscuits
Tender buttermilk biscuits made from scratch. These are delicious right out of the oven with melted butter or top with jam. Easily incorporate sweet or savory ingredients.
Print
Pin
Rate
Ingredients
4

cups

all-purpose flour

2

teaspoons

kosher salt

1 1/2

tablespoons

baking powder

1

teaspoon

baking soda

2

sticks chilled unsalted butter

sliced in chunks

1 1-2

cups

buttermilk
Instructions
Preheat oven to 400 degrees.

In a large bowl whisk the dry ingredients together. Use a pastry blender (or two knives), and cut in the butter until it is the size of small peas. Add the buttermilk and stir (won't be completely combined and small pebbles of butter is ok).

Flour hands and put the dough on a floured surface kneading just until dough comes together. Gently pat at the dough into 3/4 inch thick rectangle.

Use a 3 to 3 1-1/2" biscuit cutter to form biscuits. Re-roll remaining dough and recut if you want to get some extra biscuits.

Transfer to parchment lined baking sheets and bake for 25-30 minutes or until golden. Brush top with melted butter. Cool.
Nutrition
Serving:
1
g
|
Calories:
304
kcal
|
Carbohydrates:
34
g
|
Protein:
6
g
|
Fat:
16
g
|
Saturated Fat:
10
g
|
Polyunsaturated Fat:
5
g
|
Cholesterol:
42
mg
|
Sodium:
997
mg
|
Fiber:
1
g
|
Sugar:
2
g
Disclaimer
Please note that the nutritional information provided are guidelines and may vary based on the brand of products used. For your specific nutritional goals use My Fitness Pal or Verywell Fit recipe calculators. All content within this site is not intended as medical diagnosis or treatment and should not be considered a substitute for professional medical expertise.