Ohhh, lala! Glad to have your attention my smoothie friends! Rated quadruple S in the smoothie category, this delicious silky strawberry smoothie is low in calories and packed with protein!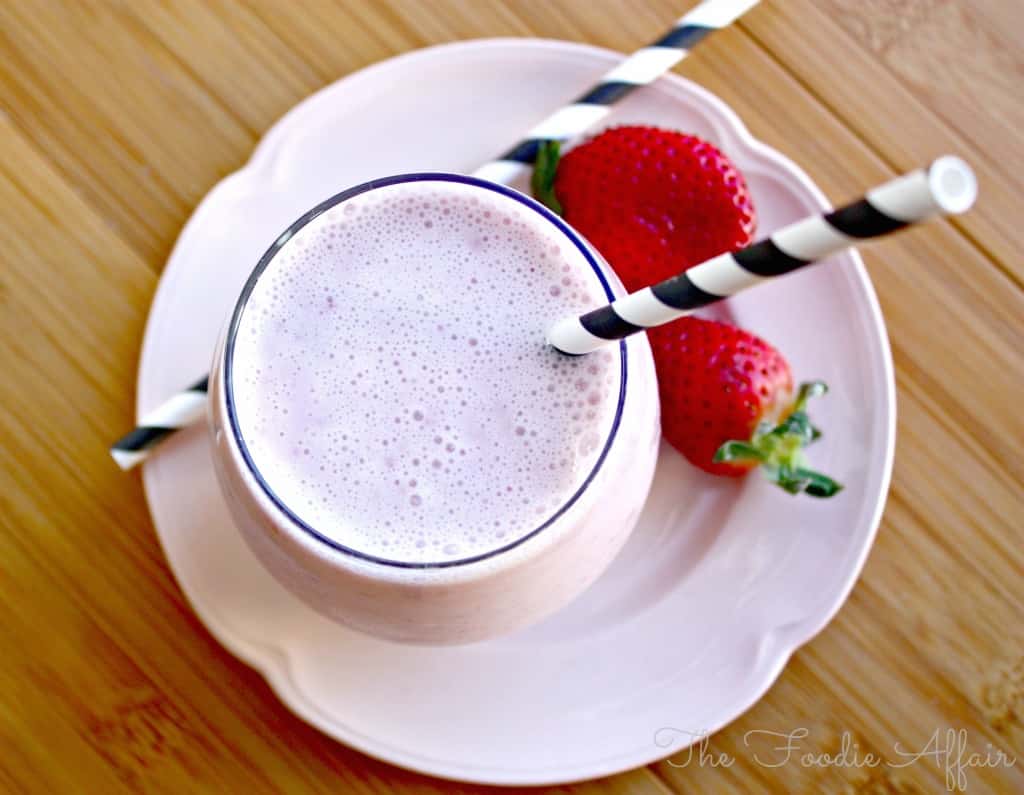 Isn't this smoothie gorgeous? I thought after sharing mini donuts and a loaded platter of nachos, we should balance our goodies with a healthy option! I promise to share some decadent treats in the coming weeks, but today we're enjoying a Super Sexy Strawberry Smoothie that has 18 grams of protein, no extra sugar, and all under 300 calories.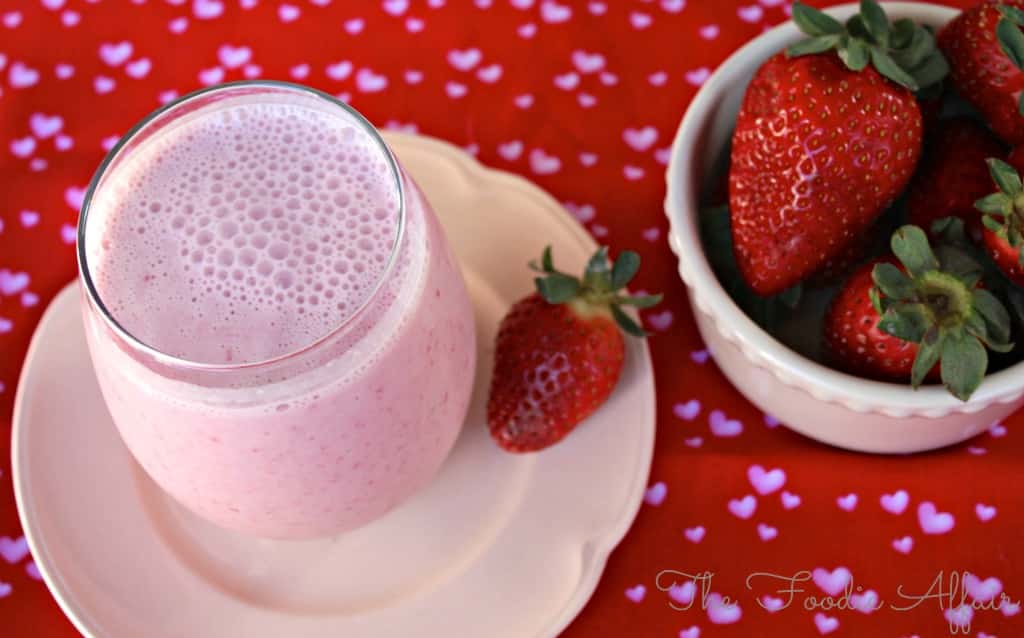 Wouldn't this be the most awesome beverage to make your sweetie for Valentine's Day? Actually, it would be fabulous if someone made this for YOU and ME, US!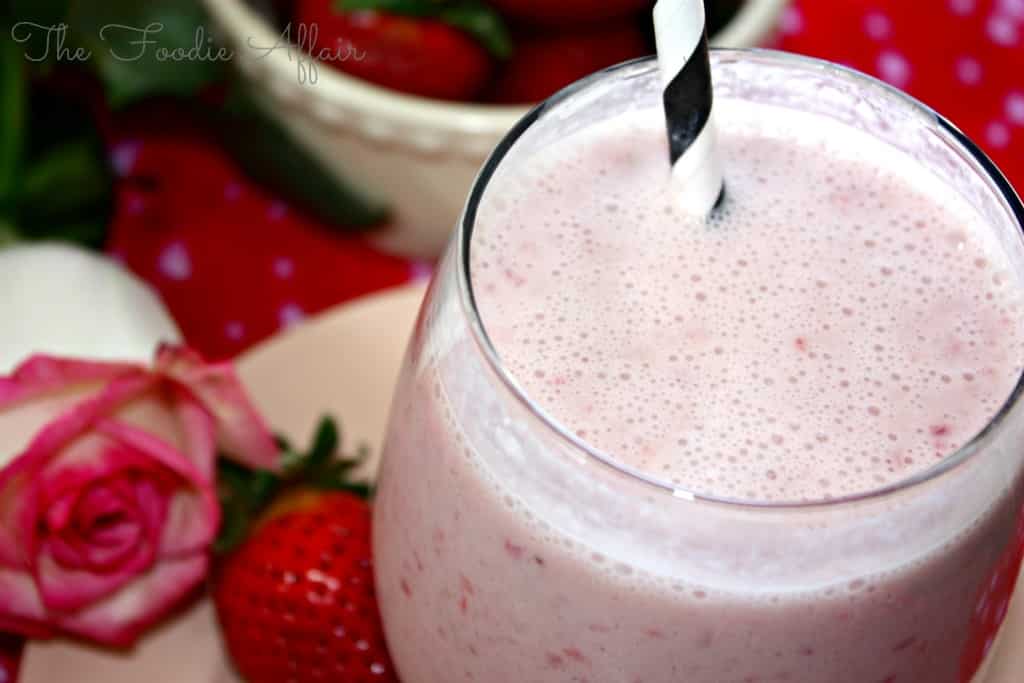 Chocolate and flowers are probably the most popular gift items for Valentine's Day, but if your Valentine has been working super hard on their exercise and diet resolution, it would be pretty cool to encourage and support their efforts by putting together a healthy smoothie.
This is filling all by itself, but if you would like to add another layer of "ahhh-ness," a side of fresh fruit or toast would be perfect! Oh, and flowers are always appropriate 🙂
This takes under 5 minutes to blend up! Even the most culinary challenged can whip this up, so go ahead and forward this recipe to to your kids, partner, roommate – all the loves in your life!
P.S. I make this smoothie all year long! No special occasion is really necessary XO
If you are interested in making homemade yogurt? In the Kitchen with Jenny shows you how!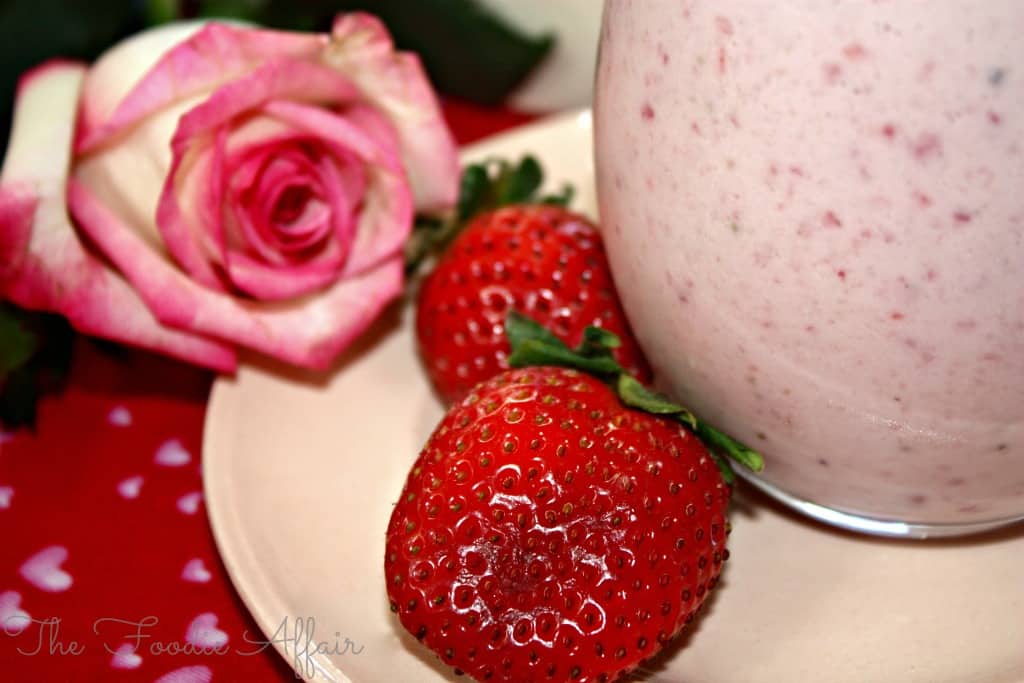 Yield: 1-2
Strawberry and Banana Smoothie
Prep Time 5 minutes

Cook Time 3 minutes

Total Time 8 minutes
Ingredients
1 cup unsweetened almond milk
6 ounces Greek yogurt, plain (I used 0% Fage)
1 cup strawberries, diced (frozen or fresh)
1/2 banana (frozen or fresh)
1/2 teaspoon vanilla extract
sweetener of your choice (optional)
Instructions
Add almond milk, yogurt, fruits and vanilla extract to a blender and pulse until ingredients are well blended. Add ice if you want a thicker beverage, but it may not be necessary if the fruits used have been frozen.
Notes
The fruit adds enough sweetness for my taste, but if you prefer a sweeter smoothie, add a sweetener of your choice.