This Strawberry Coconut Smoothie made with full-fat coconut milk, strawberries, vanilla extract and a scoop of protein powder. This smoothie is an excellent breakfast, snack, pre or post workout beverage!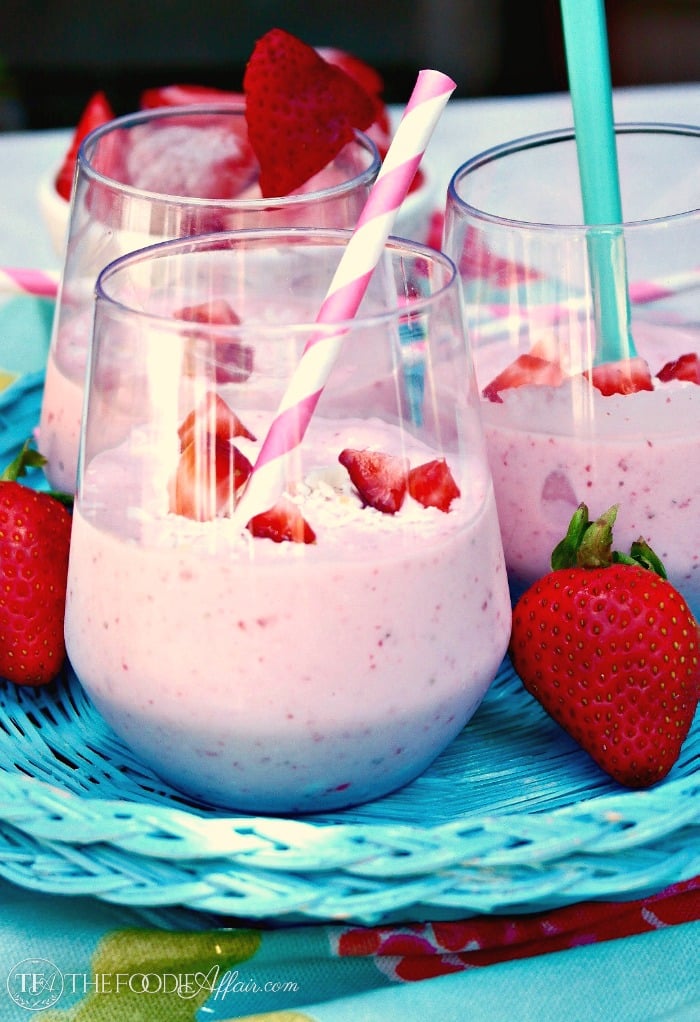 Strawberry Coconut Smoothie Recipe
It's smoothie time!
I'm sharing a delicious new combination of flavors that could pass for a milkshake, but this smoothie is dairy free, and unlike a milkshake it's low carb AND low sugar!
This super satisfying beverage can be enjoyed as a treat or meal. I used full-fat coconut milk in this recipe which is super satisfying and will stick to your rips for hours.
If you prefer to use the lite coconut milk, your fat grams and total calories will be less (obviously), so use the type that fits your your dietary preference or daily macronutrients.
I'm trying to add more good fats to my diet and coconut fat is one of the good fats.
Low Carb Coconut Smoothie
Coconut is mostly made of medium chain saturated fatty acids (MCFAs), which is used up more quickly by the body and are less likely to be stored as fat.
Hip-hip hoorah, right?!
Yep, after years of low-fat, no-fat eating I'm reading more and more studies that encourage consuming good fats like avocados and nuts, olive oil instead of no-fat alternatives.
Fats are essential for our bodies, but we've been told to avoid fats for decades and I complied!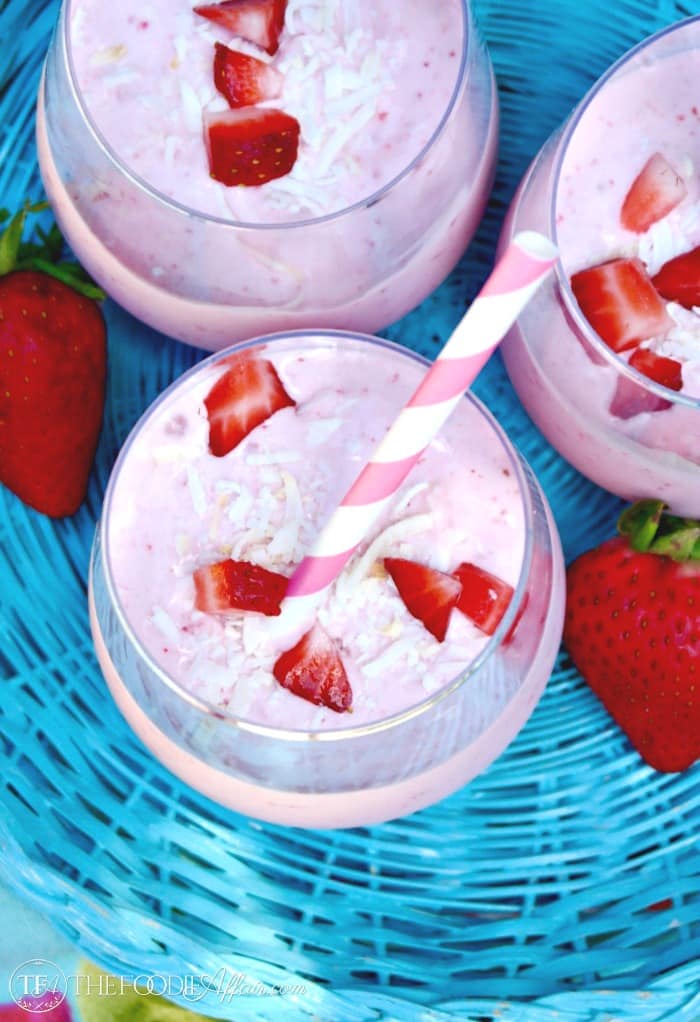 Fat Is Healthy For Our Brains!
I think when you begin to enter the middle years of life you are more aware of health problems that could potentially be a quality of life issue like dealing with dementia or Alzheimer.
Those types of diseases attack brain function, and we need to protect our brain with good fat!
One way to combat neurological disorders of the brain is to feed it good fat (like avocados)!  
Are you convinced that you should blend up this smoothie? Gimme a full-fat brain nourishing smoothie!
I shared this tasty Strawberry Coconut Smoothie with my son Sam and his girlfriend.
They were watching "Friends" re-runs, which cracks me up because the first episode aired in the early 90's which is when they were born!
I sipped mine and headed to the gym, which was perfect fuel for a workout! In fact, this smoothie sustained me for several hours!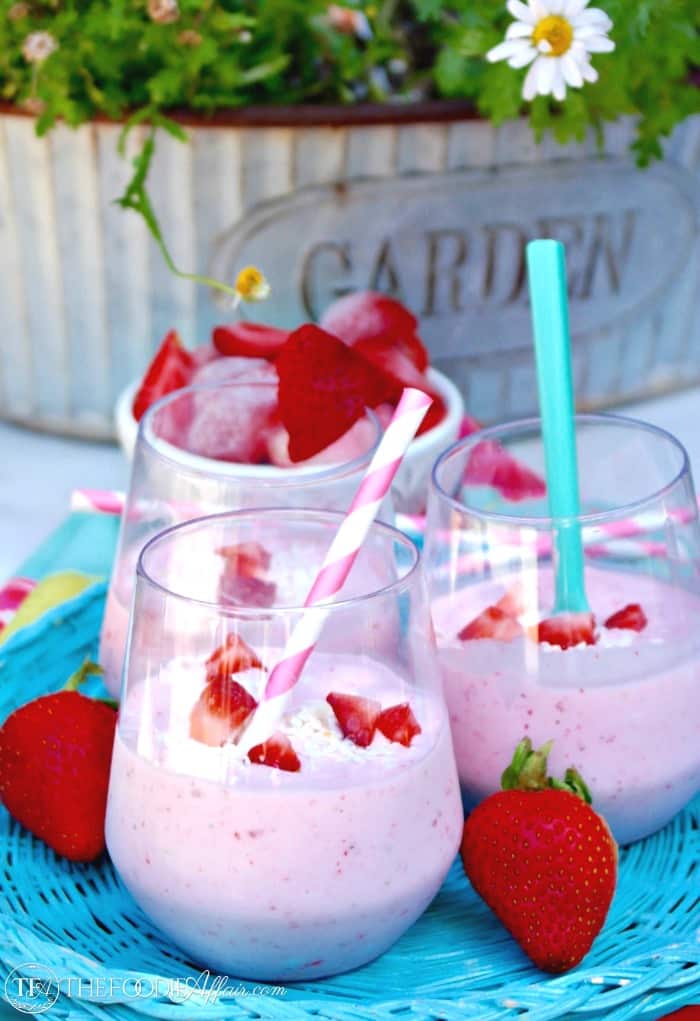 Use Fresh or Frozen Strawberries
Strawberries are so delicious right now and they are scrumptious with coconut!
I bought several pints of the berries and have already begun to freeze them, since the sweetest strawberries won't last throughout the year!
I should be saving them for later in the year, but I can't resist using them now!
You can use fresh strawberries for this smoothie too, but I think you'll love the thick rich consistency that the frozen berries add.
Keep a spoon and straw handy. You'll want to use both!
Still want another tropical smoothie to try? You also might want to try this Pineapple Smoothie!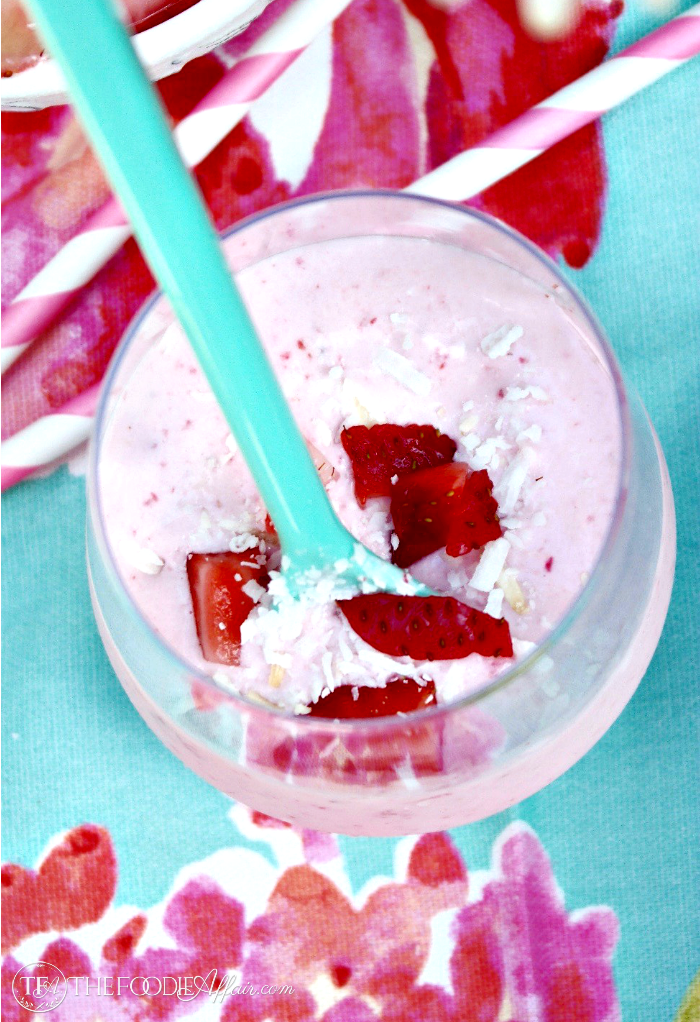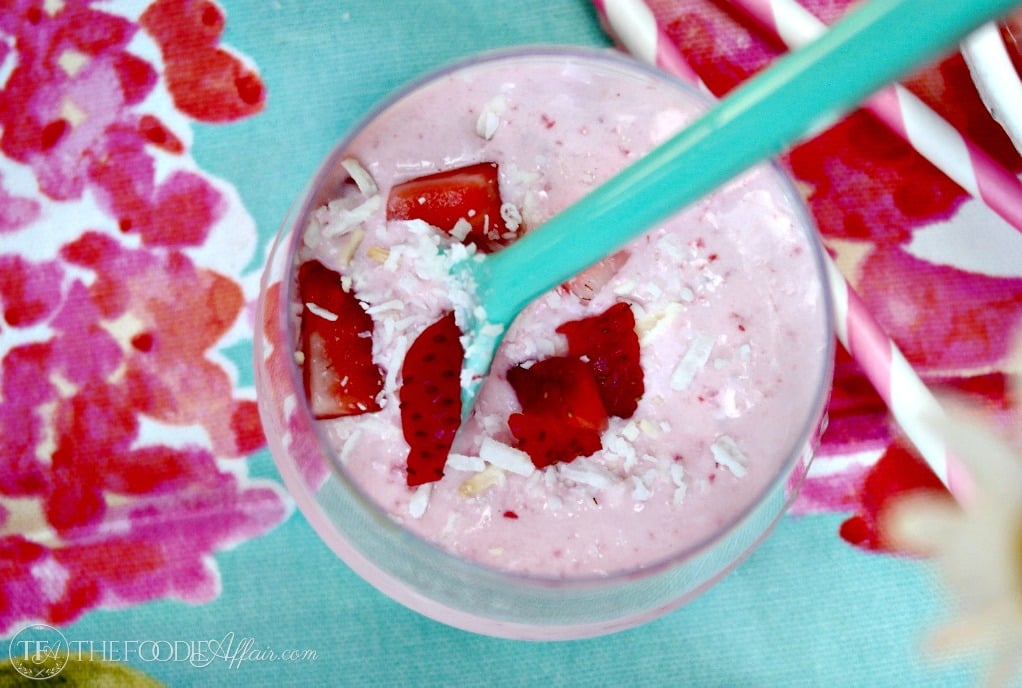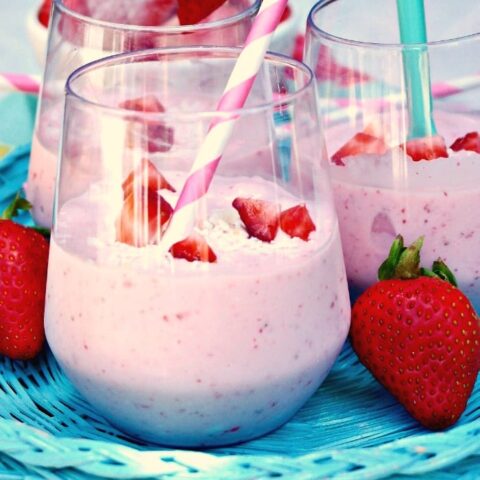 Strawberry Coconut Smoothie
Delicious low carb and low sugar strawberry and coconut smoothie. Filling for a complete meal or enjoy as a snack, post or pre workout beverage.
Ingredients
1 13.5 ounce can Coconut Milk (Thai Kitchen Organic), refrigerated
2 cup strawberries, frozen
1 teaspoon vanilla extract
1 scoop (14 grams) sugar-free Natural Whey vanilla protein powder (True Athlete) (optional)
For Garnish
unsweetened coconut flakes
3 fresh strawberries, chopped
Instructions
In a blender add coconut milk, strawberries vanilla extract and protein powder (optional). Blend until smooth. Smoothie will be thick like soft serve ice cream. Add to glasses and garnish with coconut flakes and diced strawberries.
Notes
Data is approximate
Calories 265
Carbs 11
sugar 6.5 (natural sugars)

Use plant based protein powder for dairy-free smoothie.
Nutrition Information:
Yield:

3
Serving Size:

1
Amount Per Serving:
Calories:

344
Total Fat:

34g
Saturated Fat:

30g
Trans Fat:

0g
Unsaturated Fat:

2g
Cholesterol:

3mg
Sodium:

56mg
Carbohydrates:

11g
Fiber:

5g
Sugar:

7g
Protein:

21g
Please note that the nutritional information provided are guidelines and may vary based on the brand of products used. For your specific nutritional goals use My Fitness Pal or Verywell Fit recipe calculators. All content within this site is not intended as medical diagnosis or treatment and should not be considered a substitute for professional medical expertise.
P.s. Please don't take my opinion over your doctors. I haven't saved all the studies I've read on the benefits of good fats. You can easily search for information online.