Coconut banana bread with flakes of shredded coconut and a splash of dark rum are added for a little burst of flavor!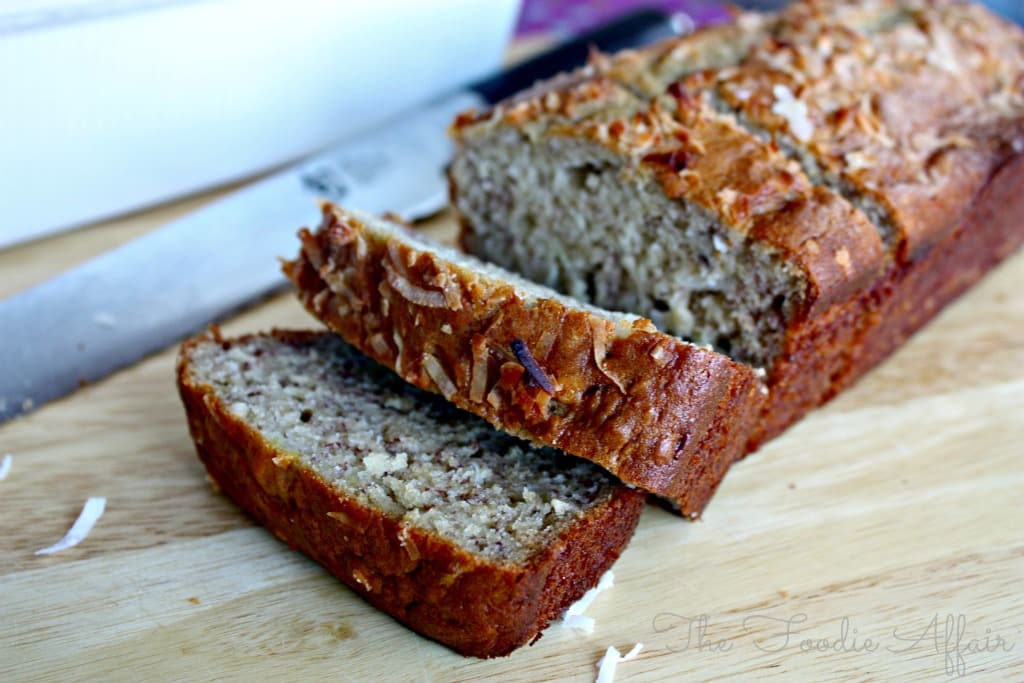 Coconut Banana Bread
I haven't made banana bread in quite awhile. Lately, bananas that get to the point of looking slightly overripe have been peeled, cut in half, and put right into the freezer to be used for smoothies.
The three super ripe bananas that were sitting on my kitchen counter were just about to be frozen to their goodness, but since I had several already, I made this tender loaf of Coconut Banana Bread instead!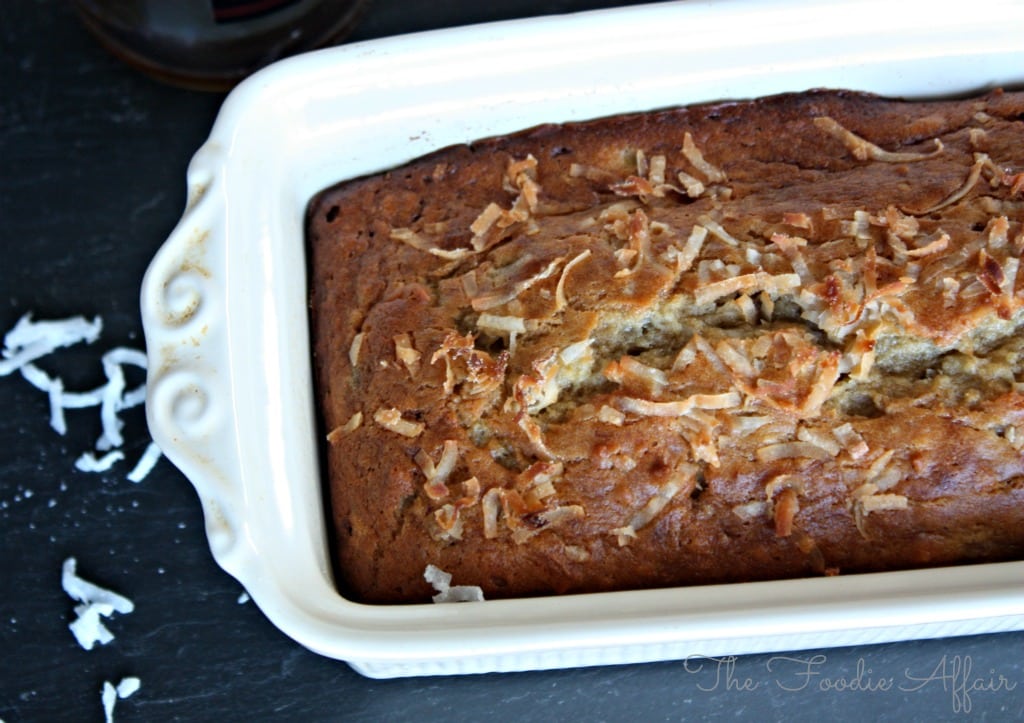 Coconut bread recipe lightened up!
If you're looking for a little flare to a basic banana bread recipe, this one is excellent! The recipe is modified from Cooking Light (2003), and has become a family favorite! I'm not sure it it trumped my regular banana bread because it has coconut or if it's the splash of dark RUM that takes it to the top.
I have a good guess 😉 Really though, once you start adding layers of flavor, it's hard to go back to the standard bread.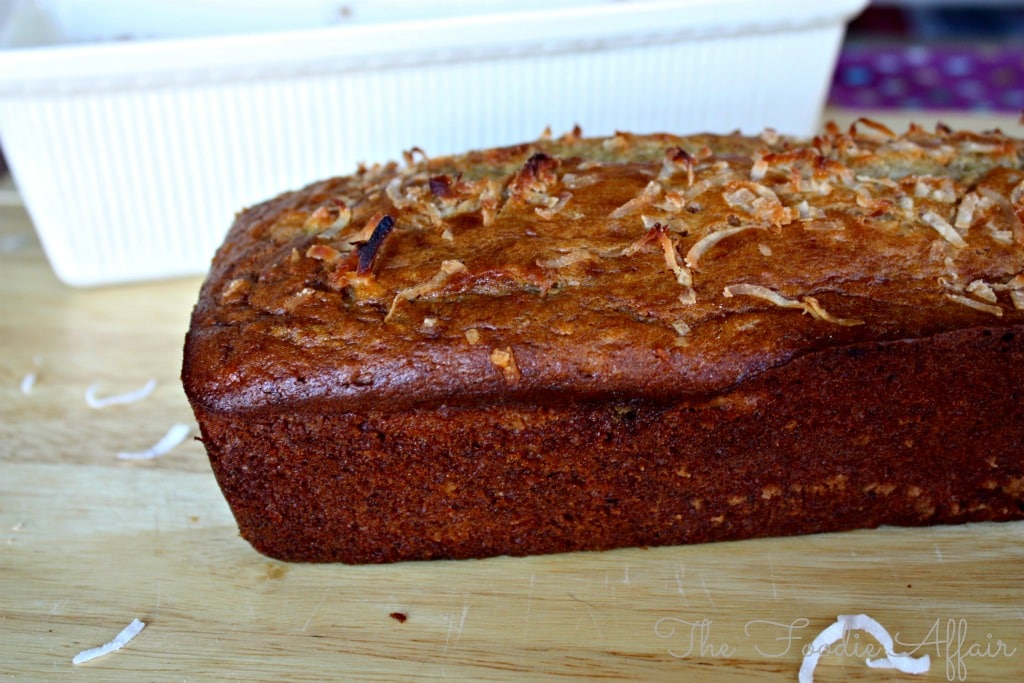 I changed the original recipe just a bit by substituting some granulated sugar for brown, and using Greek yogurt (I love that stuff). The bread is moist and tender, and it's light, as in lower calories, which is always a bonus in my book 🙂
Looking for a way to entice sleepy head out of their slumber? Thirty minutes after putting this into the oven, you'll start to hear some rumblings….."Mmmm, what are you baking?!!"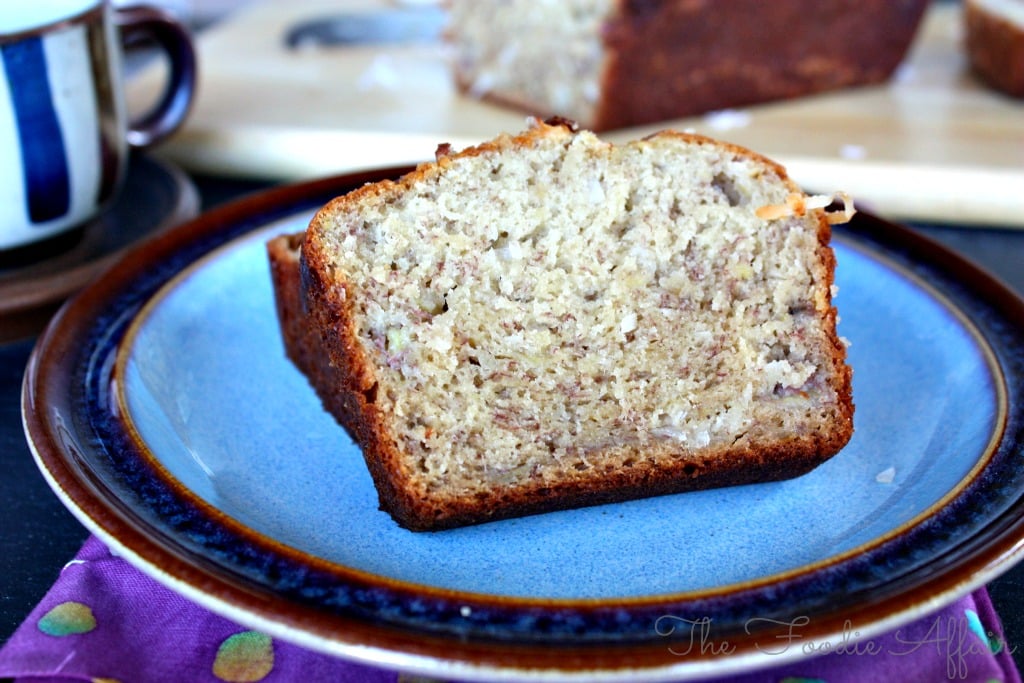 Yield: 16
Coconut Banana Bread
Moist and tender banana bread with a tropical twist. Coconut and dark rum add a delicious layer of flavor to the bread.
Ingredients
2 cups all-purpose flour
3/4 teaspoon baking soda
1/2 teaspoon salt
1/2 cup granulated sugar
1/2 cup brown sugar, light
1/4 cup unsalted butter, softened
2 large eggs, at room temperature
3 ripe bananas (about 1 1/2 cups), mashed
1/4 cup Greek yogurt, plain
3 tablespoons dark rum
1 teaspoon vanilla extract
1/2 cup flaked sweetened coconut, lightly toasted
1 tablespoon flaked sweetened coconut (not toasted)
Instructions
Pre-heat oven to 350 degrees. Coat a 9" x 5" loaf pan with non-stick cooking spray and set aside.
In a medium bowl, whisk together flour, baking soda and salt.
In a large bowl, beat together butter and sugars until light and fluffy. Add eggs one at a time mixing thoroughly each time. Blend in banana, yogurt, rum and vanilla extract. On low speed, add the flour mixture, blending until just combined. Add toasted coconut flakes and mix in by hand.
Put dough into prepared loaf pan, sprinkle with one tablespoon of coconut flakes. Bake for 60 minutes.
Notes
Information for substituting rum can be found here.