Soft on the inside with a crunchy texture on the outside, these Mini Churros are a great snack on their own or dip them in chocolate, Nutella or top them on ice cream!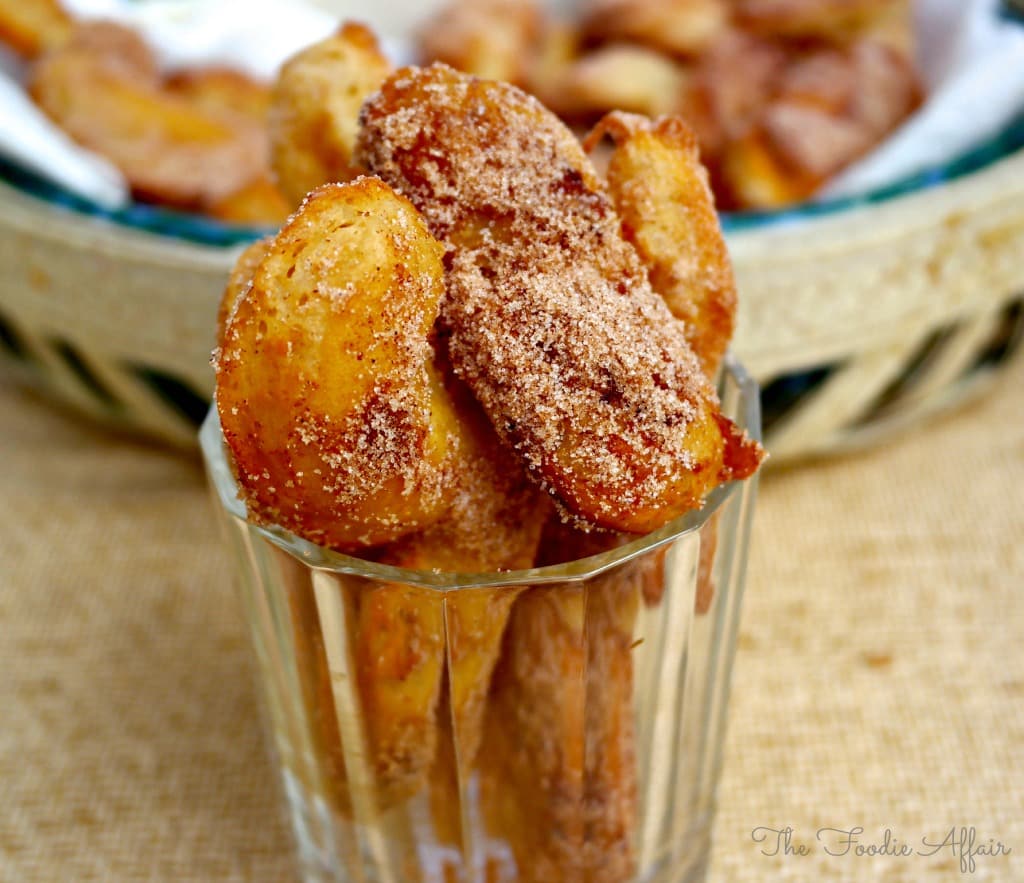 I had a fun whirlwind holiday weekend, and not quite ready for August to close, but darn it, I don't get a choice…sooo HELLO September!!  I took advantage of the fabulous sunshine we're having by getting outdoors, spent time with friends, and enjoyed the heck out of not having to drive to the office.
The weekend involved chatting it up with some of my girlfriends, walks by the beach, a fun a date night with the hubs, and also scenic hikes both Sunday and Monday!  It was so relaxing and enjoyable, but now I'm behind on my blogging schedule!
I usually try to post a recipe on Monday, even if it's late in the day, but that didn't happen, so while I was preparing some dishes for our family BBQ, I was thinking about which recipes I would share, and since these mini churros were so well liked, they had to be first on the list!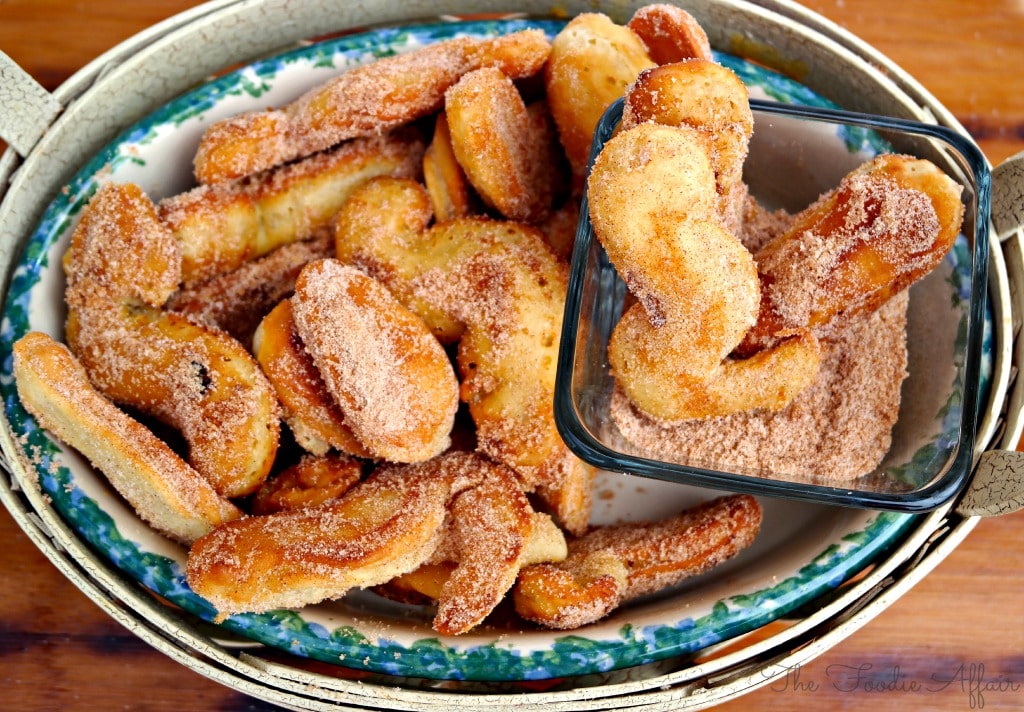 When I try something new, I like to surprise everyone without giving many hints to what I'm making so I can get input on any tweaks needed to the recipe without too much thought, but curious minds were all over this…are those churros?!! YUM!!
Have you had churros before? They're a Spanish snack or breakfast dish of fried dough that is rolled in a cinnamon sugar blend. You can find them at fairs quite often, and they're usually about a foot long, not minis like I made here. Fried pastry dough! No wonder they're so addictive!
We ate these churros as a snack. They're best warm, right after you roll then in the cinnamon-sugar mix. You can dip these in hot chocolate, melted chocolate sauce or sprinkled with powdered sugar.  They're also great with my Cinnamon Vanilla Bean Ice Cream!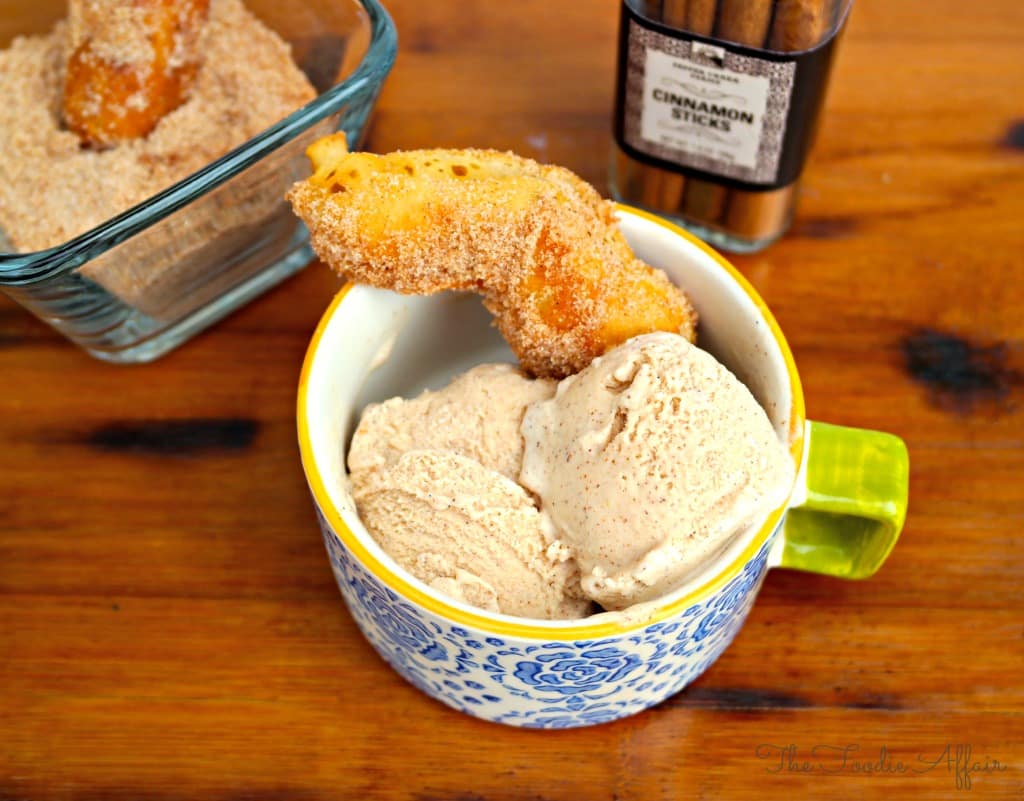 Prep Time 10 minutes

Cook Time 15 minutes

Total Time 25 minutes
Ingredients
4 tablespoons butter, unsalted
1 cup water
1 teaspoon vanilla
2 tablespoons granulated sugar
1/4 teaspoon coarse salt
1 cup all-purpose flour, sifted
3 large eggs
oil, for frying (I used coconut oil)
cinnamon sugar ( 1/2 cup granulated sugar mixed with 1 tablespoon cinnamon)
Instructions
In a medium saucepan, combine 1 cup water, vanilla, butter, sugar, and salt; bring to a boil over medium-high heat. Reduce heat to low, and add sifted flour stirring for 1 minute.
Put mixture in a medium bowl. On low speed, add eggs, 1 at a time, beating until incorporated after each addition (dough should look soft and glossy). Spoon mixture into a pastry bag with a large star tip.
Heat oil in a large skillet or Dutch-oven on medium high heat. Carefully pipe out batter into a couple of inch lengths, but do not over crowd the pan. Fry, flipping once, until deep golden brown all over. Using a slotted spoon, transfer churros to a paper towel-lined baking sheet to drain.
Roll churros in cinnamon sugar mix. Serve immediately.
Notes
If batter appears to be too thin, add a tablespoon (or more) at a time. The consistency may vary depending on the size of eggs used.


Adapted from Martha Stewart's Churros.