This Mediterranean Watermelon salad has a light balsamic dressing tossed through a bed of greens, and then topped with tangy feta, chopped Kalamata olives, and mouthwatering sweet watermelon!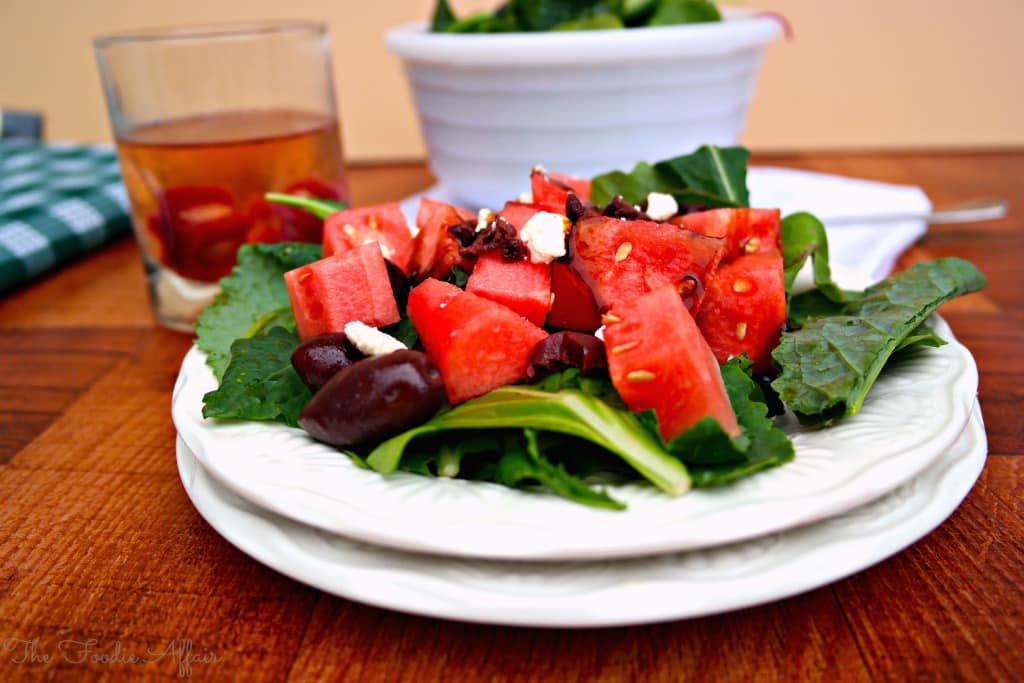 I have a little powerhouse salad going on here! The watermelon consists of about 90% water, which is great for hydration, and my greens are a mix of spinach, arugula and kale, an excellent source of antioxidants and just what my body needs after yoga class.
I've survived over a month of Bikram Yoga (pat on the back and thank you Michele for encouraging me to join you!) I'm struggling, though. It's really a challenge swapping my routine from running where I built a lot of leg muscle over the years to focusing on proper poses that stimulate the health of internal organs and the lengthening of ligaments.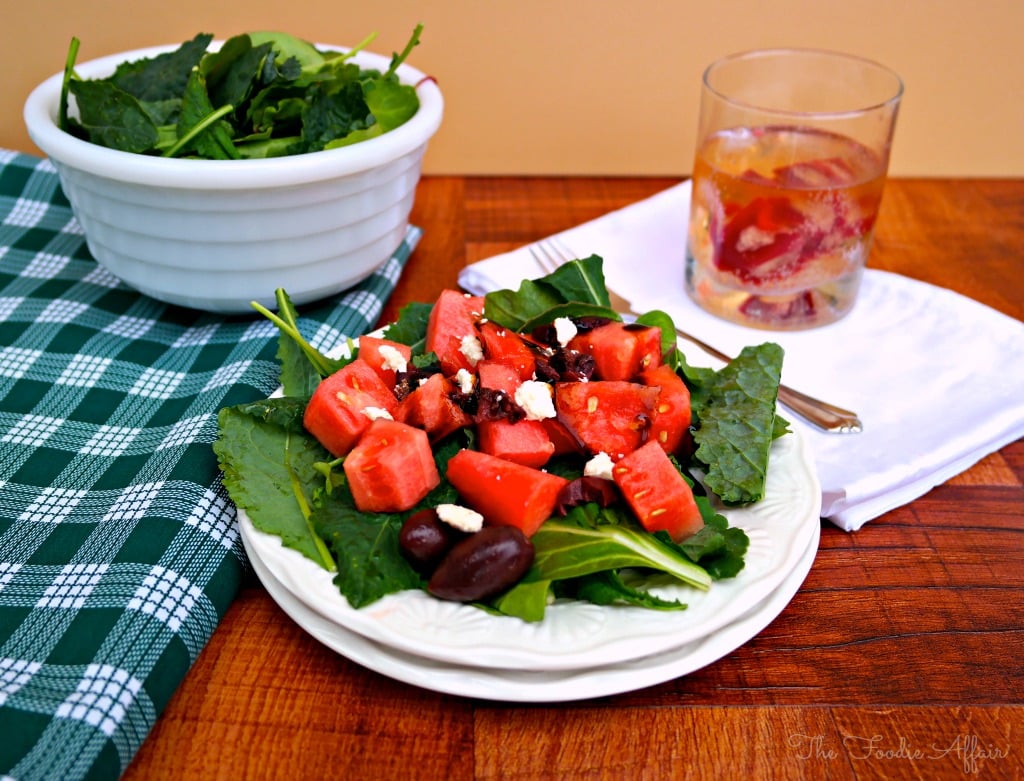 If you don't know about the practice, it's a 90 minute sequence of 26 posture and breathing exercises all done in a heated room. It's like going to a sauna without the fancy spa and robe aspect that you might associate saunas with 😉
My first few classes were brutal. I felt nauseated, light headed, and REALLY clumsy. I'm completely out of my comfort zone!
Even though I have to stop and rest my rapid heartbeat throughout the class, and sometimes leave the room for cool air, I do love training my body to absorb a new challenge.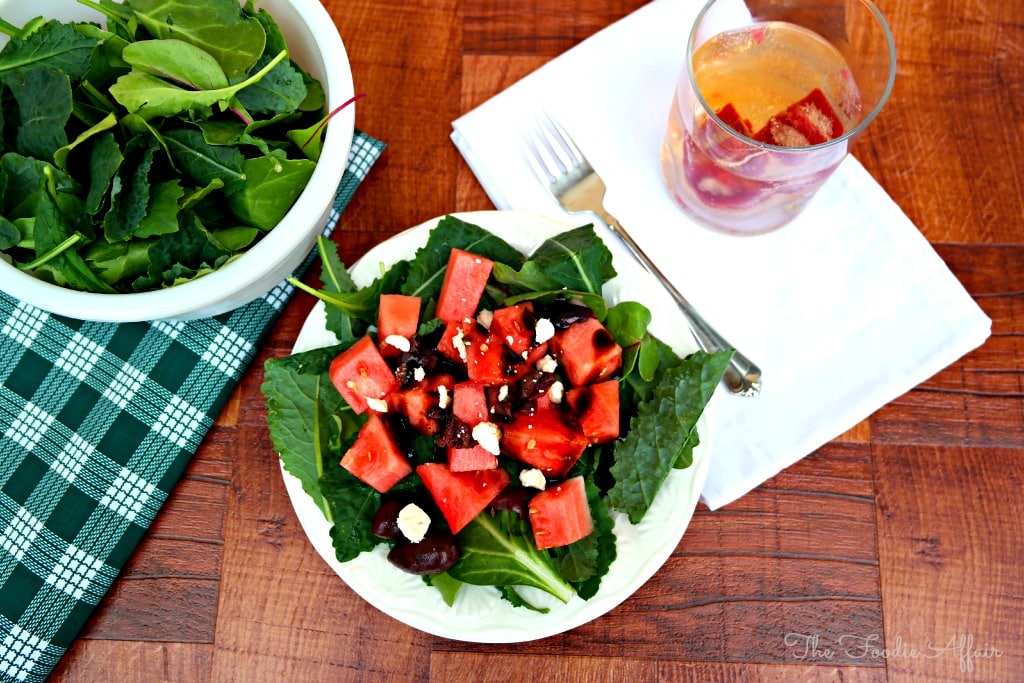 I have never sweated so much in my life, though! Really, I'm not exaggerating, either.  I start to perspire right away with droplets of sweat falling off my arms, legs, face and anywhere there is a little skin exposed. Super stinky gross, but it's also very good for releasing impurities, the toxins that build up in our bodies.
After class, it's already 7:45pm and I'm not hungry, but I know I should replenish my body with good nutrients. This salad is light and refreshing, which is perfect for that purpose.
Enjoy this salad as a main dish or a side to your favorite meal.


Yield: 4-6
Mediterranean Watermelon Salad
Prep Time 15 minutes

Cook Time 5 minutes

Total Time 20 minutes
Ingredients
6 cups mixed salad greens, bite size
3 cups cubed seeded watermelon
1/3 cup crumbled feta cheese, divided
1/3 cup Kalamata olives, pitted and chopped and divided
Basil for garnish
Balsamic glaze for garnish
DRESSING
1/4 -1/2 cup extra-virgin olive oil
3 tablespoon balsamic vinegar
1 Tablespoon Dijon mustard
½ teaspoon salt
¼ teaspoon pepper
Instructions
For dressing: In a small bowl whisk together oil, vinegar, Dijon mustard, salt, and pepper. Set aside.
Put salad in a large bowl, and toss with desired amount of dressing.
Plate each salad with 1 ½ cups of lettuce and top with watermelon, feta and Kalamata olives. Garnish with chopped fresh basil and balsamic sauce if desired.