Grilled Ginger-Sesame Chicken Salad can be served as a main or side dish. The marinade also serves as the dressing, a perfect quick mid-week meal.
Grilled Ginger-Sesame Chicken Salad
It's a busy time of year. Schools are finishing up their final weeks of class, graduation celebrations are in full swing, and for me, June 1st always marks the beginning of the summer season! I love the summer months! The sun is out when I leave for work, and it's still bright for several hours when I return. For the next three months or so, we are outdoors enjoying the sunshine!
Soooo, Mr. Weatherman, do you think you can cooperate and stick with the script? This past Saturday we went on a beautiful hike wearing shorts and tank tops, while enjoying the views from rolling hills, and on Sunday we were back to wearing sweatshirts and hibernating in the house!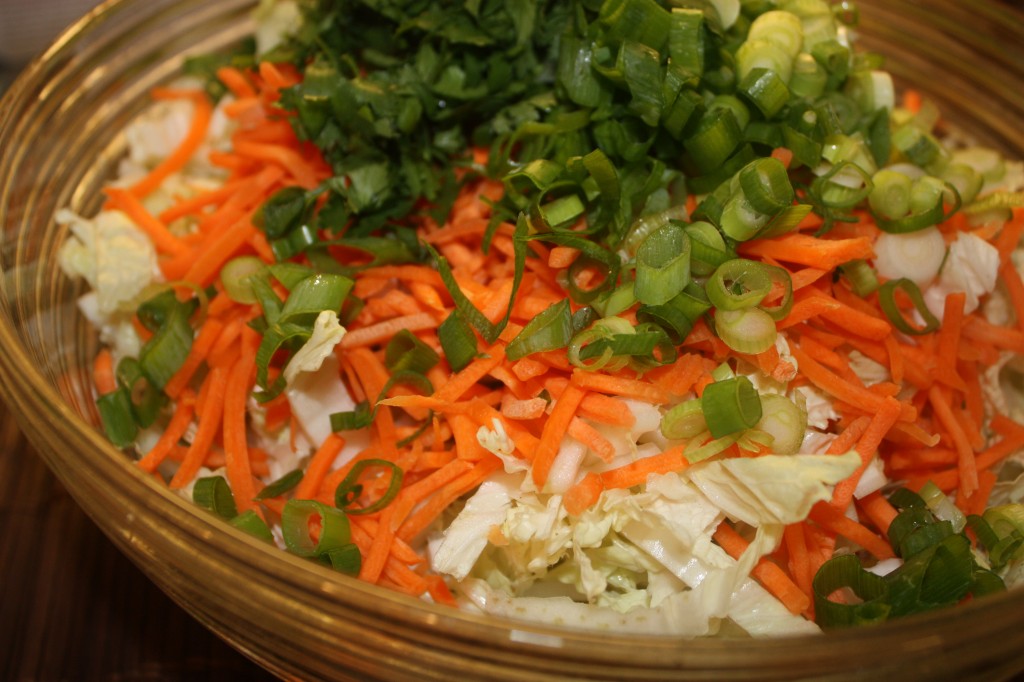 Even though I was thinking about warming up with some soup, I wanted to kick off the summer season by heating up the grill. My first summer meal was Grilled Ginger-Seasame Chicken Salad. I saw this recipe while glancing through the magazines we have in the break room at work, Redbook, May 2013.
The flavors are wonderful together and I didn't change a thing, except marinade the chicken in more sauce then the recipe suggested. You want to let the sauce bathe the chicken for a good thirty minutes. After that, this meal can be put together in a flash.
Yield: 4
Grilled Ginger-Sesame Chicken Salad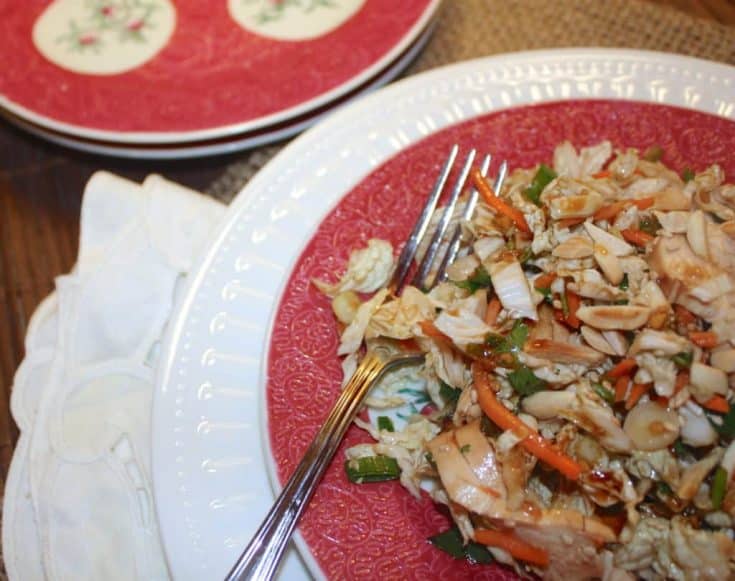 Grilled chicken salad with an Asian-inspired dressing that is also used to marinade the chicken.
Ingredients
MARINADE AND DRESSING
1/4 cup reduced-sodium soy sauce
3 Tablespoons finely chopped peeled fresh ginger
3 Tablespoons canola oil
2 Tablespoons hoisin sauce
1 Tablespoon sesame oil
1 teaspoon sriracha (optional)
1 teaspoon kosher salt
2 boneless, skinless chicken breast halves
1/4 cup red wine vinegar
1/4 cup minced scallions (white and green parts)
SALAD
1 lb. napa cabbage, halved lengthwise, very thinly sliced crosswise
2 carrots shredded (I purchased pre-shredded and used about 1 1/2 cups)
3 scallions thinly sliced (white and green parts)
2/3 cup lightly packed fresh cilantro leaves
1/2 cup slivered almonds, toasted
1 teaspoon sesame seeds, toasted (optional)
Instructions
MARINADE:
In a medium bowl whisk soy sauce, ginger, oils, hoisin sauce, srirachi, and salt. Transfer 6 Tablespoons of the marinade to a baking dish, add the chicken and turn to coat. cover and refrigerate for 30 minutes, turning after 15 minutes.
DRESSING:
Whisk vinegar and scallions into the remaining marinade and set aside.
Grill the chicken over medium-high heat, and cook about 4 minutes per side. Transfer to a cutting board and let rest for 15 minutes.
Cut chicken crosswise into 1/4 inch thick slices.
In a large bowl, toss chicken and vegetables, and half of the almonds with enough dressing to coat lightly.
Plate and add additional dressing and top with remaining almonds and sesame seeds.



I would serve this salad for a luncheon, and even bring it to a potluck. The recipe makes 4 generous servings which was enough to fill us up for dinner, but it can also be served as a side and feed twice as many people.
Kick off the summer months by heating up your grill! This is the time of year when I get lots of hubby help cooking from our outdoor kitchen! Who does the grilling at your house?
Craving more salad recipes? You also might enjoy this delicious Thai-Inspired Kale Salad from Good Not Perfect.