Crispy Smashed Potatoes! Crunchy edges with soft smooth potato on the inside. These potatoes are a perfect side dish or appetizer!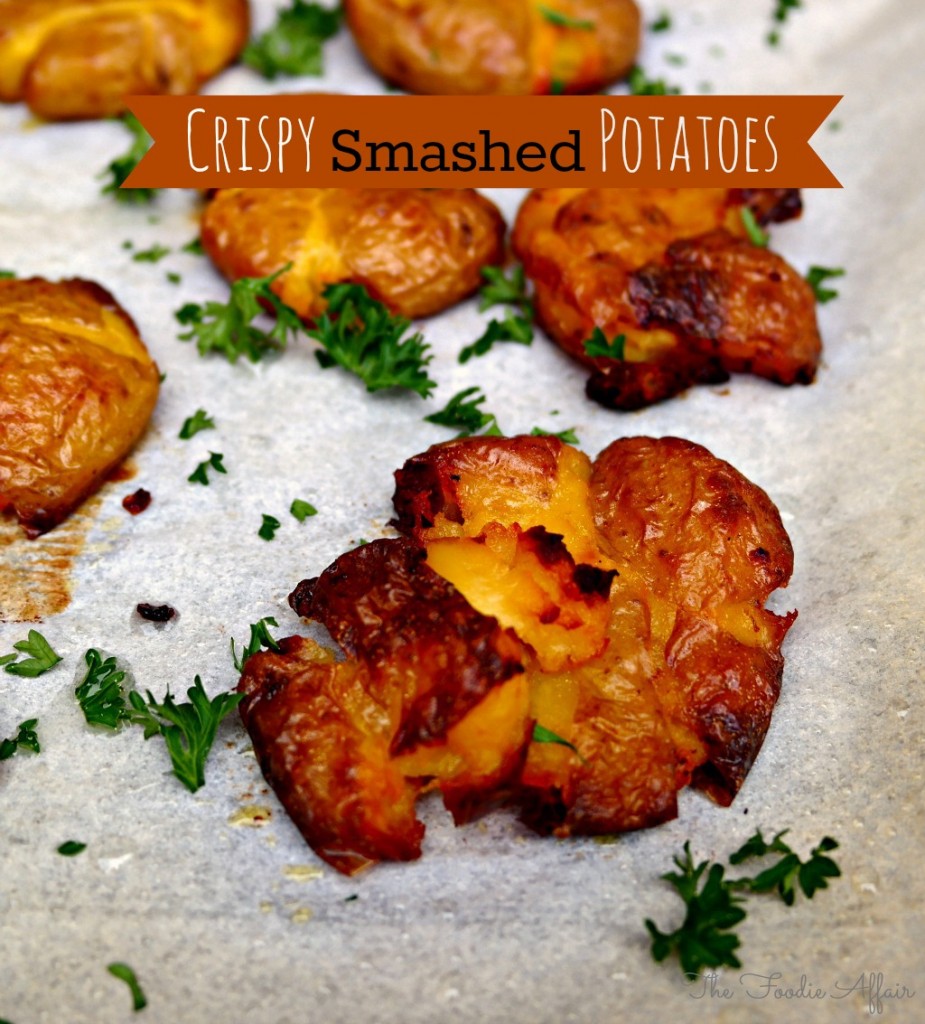 With football monopolizing our TV in the evenings and weekends, and two sports addicts (Alan and Sam!) glued to the action, we're getting our game food on!
Crispy Smashed Potatoes served with some spicy wings were on the menu and a big hit! The potatoes are boiled, cooled, smashed, and then roasted with olive oil and salt. It took a little preparation, but so simple and those crispy edges are the best…LOVE 'em!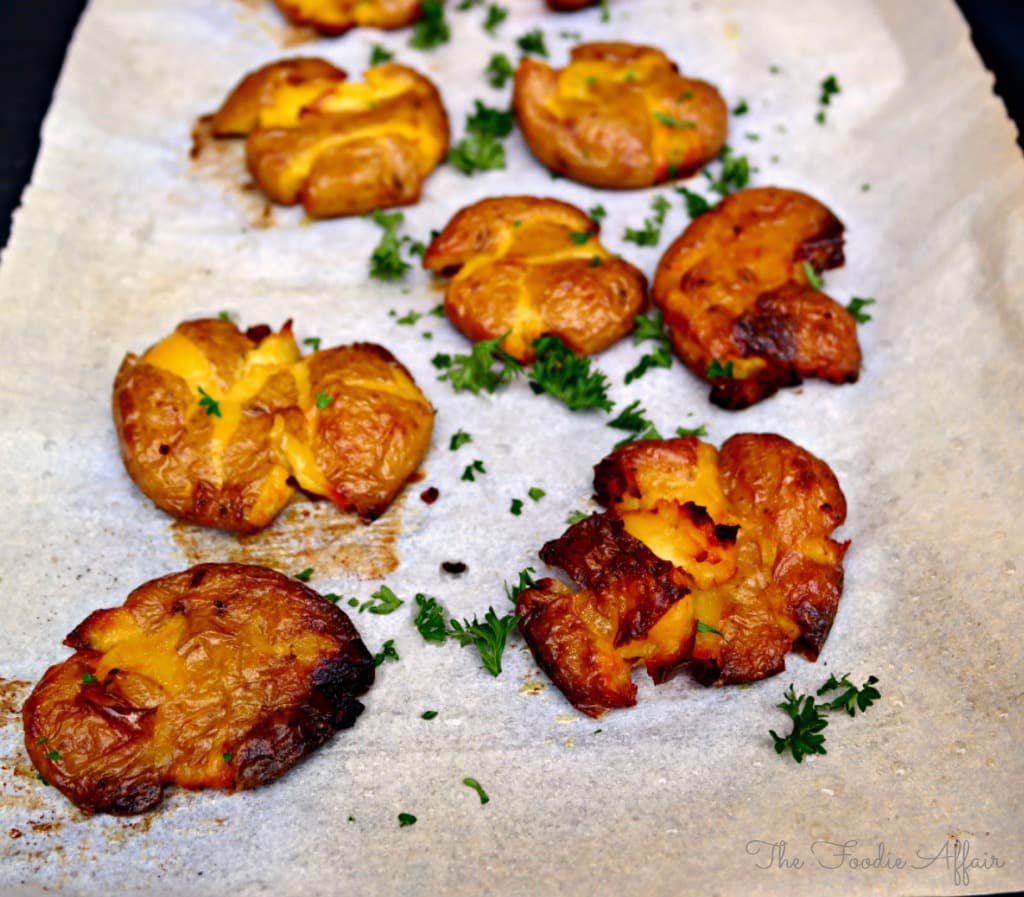 These will be on our menu again, and I think I'll get creative and make these guys the main dishl! I can see some melted cheese on top and a side of homemade blue cheese dressing to dip them in. What do you think? Top them with chili or a gravy sauce?
I already bought more potatoes; red, gold and purple melody for our next creation. If you're going to carb out, you should enjoy the heck out of what you're eating, right? How about pairing these with a chicken dish like this Gluten Free Peri-Peri & Lime Roasted Chicken from Anyonita Nibbles!
These potatoes are scrumptious. Every bite. NOM-NOM!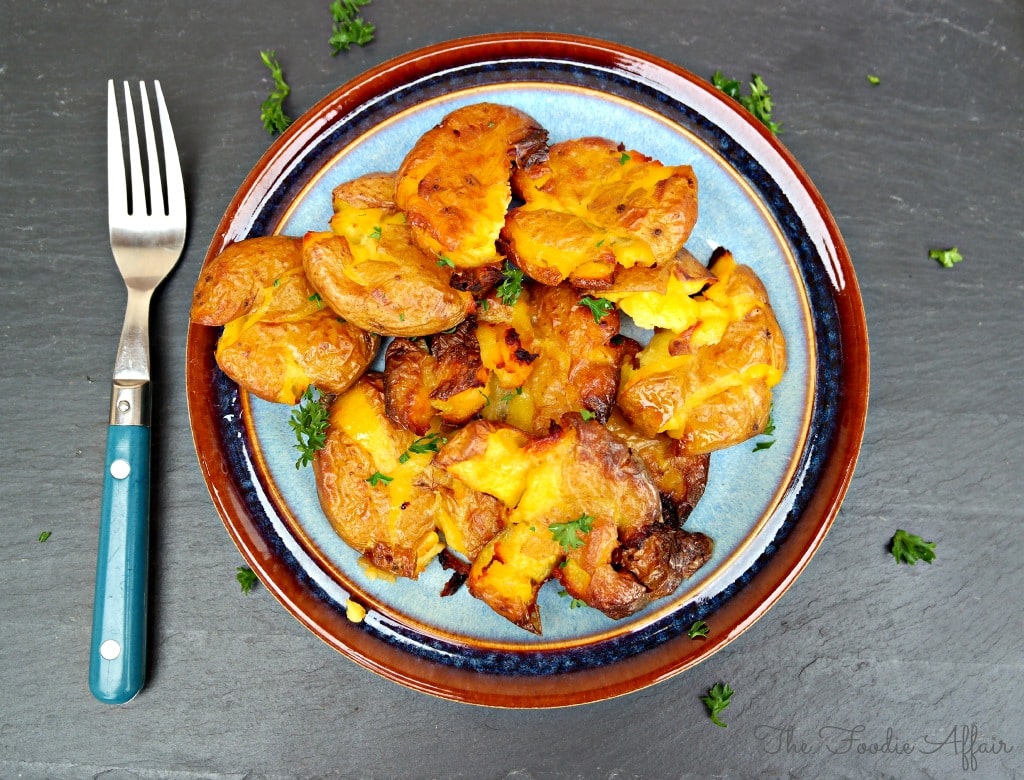 Yield: 4
Crispy Smashed Potatoes
Ingredients
12 yellow baby potatoes
2 teaspoons kosher salt for boiling potatoes
1/4 - 1/2 cup extra-virgin olive oil
Sea Salt (sprinkle on top) for roasting and parsley for garnish
Instructions
Line two baking sheets with foil and then top with parchment paper. Drizzle olive oil on parchment paper and use a pastry brush spread areas the potatoes will be placed on. Set baking sheets aside.
Put he potatoes in a large saucepan (single layer) with an inch of water covering the potatoes. Add two teaspoons of salt. On high heat bring to a boil, then reduce to simmer for about 30 minutes or until tender when pierced with a fork.
Remove potatoes from the water and place on several layers of paper towels to drain excess water. Let cool for about 10 minutes. With a flat spatula flatten each potato to about a 1/2 inch thickness. Place potatoes on prepared baking sheets and cool completely by storing them in the refrigerator for about 20 minutes.
Preheat oven to 450 degrees.
Sprinkle potatoes with salt and drizzle olive oil over the potatoes. Roast the potatoes for 30 minutes. Carefully flip potatoes after 15 minutes. Serve warm.



Adapted from this  Crispy Smashed Roasted Potatoes recipe.