Classic Waldorf salad made with bite size chunks of apples, celery, grapes, and walnuts.  These simple ingredients are folded in a creamy dressing and served over bib lettuce.  Enjoy as a first course or light meal.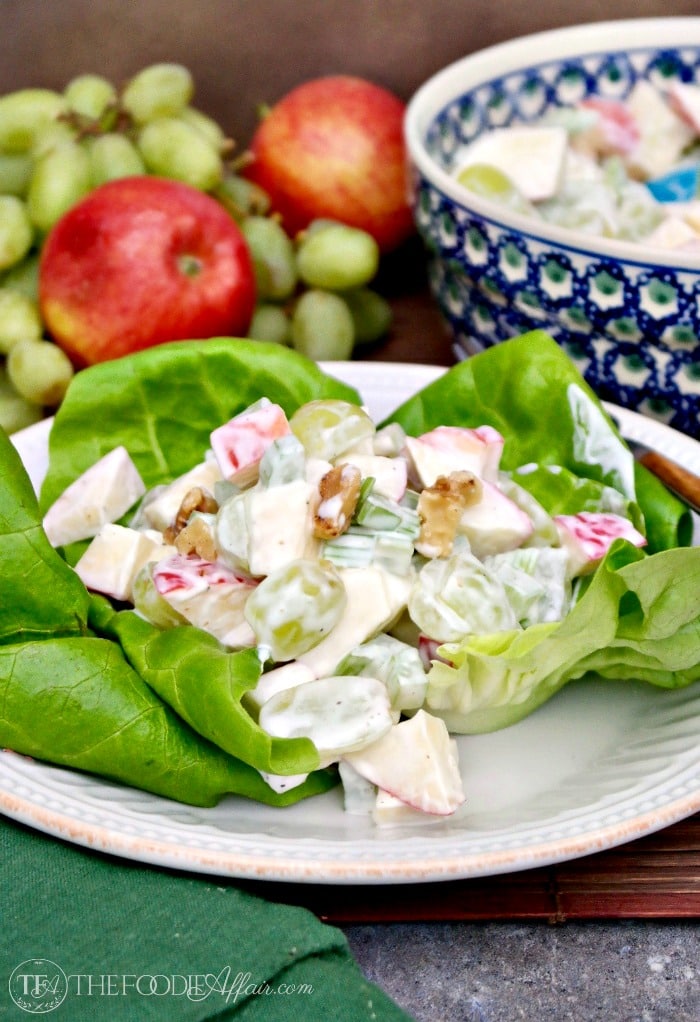 Often times the simplest recipes are the best tasting, and should be on the menu often!
Credit of this recipe goes Oscar Tschirky, the maitre'd of the Waldorf Astoria Hotel (1893-1943).  A delightful salad that has lots of crunchy textures and is quite refreshing.
This recipe has been in circulation for eons, and not as popular as it once was.  When was the last time you ate a Waldorf salad?  I usually pass up on mayonnaise based dressing, so it's been years for me.
My mayonnaise aversion has run deep and frankly, I have no use for my silly, silly reasoning for keeping it off my lips anymore.  I've been so stuck on thinking that condiments like mayonnaise is unnecessary fat when in reality
NOT ALL FAT IS BAD FOR US!!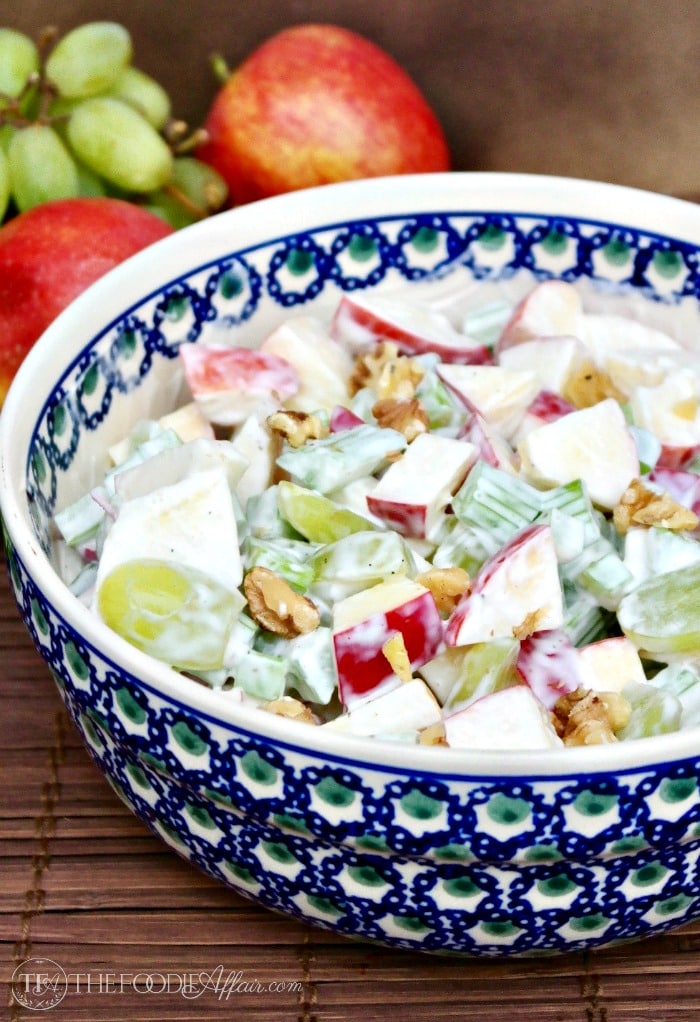 Come to think of it, I bet the fat from the mayonnaise will help normalize a spike in blood sugar from the fruit in the salad!
There is a time to substitute mayonnaise for Greek yogurt, but not in this Classic Waldorf Salad!
Get a good quality creamy and rich tasting mayo that is made from quality ingredients.  Make sure that there isn't extra sugar, preservatives or artificial colorings listed.  If you look closely at the ingredient list you can easily identify the better option between brands.
Serve over a bed of lettuce for a light lunch or add chunks of chicken for a heartier meal or serve these baked chicken tenders on the side!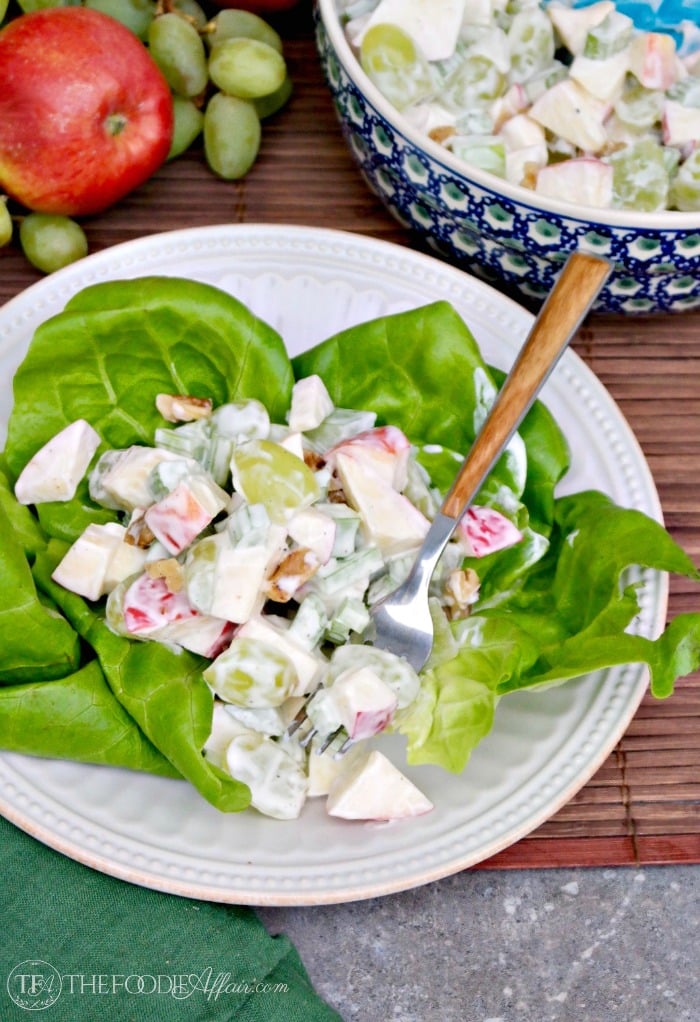 Yield: 6
Classic Waldorf Salad with Fresh Crunchy Apples Over Bib Lettuce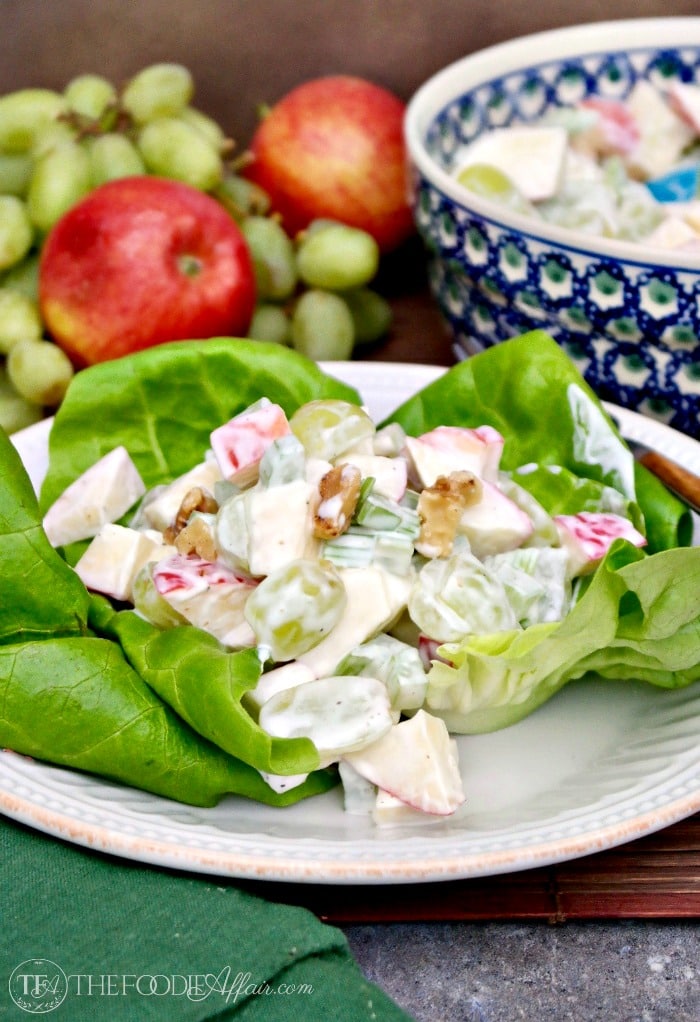 Prep Time 10 minutes

Cook Time 10 minutes

Total Time 20 minutes
Ingredients
1/4 cup Real mayonnaise
1/2 fresh lemon, juiced
1/2 teaspoon salt
1/8 teaspoon ground pepper
3 small red apples (Gala, Red Delicious, Fuji), cored and chopped
1 cup seedless grapes, sliced in half
1 cup celery (about 4 small stalks), sliced
1 cup walnuts, toasted and chopped
Bib lettuce
Instructions
In a medium size bowl, mix together the mayonnaise, salt and pepper. Dice apples and fold the lemon juice over each piece in a medium bowl. Add to mayonnaise mix and fold in celery, grapes and walnuts. Refrigerate for about 1/2 hour. Serve over lettuce leaves.