This post brought to you by Whole Earth Sweetener Co.. The content and opinions expressed below are that of The Foodie Affair.
This is a lower sugar, homemade pumpkin spice coffee creamer sweetened with zero calorie Whole Earth Sweetener, Nature Sweet®, and simmered with milk, spices and pumpkin puree.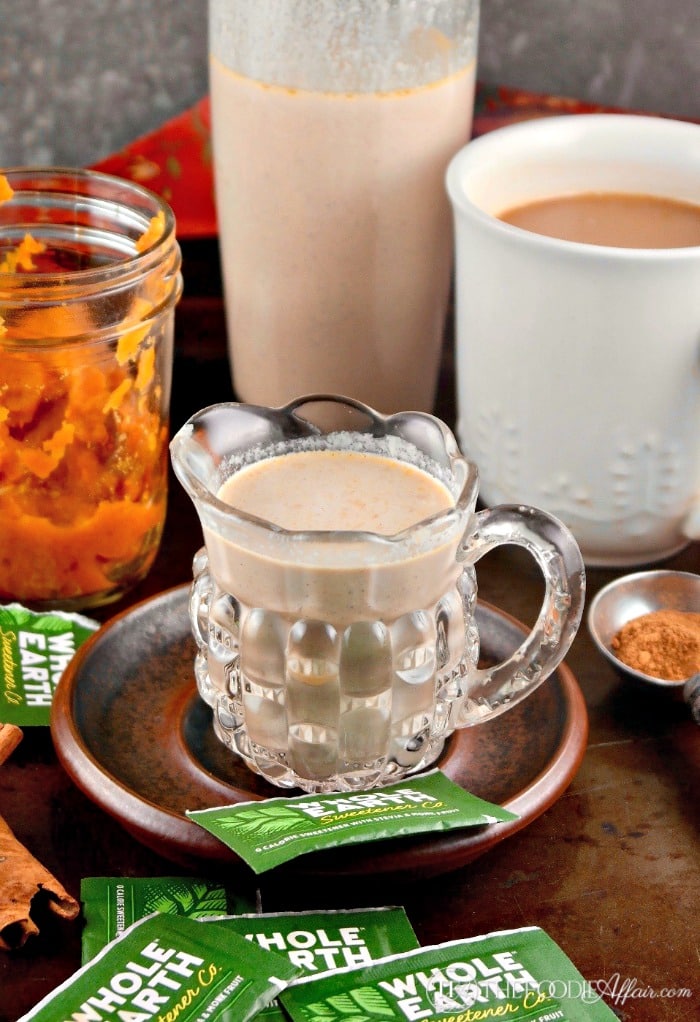 Pumpkin Spice Coffee Creamer
Are you a morning person?  Do you jump out of bed as soon as the alarm goes off and start whistling happy tunes?  I wish I did, but I don't.
The alarm goes off and I pull the covers over my head lingering for at least 20 minutes longer than I should.
You know what gets me out of bed?  The smell of fresh brewed coffee!  See, Alan is the kind of guy that pops out of bed and gets busy with a morning routine.
He feeds all three of our needy little furry love bugs (Abby the canine, and Jem & Scout our felines), and makes coffee before hitting the shower.
Fresh brewed coffee with homemade pumpkin spice coffee creamer is a great way to start the day!
That bold smell of coffee that drifts throughout the house gets me motivated to grab a cup! After giving up the powdered creamers I always add a little heavy cream, but for the fall I thought I would make homemade pumpkin spice coffee creamer.
I'm in love with the stuff and I have Alan hooked on it too.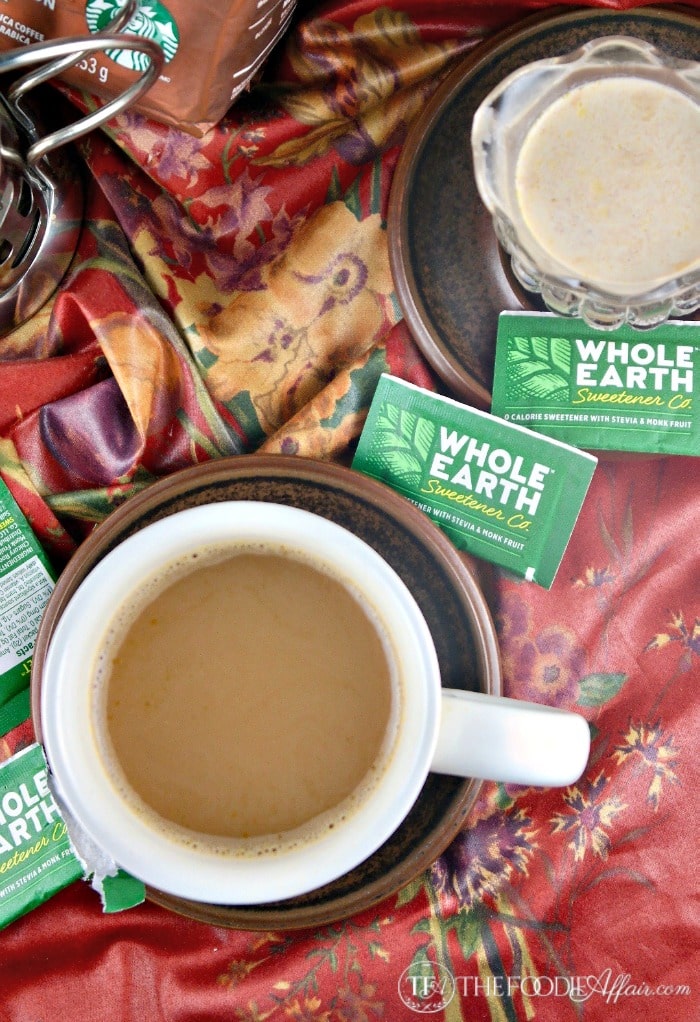 Pumpkin creamer
The best part of making your own flavored creamer is having complete control of the ingredients that go into the mix.
If you've been following The Foodie Affair for awhile, then you know that I cut back on granulated sugar as often as I can, so when I was offered an opportunity to try Whole Earth Sweetener products with zero and lower calorie sweetener blends I couldn't wait to start sampling.
This isn't the first time I've heard of Whole Earth Sweetener Company though.  I noticed the Nature Sweet® packets at Starbucks near the condiment bar.
Each packet has zero calories per serving and is made with a blend of monk fruit and stevia. The perfect amount of sweetness without any bitter aftertaste that stevia can leave on its own.
I sweetened the Pumpkin Spice Creamer with just four Nature Sweet® packets, which is perfect for Alan and me.
The packets are convenient to use so feel free to add more sweetener to each cup of coffee if you would like.
With your tasty coffee may I suggest adding Whole Earth Sweetener Honey 50 to toast with peanut butter?  I found that you just need a little (half) as much for the same sweetness as traditional honey and it has 50% fewer calories than traditional honey.
It's also tastes delicious over plain Greek yogurt.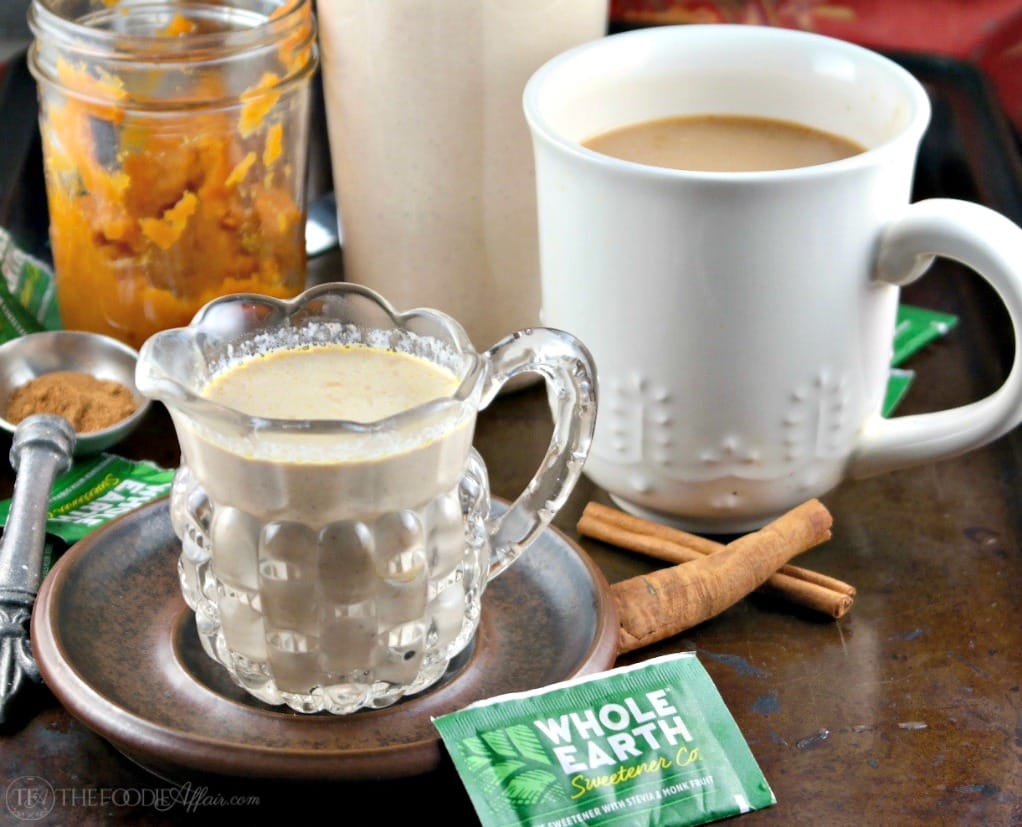 Yield: 1 3/4 cups
Lower Sugar Homemade Pumpkin Spice Coffee Creamer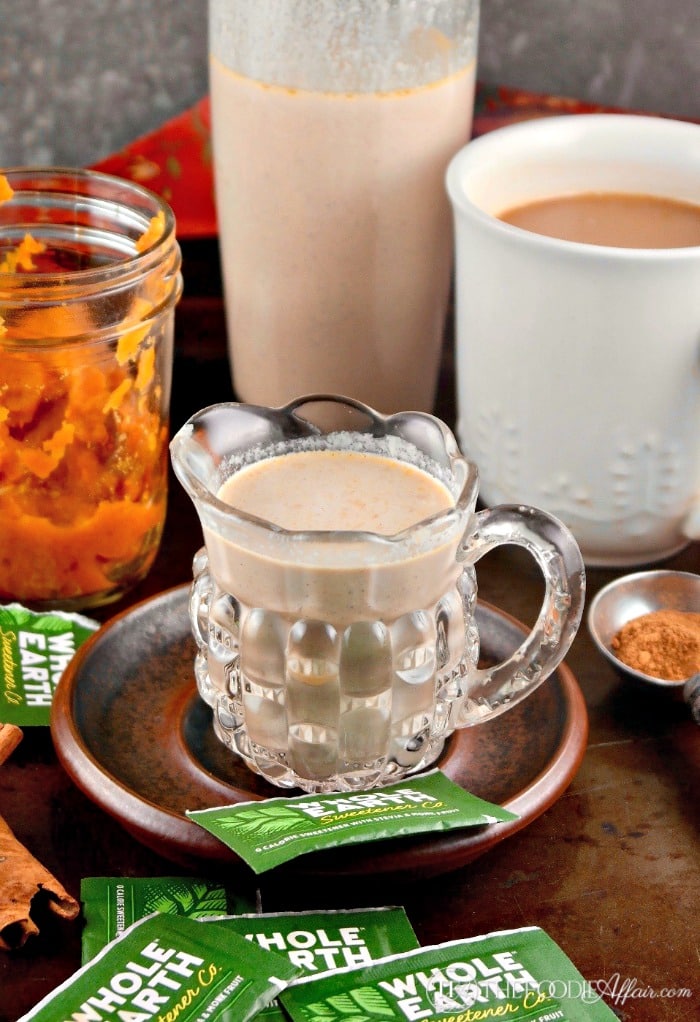 Ingredients
1 cup heavy cream
1 cup Whole milk
2 sticks cinnamon
1/4 cup pumpkin puree
1 tablespoon pumpkin pie spice
4 packets Whole Earth Sweetener Co. Nature Sweet 0 calorie sweetener
Instructions
In a small saucepan mix heavy cream, milk, Nature Sweet, Pumpkin pie spice, and pumpkin puree together. Add cinnamon sticks and simmer for 15-20 minutes.
Remove cinnamon sticks.
Pour through a sieve (optional) to remove thick pumpkin puree.
Cool and store in a glass container. Keep in the refrigerator.