These Low Carb Chocolate Covered Cookies are made with superfine almond flour, coconut flakes and then covered in chocolate sweetened with Stevia.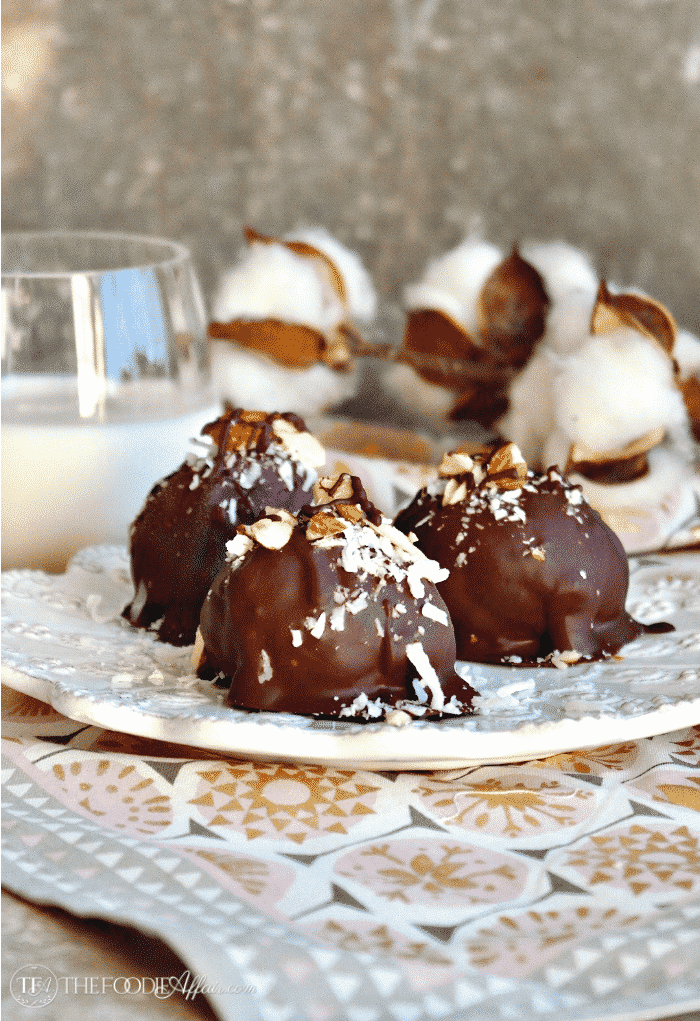 Low Carb Chocolate Covered Cookies
Holy moly guys! Just when you think you have everything under control life does a somersault!
I guess that is bound to happen when work, home, and play have been calm and smooth sailing for quite awhile!
Everything under control at my day job, and there are no major must fix home improvements necessary for "this old house" and happy with the recipes that I've worked on for so many cool brands.
Pinch me, right?
Then I threw my name in for a promotion to work in another department and they said YES.
I decided to renovate my home office – right NOW, so over the holiday weekend I spent two days painting and clearing out the space.
Oh, and I just can't stop fine tuning recipes and playing with my camera, so I brought you cookies.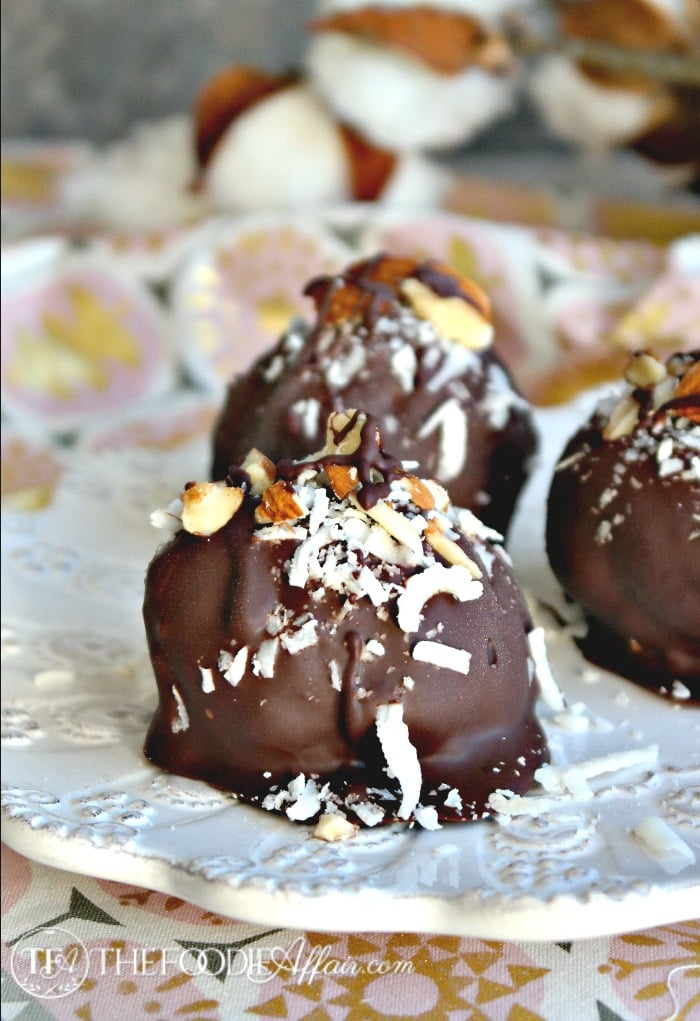 Low Carb Cookies Aren't Just For The Holiday Season!
I'm pretty much bursting with excitement and juggling EVERYTHING at lightening speed including some baking.
These low carb chocolate covered cookies are fabulous!
I added shredded coconut, covered them in chocolate and topped them with more coconut flakes and chopped almonds.
Delicious treats and although they look pretty for the holidays these can be enjoyed all year long!
The base for these cookies are from the back of a package of superfine almond flour, which I'm finding is perfect for baking.
The almonds are ground so powdery fine it's hard to tell you aren't baking with all-purpose flour.
There is one step in this recipe that makes a world of difference when baking a cookie that is gluten free and low carb (approximately 7).
After baking like you would a traditional cookie recipe, cool the cookies completely, and then rebake at a super low heat for about an hour.
That extra step gives you a firm cookie that doesn't fall apart when you bite into it. Add this low carb chocolate covered cookie to your cookie tray!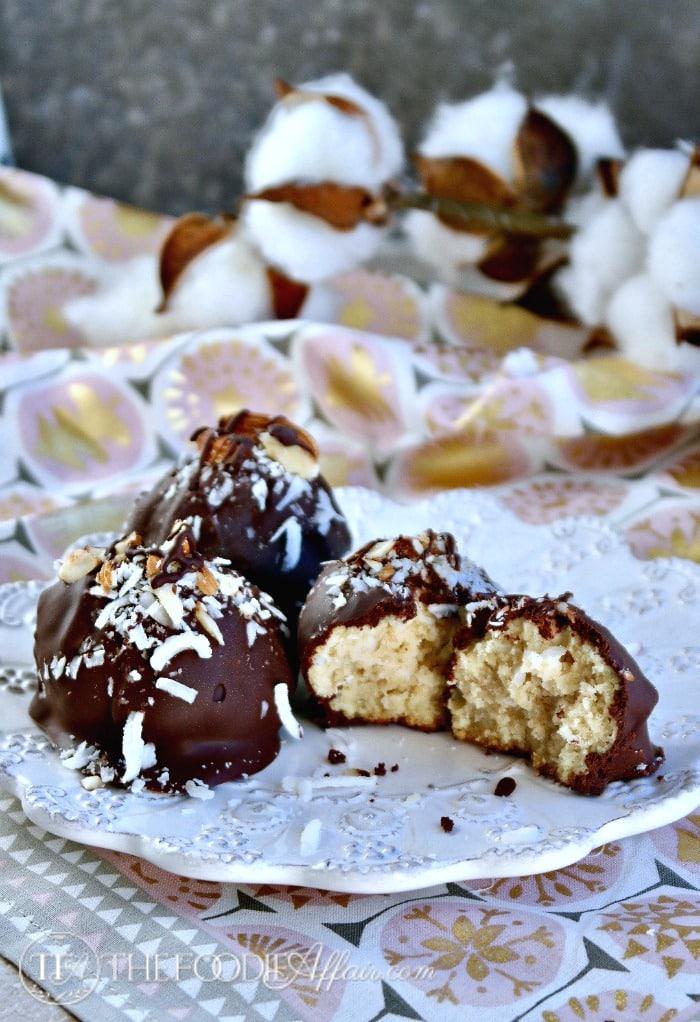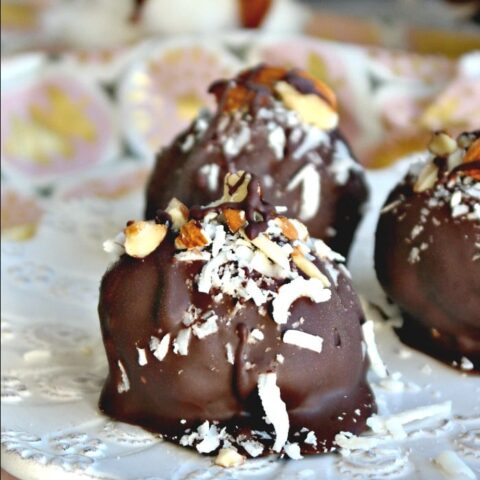 Low Carb Chocolate Covered Cookies - Gluten Free
Delicious almond cookies dipped in sugar free chocolate and topped with coconut. Enjoy the low carb chocolate cookies all year long.
Ingredients
1 egg
3 tablespoons coconut oil, softened
1/3 cup Swerve granulated sweetener
2 teaspoons vanilla extract
1/2 teaspoon baking soda
2 1/2 cups superfine almond flour
3/4 cup coconut, shredded and unsweetened
1 1/4 cups chocolate baking chips (Lily's)
chopped walnuts and coconut flakes for garnish (optional)
Instructions
Preheat oven to 325 degrees. Line a baking sheet with parchment paper and set aside.
In a medium bowl beat egg until frothy. Add coconut oil, sweetener and vanilla extract and mix until combined.
In a separate bowl whisk together almond flour, baking soda.
Mix into wet ingredients and then fold in coconut flakes.
Form balls (2 tablespoons per ball) and place on baking sheet.
Bake for 16-18 minutes or until the bottom of the cookies are set and light brown.
Remove from oven and cool. Lower oven to 170 degrees. Return cookies to oven and bake for 60 minutes. Cool on baking racks.
In a microwave melt chocolate an 1 tablespoon of coconut oil in 20 second increments until chocolate is smooth.
Dip each cookie in chocolate and place on a baking sheet. Add nuts and coconut flakes.
Recipe adapted from Wellbee's (recipe on back of almond flour package)