Summer fun begins with a Blueberry Mojito Cocktail made with fresh mint, blueberries, lime juice, rum and a splash of club soda!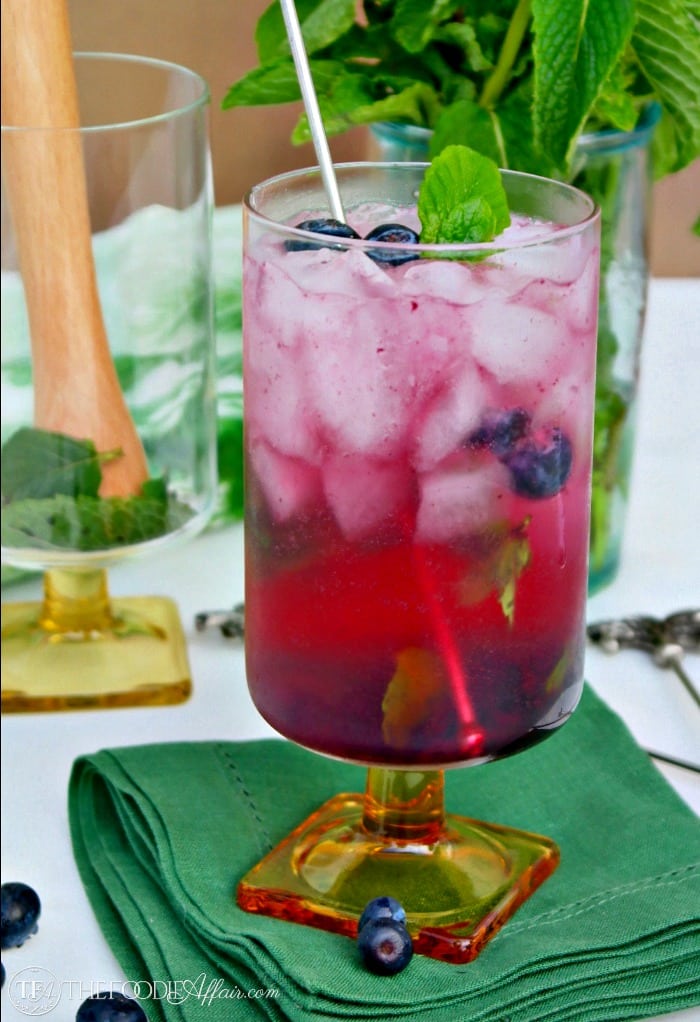 It's the end of the school year which has always been my time stamp marking the beginning of summer vacation! So let's kick of the season with a delicious blueberry mojito made without any sugar!
Mixing ingredients for beverages is so fun! I love creating drinks with as many fresh ingredients as possible. The difference in taste is so apparent that it's hard to buy drinks from places that use pre-mixed syrups. If restaurants made cocktails the same way I do at home then I would be willing to purchase them more often when dining out!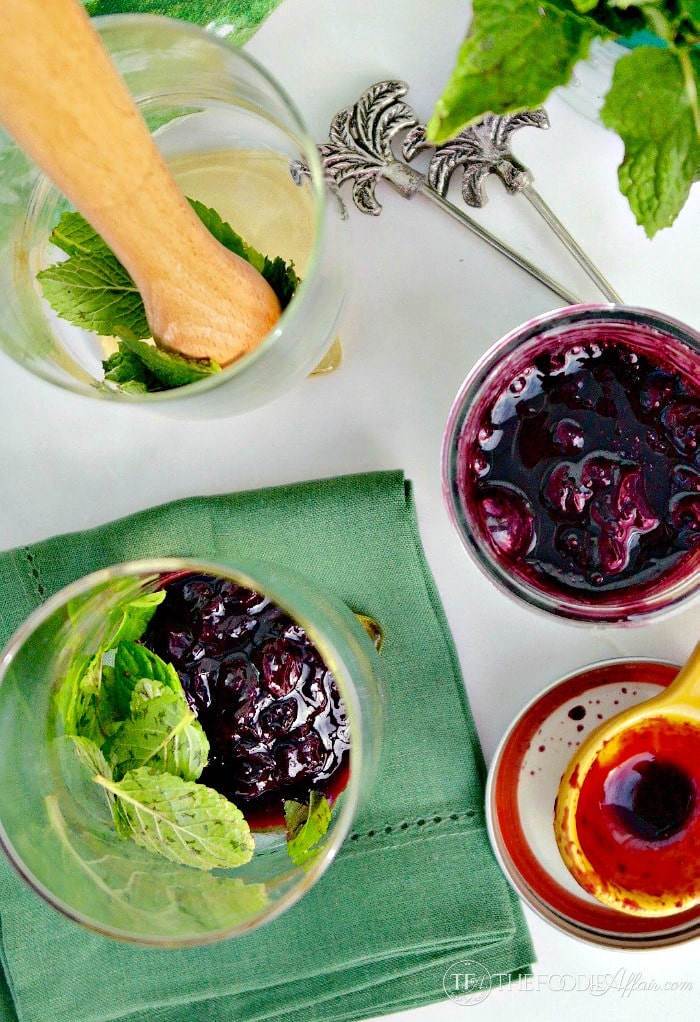 I even tell the bartender that I don't like overly sweet drinks, so only put a little sweetener in it. They never get it right. Too sweet or extra watery lacking the flavor that I want. One guy told me to stick with wine, which I think is solid advice! lol
I wish I could get those bartenders to step into my kitchen to see how easy it is to make flavorful syrups for cocktails. I guess you need to work with what you have, so crappy ingredients just end up being junky drinks!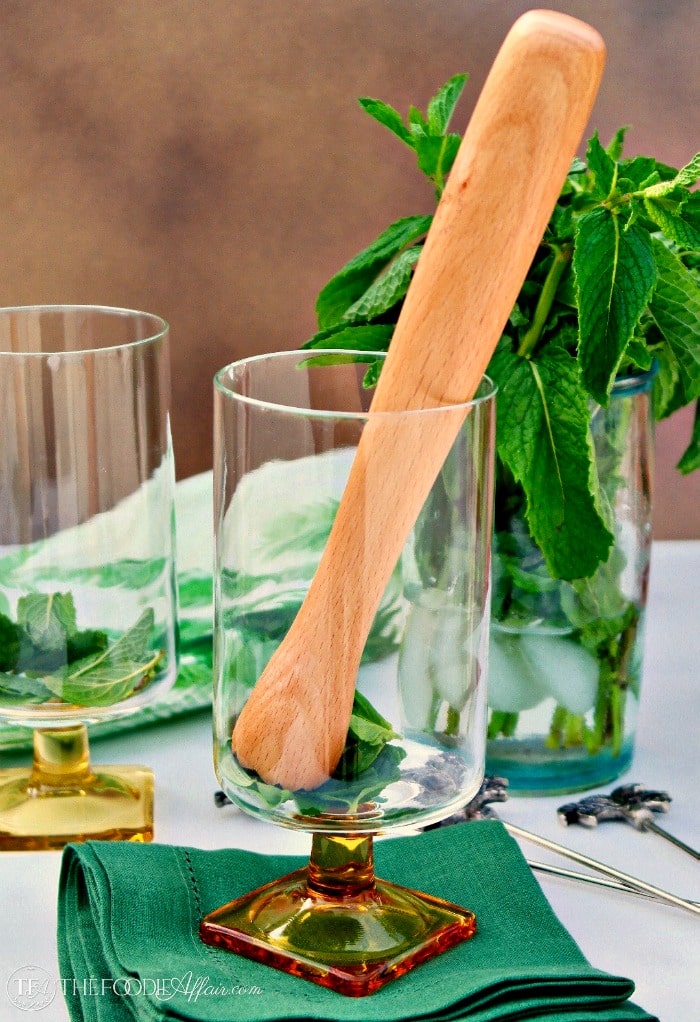 A mojito isn't a mojito without that delicious mint flavor, so be sure you have plenty of leaves to muddle so when the oils release you get that fresh minty taste!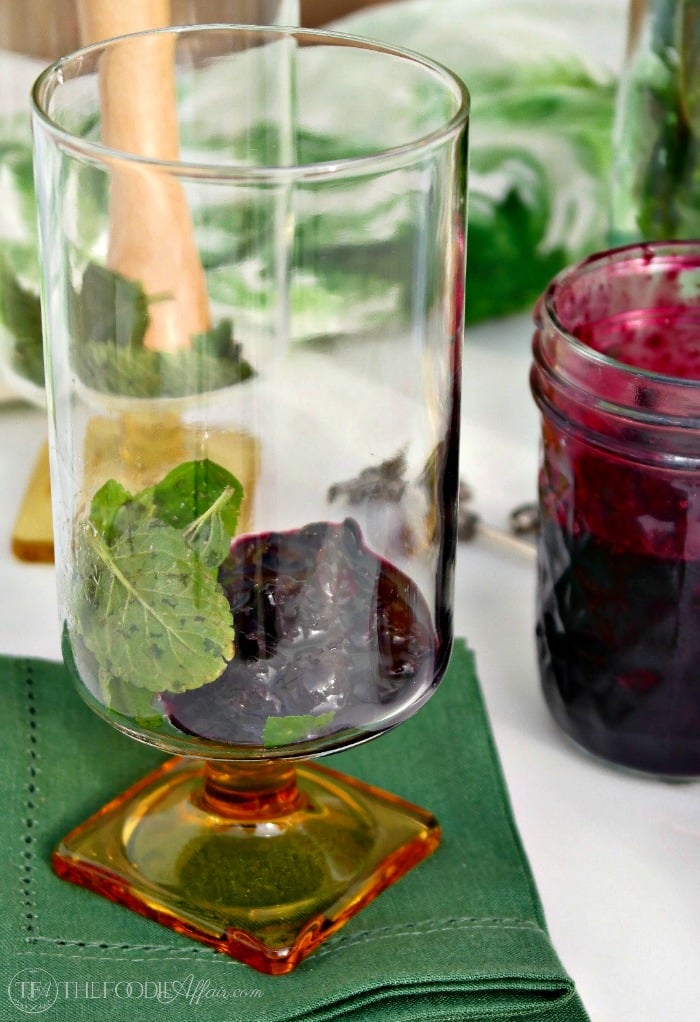 You'll love the mint and blueberry together, and will be especially pleased with how easy it is to make the syrup! I followed the same cooking method as this raspberry syrup, but used blueberries for the fruit and instead of adding granulated sugar I sweetened the berries with stevia.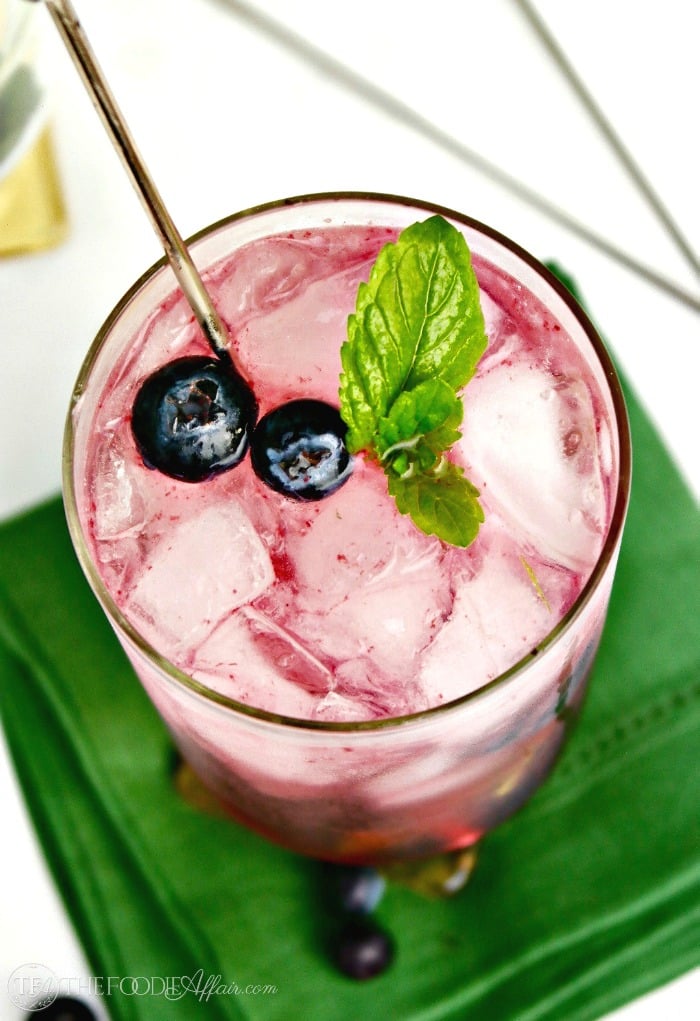 Blueberry Mojito Cocktail Recipe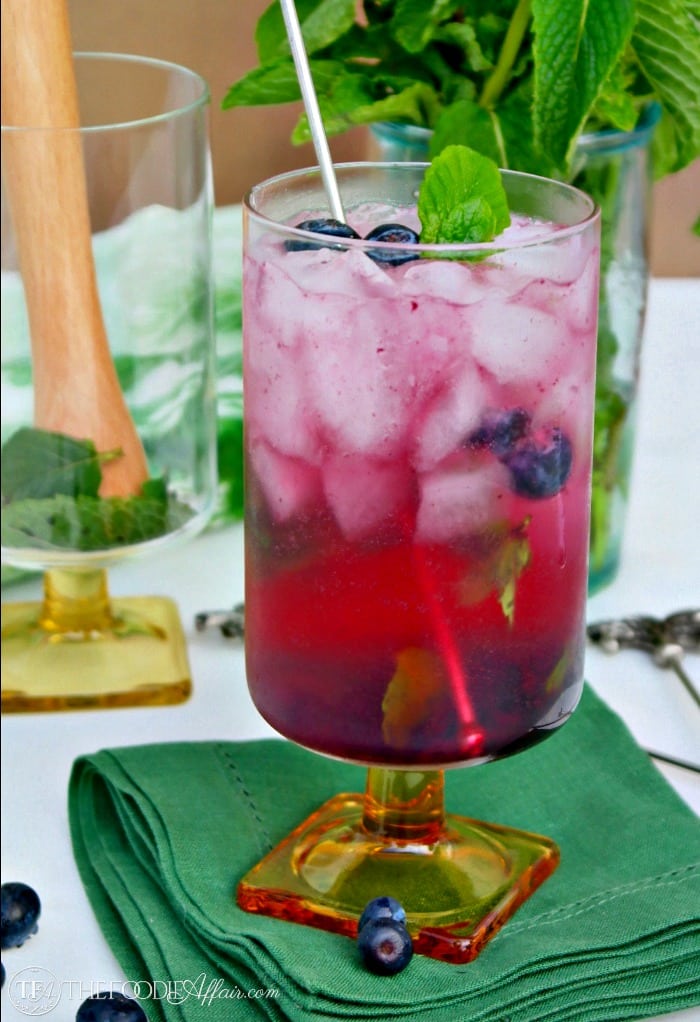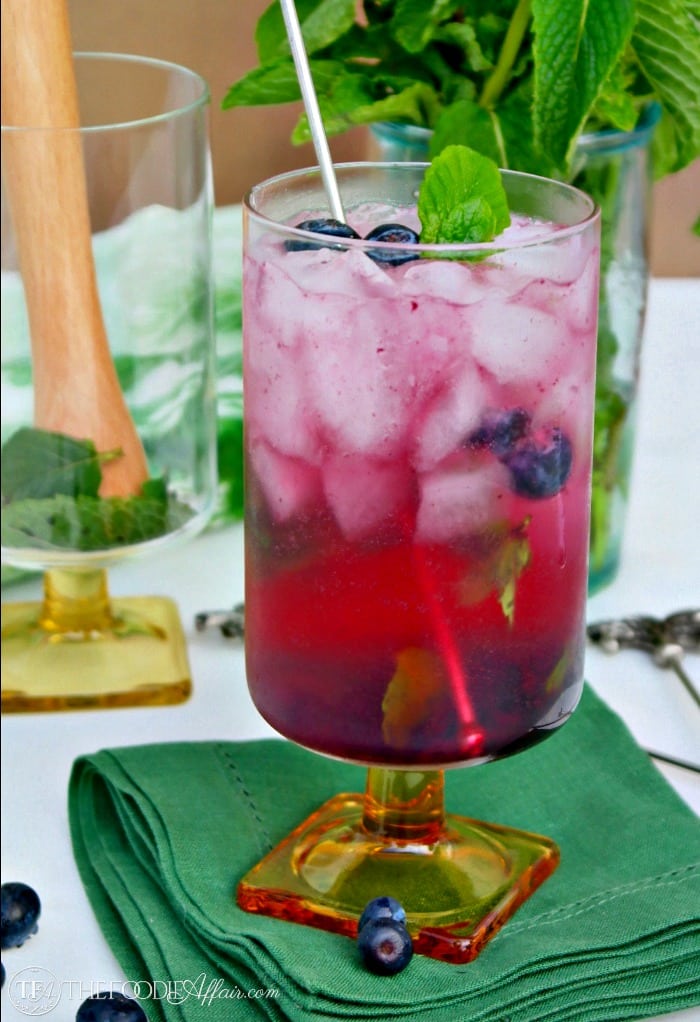 Ingredients
Blueberry Syrup
1 cup fresh blueberries
1/2 cup water
1/2 teaspoon vanilla extract
6-9 drops of liquid stevia (or sweetener of your choice)
Cocktail
1 tablespoon blueberry syrup
10-12 fresh mint leaves
2 ounce rum
1/2 tablespoon fresh lime juice
6 ounce club soda
fresh blueberries and mint for garnish (optional)
Directions
Blueberry Syrup
In a small sauce pan add blueberries and water and cook over medium high heat and bring to a boil. Lower heat to simmer. Simmer for 10 minutes.stirring until the berries release their liquid and begins to soften. Remove from heat and sir in sweetener and vanilla extract. Cool at room temperature.
Cocktail
In a tall glass place clean mint leaves at the bottom and muddle releasing the oils. Add 1 tablespoon of blueberry syrup and fill ⅔ rds with ice. Add rum and fill the rest with club soda. Stir with a cocktail swizzle stick and garnish with fresh blueberries and mint.
Recipe Notes
Option: strain blueberry sauce if you do not want any solids in the beverage.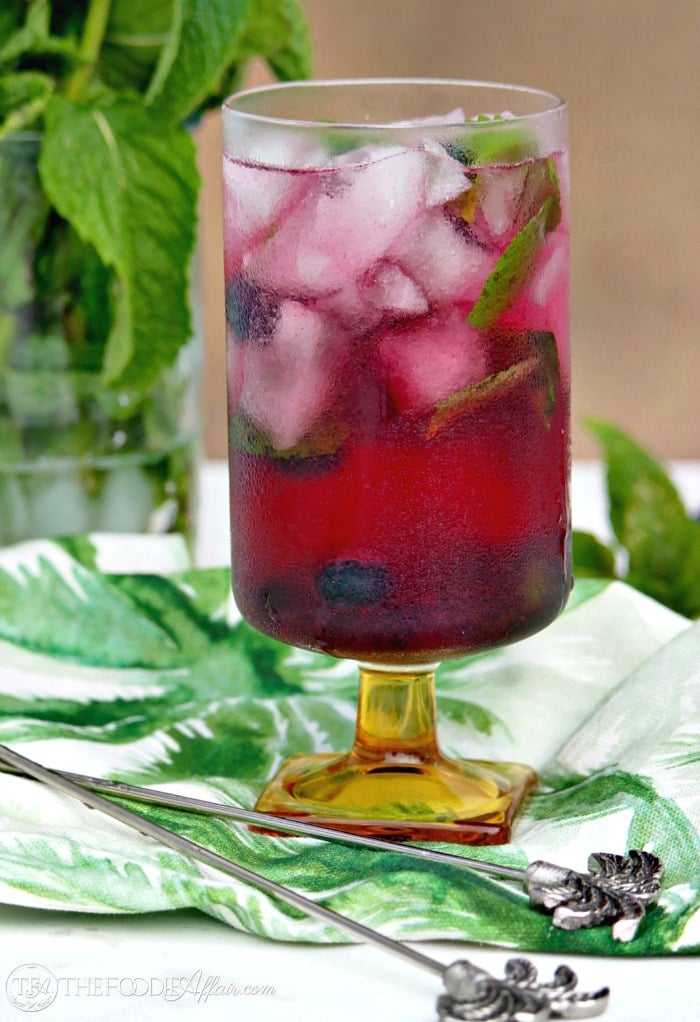 Looking for another summer fun cocktail? This this Refreshing Palama Cocktail!
If you haven't tried this Fresh Raspberry Syrup you should! I used it to make a raspberry non-alcoholic refresher and Italian Sodas.