Cranberry Scones with White Chocolate Chips
Cranberry Scones are a beautiful combination of slightly tart and tangy, and these have bits of creamy sweet bursts from white chocolate chips! Is your mouth watering yet??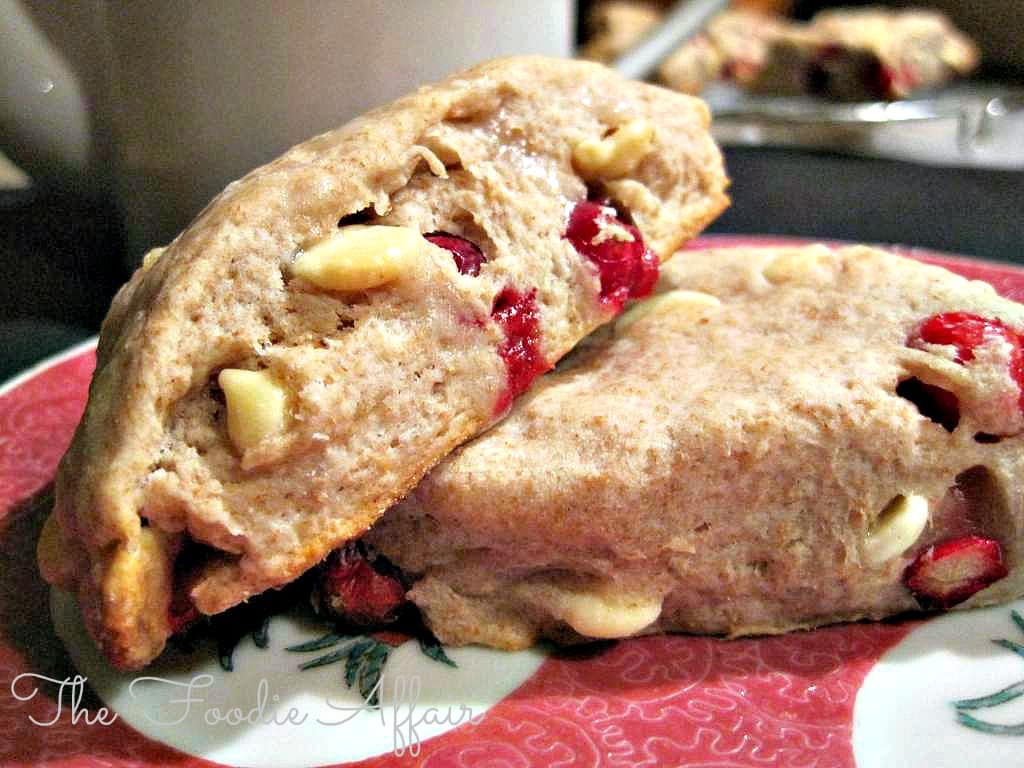 I think of scones as the stage for a grand production!  With a little thought and imagination, nearly all varieties of toppings and ingredients can be folded into the dough.  These little babies won't last long, so as soon as you bake them stash a few for yourself to enjoy at your leisure!  Cranberries and white chocolate chips will be the stars of this scone!
Cranberry Scones with White Chocolate – preheat oven to 400 degrees F
Ingredients:
1 cup all-purpose flour
1 cup whole wheat flour ( sneak in some wheat flour!)
1/4 cup sugar
2 teaspoons baking powder
1/2 teaspoon salt
1/2 cup butter, softened
3/4 cup buttermilk
Goodies to add:
1/2- 3/4 cup fresh cranberries
1/2 – 3/4 cup white chocolate chips
Top drizzle:
1/4 cup powdered sugar
1 Tablespoon milk
Combine flours, baking powder, sugar and salt. Cut in the butter with a pastry blender or two knifes incorporating the butter into the flour mixture. The result will be course crumble. Add buttermilk. Combine well.
Add cranberries and chocolate. I left my cranberries whole, but you can chop them into course pieces.
Kneed dough on a lightly floured surface 10-15 times. Protect your counters!  Cranberries can be naturally staining.
Divide dough in half. Form each piece into 5″- 6″ round circle. Use a sharp knife to cut into triangles. I used a pizza wheel and cut it like I would a pizza.
Place on cookie sheet lined with parchment paper. Bake for 9-11 minutes. The sides of the scone should be slightly browned. Once cooked, combine the powdered sugar and milk, and drizzle the top of the scones using a spoon.
Doesn't cuddling up with a blanket, a good book, and a cup of tea with your freshly baked scone sound enticing? You deserve it. Now relax….