How To Make Limoncello At Home
Learn how to make limoncello at home and you'll never buy it in the stores again. Easy and tasty liqueur for all your refreshing cocktails. Have you ever tried a Limoncello Recipe? This recipe is absolutely delicious and a perfect way to satisfy a craving for a cool refreshing drink.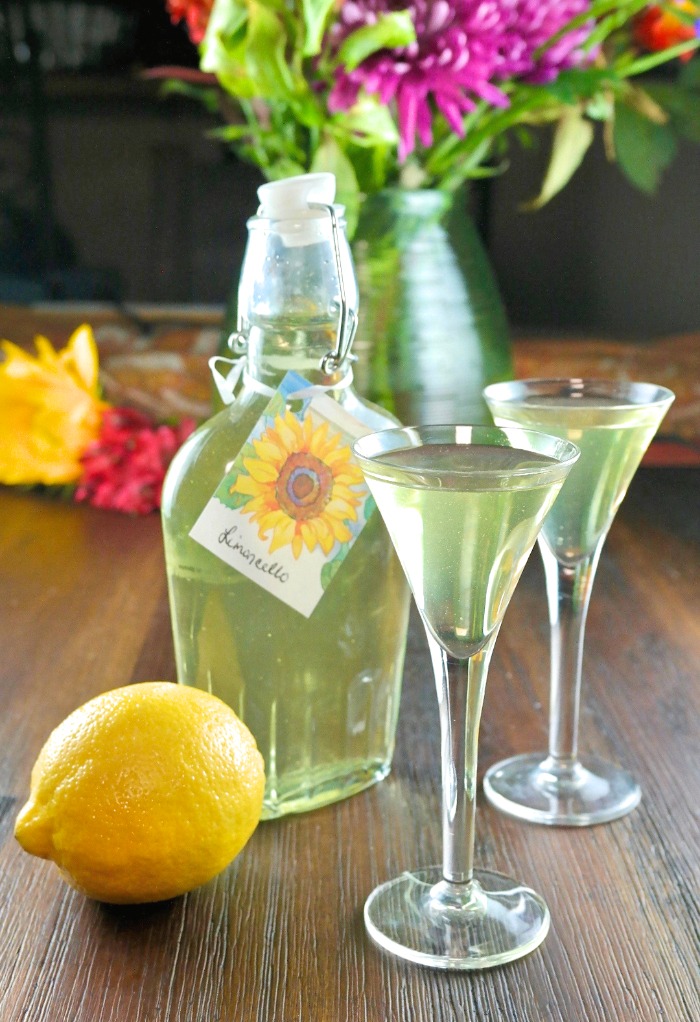 How To Make Limoncello
Homemade limoncello is a great project for the budding home chef. If you've dabbled with things like craft brewing or even making your own homemade sangria, then this is a great recipe to add to your collection.
Limoncello is an Italian liqueur that is often enjoyed before or after a meal. It's served cold in little liqueur or shot glasses.
It tastes mostly sweet with a hint of citrus notes. Of course, the addition of vodka makes it even better.
Making limoncello at home is super easy. Although it does require some fermentation time, which means this isn't a recipe you can whip up overnight.
In fact, homemade limoncello requires a significant amount of waiting for the infusion process to develop so plan several weeks or even months in advance if making this for an event.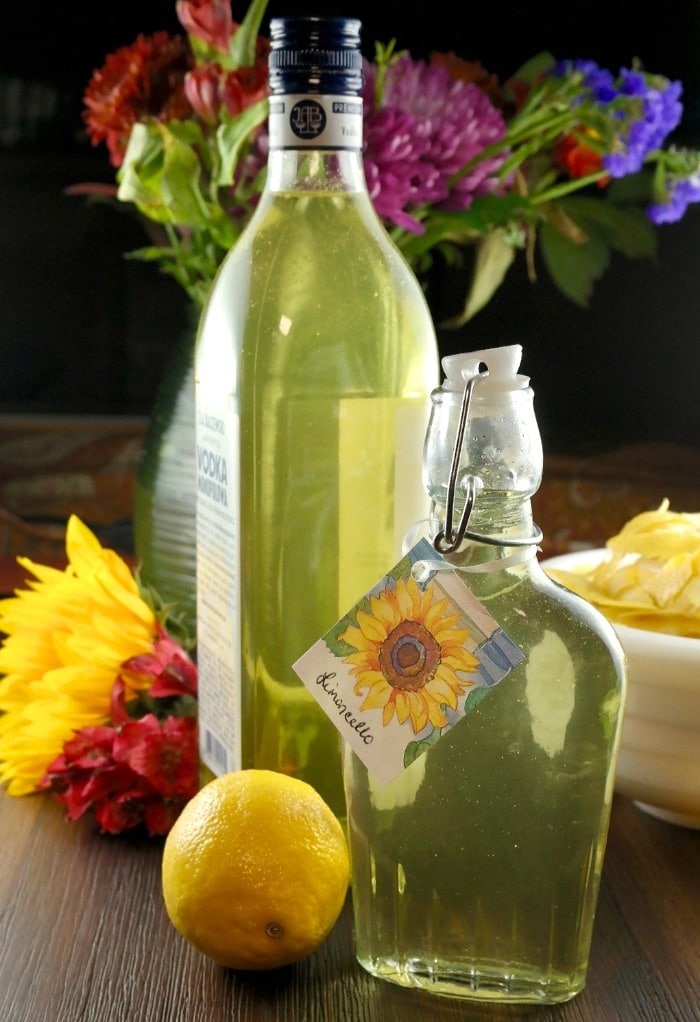 Do I Have to Use Fresh Lemons?
While many lemon flavored recipes don't require fresh lemons, this is one that really does need the lemon.
That said, you are only using the lemon peel, and not the juice of the lemon.
I recommend once peeling the lemons and then juicing the lemons to use in drinks like peach lemonade or sparkling strawberry lemonade.
Another way is to squeeze the lemon juice and freeze it for future recipes like this low carb chicken piccata recipe.
Use Organic Lemons
I highly suggest going the extra step and purchase wax free organic lemons for this recipe.
Since you are using the lemon rind a clean wax and pesticide free lemon will give you the best tasting limoncello.
However, if you are having a hard time finding wax-free lemons you can clean the lemons in hot water to remove the wax.
Health Origins shows us how to accomplish this in this video, how to remove wax from fruit.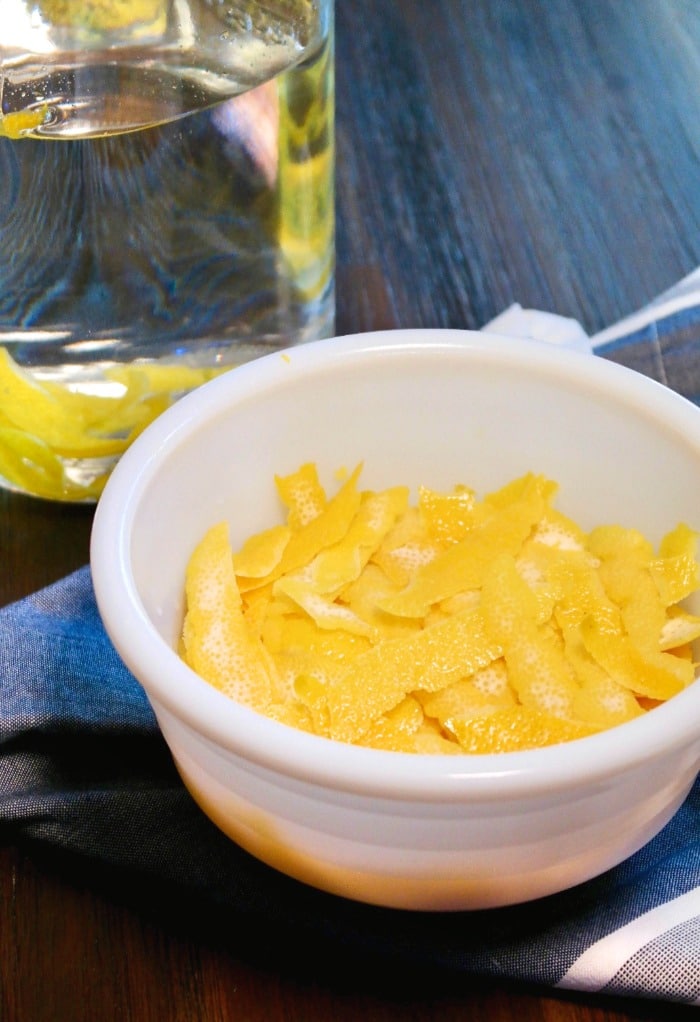 Step 1 Clean and Peel Lemon
First you want to take a vegetable brush and clean the lemons removing any dirt or stickers.
Take a vegetable peeler and remove the rind leaving as much pith as possible. You want just the yellow rind portion of the lemon.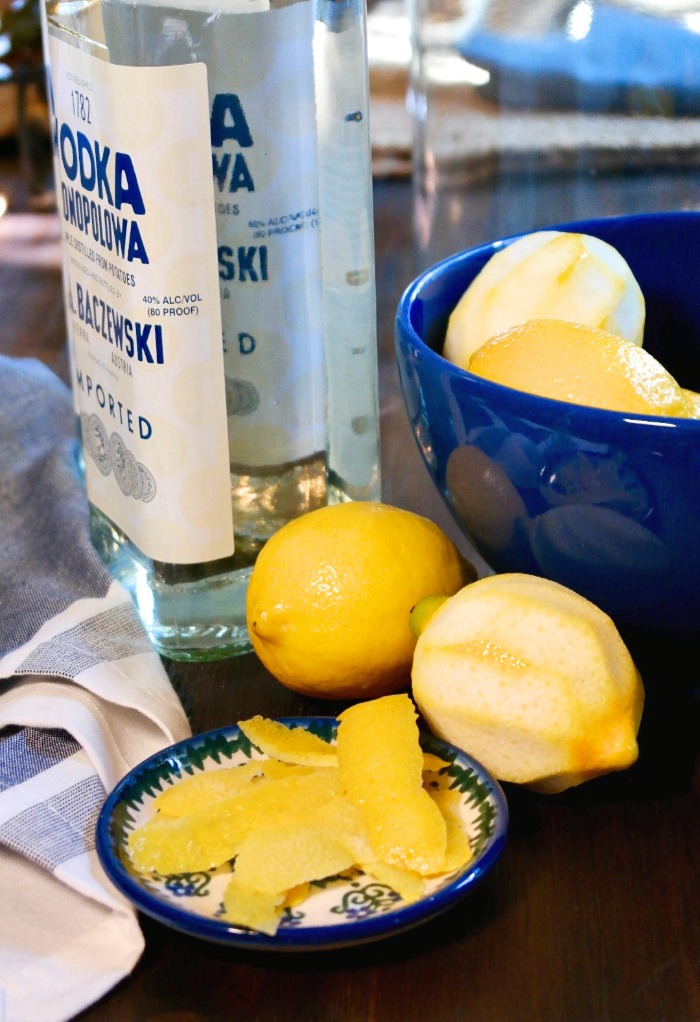 Step 2 Place Vodka In A Jar With Lemon Peels
Now that the lemons are peeled add the vodka to a clean large jar (at least 2 quarts) with the lemon peels.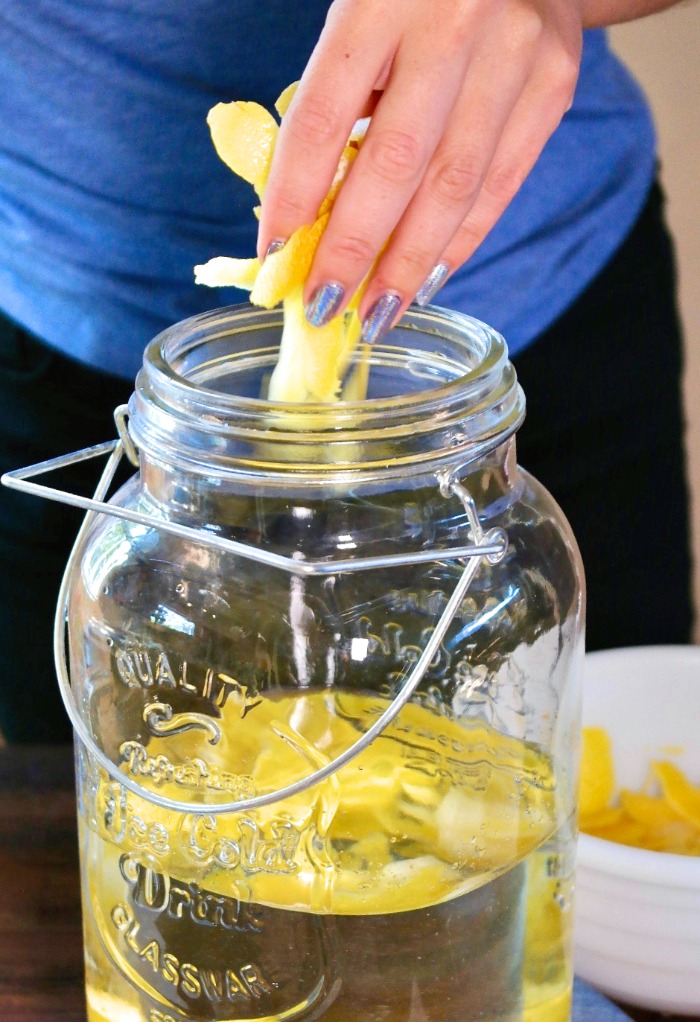 Step 3 Cover And Let Lemon Peels Infuse With The Vodka
Cover with a lid or saran wrap and store in a cool area in your house undisturbed. The longer the better.
You need at least 3-4 weeks for the lemons to infuse with the vodka.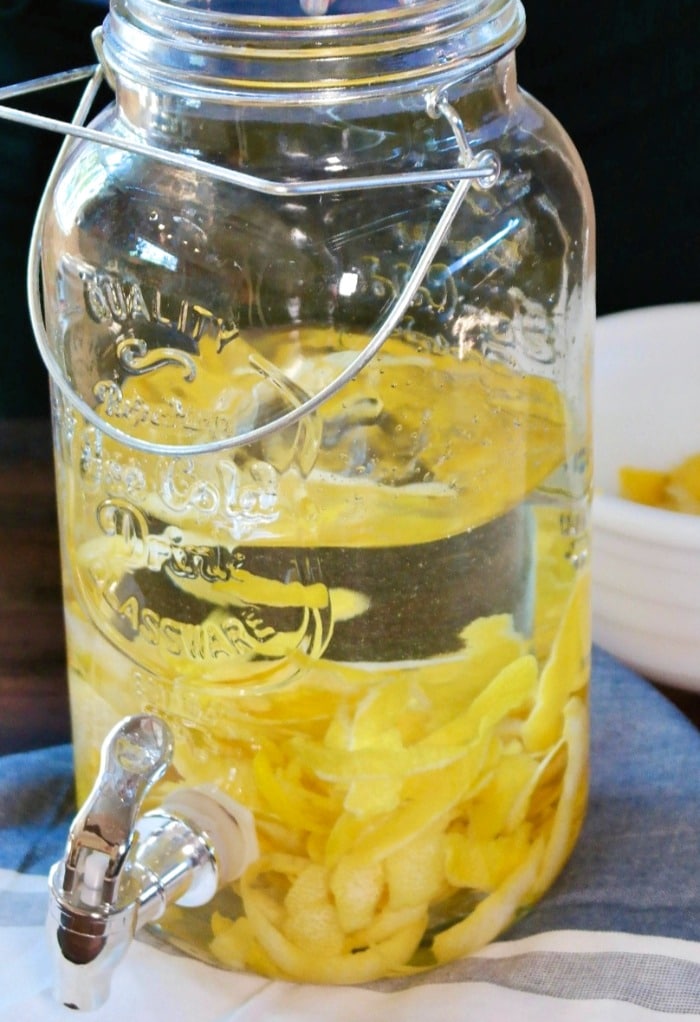 Step 4 Remove Lemon Peel From Vodka
Once you are satisfied with the infusion process now you want to remove the lemon peel from the vodka by pour mix into a clean container using a cheesecloth or sieve to catch the lemon peels.
Discard the lemon peels.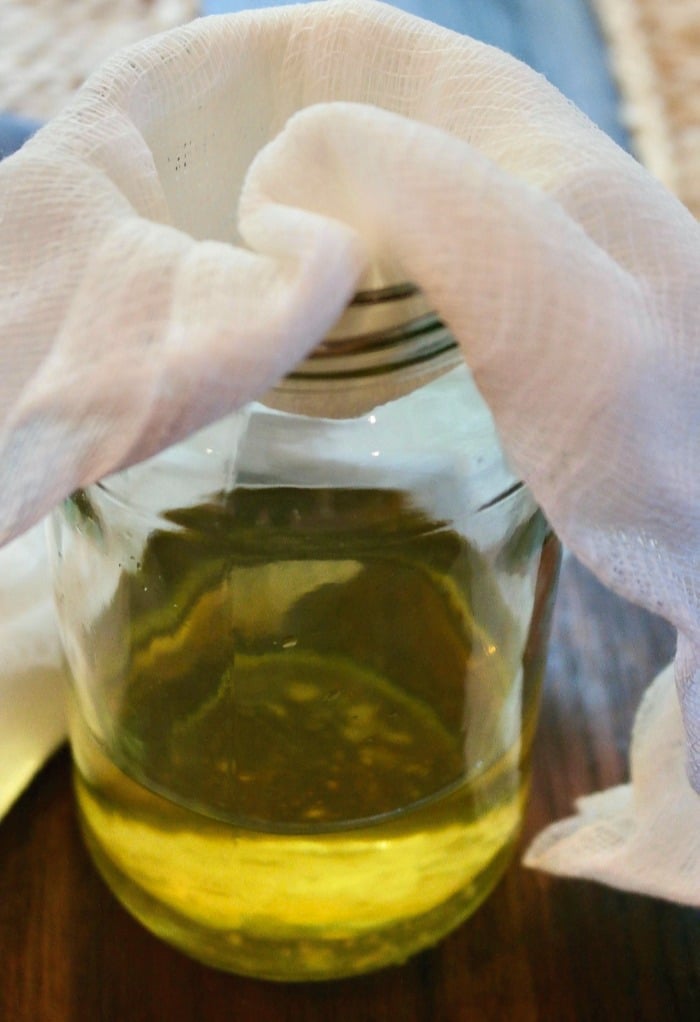 Step 5 Make Simple Syrup
Now you want to add your preferred sweetener by making simple syrup with granulated sugar or a sugar replacement like monk fruit.
In a small saucepan add water and sweetener together. On medium heat stir until the sweetener has dissolved.
Cool before adding to limoncello mix.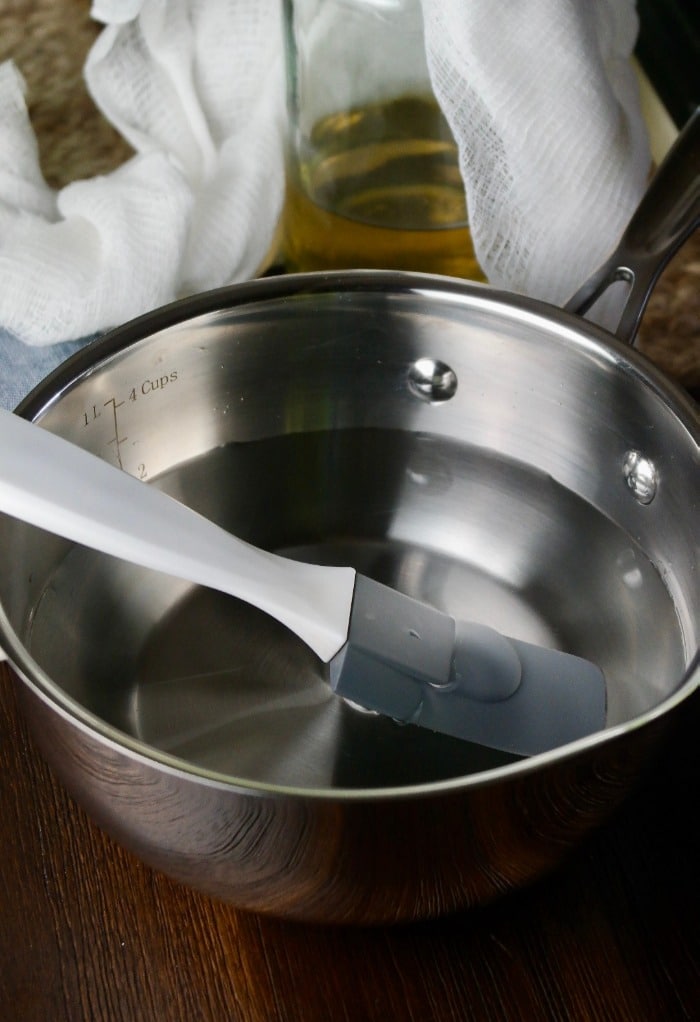 Step 6 Add Prepared Limoncello to Jars
Now you are ready to enjoy your limoncello. Pour back into original liquor bottle or purchase smaller jars for gift giving. Enjoy!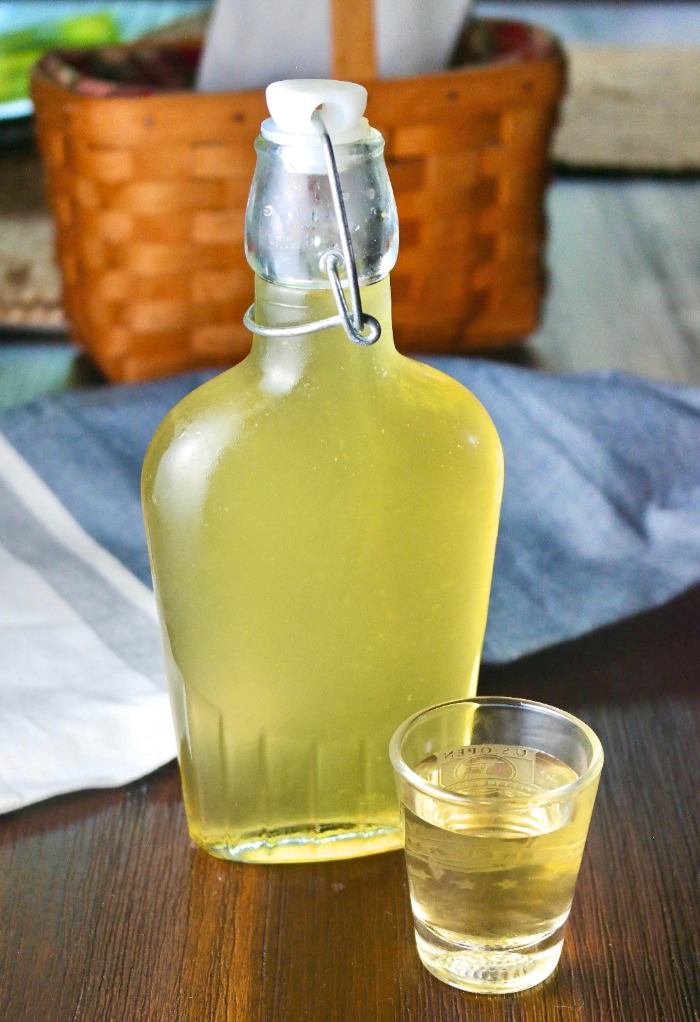 How Long Is Homemade Limoncello Good?
The great thing about this homemade lemon vodka drink is that it is actually good for up to two years.
You don't even have to keep it refrigerated! While I do prefer this chilled, it's not necessary for the drink to be safe for drinking.
Is Limoncello Keto Friendly?
Since this drink includes a simple syrup, it is not keto friendly as listed. You can, however, substitute your favorite keto-friendly sugar substitute like monk fruit without any other adjustments.
Vodka is keto-friendly by itself, so you'll be able to include this in your diet occasionally if you make it with a sugar-free syrup.
This blueberry mojito is another option that is sugar-free and incredibly delicious and may also be keto-friendly if you are looking for more cocktails to add to your drink menu.
What Type of Vodka Should I Use?
To get the best tasting limoncello you will want to use neutral grain alcohol.
Everclear is one brand that can be used for this recipe, but you will find that any vodka that is readily available is fine for this recipe.
Everclear has a higher alcohol content, 94.5% alcohol(191 proof), so if you want this to be super boozy, then you might consider using that brand.
A simple triple distilled vodka, 40% alcohol (80 proof) is plenty strong for this recipe.
I don't recommend using any type of flavored vodkas (not even lemon) because of the artificial flavor it will add.
The brand you pick doesn't need to be expensive, just one you have tried before to be on the safe side.
How To Get Bright Yellow Limoncello?
If you want your limoncello be be extra bright, then feel free to add a couple of drops of yellow food coloring when you bottle the prepared limoncello.
You may notice that when purchasing ready made limoncello the ingredient list will sometimes include Yellow 5, which is an artificial food coloring.
Manufactures often add food coloring to appeal to the buyer and to get the product in the stores quicker.
Personally, one reason I learn to make limoncello myself is to keep the ingredient list simple. I love the natural coloring he limoncello gets from infusing the lemon peels just as they are.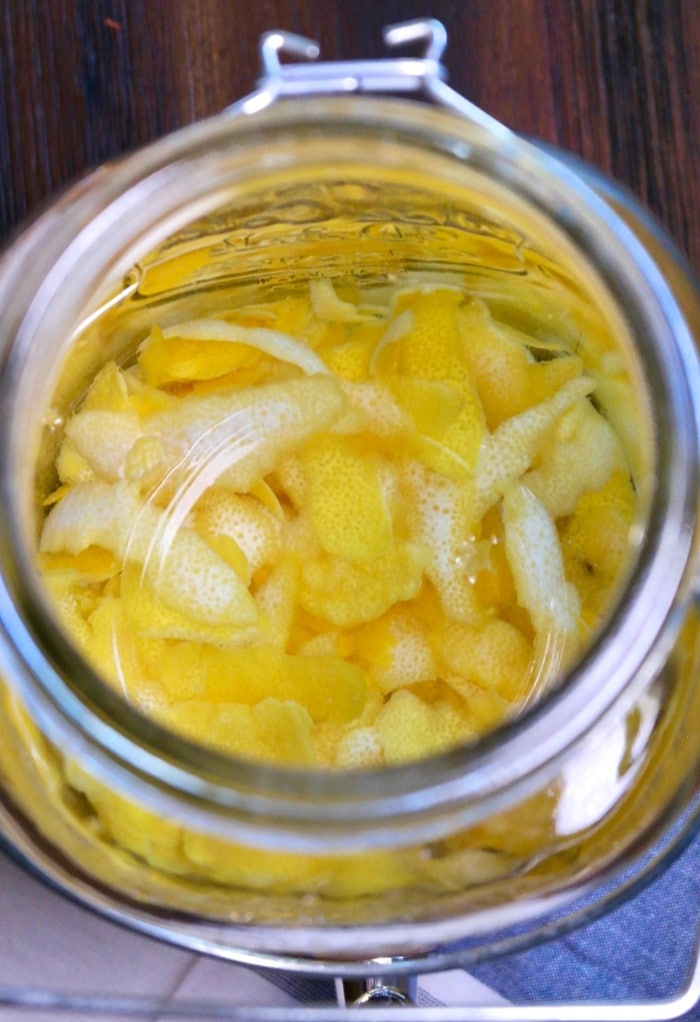 How To Drink Limoncello
My preference is to refrigerate or keep a bottle of the limoncello in the freezer (the vodka won't freeze). Serve in small shot glasses and enjoy as an aperitif before a meal or as an digestif after a meal.
In the summer, I like to keep this on hand and enjoy with sparkling water like a fresh glass of lemonade to have a glass along with our grilled burgers or rib eye steaks.
Another tasty way to use limoncello is to make spiked lemonade! Nice and refreshing.
Of course, the best way to use it is in my Limoncello Spritzer recipe. So bright and delicious! And don't forget to try this Limoncello Martini too!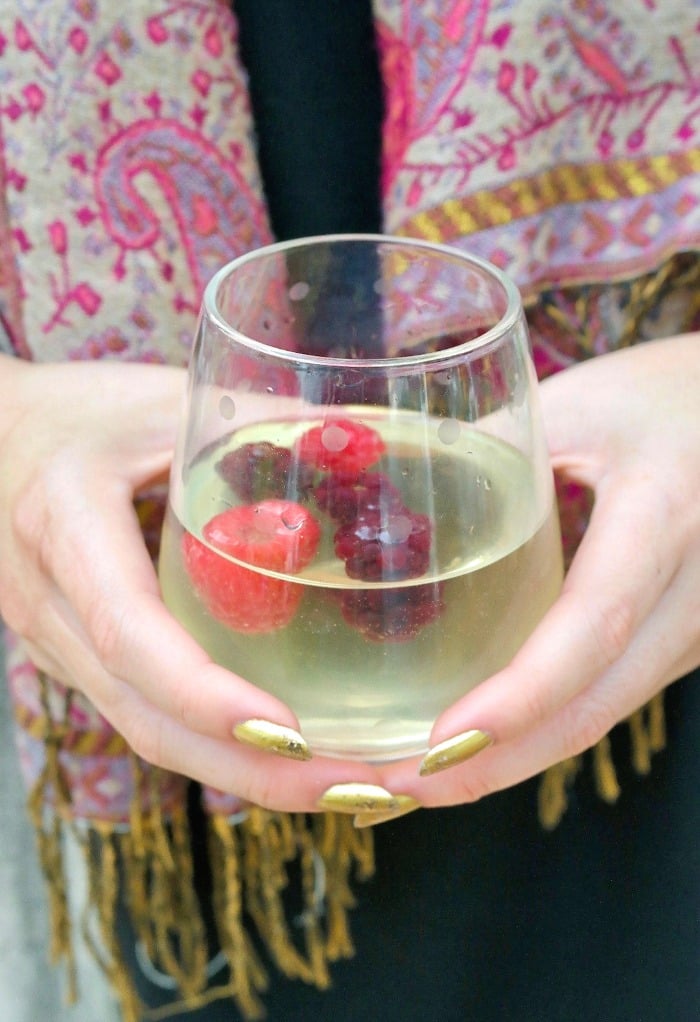 More Cocktails To Try
If you are looking for other cocktails to serve, you will love this watermelon margarita recipe and great strawberry mojito recipe. Both are deliciously fruity and perfect for a cool refreshing cocktail.
Be sure to keep a few bottles of this homemade limoncello on hand so you always have it as an option for a yummy beverage.
Once you learn how to make limoncello be sure to keep this in mind when you want to give a thoughtful gift to friends and family. Everyone loves homemade boozy treats!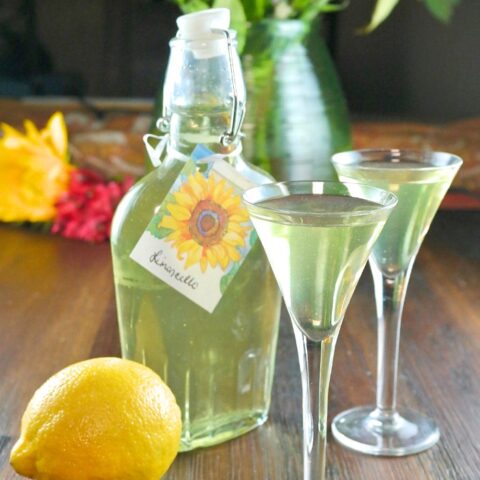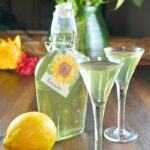 Print
How To Make Limoncello
Make your own limoncello and enjoy the traditional Italian way with a sip before or after a meal. Limoncello also can be used to make a variety of cocktails.
Equipment
Citrus Peeler

Large 2 quart jar with lid

Cheese cloth

Clean jars with lids for storing
Materials
10

clean organic lemons

1 – 750

ml

vodka
Homemade Simple Syrup
3 1/2

cups

filtered water

2 1/2

cups

granulated sugar

see notes for sugar free option
Instructions
Clean lemons with a vegetable brush. Dry with a clean kitchen towel. Peel the rind off of each lemon. Remove as much white pith as possible.

Place lemon peels in a large Jar. Add vodka and cover. Place in a cool area where it can remain undisturbed for a minimum of 4 weeks. The longer you let it sit the more intense the lemon flavor will have to develop.

Place cheese cloth or strainer over a wide mouthed clean jar. Pour vodka lemon peel mix into the jar. Discard the lemon peels.

In a medium size saucepan add 3 1/2 cups of water and 2 1/2 cups of granulated sugar (monk fruit for sugar free version). Heat over medium and stir until the sweetener has dissolved. Cool.

Step 5 Add the simple syrup to prepared limoncello. Stir and pour into jars. Enjoy
Notes
For a sugar free limoncello replace the granulated sugar for the simple syrup for a sugar free alternative sweetener like monk fruit or erythritol.
The recipe has been doubled in the photos shown.
PIN TO YOUR DIY, COCKTAIL AND BEVERAGE BOARDS