Ricotta Cheese Holiday Cookies are light, flavorful soft cookies with a cake-like texture. These cookies are a wonderful addition to any Christmas dessert platter.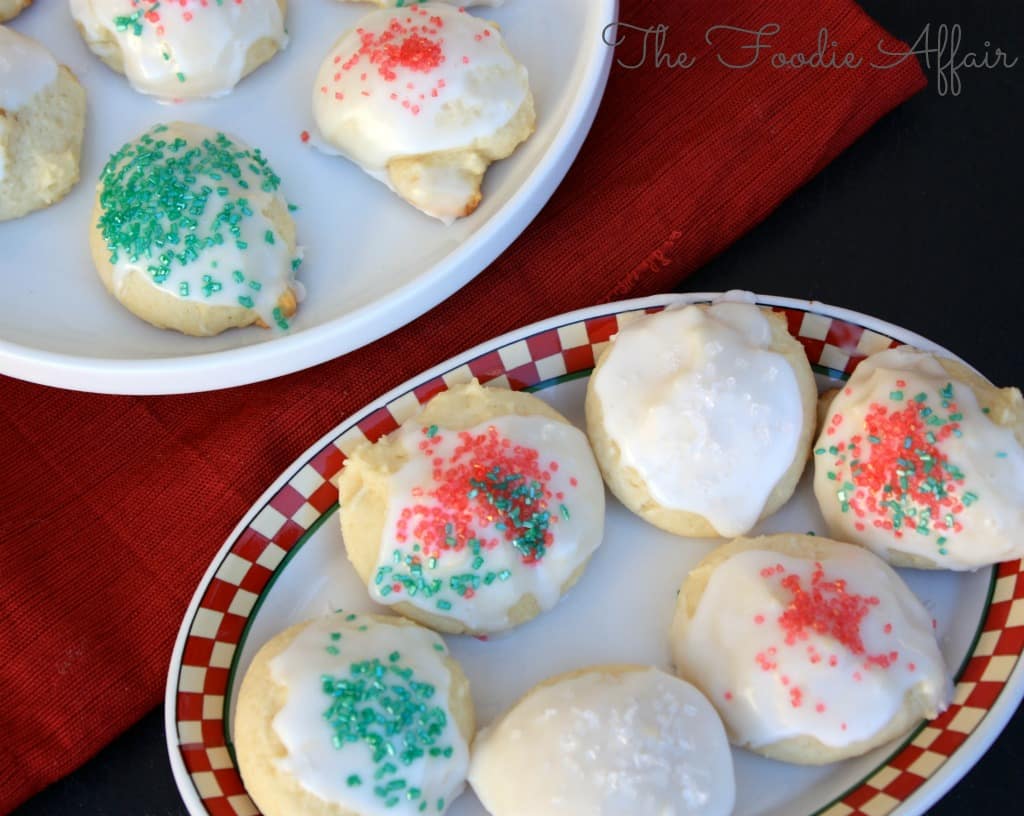 Are you starting to get in the baking mood like I am? I've been baking some different cookie recipes to see which I want to bring to a cookie exchange.  Participating in a cookie swap is one way I can stock up our goodies without being in the kitchen for days.
I contemplated sharing my favorite cut-out cookie recipe because they taste so yummy, but I also want to share cookies that are appealing at first glance.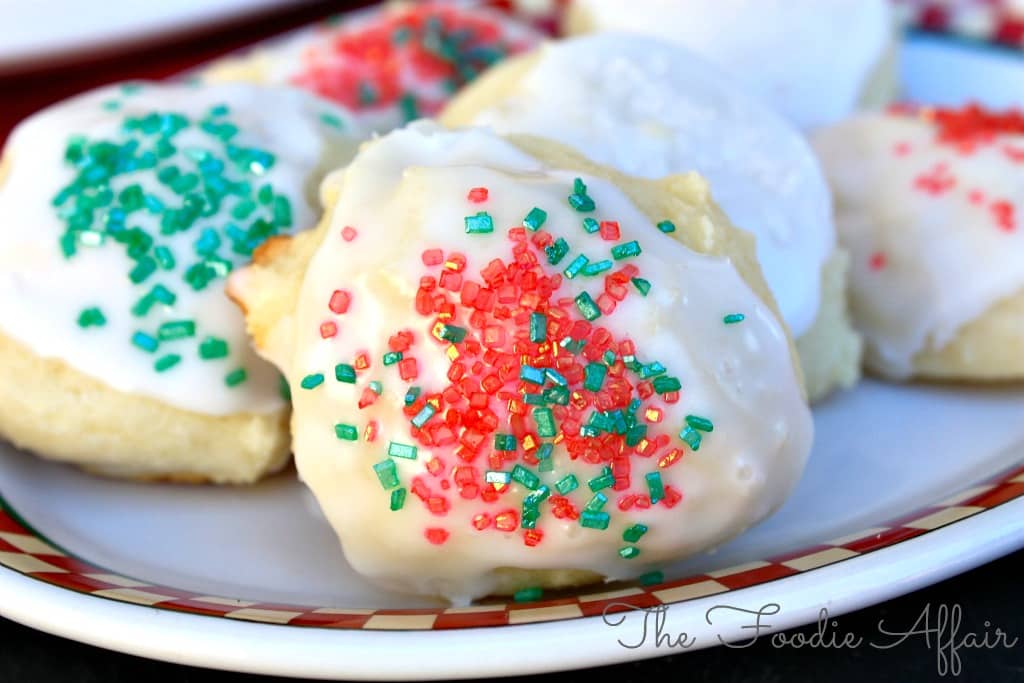 See I get inspired by some of the sites I follow that specialize in cut-out cookies. I'm blown away by the creativity of those cookies artists!  Each one is basically hand painted with icing! They use multiple colors of icing per cookie, different decorating tips, and piping styles. They're beautiful and look so professional!
My cookie decorating skills are sooooo bad!  Kind of goes hand and hand with the way I draw too.  Straight simple lines are best for me.
I can manage a slightly curved smiley face, although when making a smile with frosting there is always a little bit of icing that sticks up at the end of the curve, you know, the final swoop. I think I lack a basic ingredient for baking those types of pretty cookies; it's called PATIENCE! I need to work on that.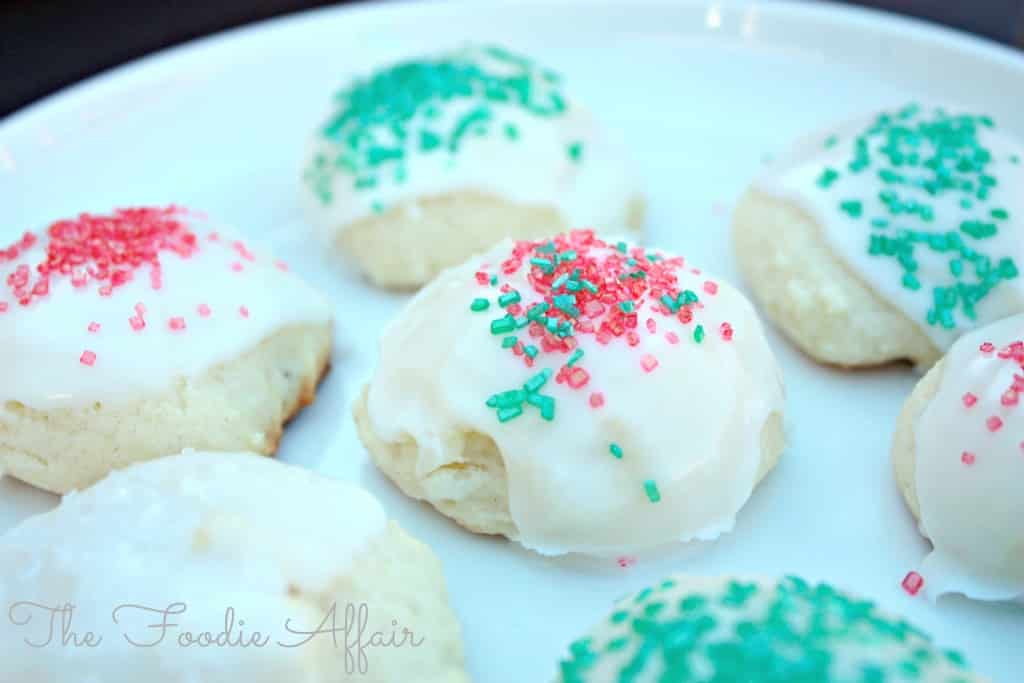 So sorry friends (actually, you can thank me), I won't be trading cut-out cookies this year! Instead, I will bring these soft pillow-y cookies with icing and sprinkles that are simple to make, pretty to look at, and taste delicious!
I bake these ricotta cheese cookies only during the holidays, so I had to taste test them to make sure they're perfect.
They are 🙂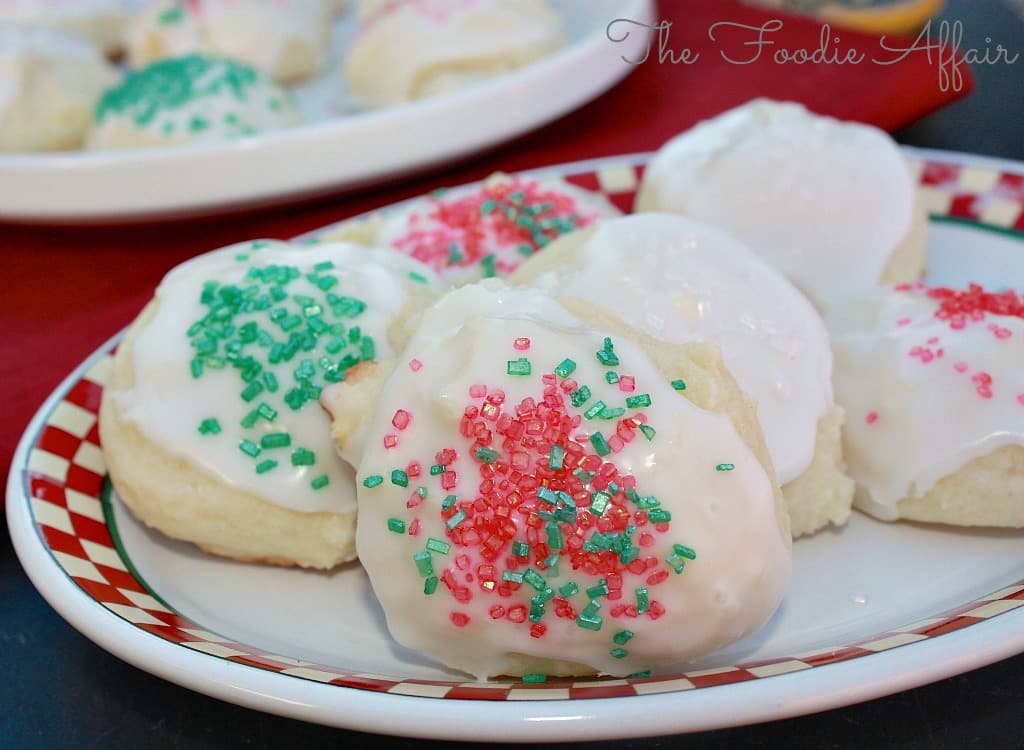 I think these cookies should go into a year round cookie baking rotation! Minus the red and green sugar crystals reminiscent of Christmas, changing the sugars to pink and yellow will work for spring treats!
This recipe makes about 4 dozen, and can easily be doubled for a big 'ole cookie exchange. I'm totally excited to see all the goodies my friends will be making. I hope there is a cookie artist in the group!

Ricotta-Cheese Holiday Cookies
Soft and Pillowy Cookies are a perfect addition to your holiday baking!
Author:
Sandra @ The Foodie Affair
Ingredients
½ cup butter, softened
1 cup granulated sugar
1 cup ricotta cheese
1 teaspoon vanilla extract
1 large egg
2 cups all-purpose flour
1 Tablespoon baking powder
½ teaspoon salt
ICING
1½ cups powdered sugar
3 Tablespoons milk
red & green sugar crystals
Instructions
Preheat oven to 350 degrees. Line two cookie sheet with parchment paper and set aside.
In a medium bowl, whisk together flour, baking powder and salt. Set aside.
In a large bowl, with mixer at low speed, beat sugar and butter until blended. Increase speed to high; beat until light and fluffy (about 3 minutes).
At medium speed, beat in egg, ricotta cheese, vanilla until well combined.
Reduce speed to low. Add flour mixture, beat until dough forms. Chill for at least 2 hours in the refrigerator.
Drop dough by level tablespoons, about 2 inches apart. Bake about 15 minutes or until cookies are very lightly golden on the bottom edges. Remove cookies to wire cooling rack. Let cool completely.
To ice cookies, in a small bowl, mix powdered sugar and milk together until well blended. Dip the top of each cookie into the icing and set on baking rack. Sprinkle with colored sugars.