Simple Slow Cooker Pot Roast
Simple Slow Cooker Pot Roast with carrots, onions and a creamy gravy sauce! This home cooked meal yields tender chuck roast that melts in your mouth! Serve with a side of red potatoes or Mock Mashed Cauliflower Potatoes.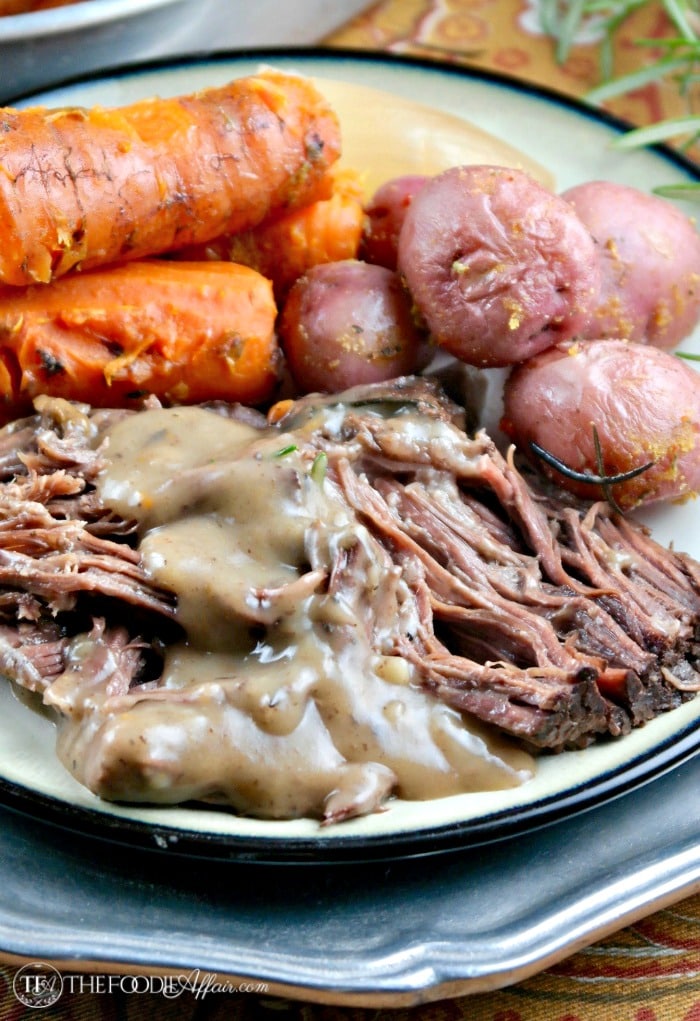 Simple slow cooker pot roast with creamy gravy sauce is a great dish for busy families!
Pull out the Crock Pot, add your ingredients, push a couple of buttons and then walk away!  No more wondering what to make for an evening meal!  Get on with your busy day and when you come home dinner is READY!!
Crock Pots are one of the best kitchen appliances to have on hand, and if you haven't upgraded to a programable version go get yourself one asap.  You'll love the feature that automatically keeps your meal warm once it's done cooking.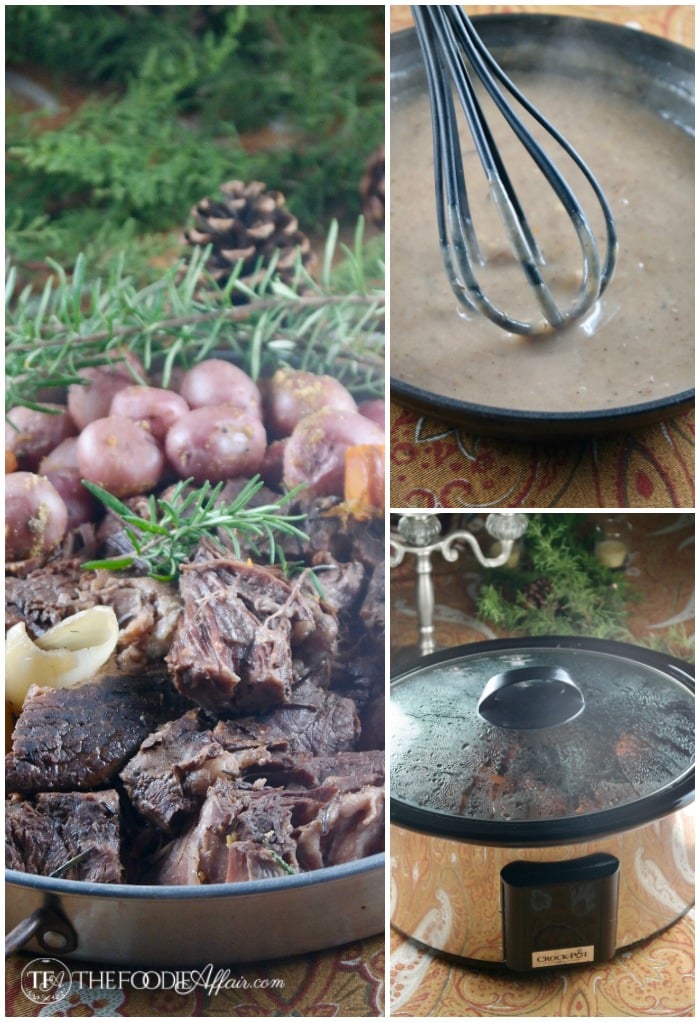 Mid week evenings fly by and if you don't have a plan set then the dinner meal may occur way too late.  We often eat meals that are either cooked in advance and reheated or we'll make a dish that can be put together in 30 minutes like this Cauliflower Soup or Spicy Tequila Shrimp.
Stir-fry dishes also make it to our plates, but there are evenings when we crave a hearty and satisfying meal like this tender pot roast.
When two working adults or any busy family doesn't have enough hours in the day to simmer a roast for 3 or 4 hours during the week, slow cooked dishes come to the rescue!
Dinner is ready at a reasonable time with a little advance planning!
Right before leaving for the office I seared the meat, onions and carrots, put them in the slow cooker and then added a cup of red wine along with some beef broth. Super simple and the aroma is wonderful!
Then right as I walked out the door I asked Alan to add fresh thyme and rosemary.  We have a thriving rosemary bush in our courtyard that I clip sprigs from all the time.
Apparently, Alan never noticed all the fresh herbs I use.  His face had the expression of "Man, I don't want to mess this up!" Which was immediately followed by, "I'll follow you so you can show me which plant is rosemary!"
AYE. AYe. AyE…
None the less, dinner was scrumptious and we have plenty of leftovers for next week!  YAY!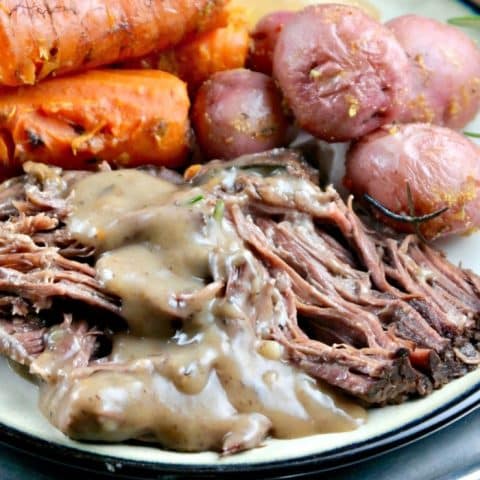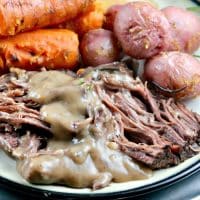 Ingredients
1 3-

pound

chuck roast

olive oil

2

cups

beef broth

1

cup

red wine

1

large onion quartered

4

carrots cut in thirds

1

tablespoon

thyme

3-4

sprigs rosemary

salt and pepper to taste

Gravy Sauce

2

cups

broth reserved from roast

2

tablespoons

cornstarch or arrowroot
Instructions
Brush olive oil on each side of the roast and season with salt and pepper.

Over medium-high heat sear both sides of the roast. Place roast in slow cooker.

Add onion and carrots to pan and sear until lightly charred. Place in slow cooker.

Add beef broth, wine (optional - replace with more broth if you don't add), thyme and rosemary.

Cover and cook on low for 8 hours or high for 6 hours.

Skim any fat from the top and remove two cups of broth and add to a saucepan or small skillet. In a separate small bowl mix together until well blended the cornstarch and 1/4 cup of broth from the saucepan making a slurry. Turn heat to medium and add slurry to saucepan with broth. Whisk until the gravy thickens and starts to bubble. Season with salt and pepper to your preference. Serve with pot roast.
Disclaimer
Please note that the nutritional information provided are guidelines and may vary based on the brand of products used. For your specific nutritional goals use My Fitness Pal or Verywell Fit recipe calculators. All content within this site is not intended as medical diagnosis or treatment and should not be considered a substitute for professional medical expertise.