Homemade Lavender Simple Syrup Recipe
This homemade lavender syrup recipe is perfect for summertime drinks! Made with just a few simple ingredients, it's easy to make and so refreshing. It's filled with sweet floral notes that are ideal for adding to iced tea, lemonade, or even just plain water. And it couldn't be easier to make.
If you love homemade simple syrup recipes, next time give this Strawberry Simple Syrup recipe a try!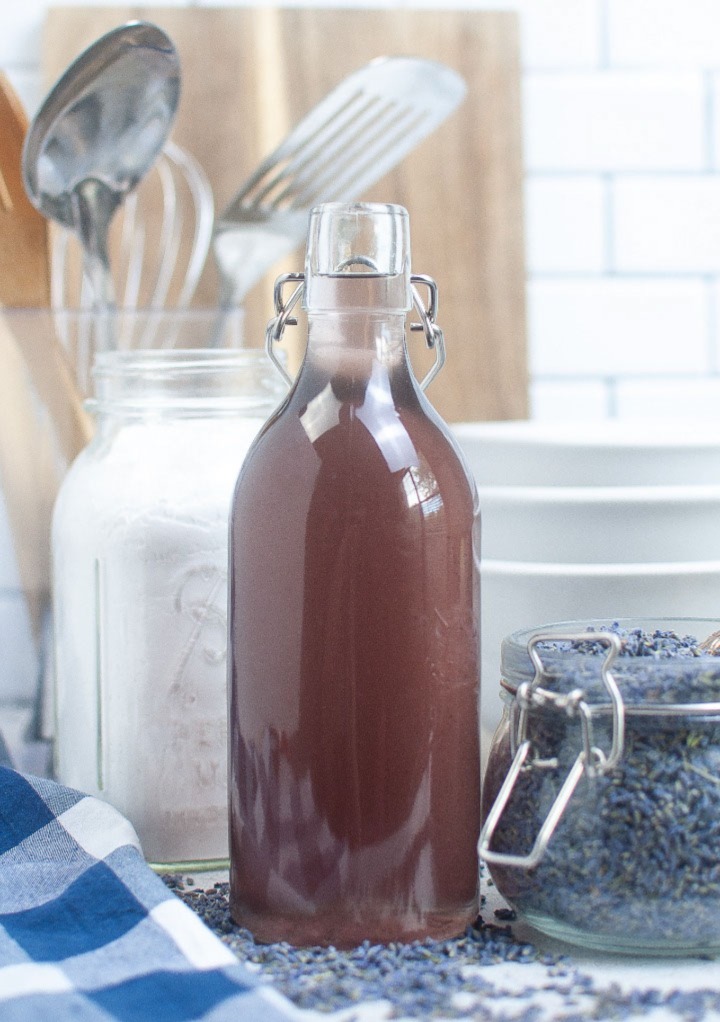 WHY YOU'LL LOVE THIS RECIPE
There's something about a simple syrup that just makes everything feel better. Maybe it's the honey-like sweetness or the way it seems to make any drink more special. In any case, this lavender simple syrup is one you're going to want to keep on hand. Not only does it make for a delicious add-in for all kinds of drinks, but it's also perfect for homemade gifts. Trust me, your friends and family will love you for it!
This lavender syrup recipe is easy to make with just a few simple ingredients.
Refreshing and the perfect way to add flavor to cold drinks.
A great way to use fresh lavender from the lavender plants that you may have growing in your herb garden.
Skip the line at your local coffee shop waiting on a specialty coffee when you make one at home with this basic simple syrup recipe.
EQUIPMENT NEEDED
You only need a few kitchen tools to help you make this sweet syrup recipe. You may already have most of these tools on hand.
medium saucepan
measuring cup
mesh strainer
glass jar or airtight storage container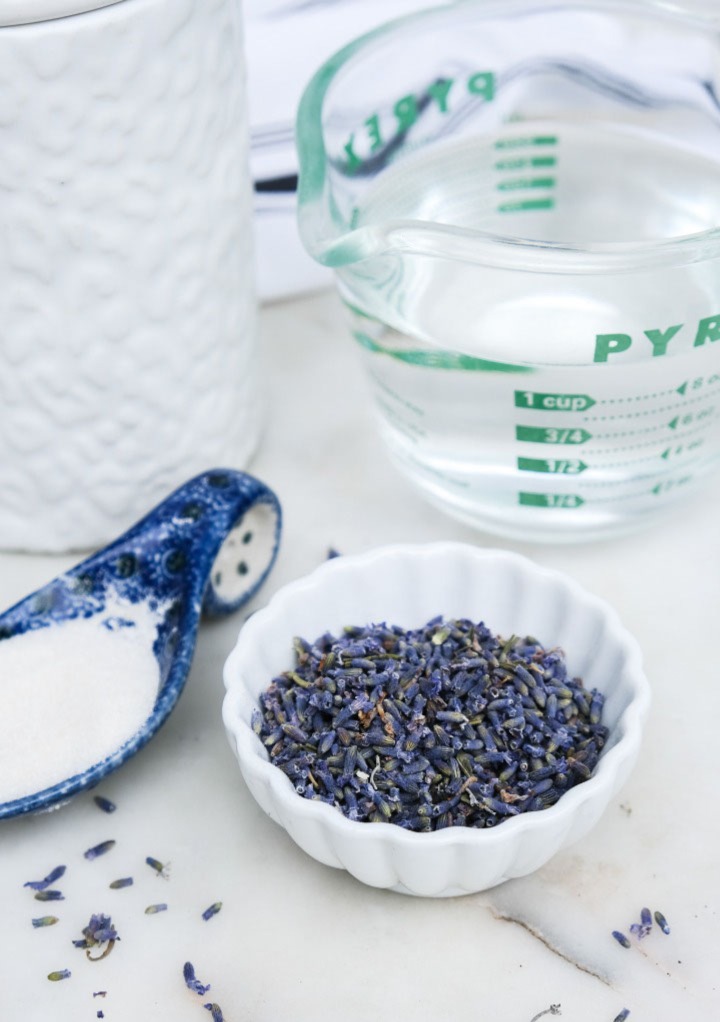 INGREDIENTS
All you need for this easy homemade simple syrup recipe is a few simple ingredients. Gather these three ingredients to help you make a sweet and flavorful beverage recipe.
white sugar, granulated (you can also make this sugar free with granulated monk fruit or your favorite sugar alternative).
water, filtered
dried lavender flowers (see note in the recipe card)
HOW TO MAKE THIS LAVENDER SYRUP RECIPE
Making this lavender syrup recipe is easy. All you need to do is follow the simple steps below and you will have a delicious syrup to add a burst of flavor to your favorite beverages.
STEP 1: ADD ALL INGREDIENTS INTO A MEDIUM SAUCEPAN
In a medium-size saucepan, add all your ingredients and cook on medium heat. Stir continuously.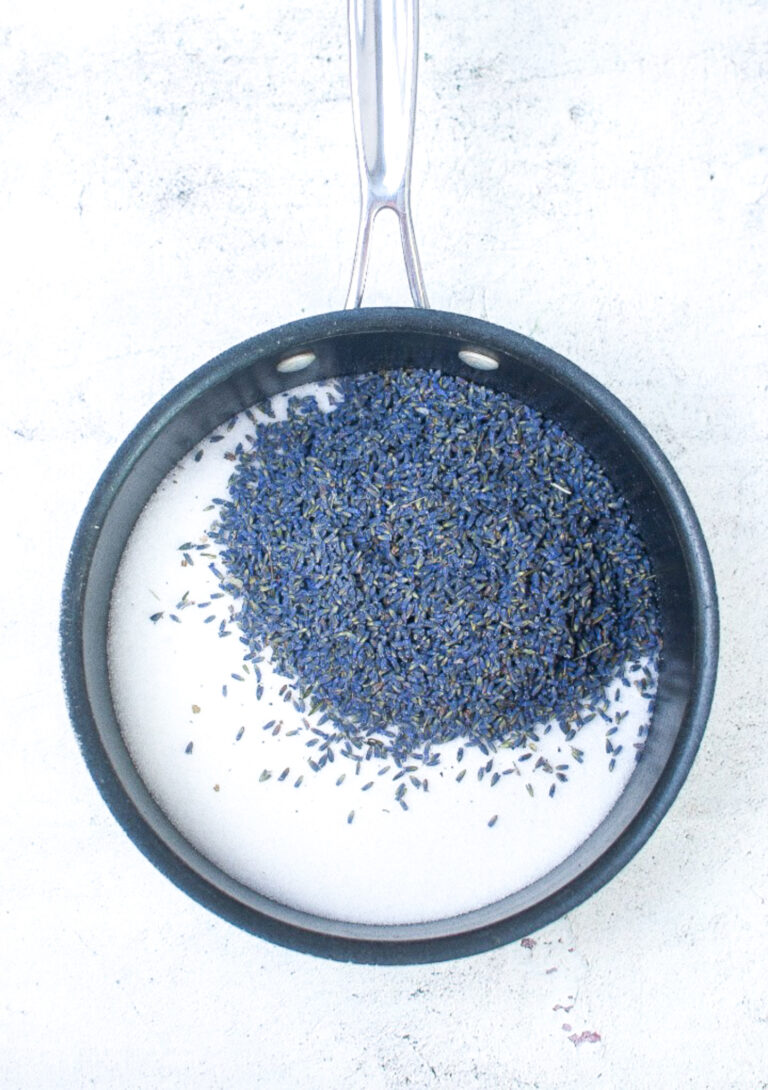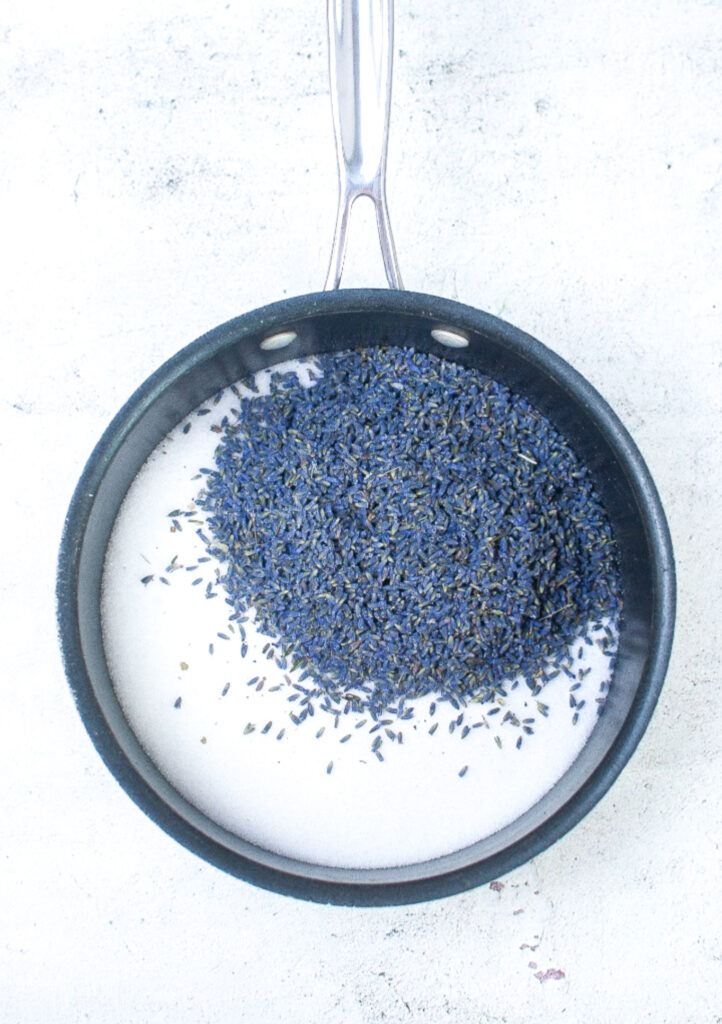 STEP 2: BRING THE SYRUP TO A BOIL
Once the mixture starts to boil, remove it from heat. Should take about 8-10 to come to a boil.
STEP 3: ALLOW THE LAVENDER SYRUP TO COOL FOR AT LEAST FIVE MINUTES
Allow the mixture to cool and flavors to continue to incorporate in the saucepan for about 5 minutes.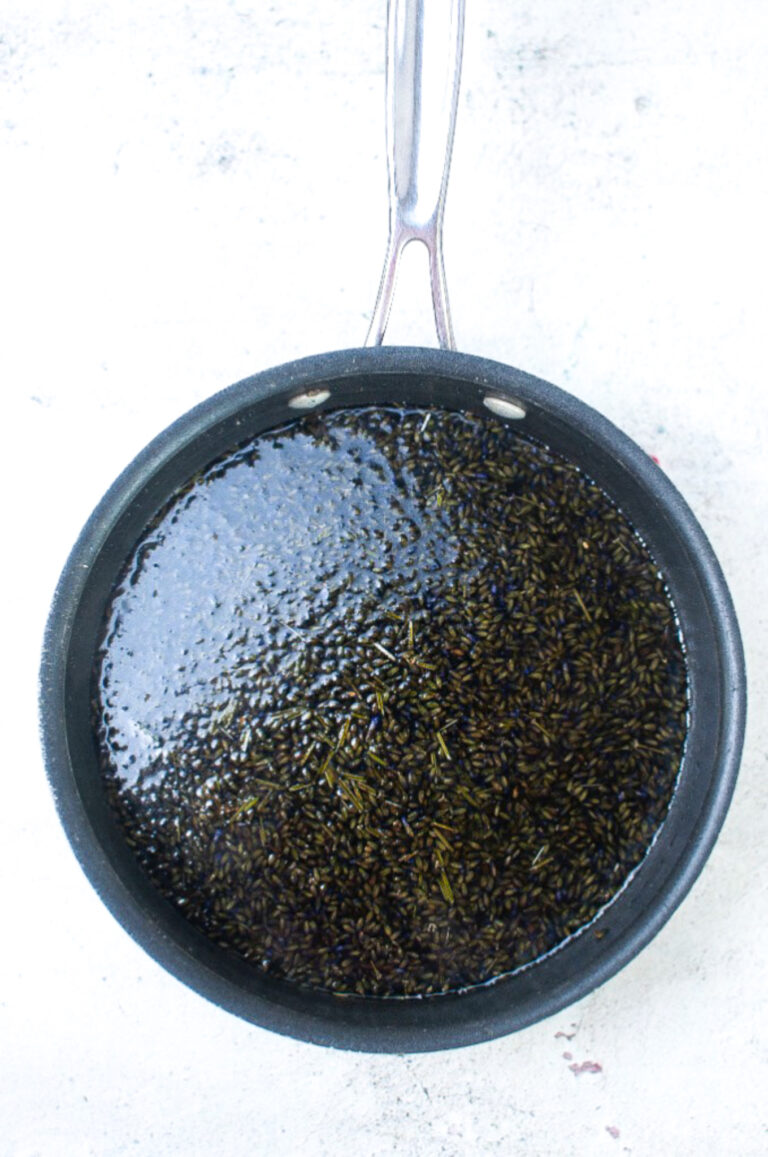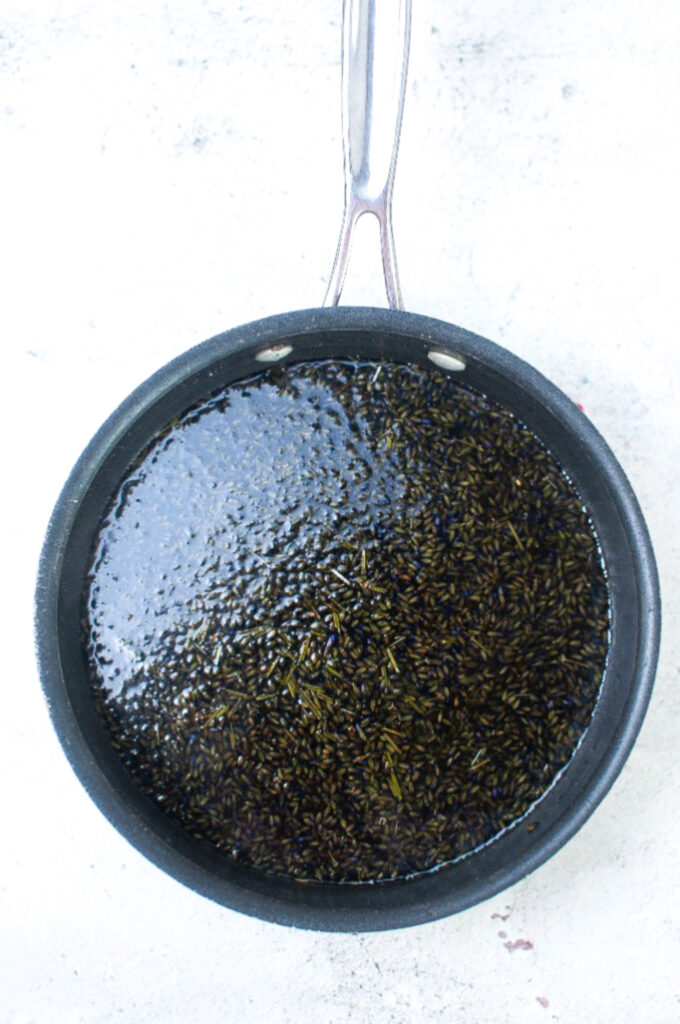 STEP 4: STRAIN THE SYRUP
Place a mesh strain over a a bowl or glass jar. Pour into the strain to separate the lavender syrup from the lavender flowers.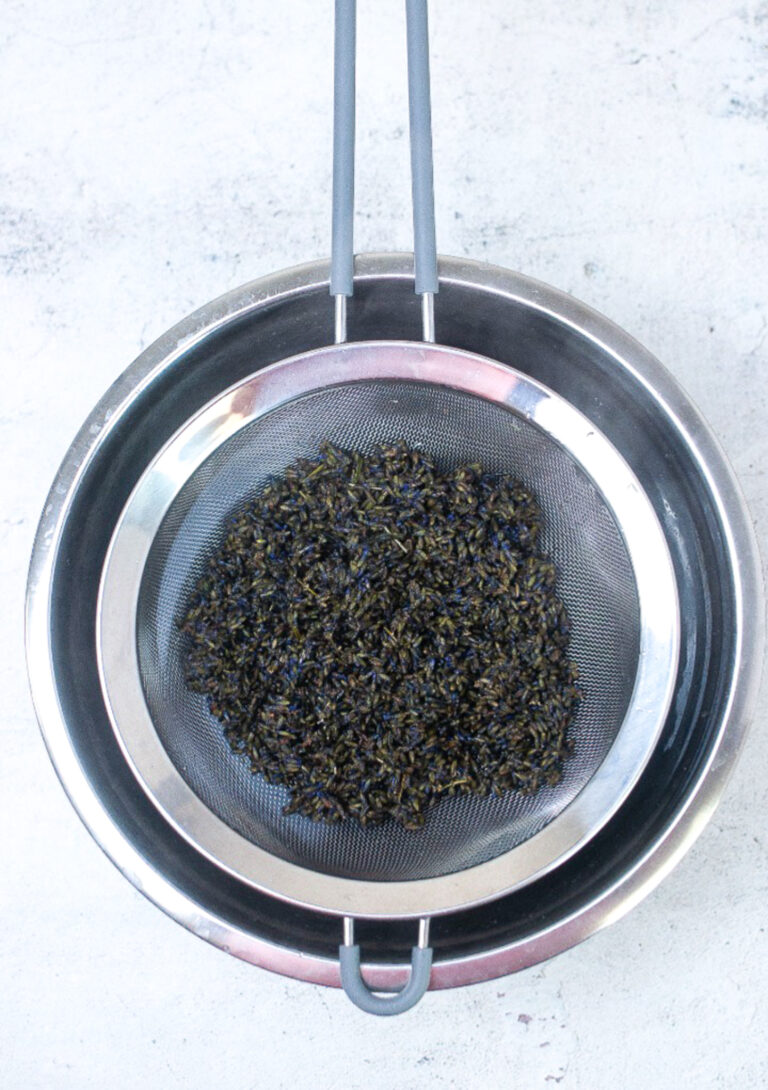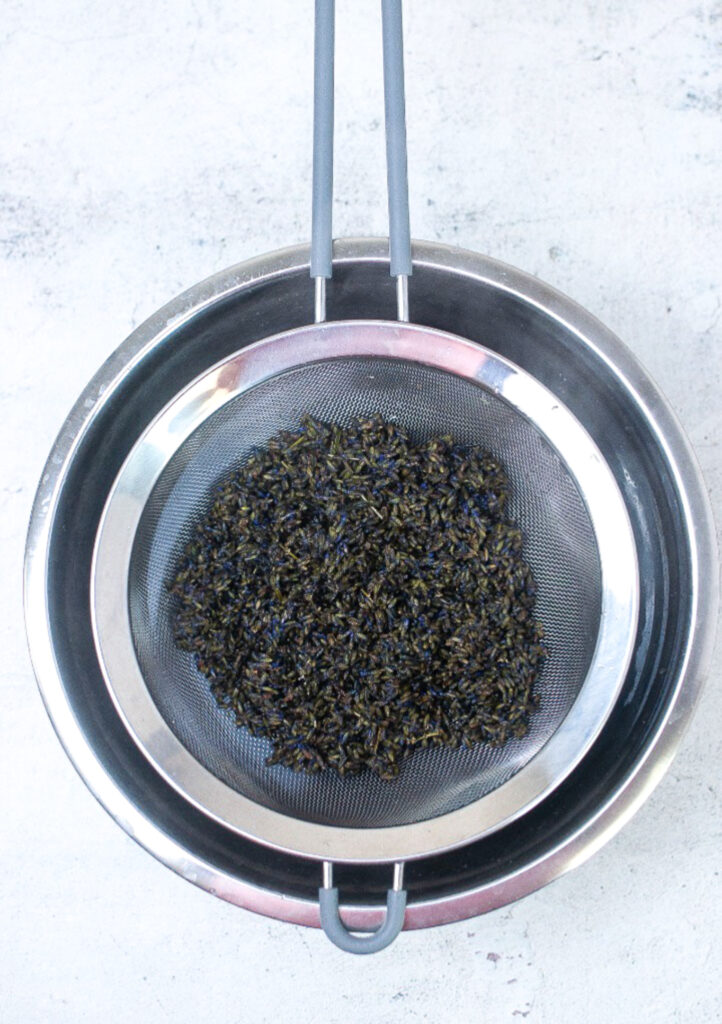 STEP 5: DISCARD THE LAVENDER FLOWERS
Discard the flowers.
STEP 6: ALLOW THE SYRUP TO COOL COMPLETELY
Allow the syrup to come to room temperature before placing a lid on it.
STEP 7: STORE IN THE FRIDGE
Store in the refrigerator for up to 2 weeks.
STEP 8: USE THE SIMPLE SYRUP TO MAKE DELICIOUS DRINKS
Perfect for lavender mochas, lavender ice cream, or lavender lemonade!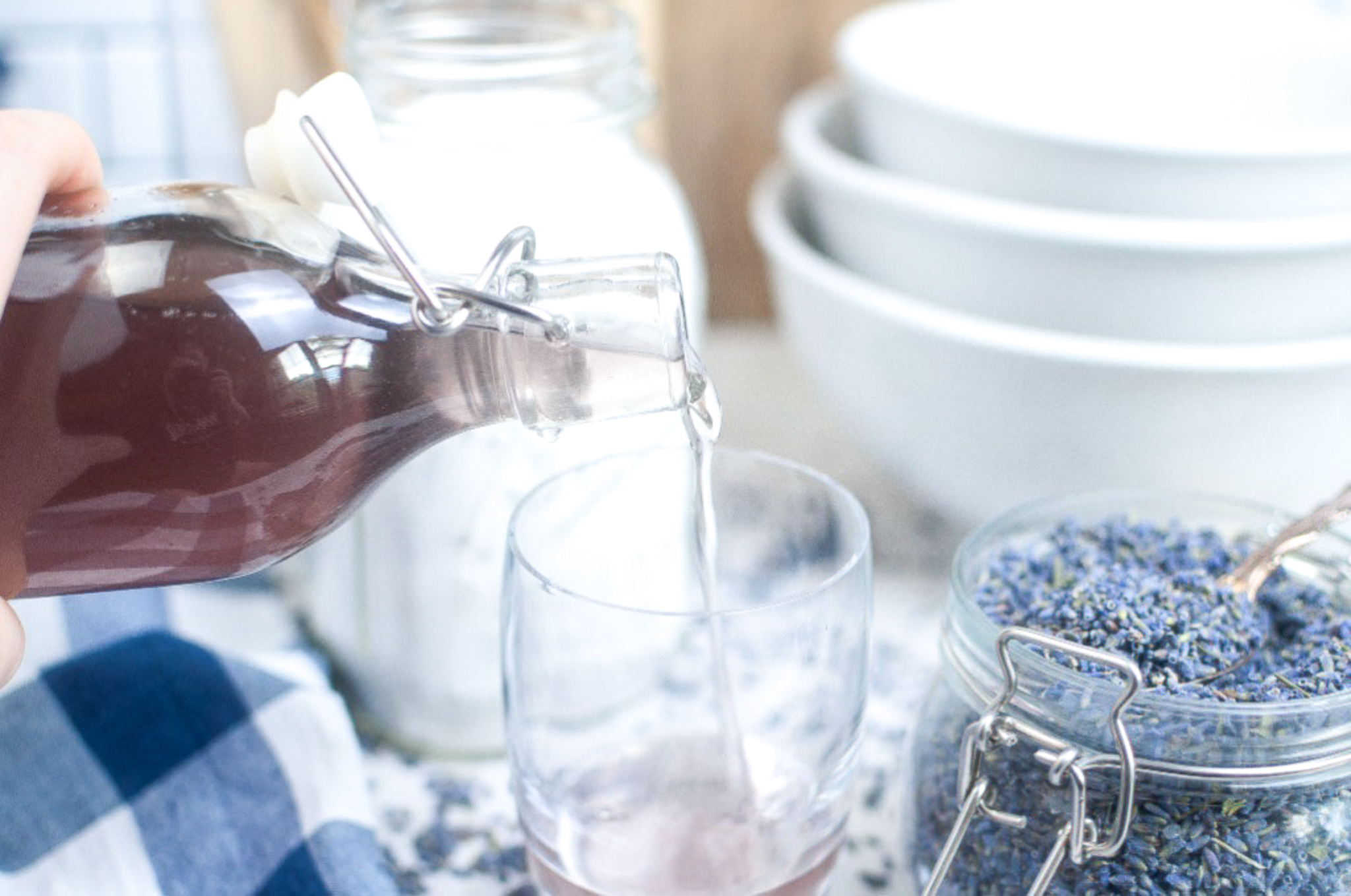 WAYS TO USE
This lavender simple syrup recipe is perfect for adding flavor to all kinds of drinks. Here are a few ideas on how you can use it. But, there are so many different ways that you can use, so let your imagination run wild.
Lavender mochas – add a tablespoon or two of the syrup to your morning coffee for a delicious lavender coffee and refreshing pick-me-up.
Lavender lemonade – a summertime favorite that's perfect for entertaining. Simply add the syrup to your favorite lemonade recipe.
Lavender iced tea – add a little bit of the syrup to sweeten up tea drinks.
Lavender Cocktails – this lavender syrup is perfect for adding to all kinds of cocktails. Try it in a lavender martini or a lavender gin and tonic; 2 ounces gin, 1/2 ounce lavender syrup, 4 ounces tonic and fresh lime juice.
Lavender ice cream – add a few tablespoons of syrup to your favorite ice cream recipe for a delicious and unique flavor.
Honey Lavender Latte – add a tablespoon of this syrup to your favorite latte for a delicious and soothing latte that's perfect for a cozy night in.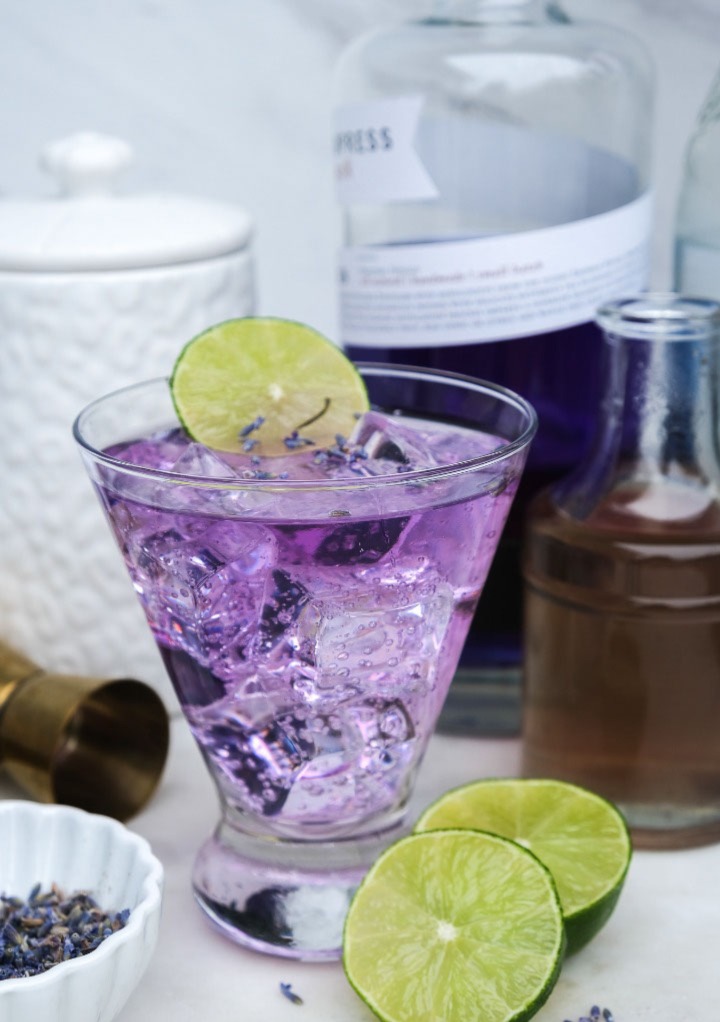 TIPS FOR MAKING THIS RECIPE
Here are a few tips to help you make this lavender simple syrup recipe.
Be sure to use filtered water for the best results. This will help to remove any impurities that may be in your tap water.
Make a large batch of the syrup and keep it on hand in the fridge for when you need it. It will last for up to 2 weeks stored in an airtight container in the refrigerator.
If you want to make a small batch of syrup, simply halve all the ingredients.
Don't have a fine mesh strainer on hand, you can use cheesecloth instead. Just make sure to give it a good squeeze to get all the syrup out.
SUBSTITUTIONS AND ADDITIONS
Here are a few substitutions and additions that you can make to this easy recipe.
Substitute the sugar for raw honey, brown sugar, maple syrup, coconut sugar, or agave nectar if you want to make a more natural version of the syrup.
Add a few drops of lavender essential oil to the syrup for an even more intense flavor.
If you want to color the syrup, add a few drops of natural food coloring until you reach the desired shade. However, this will naturally have a very pale lavender color.
Make this low-carb by using your favorite low-carb-friendly sweetener.
Add a bright citrus flavor with a squeeze of fresh lemon juice.
Vanilla extract will intensify the floral notes in lavender syrup.
For a thick simple syrup add arrowroot or glucomannan.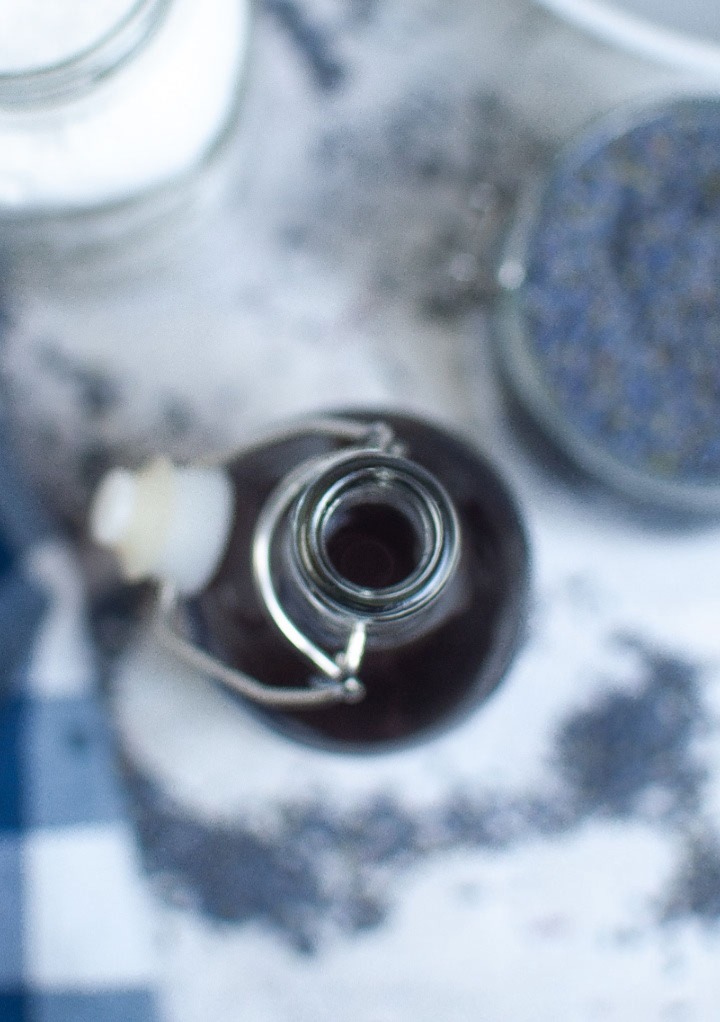 HOW TO STORE
This lavender simple syrup recipe will last for up to 2 weeks when stored in an airtight container in the refrigerator.
If you want to make a larger batch of syrup to enjoy any time of year, you can store it in the freezer in a sealed container for up to 6 months. Simply thaw it out when you're ready to use it.
FAQS
Do you have questions about this sweet lavender syrup recipe? Here are the answers to the most commonly asked questions about this recipe.
Why is my lavender syrup bitter?
If your lavender syrup is bitter, it's likely because the lavender flowers were over-cooked. Be sure to remove the syrup from the heat as soon as it comes to a boil to avoid this.
Is all lavender edible?
Yes, all lavender is edible.
Does simple syrup need to be refrigerated?
Yes, the simple syrup should be stored in the refrigerator.
Why is my simple syrup cloudy?
If your simple syrup is cloudy, it's likely because the sugar hasn't completely dissolved. Be sure to stir the syrup until the sugar has melted before removing it from the heat. If your syrup has been in the fridge for a while or sitting out for a long time, cloudy syrup could also mean it's gone rancid.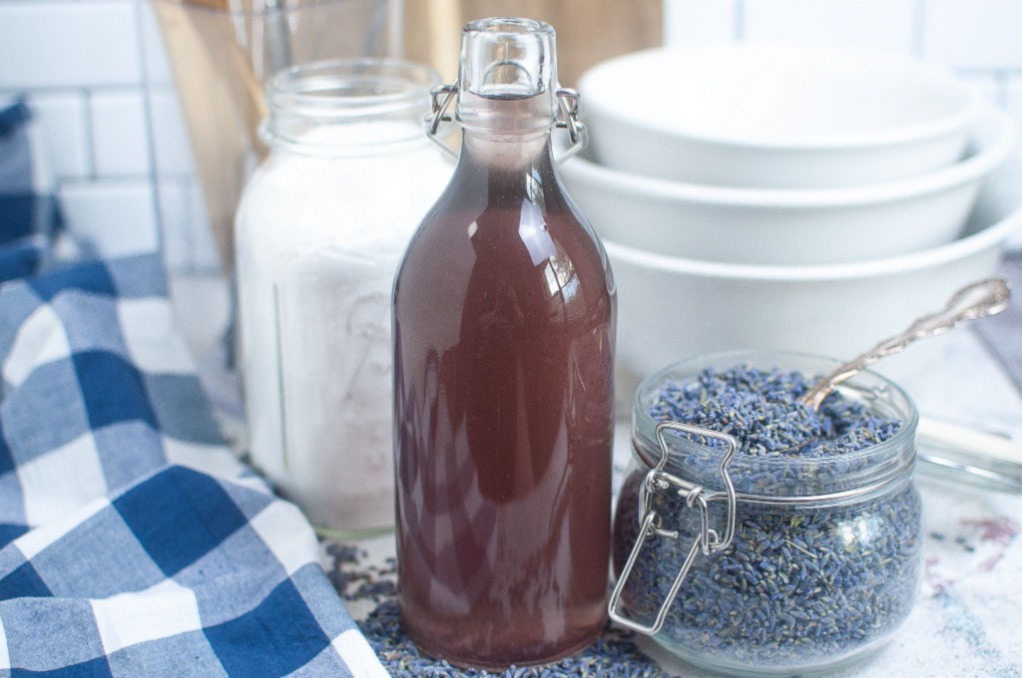 OTHER DELICIOUS HOMEMADE SYRUPS THAT YOU MAY ENJOY
Recipes With Lavender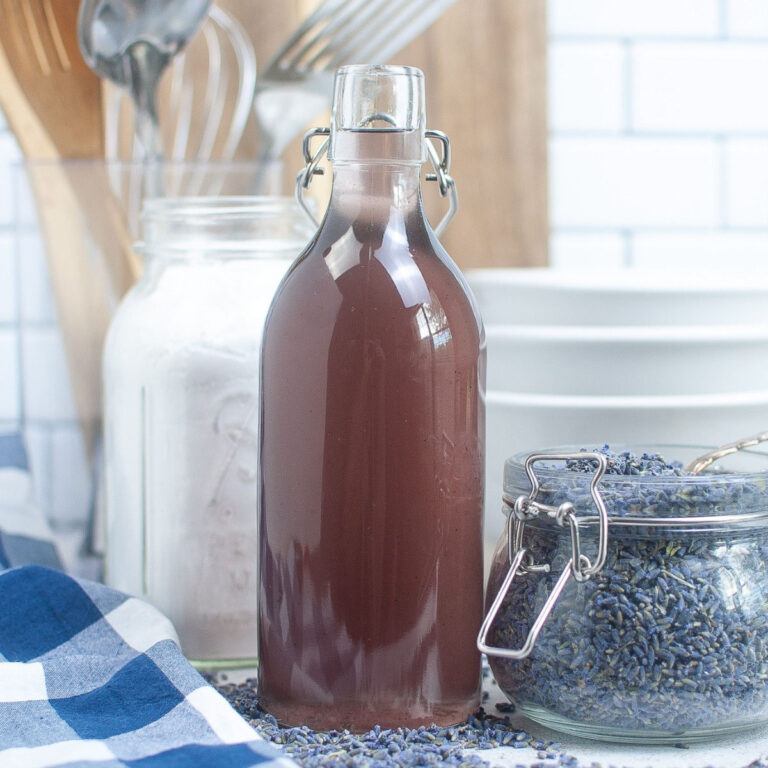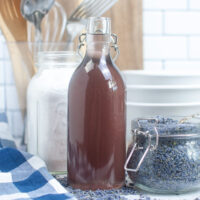 Lavender Simple Syrup Recipe
Lavender syrup is a simple syrup flavored with floral notes adding a refreshing complex flavor to beverages and foods.
Print
Pin
Rate
Ingredients
1

cup

granulated sugar

1

cup

filtered water

1 1/2

tablespoons

lavender buds
Instructions
Place water, sweetener and lavender in a medium saucepan. Heat on medium and stir ingredients often.

When the ingredients reach a boiling point, remove from the heat and let the lavender steep for an additional 5 minutes.

Place a small sieve over a heat resistant bowl or jar and pour lavender syrup to remove the lavender buds.

Discard the lavender and cool the simple syrup completely before placing in a container with a cap or lid.

Store in the refrigerator for up to two weeks.
Notes
Photos are shown with a double batch of Lavender syrup.
The whole lavender bud, stem, and leaf can be used in this recipe.
Pick organic lavender free from pesticides and chemicals.
Make this a zero carb syrup by replacing the granulated sugar for monk fruit or your favorite sugar alternative.
Lavender Gin Cocktail
2 ounces of gin (Empress brand pictured)
1/2 ounce lavender syrup
4 ounces tonic
1/2 lime, juice
Nutrition
Disclaimer
Please note that the nutritional information provided are guidelines and may vary based on the brand of products used. For your specific nutritional goals use My Fitness Pal or Verywell Fit recipe calculators. All content within this site is not intended as medical diagnosis or treatment and should not be considered a substitute for professional medical expertise.