These elegant Lavender Cream Puffs are light and airy French pastries filled with whipped cream and garnished with a lavender glaze.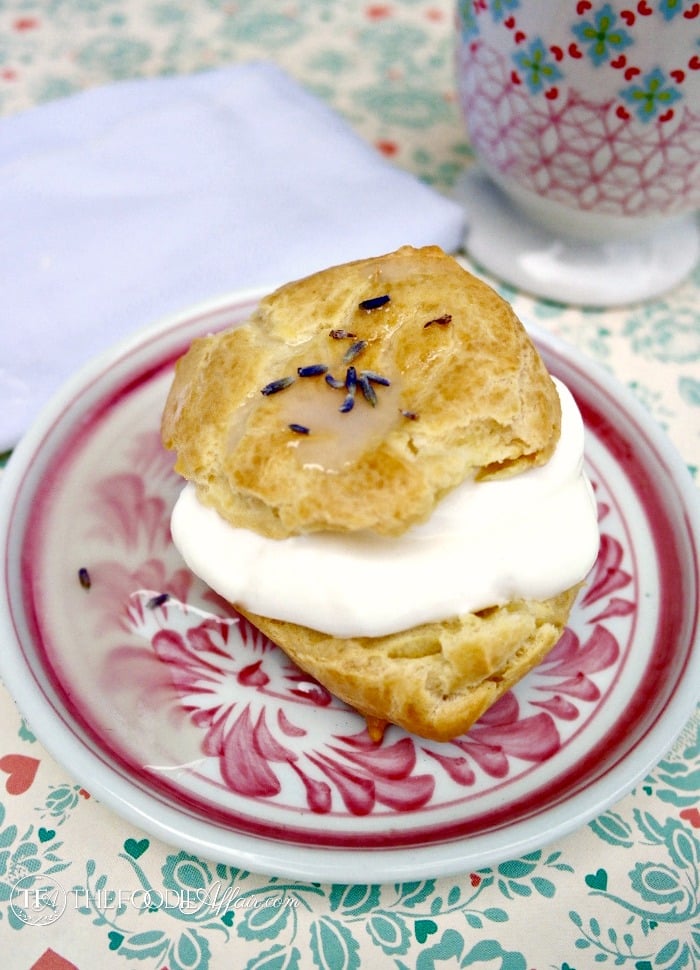 Cream Puffs Recipe
This cream puffs recipe is from when I took my first cooking class in junior high school or you may have called those years the middle school days.
The 7th grade to be exact, and during that time frame public schools offered home economics, arts and crafts, music and choir courses in addition to academics.
I think we got to sew too if we took the home EC class, but that wasn't as memorable for me.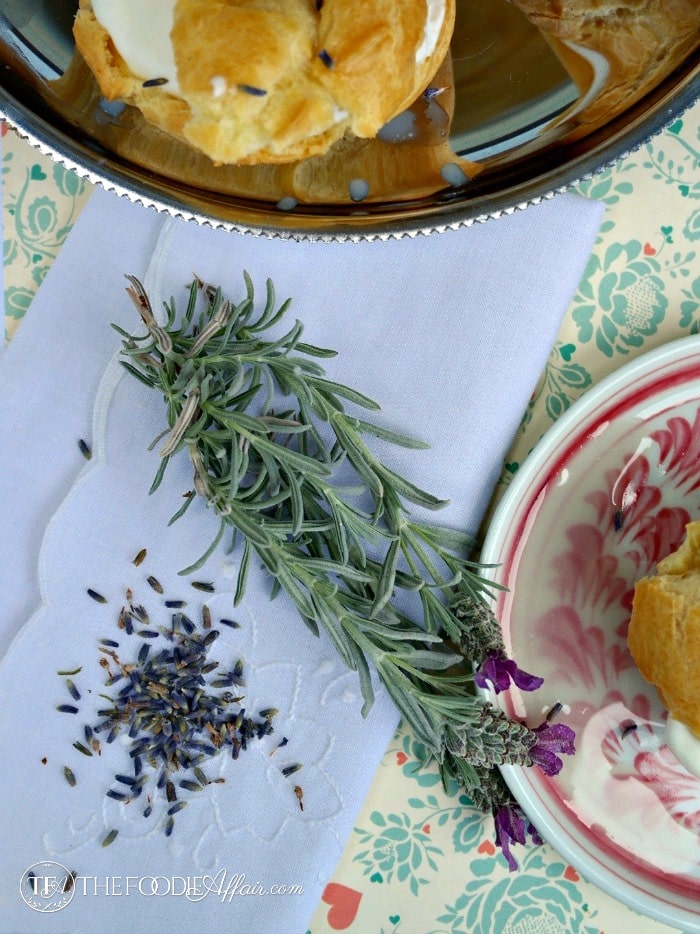 Cream Puffs Filled With Whipped Cream
We didn't jump right in and start cooking like you do at home.
First, there was a chapter on measurements, food contamination and then safety.
Once the basics were done we got to make and eat this fancy cream puff or choux à la crème!  
We filled our cream puffs with vanilla pastry cream like I made for this Best Boston Cream Pie, but I have since enjoyed a lighter filling and add fresh whipped cream.
Biting into one makes a fluffy mess with the whipped cream billowing from the sides, but you won't mind licking your fingers one bit!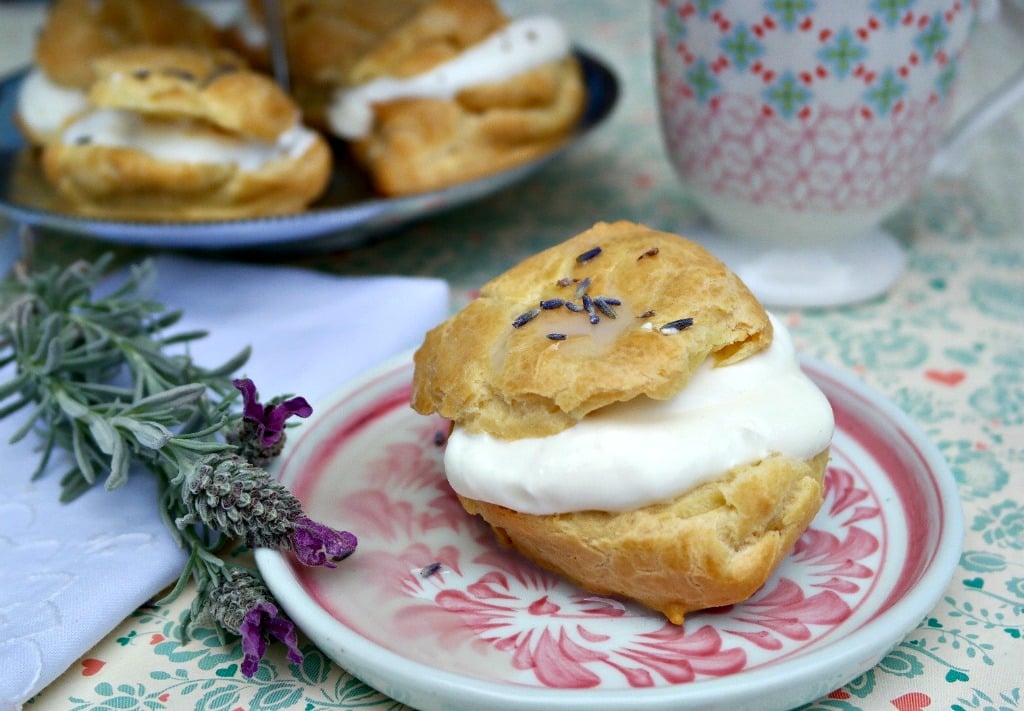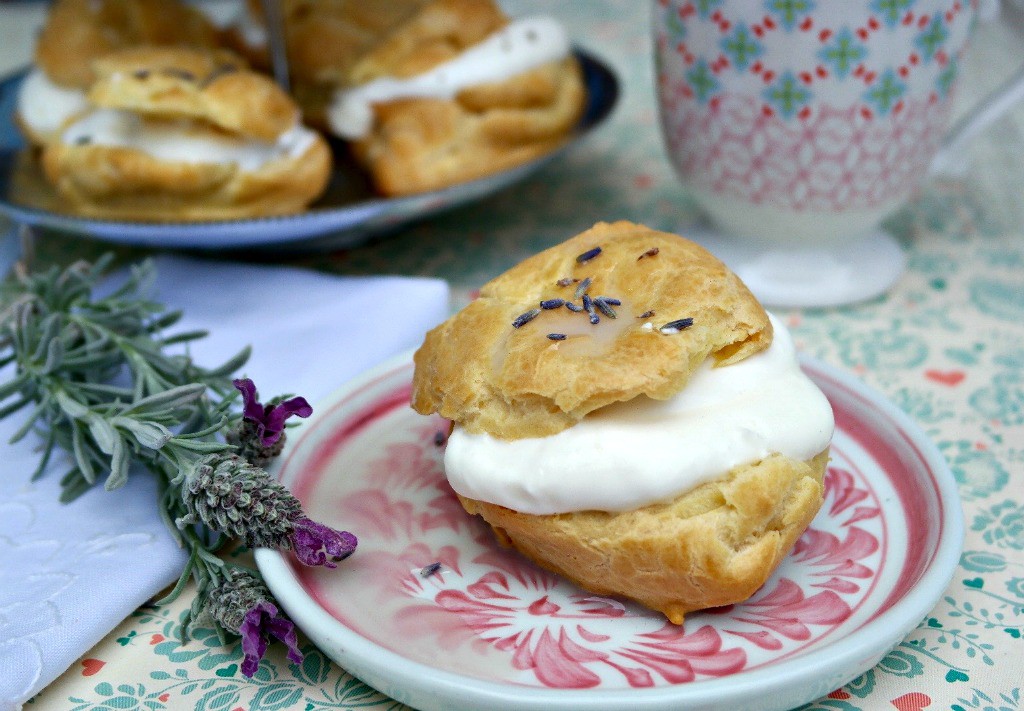 Adding Flavor With Lavender
There are many ways you can spruce up this dessert.
Top it with the chocolate ganache that I made for this Rocky Road Cake or keep it simple and add a generous amount of powdered sugar.
I took the flavor up a notch by steeping dried lavender buds in milk before adding sugar for a light glaze.
I let the buds infuse for just 10 minutes before straining them from the milk. Fabulous!
The flavor is the perfect amount of "Oooo, this is tasty!" adding a delicate touch, which is what you want in your foods.
You don't want it to over power the simple flavors of the cream puffs or have it taste like a perfume!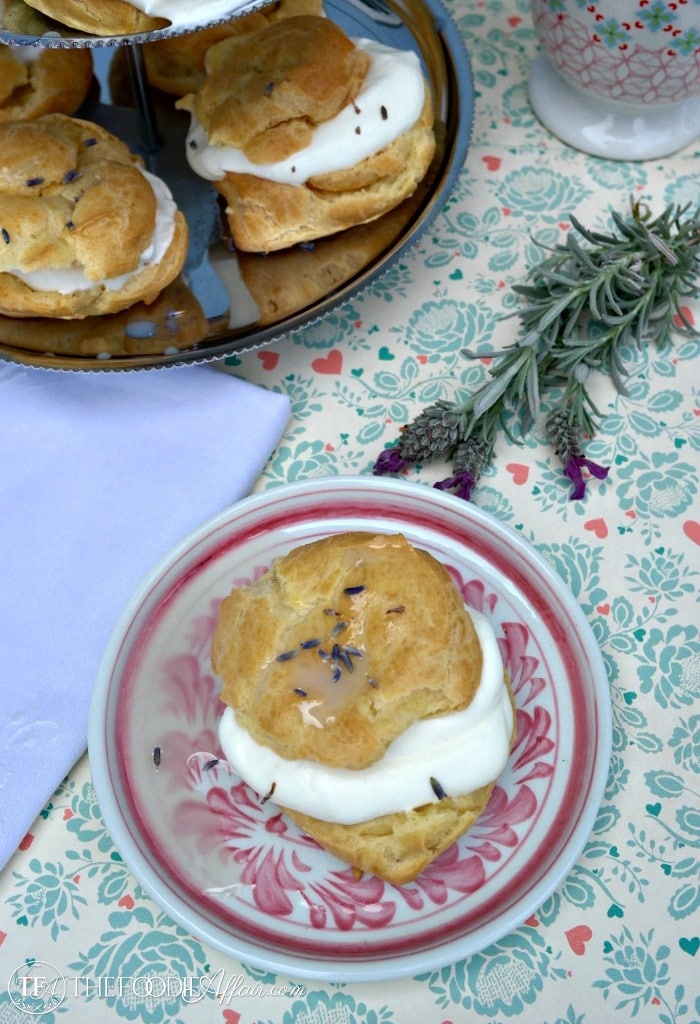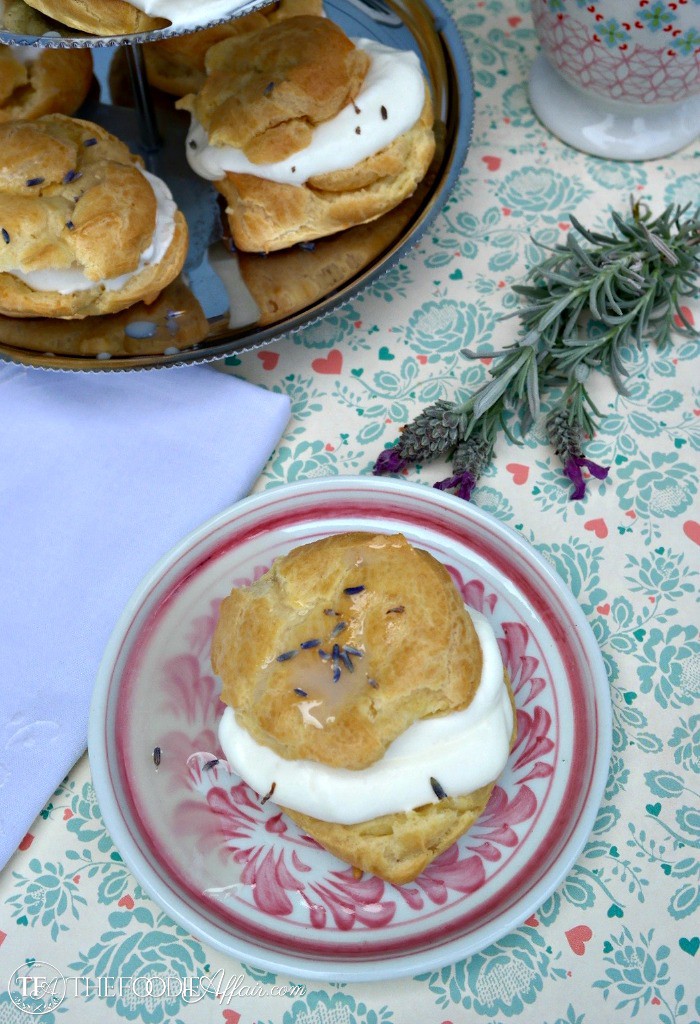 Enjoy For Any Special Occassion
These would be a delicious to serve for a Mother's Day gathering or for any special occasion like a tea, bridal shower or birthday celebration!
Add these Lavender Cream Puffs to your next brunch menu!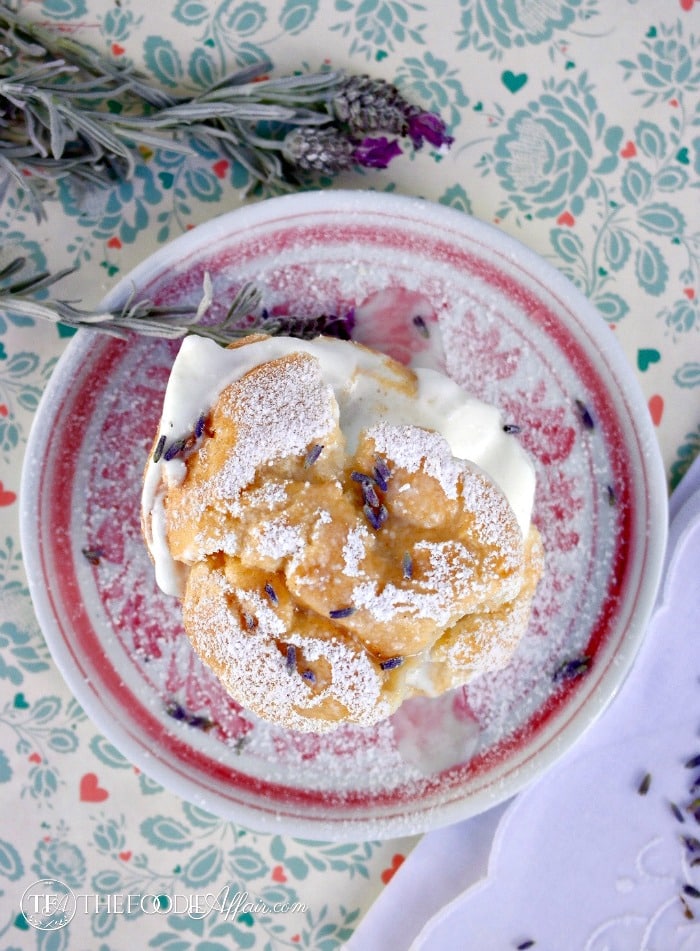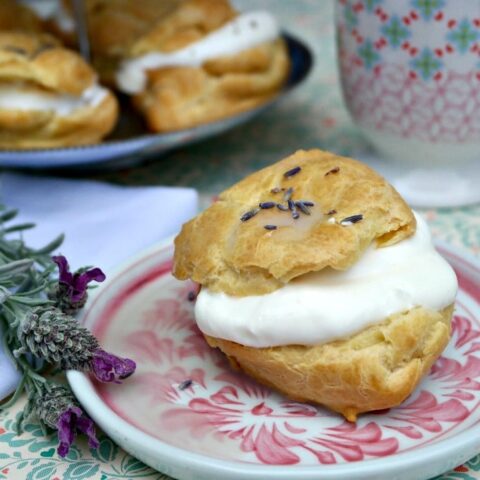 Lavender Cream Puffs
Lavender Cream Puffs are light and airy French pastries filled with whipped cream and garnished with a lavender glaze. Enjoy for brunch or any special occasion.
Ingredients
Pastry
1 cup water
1/2 cup butter, unsalted
1/2 teaspoon kosher salt
1 1/4 cups all purpose flour
4 large eggs
Whipped Cream Filling
2 cups heavy whipping cream
1/4 cup granulated sugar
1 teaspoon vanilla extract
Lavender Glaze
1/2 cup milk
1 tablespoon dried lavender buds
1 cup powdered sugar
Instructions
Preheat the oven to 425 degrees. Line two baking sheets with parchment paper and set aside.
Pastry
In a medium saucepan, add the water, butter and salt. Stir and bring to a boil.
Remove the pan from from the heat and add the flour. Stir vigorously.
Return the pan to the burner and cook while constantly stirring until a a ball of dough forms. The dough should be smooth with a bit of shine.
Remove the pan from the heat and let the dough cool for about 10 minutes.
Add the dough to a mixing bowl and beat in the eggs one at a time. The dough should be smooth, thick and sticky.
Drop about 1/4 cup mound of dough onto the prepared baking sheets, 6 per sheet.
Bake for 15 minutes, and then reduce the temperature to 350 degrees and bake for an additional 20-25 minutes or until the puffs are golden brown.
Remove from oven and let cool on a wire rack, With a sharp knife spit the puffs in half. Remove soft center dough and let look completely.
Whipped Cream
Add cream and vanilla to a mixing bowl and whip on high speed adding the sugar slowly. Whip until thickened.
Lavender Glaze
In a small sauce pan add milk and heat until small bubbles begin to form. Remove from heat and add lavender buds and let steep for 10 minutes.
Strain the milk in a small bowl. Add the powdered sugar a tablespoon at a time whisking until smooth and desired consistency.
Asssemble
Fill the bottom half of the cream puff with whipped cream. Cover with tops and drizzle glaze on top. If desired, sprinkle with additional lavender buds and powdered sugar.